The new Ninja 1000SX has a well sorted chassis to match the engine it has always been known for. Upgraded electronics are the icing on the cake... Review: Jeff Ware Photography: HMC Photography
The Ninja 1000 was a hit when it landed here in 2011. Dubbed by Kawasaki as a 'Sportsbike for the real world' engineers were given the green light to compromise lap times for road performance. The latest and fourth evolution is here and we put it to the test.
I remember testing the first Ninja 1000 and I was quite impressed with the bike, even though a decade ago I was still racing and owned the sportsbike dedicated Rapid Bikes magazine, the Ninja 1000 lived on the fringes of what was considered a performance motorcycle, yet it out handled the ZX-10R on the streets in just about every way. On track, of course, it was a completely different story…
---
Check out our 2020/2021 Ninja 1000SX Video Review here…
---
Still, it was an exciting bike. 140-horsepower, seemingly endless amounts of torque, 0 – 100km/h in 3.0s, a genuine 10.8s quarter-mile bike (we tested it), while being tourable and frugal on juice, averaging 6L/100km. With luggage on board, the Ninja 1000 seemed to have it all…
---
---
The bike proved popular and a lot of hardcore sportsbike riders that were at the stage where they wanted a bit more comfort, opted for the Ninja 1000 and a lot of examples ended up with aftermarket suspension, sports tyres, a four-into-one and a quickshifter, making them a bit more sporty and quite the weapon in the right hands.
A popular and much needed mod is to replace the antiquated 190/50 – 17 rear tyre with a 190/55 – 17 to help with cornering and turn-in. Also popular at the time was the naked sibling, the Z1000, which I've read the Ninja 1000 was speed limited to match in top speed for some reason.
For 2014 there were the first updates, more power and torque (the engine remains the same now and for 2021), faster acceleration (0 – 100km/h in 2.5s, 1/4-mile in 10.4s), two Power Modes, KTRC, optional ABS and sportier suspension. Then, in 2017, a very heavily updated Ninja 1000 arrived with all-new styling, which looked and still is stunning.
It also got a six-axis IMU, therefore, three stage cornering traction control, two Power Modes, ABS as standard, LED headlight, a new modern dash with gear position indicator, KCMF (Kawasaki Cornering Management Function), however weight went up 7kg due to Euro4 and the heavy dual mufflers and Cat converters required.
All of those updates were great, but there was an elephant in the room… The 2017 Ninja 1000 hated corners. Kawasaki had lowered the rear of the bike via the bottom linkage and also softened the forks. Throw in the 50-profile rear tyre and you had a bike that was happy in a straight line but any sign of a corner and it wanted to stand up and head for the trees.
---
---
It was that bad that a lot of members of the press couldn't recommend it at all. Some sent it back. We reviewed it (Click here) and although it scored 8/10 overall, it only got 6/10 for handling. It was a dangerous bike that needed a linkage change and suspension work to sort out… So much potential!
---
---
Now we get to the stunning 2020/2021 version. Some key changes have really taken the bike to the next level. First of all, Kawasaki have raised the rear of the bike and also the seat is thicker, making the seat height a taller 835mm. It's a much more commanding ride position. Secondly, they've pulled trail back to 98mm to sharpen the steering, thirdly, they have fitted a four-into-one. Along with revised fork settings and fitted Bridgestone S22 rubber, the bike is fixed. Oddly, they are sticking to the 190/50 – 17 tyre though. Swapping that to a 55 would be on my list to do as an owner…
---
---
To compliment the sweet handling, Kawasaki have given the Ninja 1000SX a 4.5in TFT dash with Smartphone connectivity via Rideology the App, a two-way quickshifter (KQS), cruise control, four Ride Modes (Rain, Road, Sport, Rider), RbW throttle, a four-way adjustable screen (10mm lower at max height), that looks sportier, and they've done this without increasing price, still at $16,999 + ORC….
---
THE RIDE
The Ninja 1000SX engine is an absolute, in typical Kawasaki style, stump puller. It has a larger bore, but the same stroke, as the cracking 125hp 10/10 2020 Z900 motor (Review here), yet with the same compression ration and larger by 2mm, 38mm throttle-bodies. The result is a cracking 142hp and 111Nm. Peak power is still at 10 grand but peak torque is up at 8000rpm from 2017's 7,300rpm but still available seemingly anywhere in the range. This bike pulls like a Y2K jet bike!
Within a few minutes of leaving Kawasaki HQ, I was smiling. Why? Because Kawasaki have addressed the handling issue. It was clear the first time I flicked the bike left then right through a roundabout. It didn't fight me and try to stay upright, it fell progressively to the edge of the S22 rubber, and sharply and accurately flicked through. Just a light nudge on the inside 'bar. Very impressive…
---
---
As I negotiated the heavy Sydney traffic, I did get the sensation that the front tyre pressure was low, mainly off the throttle into turns (low speed urban situation). This was a trait of the previous version, low speed heavy steering. So I stopped at a servo to check it and, as was the case in 2017, discovered it was not low at all. It's most likely a combination of front-end weight bias and the soft fork, along with the timing of the slipper clutch engaging as the revs drop and engine braking kicking in – all at the same time… As it turns out, it is the only criticism I have of the handling of the 2020 Ninja 1000SX.
The rest of my trip through the heavy Sydney traffic is comfortable and so easy. The Ninja 1000SX throttle, in Road, is smooth and step-less. The clutch light and with great feel and smooth take-up. The two-way KQS is slick and fun at the higher revs, and at the lower revs it still works. At super low speeds, I shifted manually, in stop/start situations. Temperature is well regulated and the bike is a dream in traffic, well balanced and easy to lane filter on. The seat is plush and the mirrors vibe free and although far away, being mounted way up front of the bodywork, I got used to them quickly.
---
---
The bike is very comfortable now, with the taller seat, my 187cm frame fits better. The previous model was cramped in the leg department. This is spot on. Throw in a relaxed yet commanding reach to the tall, wide 'bars, and the protection from the four-way adjustable windscreen, and you have on very comfortable machine. Even the suspension, on the sporty side of touring, is soft on the high-speed comp impacts, over small road irregularities, so there are no unwanted spine jolts!
Hitting the motorway, I tried out the new cruise control. Like other premium Kawasaki models, the SX has the same familiar switchgear and menu system, which is easy to navigate. Arming the cruise and setting the speed to 110km/h, I sat back and relaxed, enjoying the smooth nature of the inline four and the vibe free ride. Over the 45km run to my next route, I found the Ninja to be a true potential all day ride. Later in my test, I did a 200km motorway run, and I could have kept going if not for a fuel stop, incidentally, after an impressive 320km of riding.
Hitting the hills for some cornering fun, I switched to Sport mode and, with tyres and bike well and truly up to temperature, I got stuck into it on the 1000, and it impressed me. The heavy low speed vagueness and feel from the front vanished and the bike came into its happy zone.
---
---
With the suspension both ends hovering around mid stroke and the stick S22 tyres giving great feedback, I was able to punt the SX harder through my local than I could on, say, a ZX-10R, and equally as hard as the current Z900. This comes down to flexibility, bump absorption and really good stability. A pure sportsbike may be a sharper tool but they are also stiff and hate high speed bumps.
Cornering clearance is impressive, the lean angle indicator showing 49 degrees after my run. The SX likes the medium to fast corners best but is also light and flickable enough in the tight stuff. Front-end support could be up, as once the pace got hot, even with at least 5 or 6kg of fuel load gone, the front was falling low in its stroke into the harder braking corners. At the back, rebound control was not perfect, however, for a basic shock Kawasaki have it well tuned. It made me wonder how they got the similar shock in the Z H2 so wrong!
---
---
the upright ride position, wide and tall 'bars, roomy seat to footpeg position all combine to give a rider triangle that really gives a sense of control over the machine, with no need to hang right off like on a sportsbike. The Ninja 1000SX doesn't need the body english, the weight transfer, to get it to go where you want it to. That's one of the traits I really like about a good sports tourer, as I tend to get a bit lazy these days when I arrive at the twisties, particularly if I'm not in full leathers and if I'm comfy, I think they call it getting old… Suits me, if getting old is this fast!
Every bike needs good brakes and when you have a bike as fast as the Ninja 1000SX, with a 97kg rider and 235kg curb weight, they need to be really good. Despite only wearing 300mm front rotors, the SX stops with plenty of power, feel and efficiency. It's not eye-popping ZX-10R or ZX-6R stopping power but for a sports tourer it is up there with the absolute best equipped Euro bikes. I did notice that the Petal rotors are gone, which is a shame a they looked cool on the previous Ninja 1000.
---
---
The KIBS (Kawasaki Intelligent Anti-lock Brake System), incorporating cornering ABS, work with the KCMF (Kawasaki Cornering Management Function) to optimise braking in all situations but particularly where it really counts, into turns. You can't feel exactly what is going on but, no matter how tight or off camber, you can brake hard into a turn, deep into the apex, and the bike will still go where you want to go. it's a well developed system.
---
---
I had a few heart in mouth moments where I got caught out on a less familiar road later in my test and the system probably saved me from running wide. It works well, as the intimate feel at the lever remains and as far as I can tell, rider input/modulation is not overridden or interrupted, only the force at the caliper end of the system.
The new TFT dash is fantastic. There is a lot of cool stuff in there. It has a day and night display, with auto dim, and some extras above the usual dual trips, rpm, speed, fuel level, fuel consumption, distance remaining, ambient and engine temp, clock.. It also has two display modes, 1 and 2, Road and Sport. I liked Sport, with a G Meter and lean angle display on the left with a more prominent tacho.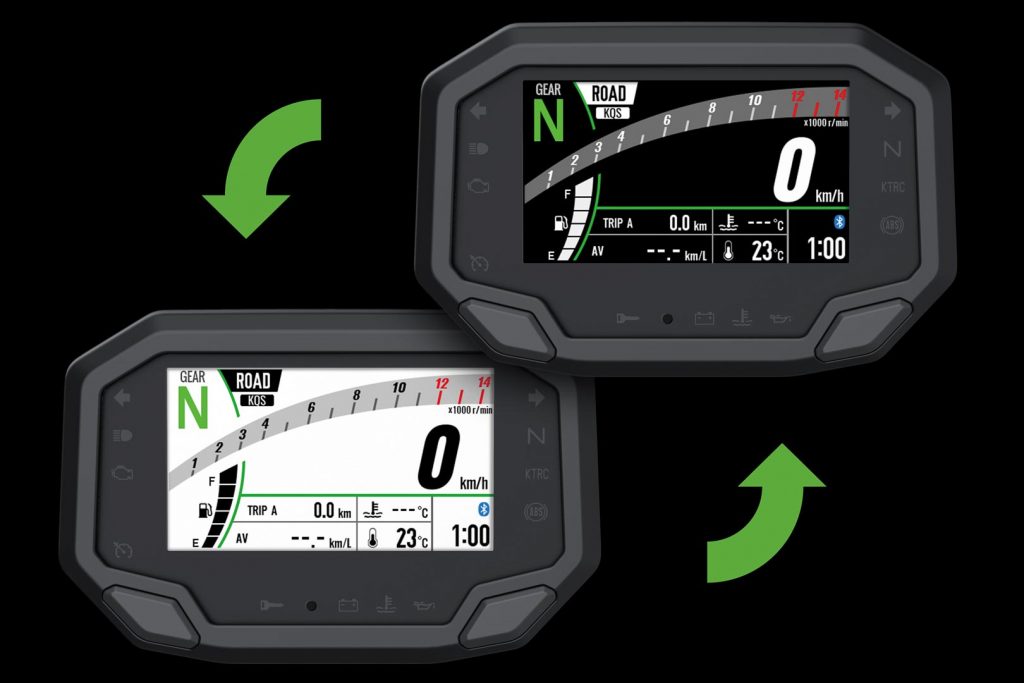 The dash is easy to navigate, the left switchblock has the scroll up or down buttons and a select button as well as a cancel/return button. You can set shift lamp, turn KQS on or off, choose Power Modes and KTRC, turn the immobiliser light off, change the time and units (depending on country) and there is a service section to check on maintenance. It also connects to your Smartphone via BT and the App.
---
---
CONCLUSION
I'd still want to try the 55 rear hoop on the Ninja 1000SX, and I would work on suspension set-up a little, however, they are by no means deal breakers. This bike is so well refined and developed four generations in that it is hard to fault and any negatives have to be searched for. If you are in the hunt for an amazing all-rounder with a sports heritage and DNA, that is packed with technology yet has an analogue price, the Ninja 1000SX is a bike you need to put on you list of machines to test ride…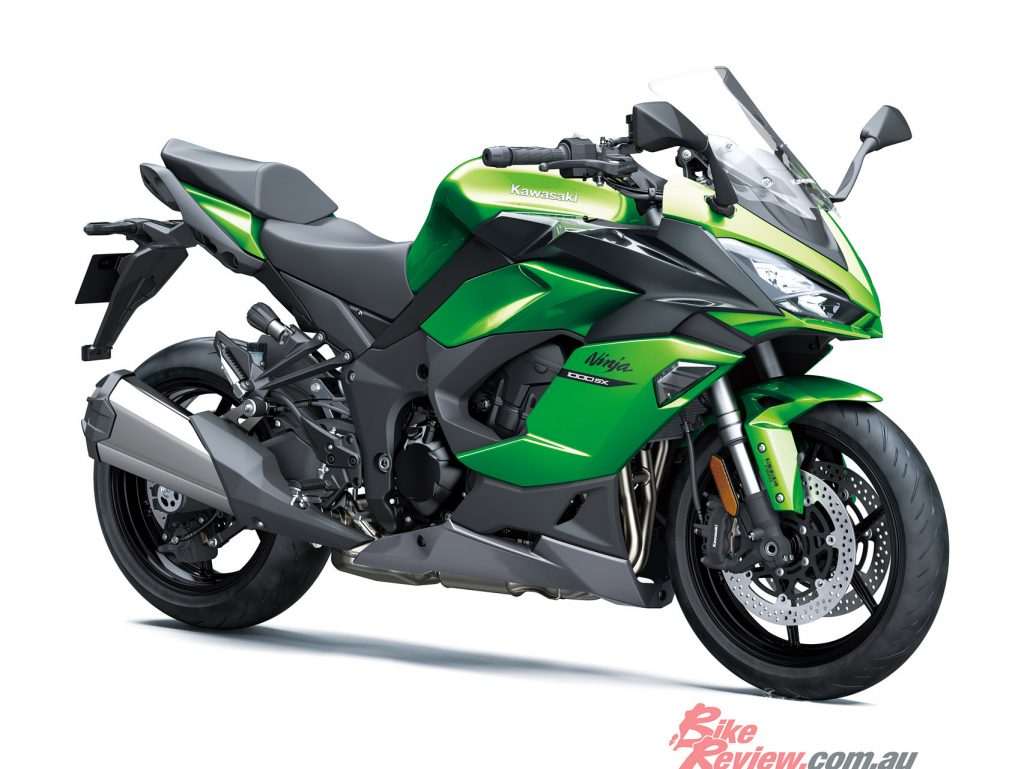 2020 Kawasaki Ninja 1000SX Tech Talk:
The 1043cc liquid-cooled in-line four-cylinder includes an Assist and Slipper clutch, and has an advanced electronics system derived from that found on the ZX-10R and includes the KCMF (Kawasaki Cornering Management Function), Kawasaki's IMU-enhanced electronics package.
Power output is 105kW (142hp), with 38mm downdraft throttle-bodies offering strong linear low-end performance, with oval sub-throttles keeping the engine thin between the rider's knees. Kawasaki boast revised ECU settings contributing to smoother power delivery, although the Ninja 1000 always delivered in this area, while Euro5 ready emission requirements are now met.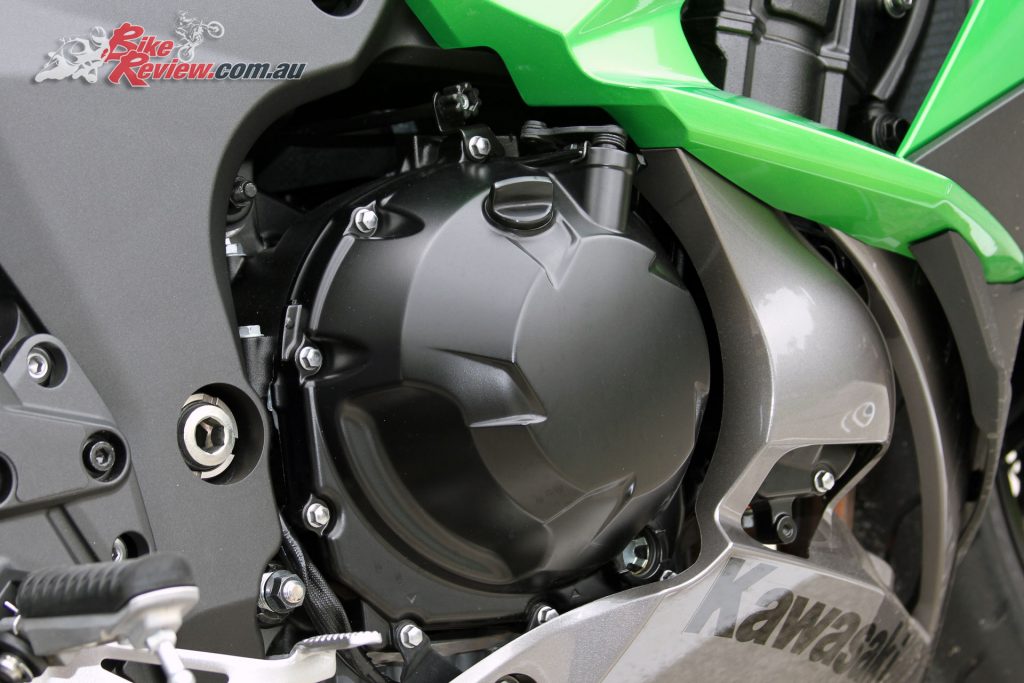 A compact Bosch IMU (Inertial Measurement Unit) gives a real-time picture of chassis orientation and the KCMF monitors engine and chassis parameters throughout the corner – from entry, through the apex, to corner exit – modulating brake force and engine via the KTRC (including traction and wheelie control) and KIBS (including pitching and corner braking control) systems.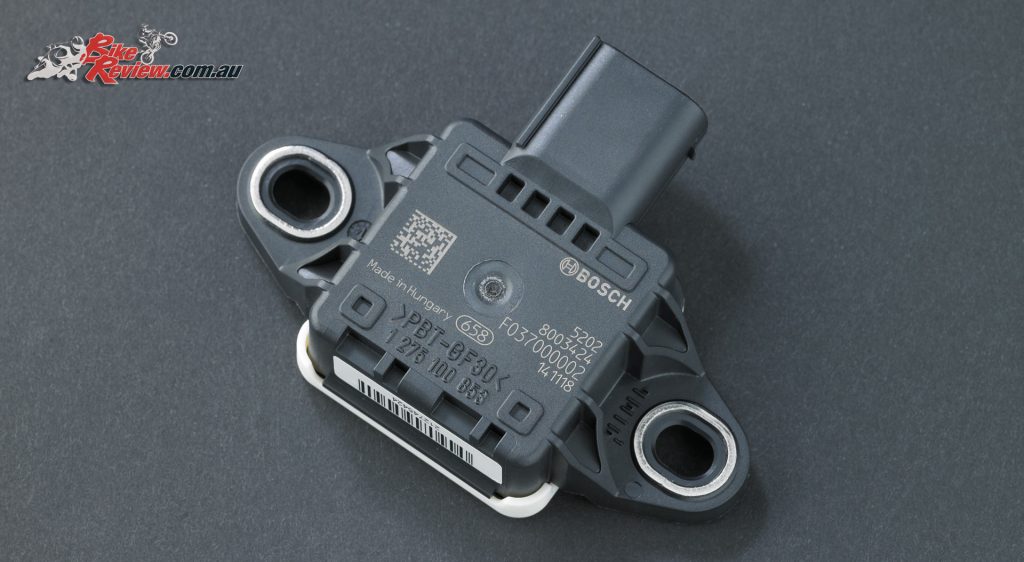 The KTRC (Kawasaki Traction Control) offers three levels of adjustability and can be turned off, while Power Modes offer Road, Sport, Rain and Rider (Custom).
KIBS incorporates corner braking control, modulating brake force to counter the tendency of the bike to stand up when braking mid-corner, with radial-mount Monobloc front calipers and a radial front brake master-cylinder offering strong front end brake performance.
---
---
An aluminium twin-tube frame design features frame beams that go over engine, allowing a narrow construction that is easy to grip with the knees, and uses the engine as a stressed member. The frame is a five-piece cast aluminium construction uses four engine mounts. All engine mounts are rigid except the upper rear crankcase mount, which is rubber.
The rear frame is a three-piece aluminium die-cast construction and allows the side covers to be eliminated. This also allows the width under the seat to be narrower, offering riders a shorter reach to the ground.
---
---
41mm inverted front fork features stepless compression and rebound damping and spring preload adjustability aimed at sporty performance and comfort.
The rear shock features rebound and preload adjustability, with a remote preload adjuster. Revised shock settings and linkage ratio offer suppler suspension action for improved bump absorption and firmer cushioning. The new linkage also assists in a taller seat height, while the seat is thicker too. Trail has been reduced to 98mm from 102mm.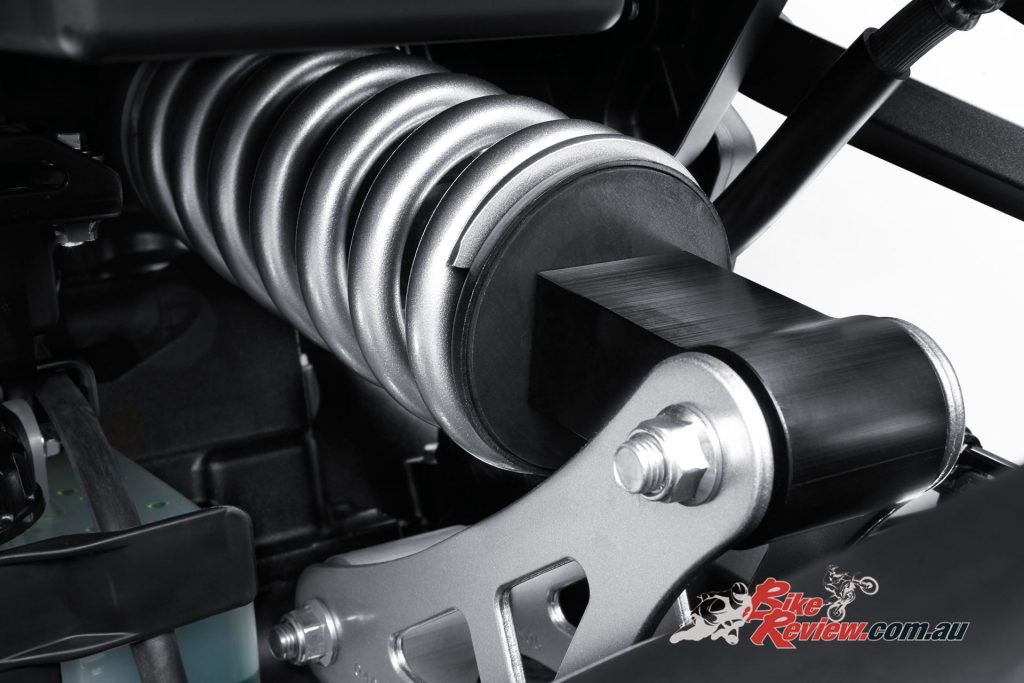 300mm stainless steel semi floating brake discs are gripped by opposed four-piston radial-mount monobloc calipers with differentiated diameter pistons of 32mm/30mm.
The machined monobloc calipers feature an alumite1 coating and are laser-etched with a Kawasaki logo, adding to the bike's high-quality sporty looks. The rear brake features a single piston, pin-slide caliper gripping a 250mm disc.
Wheels are lightweight supersport-style six-spoke wheels contributing to a sporty image and low unsprung weight.
---
---
SPECIFICATIONS: 2020/2021 Kawasaki Ninja 1000SX
Price: $16,299 + ORC (click here and enter your postcode for R/A price)
Warranty: Two-year, unlimited kilometre
Colours: Black or SE (Sports Edition, $17,199 + ORC)
Claimed power: 104.5kW[142hp]@10,000rpm
Claimed torque: 111Nm@8000rpm
Curb weight: 235kg
Fuel capacity: 19L
Fuel consumption: 5.8L/100km (claimed)
Range: + 320km (claimed)
---
Engine: Liquid-cooled, four-stroke in-line four-cylinder, 1043cc, 77 x 56mm bore x stroke, 11.8:1 compression ratio, DOHC, 16 valves, four Keihin 38mm oval sub-throttles, RbW, four-into-one exhaust
Gearbox: Six-speed, KQS
Clutch: Wet multi-disc, slipper
---
Chassis: Alloy twin tube frame, alloy swingarm
Rake: 24.5°
Trail: 98mm
Suspension: 41mm forks, compression, rebound damping and spring preload
adjustability, 120mm travel, Horizontal Back-link, gas-charged rear shock, rebound damping and spring preload adjustability, 144mm travel
Brakes: KIBS, Dual semi-floating 300mm front rotors, dual radial-mount monobloc four-piston, single 250mm rear rotor, single-piston caliper
Wheels & Tyres: Cast alloy, 120/70 ZR 17, 190/50 ZR 17 Bridgestone S22
---
Dimensions:
Wheelbase: 1440mm
Seat height: 835mm
Overall height: 1190-1225mm
Overall width: 825mm
Overall length: 2100
Ground clearance: 835mm
Steering angle: 31º/31º
---
Instruments & Electronics: 4.5in TFT display, KQS, KRTC, KCMS, Cruise, KIBS, Power, IMU
---
---
The Verdict | Review: 2020/2021 Kawasaki Ninja 1000SX Sports Tourer
With revised steering geometry, a raised rear end, a four-into-one and new tyres, the Ninja 1000SX returns to its old great handling self. Now, with the amazing electronics and the stonking engine, this has become the ultimate sports touring package.