The Ronax 500 is every 500cc two-stroke GP fan's dream bike! Words: Jeff Ware Photography: Ronax GmbH
Anyone who grew up riding two-stroke motorcycles would relate to the mind-blowing news that German firm, Ronax, have built a V4 500 GP bike for the streets. Learning on and continuing to ride two-strokes is one reason I would give my leftie for a Ronax 500.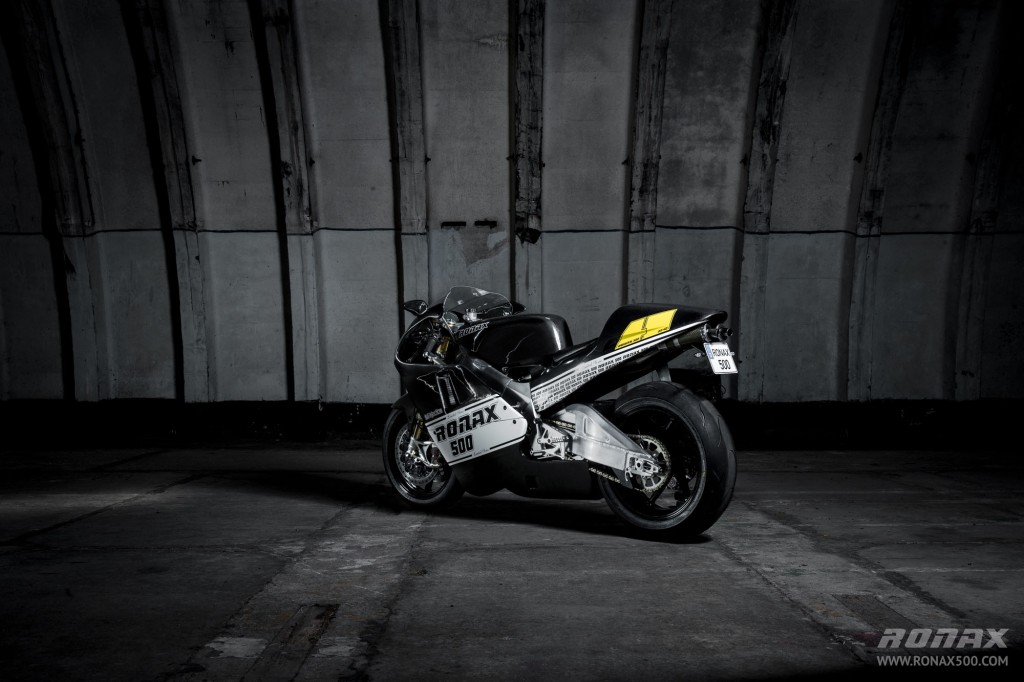 The other reason is the many, many nights watching 500 Grand Prix on telly in awe of heroes like Wayne Gardner, Kevin Magee, Mick Doohan, Daryl Beattie, Garry McCoy, Peter Goddard, Mark Willis, Kirk McCarthy, Anthony Gobert, Troy Corser, Simon Crafar and co sliding the uncontrollable brutal 500s around, leaving blue smoke from the tyre and the pipes in a screaming, howling cyclone of high rpm insanity…
With light switch throttles, up to 200-horsepower and a 115kg weight limit at one stage, there was nothing on the street that related to the 500 GP bike – much like F1 and cars now. MotoGP bikes have nothing on these beasts…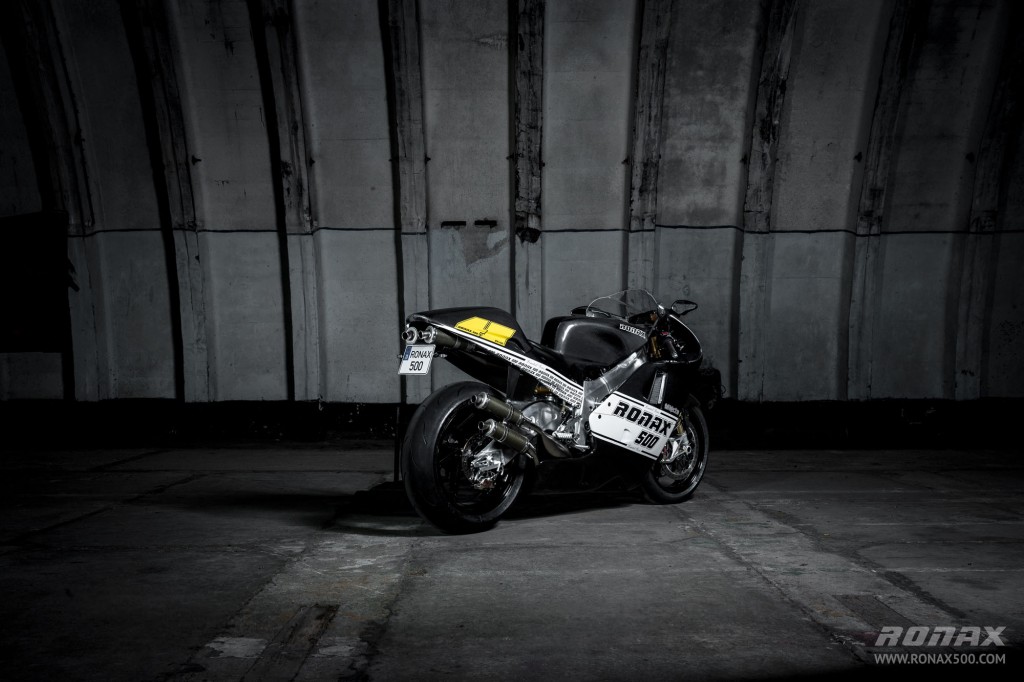 Over the years there have been some specials around – we have our own Costin Engineering 500s that have been featured over the years. The Suter 500 seems to have vanished but this Ronax 500 is the real deal and Ronax are still taking deposits now. They are only making 46 of the machines, in tribute to Valentino Rossi I can only assume, with a 30 per cent deposit required to place an order. The price? Around $100,000 Euros, not including tax.
So yes, this is a bike that is reserved for the wealthy or those willing to sacrifice part of a house for one!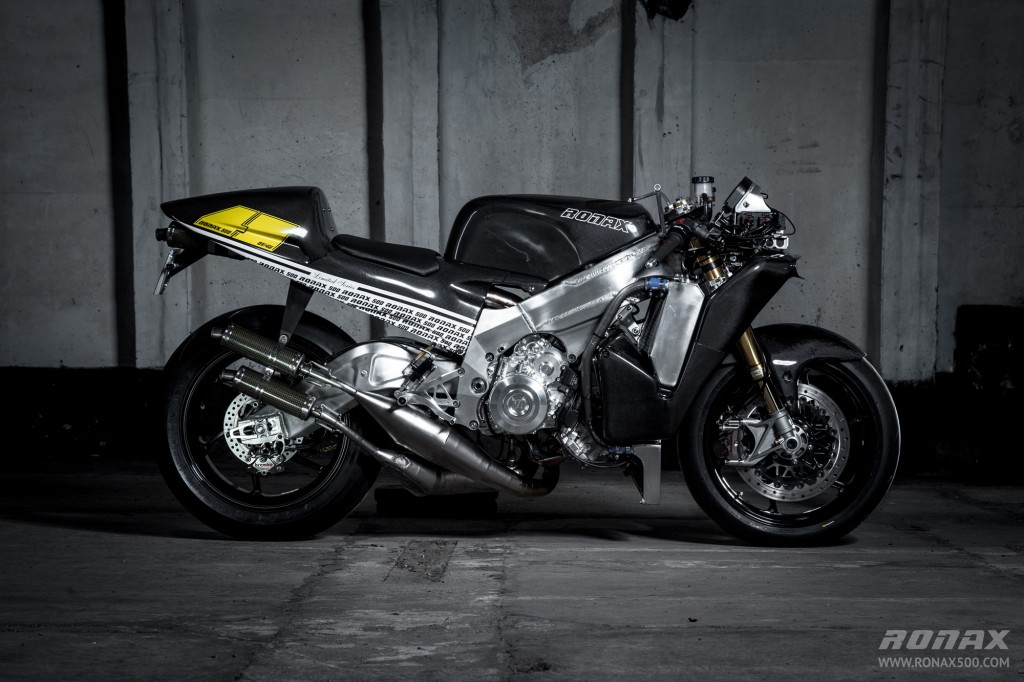 Ronax have been developing two-stroke engines for many years and this exclusive machine has been developed using their vast experience racing. Looking at the Ronax 500, there is no denying it resembles the last generation Honda NSR500 – not a bad thing at all and one of the best looking motorcycles of all time.
The bodywork is 100 per cent lightweight, extra strong hand made carbon-fibre with the tail unit a single self-supporting sub-frame in itself. The fuel tank is stunning and also carbon-fibre. There are no compromises when it comes to weight saving and performance on this bike…
The frame is hand made and of lightweight alloy with fully adjustable steering head and swingarm pivot point and has that fantastic beefy 1990s 500 GP look around the main spars and the steering head stock.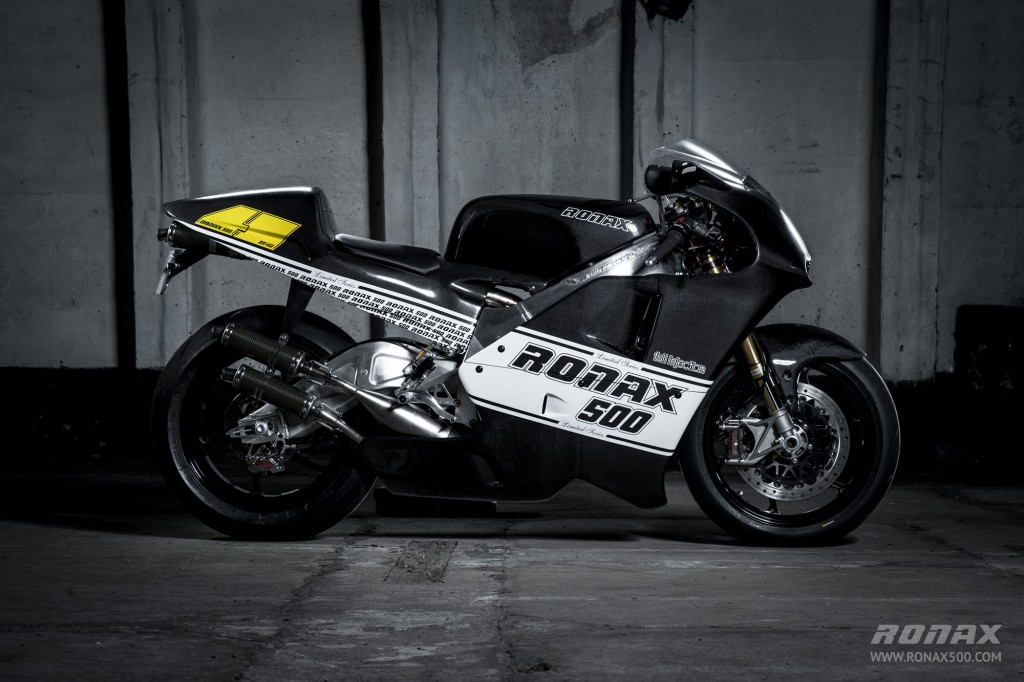 Running gear is all top end, as you would expect for a motorcycle worthy of the true 500 grand prix tag. Ohlins 43mm FGR T208 inverted forks, TTX rear shock, forged alloy wheels and ultra expensive forged Brembo monoblock radial-mount GP4-RR calipers with Brembo 320mm rotors and a full Brembo GP spec set-up at the back also. The triple-clamps are stunning billet alloy CNC units, as are the rearsets.
There are plenty of gorgeous GP handmade alloy parts to drool over. The front dash/fairing mainstay for a start is an absolute work of art. Even small details like the various alloy brackets and the upper fairing supports look very trick and lightweight, making this a true grand prix motorcycle. At 145kg dry it is certainly light by any standards…
The airbox itself is incredible, taking in a tuned ram-air system and following the contours of the front of the bike around the stunning, huge handmade dual radiators. Really, this is pure bike porn itself…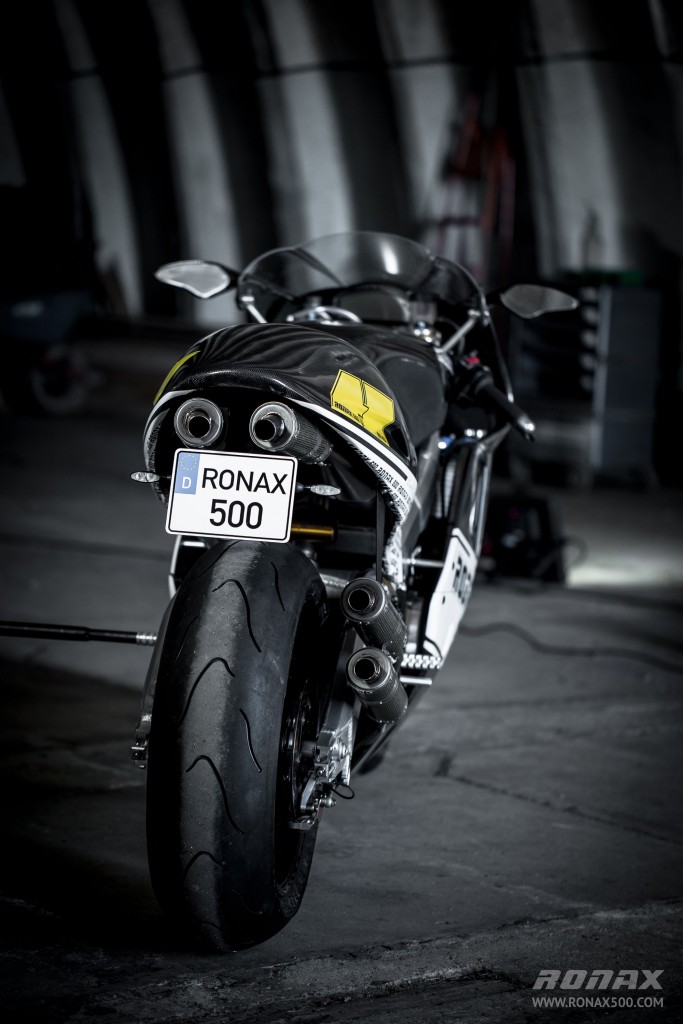 The engine is the heart of this beast and is an extremely high tech two-stroke engine. For a start, it is fuel injected, technology that was just not up to scratch back when 500s were the premier class.
The EFI is a lot more compact than carburetors, allowing a narrow 80-degree V-angle (NSRs were 112-degree and YZRs 70-degree). Bore and stroke is 54 x 54.5mm, the same as the YZR and NSR, while the Ronax uses twin counter-rotating crankshafts supported inside CNC billet alloy crankcases that also house a cassette-style gearbox and a wet multi-plate clutch to make the bike more useable on the road. Ronax are claiming 160-rear-wheel-horsepower at 11,500rpm for the bike, which is incredible! Amazingly, the bike even has electric start…
The exhaust system is steel according to the specifications rather than titanium, however the mufflers are carbon-fibre. There are two riding maps – Rain and Sport. I'd really hate to imagine what this bike is like in the wet!
Overall a stunning bike that hopefully we will be throwing a leg over at some stage so stay tuned and start saving!
SPECIFICATIONS: Ronax 500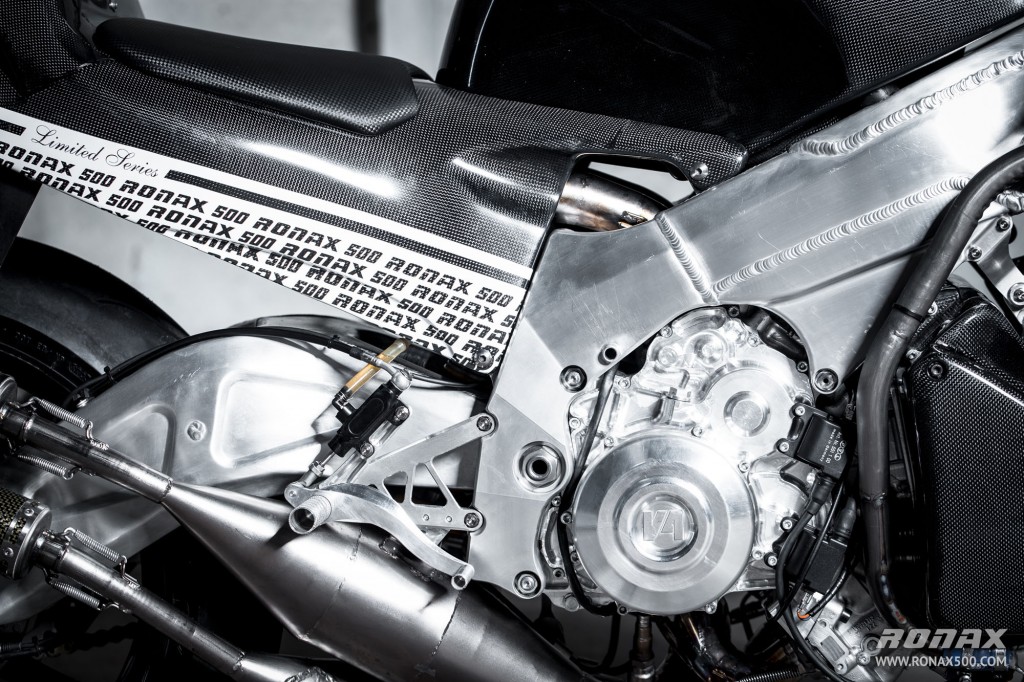 ENGINE
500cc liquid-cooled 80-degree V4 two-stroke, twin counter-rotating billet crankshafts, billet CNC machined crankcases, cassette-style six-speed close-ratio gearbox with wet multi-plate clutch, electric start.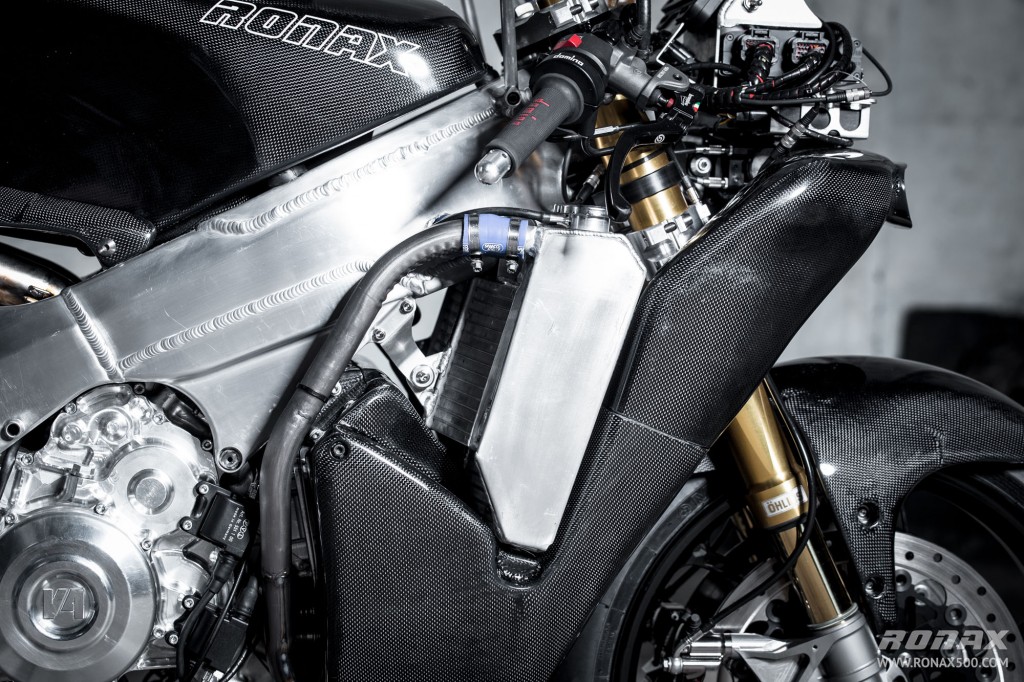 CHASSIS & BODYWORK
Alloy frame with adjustable steering-head and swingarm pivot points, alloy handmade swingarm, CNC machined billet triple-clamps and rearsets, Ohlins TTX shock, Ohlins FGRT208 forks, Brembo GP4-RR brake calipers, 320mm floating rotors, forged alloy wheels, carbon-fibre bodywork and fuel tank.
PERFORMANCE
160hp@11,500rpm
HOME GROWN 500s
Mick Costin, owner of Costin Motorcycle Engineering, is a two-stroke maniac probably most famous for the Red Bull Replica Garry McCoy YZR500 back in 2006. In fact, I'd go as far as calling him the mad professor of two-strokes Down Under. Thankfully for die-hard GP fans like me, he specialises in replicating the glory days of the mighty, raw, untamed and awe-inspiring 500cc two-strokes.
In his workshop in Western Sydney, Mick makes these dream bikes for lucky cashed up customers from all over the world.
SPECIFICATIONS: Costin YZR500 
ENGINE
1985 Yamaha RZ500 V4 two-stroke, bore and stroke 56.65mm x 50.0mm, compression ratio 6.6:1, RZ Performance crankshafts and conrods, bead blasted stock crankcases, stock ported and polished cylinders, machined heads, balanced Mitaka forged pistons and rings, factory six-speed cassette-style gearbox, dry conversion re-built clutch, Boyseen reeds, four 26mm Mikuni flatslide carburettors, Costin Motorcycle Engineering titanium expansion chambers, YZR500 mufflers, all bolts machined stainless steel or titanium, R6 radiator, custom black box incorporating programmable CDI ignition, programmable power-valve controller, CME radiator, 15/36 gearing.
CHASSIS & BODYWORK
Costin Motorcycle Engineering replica 1997 YZR500 frame handmade from 6061 billet and sheet alloy, matte black finish, R6 swingarm, Ohlins shock with custom linkages and Costin Motorcycle Engineering ride-height adjuster, Costin Motorcycle Engineering alloy sub-frame, CME titanium triple-clamps, 43mm Ohlins inverted forks, Brembo alloy 3.5 x 17in wheel (f) and Brembo Alloy 6 x 17in wheel (r), Brembo 320mm rotors with four-piston Brembo calipers (f), 210mm Brembo rotor with Brembo caliper (r), Brembo radial master-cylinder, braided stainless steel brake lines, titanium bolts, Costin Motorcycle Engineering rear quick wheel-change caliper mount. CME two-piece GP 'bars, YZR500-style switches, STACK tacho, TZ Yamaha temp gauge, Domino GP throttle housing, 1997 YZR500 bodywork, YZR500 seat, TZ250/custom fuel tank, YZR500 front guard, billet alloy fuel cap.
PERFORMANCE
Lots!

THE SUTER 500
SUTER RACING
If your after a full factory spec GP racer then look no further – Suter Racing Technology (SRT) had just what you need to impress your mates at the next track day.
What you got for your $96,400 is an alloy twin spar chassis that been partly CNC machined with fully adjustable steering geometry. The suspension is top grade Ohlins front and rear and is fully adjustable. You also get full carbon-fibre bodywork and fuel tank but the main draw card is the engine – it's a V4 two-stroke that has double counter rotating crankshafts and roller bearings, this is not a rebuild of a RZ or RG engine it's a true ground up built GP motor.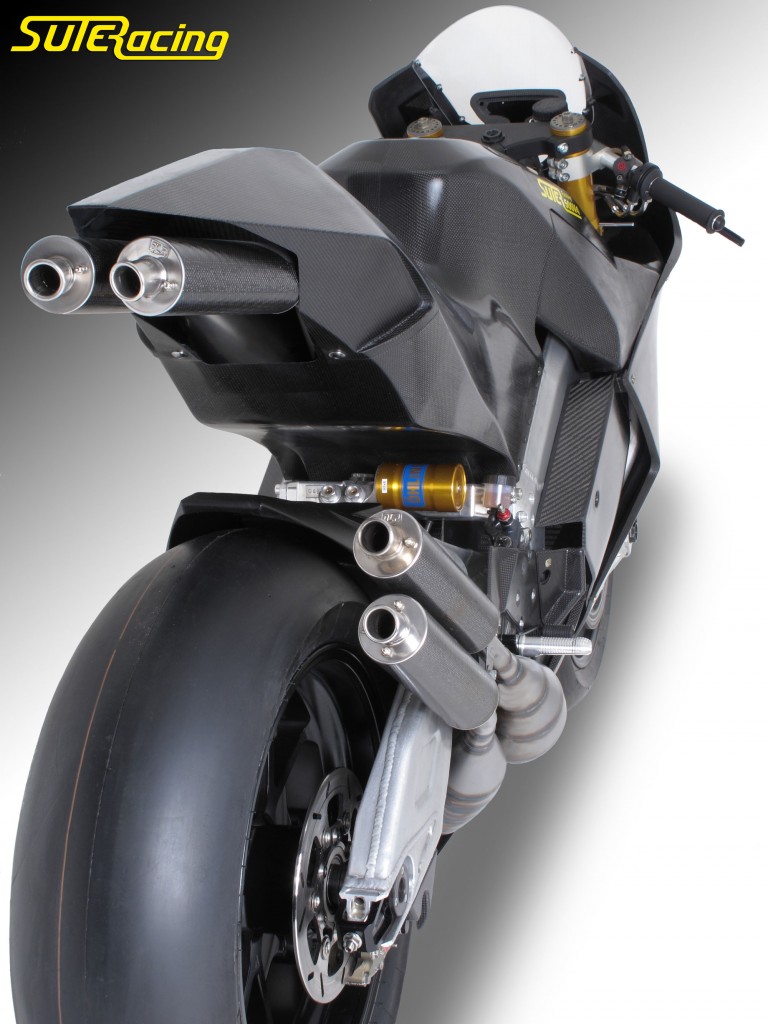 The induction is modern fuel injection with four port throttle bodies and carbon reed valves, while the gases exit through four single expansion chambers that have electronically controlled valves. The bike only weight 125kg ready to race and is well capable of clocking 300km/h – now all we have to do is sell Jeff's organs and where in business…
Suter Racing Technology are no stranger to racing in the mid '90 they has world championship success with their 500cc GP bike the MZ Weber that claimed two pole positions and a handful of top ten finished piloted by Luca Cadalora. Suter also developed the Ilmor X3 and the Foggy Petronas FP1 world superbike.
The Suter Company is now concentrating their talents on the new Moto2 category using their Suter-MMX chassis with the controlled 600cc Honda inline four. Teams that use the Suter chassis are Team Forward Racing, Team STR Italrans, Mapfre Aspar Team, MarcvDS Racing Team, Racing Team Germany, Team Technomag CIP and Team Viessman Kiefer Racing.
The company even develops some pretty wild looking luxury high-speed catamarans and recreational vehicles, take a look at their web site to find out more suterracing.com.
SPECIFICATIONS: SUTER 500 
ENGINE
V4 499cc two-stroke, double counter rotating crankshaft, 54 x 54.5mm bore and stroke, electronic fuel injection, four port throttle bodies with carbon reed valves, double flap electric controlled exhaust flap, SRT six-speed cassette gearbox, SRT multi plate dry clutch, four single resonance expansion pipes, Marelli ECU.
CHASSIS & BODYWORK
Alloy twin spar frame, multi adjustable steering geometry, adjustable wheelbase and ride height pivot position, Ohlins front and rear adjustable suspension, rear linkage adjustment, lightweight OZ wheels, Brembo 320mm steel rotors and four-piston calipers, 218mm single rotor with twin-piston caliper, full carbon-fibre bodywork and fuel tank 125kg ready to race.
BIMOTA VDUE
The Bimota 500 V-Due was originally destine for the world GP circuits, unfortunately this was not meant to be, mainly due to lack of funding – so a decision was made to make the V-Due a street legal racer, at a premium price of $34,000, which was a lot back in 1997.
The V-twin engine was the first ever engine that Bimota had produced, before that the company had bought all its motors from other manufactures and slotted them into their own frames. The actual engine took eight years to develop and produce and as you can imagine, for a small company the cost of this was extreme.
The engine itself was 499cc, liquid-cooled, two-stroke, V-twin that produced 126hp at 9000rpm and 90Nm of torque at around 8000rpm. The motor was direct fuel injection­ ­– this was designed so the two-stroke engine could meet stick US and European emission laws.
Eventually, the fuel injection and electrical malfunctions would send the company into receivership as owners started demanding refunds. Only producing 388 bikes out of the 500 they had originally intended.
SPECIFICATIONS: Bimota VDue
ENGINE
Two-cylinder 500cc two-stroke, liquid-cooled with direct fuel injection with four-port throttle-body and electronic ignition, wet multi-plate hydraulic actuation clutch and electric starter system, six-speed close-ration cassette style gearbox.
CHASSIS & BODYWORK
Carbon-fibre bodywork, alloy and billet CNC frame, cast alloy wheels, Paioli inverted forks and Ohlins shock, Brembo brakes.
PERFORMANCE
126hp@9000rpm