With a daily commute to Uni of 240km and being near 2m tall, I've found a perfect LAMS bike for my needs. We're almost run-in now, then it is time to make some changes... Words: Nick Ware
We've recently taken delivery of our second long termer CFMOTO, the first being our 650NK a few years ago. This time we've gone for the 650MT and plan on some minor upgrades to improve adventure capabilities, without compromising road performance.
I've got a 240km return commute to Uni most days and for the past year I have been riding my CBR500R up and back, rain hail or shine. I love the Honda but it is copping a hiding on the freeway and it is a very cramped bike for me. With high kilometres now, I'll be retiring the CBR to track day duties, the odd Sunday scratch and then eventually selling it as I get my full licence in December.
---
---
The CFMOTO 650MT is the perfect bike for my needs and people in my situation. I don't own a car, I live on scraps being a student and I need affordable transport. I am also bike mad, and have been riding most of my life (had no choice really with Jeff for a brother!), so the daily ride needs to be a hobby bike as well, and the 650MT fits that bill for me for various reasons. First of all, I miss off road riding since selling my RMZ250 and I can't afford to have a dirt bike sitting around… Secondly, I've been getting more and more interested in adventure bikes lately and thinking about the 650MT with some light modifications. This way I still get to have fun in the corners and on the road, including touring and commuting, plus I can carry uni equipment when required once we sort luggage!
The first 1200km have been a dream on the bike. Half have been on the highway, the rest on the twisties or dirt roads. I've already worn out 75 per cent of the rear tyre, which is a surprise. The centre is fine but the edges have worn rapidly with a bit punting through the local twisties. The rear tyre feels a bit soft in construction, with a fair bit of sidewall pump off the turns, so it gets hot a squirrelly and moves around a bit. The front is rock solid, but a tyre upgrade is on the cards ASAP.
---
Check out our 2018 CFMOTO 650MT review here…
---
The engine temp has been dropping as the top-end loosens up and the throttle response is really good now compared to the first week. The gearbox has freed up nicely and the motor is generally silky smooth, responsive and quiet. So is the exhaust, in fact, you can barely hear the bike so a pipe is definitely on the wish list! The suspension is feeling good as the miles increase and overall the bike is generally starting to feel fantastic. Fuel consumption is improving and next update I will give you the info on running costs so far.
I've done a little off-road as mentioned, but the CST hoops are really not designed for it so we will stick to the road until the new adventure tyres are chosen. I'm also going to need 'bar risers, as standing up off-road, it's a long reach down to the 'bars. I also need a seat that is thicker to give me more leg room in the seat-to-peg distance as my legs are at full flex at the moment. The only other issue we have is a slightly misaligned front-end, possibly from the way the bike has been strapped for transporting, so we will sort that out on the bench during the first service. So far, though, I could not be more impressed with this bike, it is seriously good bang for buck in my opinion.
---
---
WISH LIST:
Bar Riders
Billet Levers
Engine Covers
Heated Grips
Mechanical Cruise
Adventure Tyres
Aftermarket Exhaust
Luggage
Suspension Tuning
Spotlights
Performance Airfilter
Custom Seat (Taller)
---

A Spin On The CFMOTO 650MT
I've been watching CFMoto progress over the years and each time I ride one, I notice the improvements in design. This 650MT is the best I've sampled yet. I had the bike for a week and can say I'd own one of these and I would happily have one as my daily ride…
What would I change? I'd ditch the crash bars unless I was heading off on a tour of OZ, I'd fit a larger radiator with a radiator protector and I'd want panniers, a slip-on, taller final gearing and adventure tyres. That would sweeten the bike for me and make it even better, I reckon.
I did quite a few hundred highway miles on the 650MT. The bike is revving quite high at freeway speeds and thus it runs hot, above 90ºC on days where the ambient temp was above 26ºC. The hot air blowing on my legs, while wearing bike jeans, became uncomfortable also, so I think a larger radiator may help this situation, along with taller gearing. When speeds dropped to, say, 100km/h and below 5000rpm, engine temperature would fall back down to a more acceptable mid 70ºC, the heat would then be less of an issue on the legs. Although I have been told as the miles increase on the engine the temperature drops, they are a tight motor and ours was new.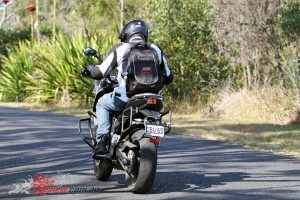 Aside from the heat, the 650MT is comfy and a bike I could ride all day long. With a bit of trial and error I eventually found a screen height that stopped wind blast and gave good protection. Vibes are almost non-existent and the seat is broad and plush. The ride position is commanding and the ergonomics feel natural for me, at 185cm.
I felt the 650MT was overly heavy, which could be an issue for some learner riders, however once on the move of course the weight is not noticeable and at low speeds I could easily put both feet flat on the ground. I really enjoyed punting the MT through the twisties and I was impressed by the tyres, which was a surprise to me. The fork action on the MT felt a little on the sharp side in the high speed/sharp compression but the up side is plenty of support under hard braking and when pushing.
The rear is also firm and well supported but does have some limitations in rebound control when riding at or near the limit of the bike. The brakes never faded and although there is excess lever travel, I got used to them and was not wanting more.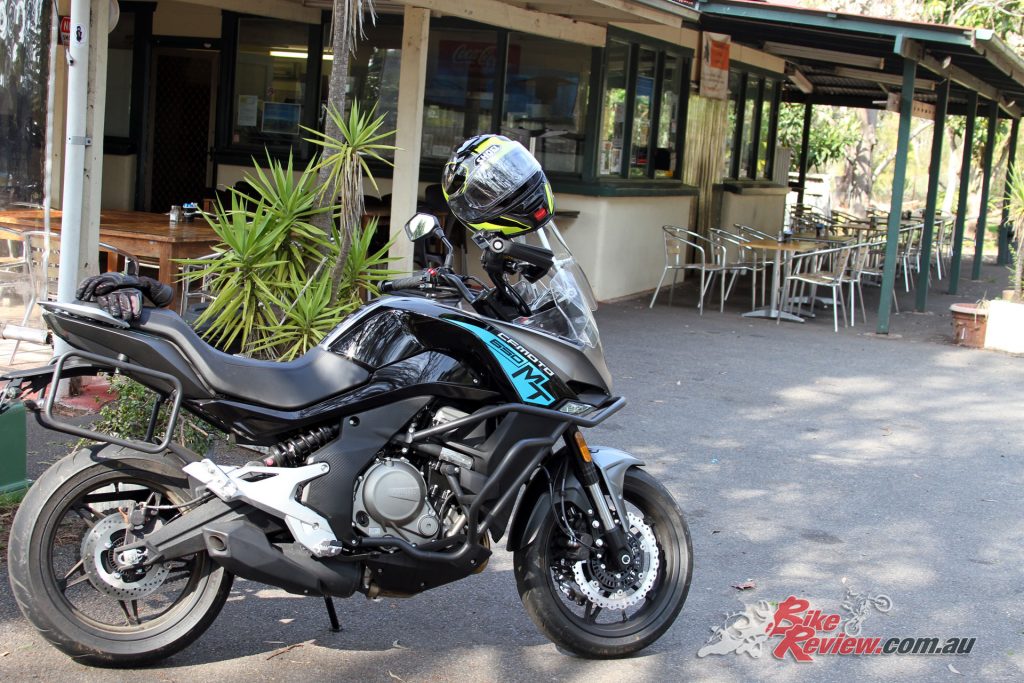 Engine-wise that twin has always been a sweet unit, with a broad spread of torque. This version feels even more so and has a great momentum once on the roll, with top gear roll ons from low rpm no issue. Up top there is nothing to write home about but the mid and bottom are brilliant.
Gearbox ratios are well suited to the bike (that final gearing as mentioned could be taller), but shift action is not up to scratch. Clutch action is smooth, if a little heavy, but overall with the sweet fuelling the powerplant is impressive. All up, I reckon the 650MT is a top bike, that does it all and the price is too good to be true – Jeff.
2021 CFMOTO PROJECT 650MT ABS Specifications
Price: $7490 Ride-Away
Warranty: Two years/unlimited kilometre (currently extended to three years)
Colours: Athens Blue or Nebula White
Claimed power: 41.5kw [55.6hp]@9,500rpm (LAMS Restricted)
Claimed torque: 62Nm [45.72ftlb]@7,000rpm
Dry weight: 213kg
Fuel capacity: 18L
---
Engine: Liquid-cooled, DOHC, eight-valve, parallel-twin four-stroke, 180-degree crankshaft, 649.3cc, Bosch Fuel injection, dual 38mm throttles bodies Gearbox: Six speed
Clutch: Multiplate wet Final drive: Sealed chain
---
Chassis: Tubular steel diamond frame employing engine as fully-stressed member, extruded steel swingarm with tubular steel bracing
Suspension: USD fork, adjustable, travel 140mm, cantilever monoshock, preload adjustable, travel 145mm
Brakes: Continental ABS, dual 300mm steel rotors, twin-piston calipers, 240mm rear rotor, single-piston caliper
Wheels & Tyres: 120/70ZR17, 3.5 x 17 MT alloy (f) and 160/60ZR17, 4.5 x 17 MT alloy (r) CST
---
DIMENSIONS:
Wheelbase: 1415mm
Seat height: 840mm
Length: 2150mm
Width: 835mm
Height: 1332mm
---
Instruments: LCD display
---