Video & Review: Jeff's Long Term BikeReview LiveWire, 3000km final wrap and Mike, Tim and Phil have a spin and take on the electric experience. How was the LiveWire as a daily rider?
Since Simon Harris attended the Aussie launch, MDM did the Euro launch and Paul Bailey did our track test, Jeff became keen to test a LiveWire over a longer period to find out just what it is like to go electric. Here's his third, final update video on the bike, after 3000-plus km.
---
---
Check out our Electric section here for many more Electric Motorcycle reviews and videos including Part 1 and Part 2 of our BikeReview LiveWire long term test…
---
SECOND OPINIONS – WHAT THE OTHERS SAY
Tim Holland, 51, First Ride On An EV Bike (own bike, GSX-R1000, sportsbike & racing history)
The LiveWire reminds me of the Harley Sportsters I remember following at Eastern Creek while racing SuperSport back in 1996. They ran with ASBK as the Roaring Sporties and I got to ride with them on some practice days. The fast Sporty riders were doing 1:45s, same as me on my 600, and taking turn one full throttle, it was amazing! It taught me that decent tyres and some setup will surprise a lot of people, even on a Harley!
---
The LiveWire's forte is standing starts and initial acceleration off a turn, where it will jump ahead of a combustion engine. Ergonomic's are well thought out, it has a neutral seating position and is quite comfortable to ride. The brakes are Brembo and it's fitted with SHOWA suspension front and rear so no problems there.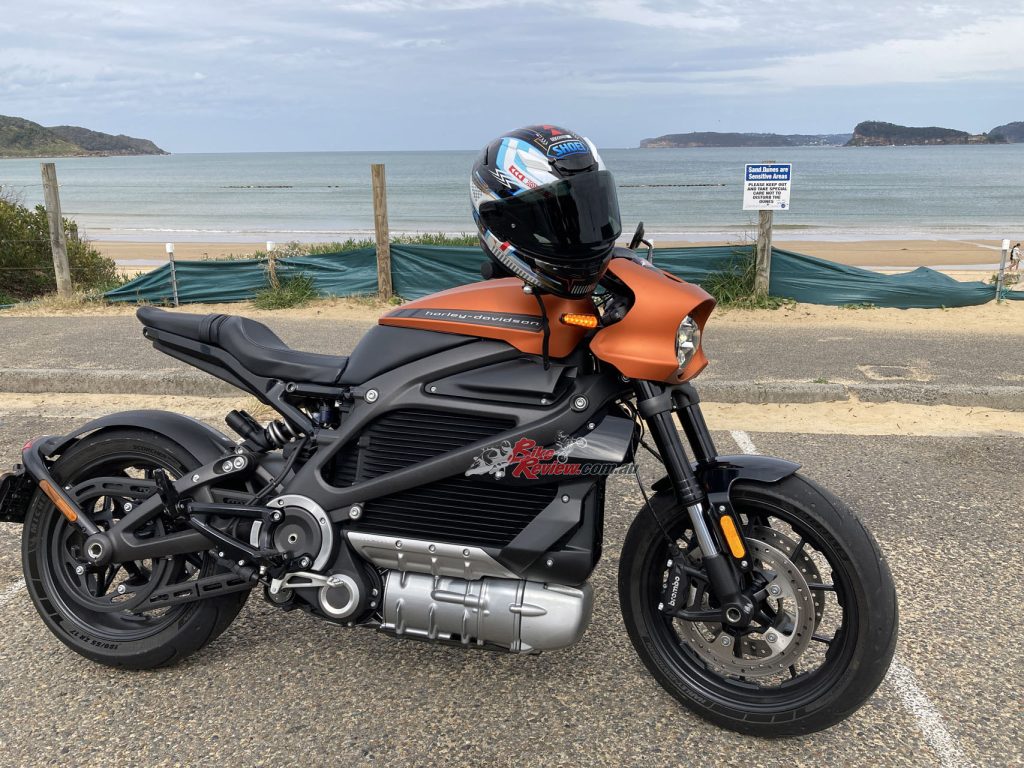 My first impression riding the LiveWire was how smooth and quiet the bike is. You can hear a whirring noise from the electric motor as it gains speed, that and wind and birds noises from the trees, it's quite bizarre! My next impression was how quickly it gathers speed when you wind it on. In one roll on test it shot from 80 to… err… more than 80… up a fairly steep hill in no time at all.
---
At the top of that hill there is a smooth positive cambered right hand corner. I rolled off a little and dropped in and it felt planted but as I got further into the turn it started to buck and weave a little so I pulled it back and cruised. I think once fitted with a decent set of tyres that weaving issue could be sorted. Overall it was a joy to ride and this being a first attempt at an all electric motorcycle by a large manufacturer I'd say it's a success.
Mike Cameron, 45, LiveWire Experience (own bike, Yamaha WR250, trail & road rider)
This is a bike that I have been closely following since its concept launch in 2014. Certainly a radical departure from the V Twin we are accustomed to powering a Harley-Davidson. I've had the chance to test a few other electric motorbikes in the last 12 months, the Super SOCO TC Max & the Fonzarelli Arthur. While those offerings are targeted to the commuter, urban utility market & priced accordingly, the LiveWire is a real premium offering, with blistering performance and build quality to rival that of any ICE motorcycle. A lot has already been written about the LiveWire.
---
The overestimated battery range vs real world expectations. The exhilarating performance, and the lofty purchase price. So who is the target market for the LiveWire? What's it like to live with and would it be suitable as your daily ride, or even only motorcycle? Is it ahead of its time, or one for the early adopters and collectors?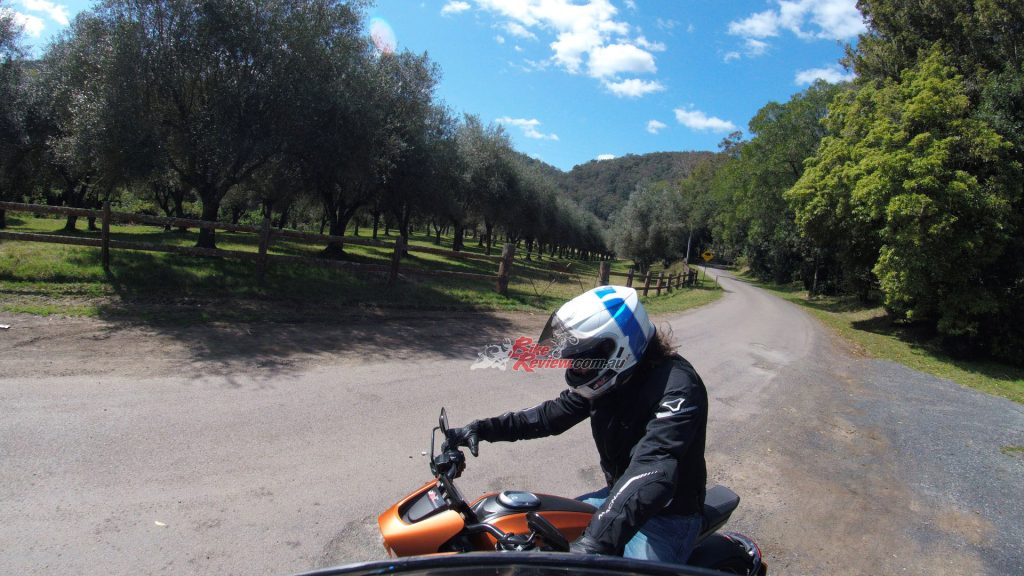 The Livewire is not a rational bike. It's not a bike I'd consider for my daily commute of 85km each way. Tha's not to say it wouldn't be up to the task of daily duties for certain riders. If you're a city dweller, with mostly short urban rides, the LiveWire would make more sense as a daily. For me, the LiveWire would be the ideal weekend toy, coming out to play on a sunny day, to cruise the beaches and carve up my favourite twistys. This, in my opinion, is where it really shines.
It hasn't got the range to cover any real touring, and the charging infrastructure just isn't there yet in Australia to say, plan a trip up Australia's East Coast. This will change quickly though. Just today I read that there are plans for 5000 free fast chargers to be built around Australia. This is very welcome news.
The performance is exceptional. I would rate the power delivery head and shoulders above anything else I have ridden. The engineers have done a great job with throttle response, making the it a very easy bike to ride around the built up urban environments. It really is an extremely easy bike to ride. I have never gelled with a bike as quickly as I did with the LiveWire, It just felt so comfortable and natural in its riding characteristics from the first ride.
---
It's such a point and shoot weapon. The torque is always on tap. It just feels really easy to ride for such a high-powered bike. The lack of clutch and gears will disappoint some, lamenting the lack of rider engagement. I'm not the sort of rider who will explore the traction limits of a bike on public roads, I'm a bit too old for that and have a level of self preservation. I'm more of a cruiser. Rarely riding so hard that I'm working the rider aids such as the cornering ABS or cornering traction control, but it's nice to know it's there should I need it in an emergency.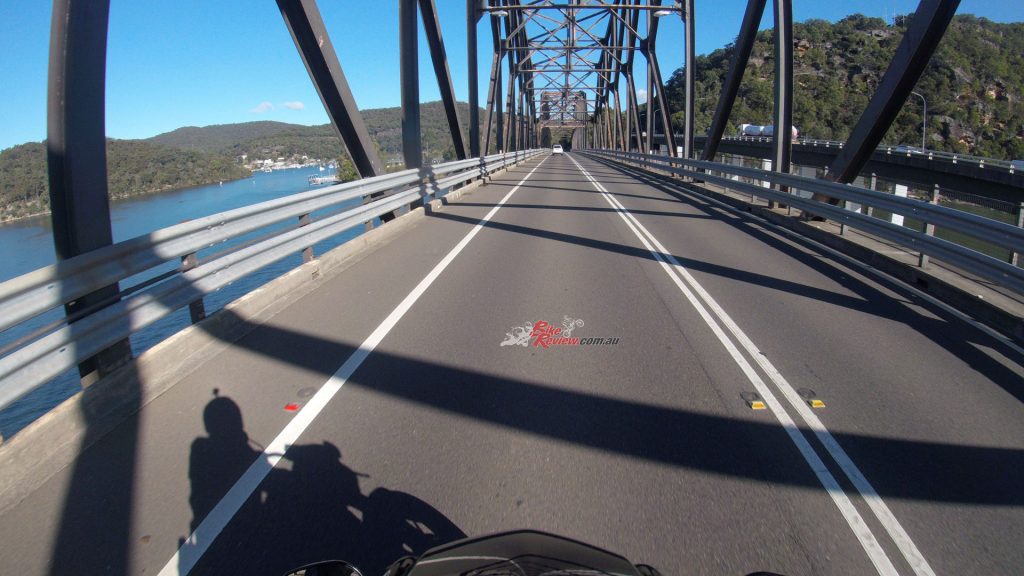 I didn't tinker with the custom modes and spent my time in Road, Range and Sport modes. I had the opportunity to do two longer rides, so set out planning a route and seeing what sort of range I could get. In Sport mode keeping to B roads and urban riding I managed 179km. In Range mode on a similar route I got 194km. Both rides I started out with a fully charged battery and were approximately 3 to 3.5 hours in duration, riding until I hit 5 per cent battery remaining. This was a mix of spirited back road riding and urban cruising. It needs to be noted that there was very little highway constant throttle riding on these rides. It's well documented that battery life will be much shorter on long highway stints.
---
I didn't tinker at all with the SHOWA suspension. I found the damping and rebound to be a good match to the roads I ride. I think Jeff had already made a few tuning adjustment before I took delivery of the bike. I found the styling to be on point. An aftermarket tail tidy and rear mudguard would really help the back end aesthetics. The one improvement that I would like to see is the under seat compartment that houses the charger. I think the design could be improved. It's a little fiddly getting all the cables neatly routed and rattle free over bumpy roads.
So would I buy one? Hell, yes! But then reality sets in upon checking the bank balance. With the world moving so fast, I think the technology from this bike will rapidly trickle down into more affordable options in the coming years, and that is great news for us all…
Phil Gollan, 69, First EV Bike Experience (own bikes, custom cafe racer, VMX racers, Vespas)
I am 69-years-old and a lifelong petrol-head. I've never ridden an electric bike, but I race VMX and have owned many bikes from Blackbird's to cafe racers, classic Vespas and VMX bikes. Jeff asked me to have a ride on some electric wiz-bang thingamejig. Turned out the thingamejig is a Harley.  I didn't want to like this new fang-dangle contraption, but I agreed to give it a try.
---
---
The first thing I though when I sat on the bike was that somebody had taken away the speedo and tacho and stuck an iPad where the dash should be! Initially the bike felt very comfortable, the seat was nice the handlebars felt right and the switches and brake lever are in easy reach  of the fingers.
After pressing two buttons on the right switchblock and going through a few procedures on the iPad the bike was ready to roll. Jeff warned me not to blip the throttle because that could have dire consequences. With this in mind, I set off…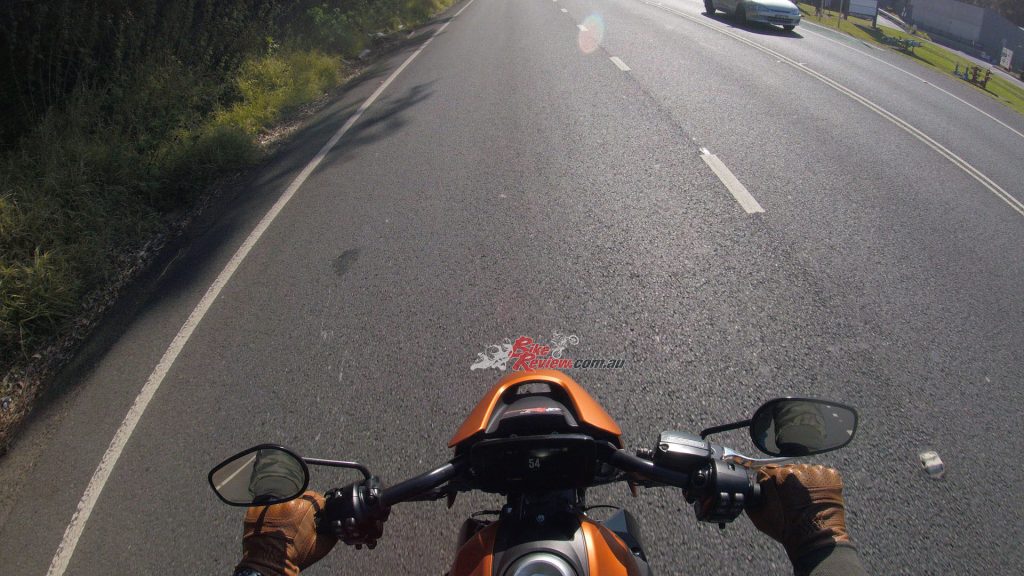 Now this is a heavy motorcycle, but immediately felt light and nimble. I plodded along the local suburban roads in total silence thinking this is pretty cool. It wasn't long before I reached a road that was a little more open, so with two cars in front of me and nothing coming towards me I pulled out and screwed the throttle on. The bike accelerated like nothing I have ever experienced in my life (and I've owned a Falcon GT351 and a Honda Blackbird), with that electric motor screaming like a banshee. Well passed the cars I backed off and the inertia of the motor felt like I was applying the brakes.
---
After a few kilometres of very enjoyable curves I turned around and took the bike back. I wanted to be able to rubbish this bike, but I couldn't, in fact, I arrived at Jeff's with a huge smile on my face. I really enjoyed the LiveWire, the acceleration is just unbelievable. I probably wouldn't buy an electric bike but it sure was fun…
---
2021 Harley Davidson LiveWire Specifications
Price:  From $49,995
Colours: Vivid Black, Yellow Fuse, Orange Fuse (our bike)
Claimed power: 78kW [105hp]@10000rpm
Claimed torque: 116Nm [86ft-lb)
Wet weight: 251kg
Fuel capacity: Er, it's black magic!
---
Engine: Water-cooled Revelation permanent magnet electric motor, single speed
Battery: 24kWh
Range: 235km Claimed (City)
---
Chassis: Cast alloy
Rake: 24.5° Trail: 108mm
Suspension: USD Showa SFF-BP forks, fully adjustable,114mm travel, Showa BFRC shock, fully adjustable, 114mm travel
Brakes: ABS, four piston radial-mount Brembo monoblock front calipers, 300mm dual rotors (f), single 260mm floating rear rotor, dual-piston caliper (r), ABS
Wheels & Tyres: Cast alloy five-spoke, HD Michelin Scorcher Sport , 120/70–17in (f), 180/5–17in (r)
---
DIMENSIONS:
Wheelbase: 1490mm
Ground clearance: 130mm
Seat height: 780mm
Overall height: N/A
Overall length: 2135mm
Overall width: N/A
Instruments: Full digital TFT multi-function display, Bluetooth connectivity via H-D Connect app.
---
BikeReview LiveWire Gallery