The full-sized, versatile and easily handled Kawasaki Versys 650L is an amazing LAMS option when looking outside the box. Here's our 2016 Kawasaki Versys 650L Review. Test & Photography: Kris Hodgson
We've just done a review of the 2016 Kawasaki Versys 650L and not only is the Kawasaki a looker but it's also an ideal choice for an all-rounder for Australian conditions.
In 2015 Kawasaki gave the bike an overhaul in the style department and as a result we have a sporty Versys adventure-touring styled bike, more reminiscent of much larger and more expensive options, but still offering easy handling, strong performance and great versatility.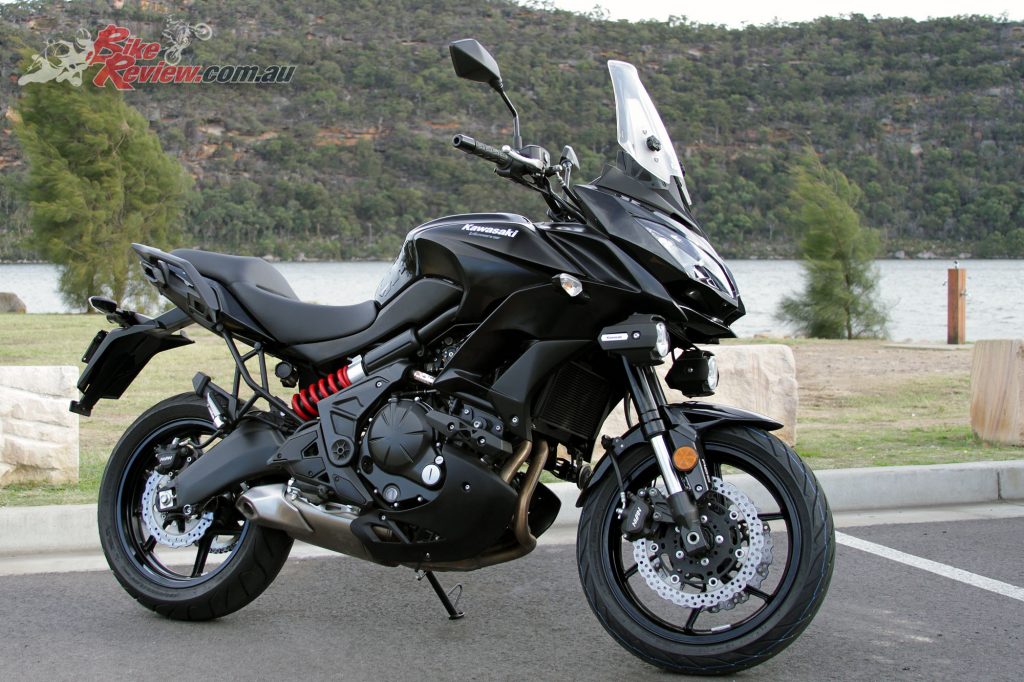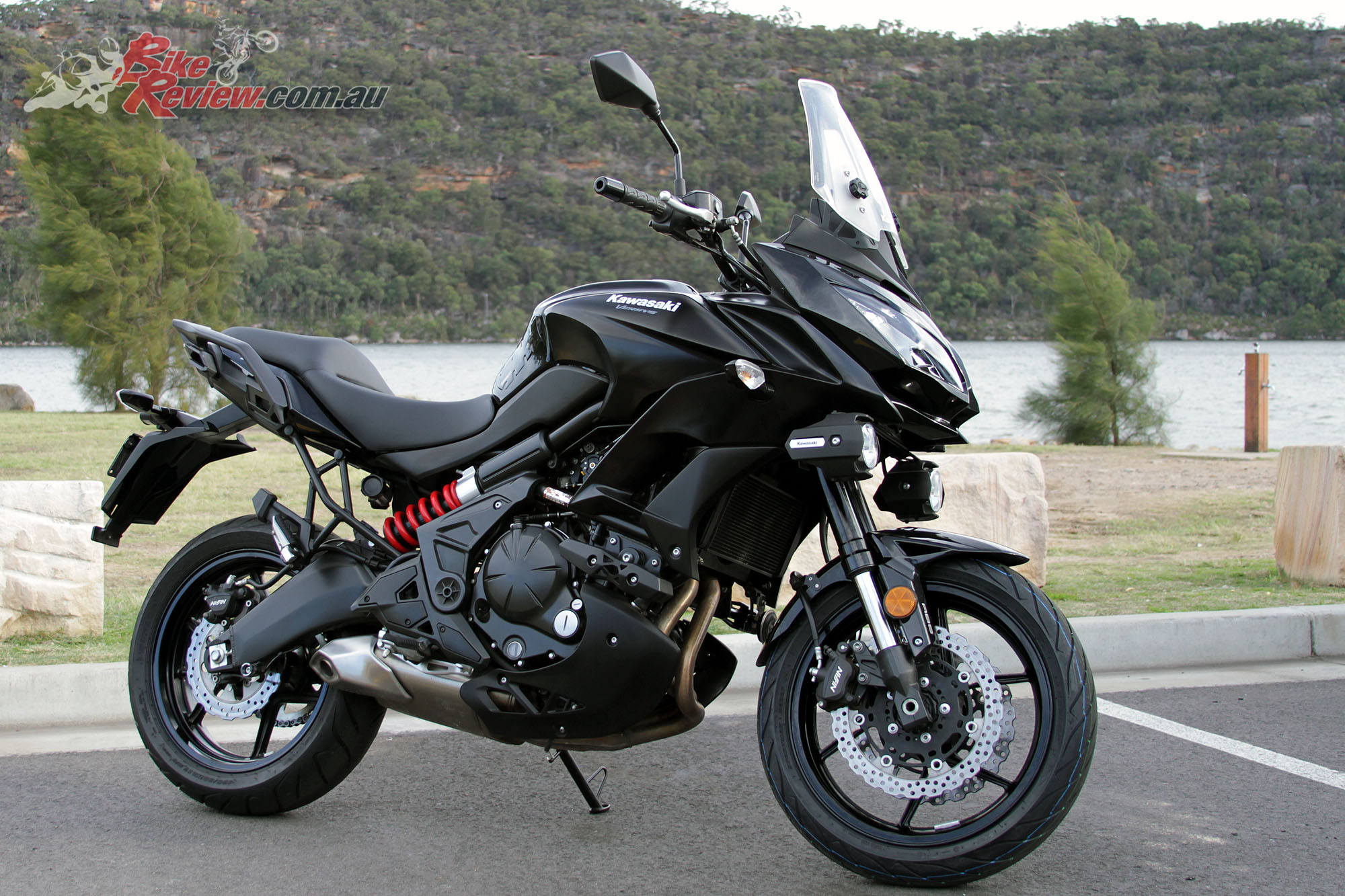 A streamlined front fairing is more in line with the Kawasaki sportsbikes, while the taller Versys continues to avoid being stuck into a single designation. The tall upright bike has a seat height of 840mm, which is on the higher end of the spectrum but provides a comfortable perch, with a good reach to the 'bars and pegs, with ergonomics ideal for larger riders, and you feel more encompassed by the bike than above it. 
For my 180cm height I actually found the seat height comfortable, and it felt much lower than the advertised measurement once the bike has sunk into its suspension. Add to that the adjustable front screen for optimal wind protection, adjustable without tools, and you're looking at a formidable choice for those after a more adventure touring themed bike.
This isn't your regular basic LAMS bike either, with higher spec adjustable forks, and a remote adjuster for the rear shock, allowing easy adjustment on the run. There's the ability to easily add a power socket, with the bike as tested also featuring running lights and engine protection, with the rear grab rails offering easy fitment of a pannier system. The running lights in particular help your visibility and riding in the dark immensely, while the engine protection is styled to blend into the bike's overall looks, rather than adding some ugly protrusion.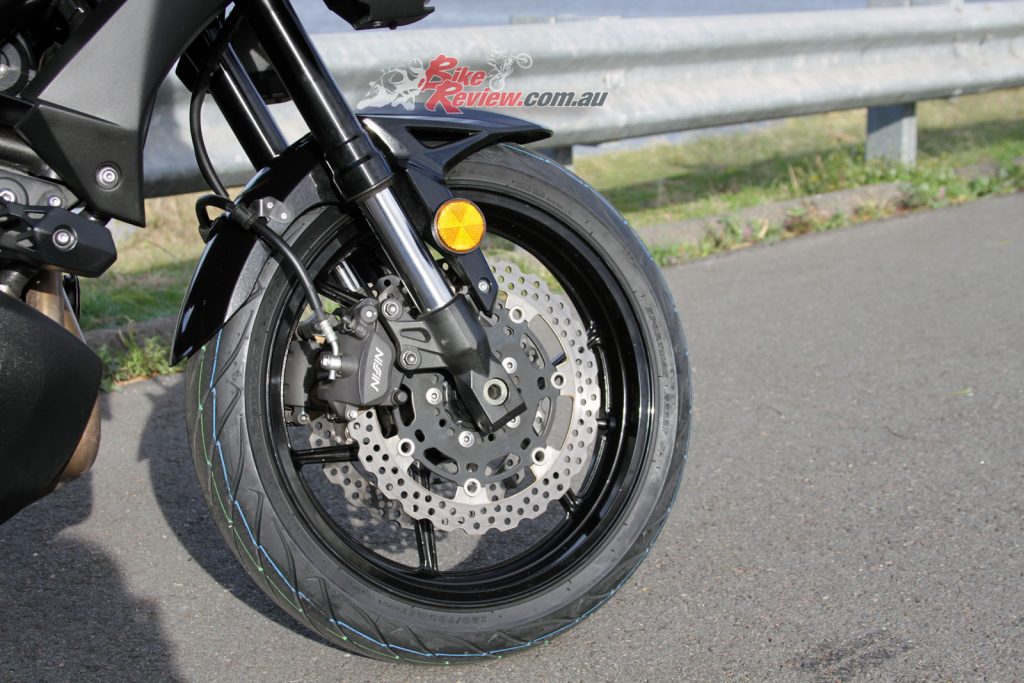 Dual 300mm petal rotors with dual-pistons calipers are backed up by ABS, while the rear rotor is a 250mm petal item with a single piston caliper, providing great stopping power but without the level of bite that could get inexperienced riders into trouble. There's a bit of front end dive when hard on the brakes thanks to the softer suspension which provides that ultra comfortable long term touring viability but it's not at the expense of your more sporty riding.
Weight is 216kg which is on the heavier side if you're rolling the bike around by hand, but disappears once you're moving – as long as you can get your feet to the ground you won't have any issues. In fact this is one of the easiest machines I've ridden recently to do a U-turn on, and really low speed steering maneuvers are likewise a breeze.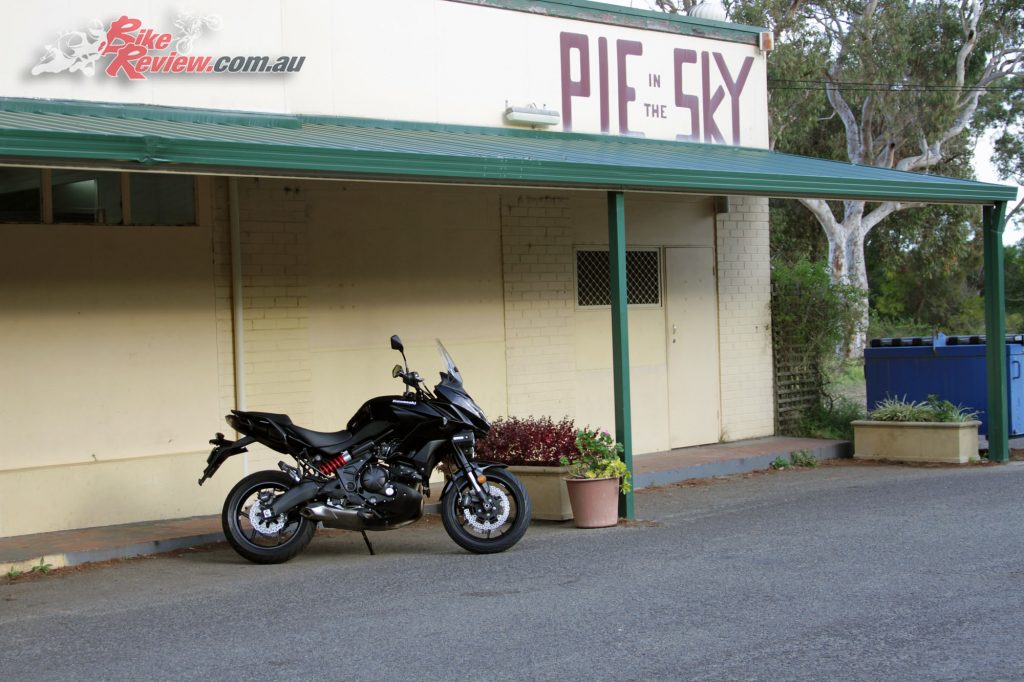 The turning circle is tight, allowing great manoeuvrability and easy U-turns while the bike remains agile, despite its weight, with the wide bars offering good leverage. Mirrors and controls are all as you'd expect, with no reinventing of the wheel, and providing good vision and everything on hand.
The parallel-twin engine also really shines in this bike, providing great torque from down low in a very manageable power curve that flows seamlessly between gears. Even finding yourself in too high a gear isn't an issue with plenty of low down pull providing a very forgiving ride. You've also got plenty of power regardless of your needs, whether it's out on the open road, at 110km/h (once on a unrestricted licence) or commuting at much lower speeds.
I did find I needed to be careful changing gears between first and second, as being too aggressive and not fully actuating the clutch could unsettle the bike, but I was also easily able to downshift heavily for engine braking as I came to a stop, and gear changes into higher gears were smooth and trouble free.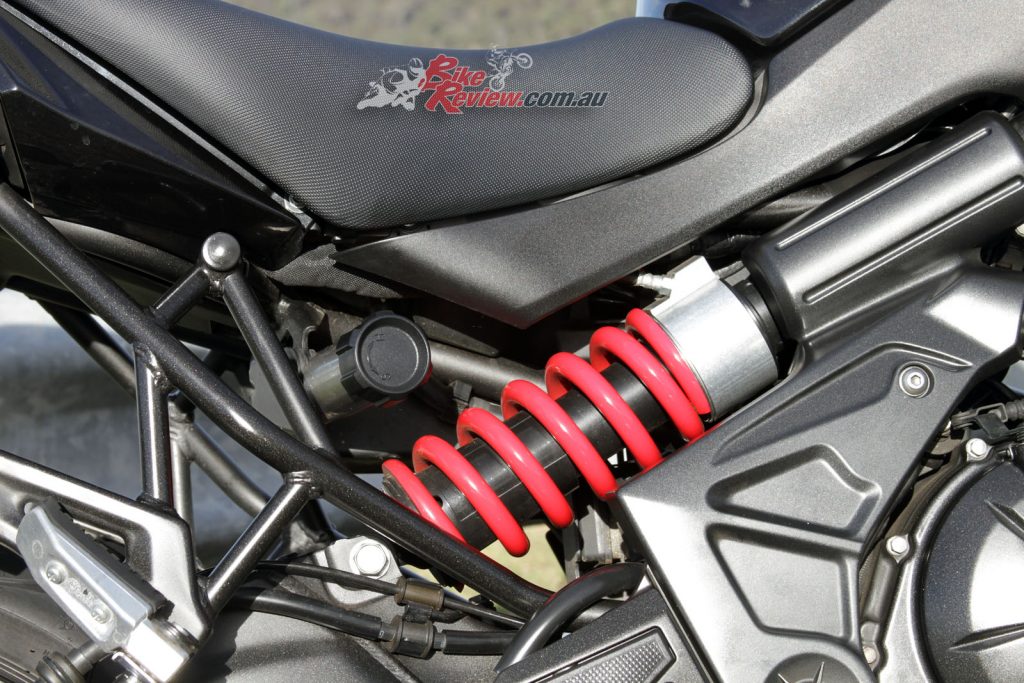 The suspension while relatively plush – which is perfect for our often rubbish Australian roads – provided plenty of confidence and support across all conditions, and the chassis is a standout, with great feel and no noticeable vibes at normal speeds.
The only factor that stood out was that the bike is noticeably tall when you're riding through the twisties, giving that real feeling that you're leaning right over, with all that additional suspension movement compared to coming from a normal sportsbike or nakedbike tending to feel a bit strange at first.
As you ride the bike more it all becomes natural however and there was a few rough sections where the rear in particular would get a little overwhelmed, then I'd take a look down at the speedo and realise that I was actually travelling much faster than I thought for the section of road. It's a deceptively fast machine and has plenty of mid-range punch.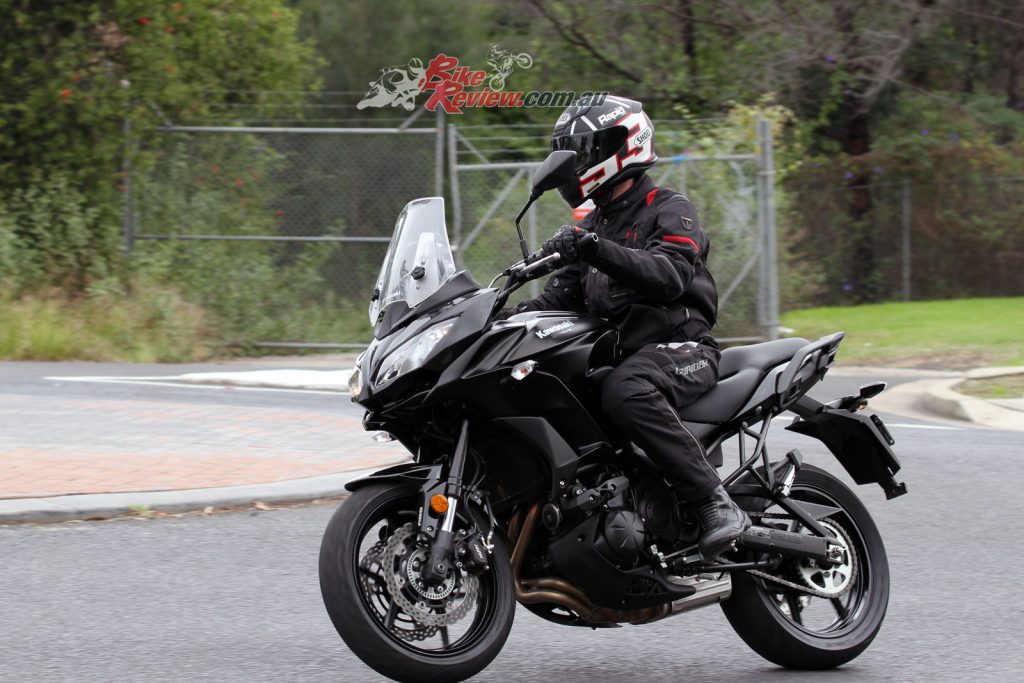 The Versys 650L model we tested was also fitted with the DC Output, Fog Lamp Kit, Tank Pad, Bobbin Set and Crash Protectors, with plenty more genuine accessories available from Kawasaki.
The finish quality of the Versys 650L is also exceptional, making the more expensive asking price of $10,199 plus on roads a reasonable proposition when you consider that this bike could easily take you past your Ls and Ps if you aren't worried about big power figures.
Plus the Versys is a real standout for being a great all rounder and tourer if you were so inclined, with the Kawasaki topbox or panniers offering the option of turning it into a real work horse!
SPECIFICATIONS: Kawasaki 2016 Versys 650L
PRICE: $10,199 + ORC
WARRANTY: Two-year, unlimited kilometre
COLOURS: Matte Orange, Matte Black (as tested)
CLAIMED POWER: N/A
CLAIMED TORQUE: N/A
WET WEIGHT: 216kg
FUEL CAPACITY: 21L
ENGINE: Liquid-cooled, parallel-twin, four-stroke, DOHC, 649cc, 83 x 60mm bore x stroke, 10.8:1 compression
CHASSIS: Diamond, high-tensile steel frame, SEAT HEIGHT: 840mm
SUSPENSION: 41mm inverted telescopic forks, stepless adjustable rebound damping, adjustable preload, offset laydown single-shock, remote spring preload adjustable
BRAKES: ABS, dual 300mm semi-floating 300mm front petal rotors, dual-piston calipers, single 250mm rear petal rotor, single-piston caliper
WHEELS & TYRES: Six-spoke, 120/70 ZR17, 160/60 ZR17
INSTRUMENTS: Digital display, analogue tachometer
The Verdict | Review: 2016 Kawasaki Versys 650L