I think we can all agree that 'exciting' isn't the first word to come to mind when LAMS bikes are mentioned but Jack reckons Kawasaki's 2020 Ninja 650L could be an exception... Review: Jack Photos: Heather, Jack
Making the most of social-distancing, I've spent the past couple of weeks isolating on Kawasaki's 2020 Ninja 650L, a middleweight LAMS sport styled bike. It's been a fun time onboard this good looking, affordable motorcycle with performance that'll excite!
I recently reviewed the naked version of this motorcycle, the Z650L, which I had a top time on as well. These bikes are pretty much twins; same chassis, same motor, same tyres, etc. however, some of the differences between the two include the design – obviously, one being naked and one being faired – the motor is tuned differently, the 'pegs are moved slightly up and back and the Ninja also features different handlebars, which contributes towards a more aggressive riding position.
This year's Ninja 650L is an awesome looking bike and I really like it's design. It's an overall aggressive looking machine with a sharp front-end that looks mean. The KRT colour is great, with the classic Kawasaki green mixed with some black and red on the fairings, a honeycomb type design with '650' in big text, and Kawasaki Racing Team stickers dotted around the bike in various locations. 
---
---
The Ninja sits on big 17in black five-spoke rims, with some green rim tape that complements the look nicely. Kawasaki adds some nice finishing touches by incorporating sleek, flush indicators that are built into the fairing yet still allow to be seen really well, and an LED taillight that lights up with the letter 'X'. The short and compact exhaust is also fitted underneath the bike and looks really good in my opinion.
THE RIDE
When swinging my leg over the the Ninja 650L, I notice immediately that it's really comfortable for a sportsbike styled bike. The seat height is low, which inspires some confidence, and even though this bike is designed to have a more aggressive position than the Z650L, it's hardly noticeable and is really just as comfortable as the naked version. The Ninja comes standard with fully adjustable levers that I fine-tuned to my liking, a nice touch for the price bracket of under $10,999 + ORC.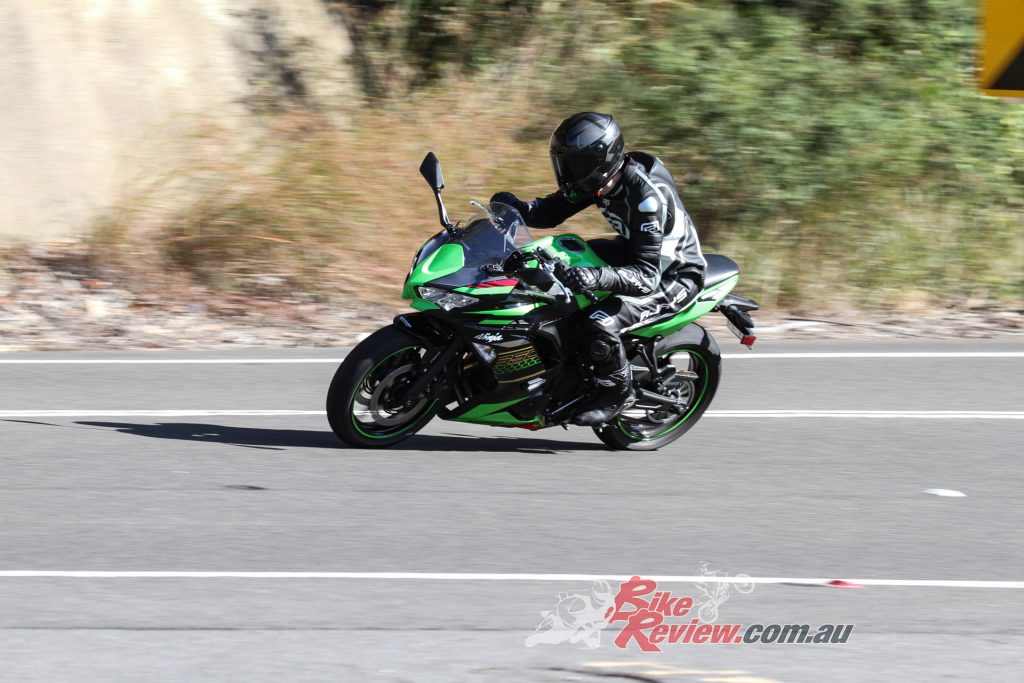 The tech on this bike is great, with a full colour TFT dash that is crammed with all the features I needed to know, such as realtime fuel consumption, fuel consumption average, fuel range, odometer, trip odometer, temperature, clock, speedometer and tachometer.
The dash can be switched between a light mode and a dark mode, but I just kept it on dark for the majority of my test. Along with all those features, the bike has bluetooth connectivity built in, and I paired it to my smartphone during the test period.
---
---
The motor, a 649cc parallel twin – the same as the Z650 – is a really fun one with good power and good torque available. The engine has been tuned for power and torque in the low-mid range zone. The top-end is also pretty good, redlining out at 10,000rpm. It produces 37.8kW and 59Nm.
Shifting through the gears, first going out to 75km/h, second to 105km/h, third to 135km/h, it has more than enough grunt there. On the freeway, it will comfortably float doing 110km/h at just over 5,000rpm in sixth gear, so nice and easy and plenty for a LAMS machine.
As well as using this bike as a weekend retreat on some of the local backroads, I used it as a daily get around for a good part of my test to see if it would hold up to the task, and it does with ease. Smooth fuelling on the Ninja 650L makes flowing with the traffic an easy task and it's not too heavy either, 192kg wet, which means that I could easily navigate the bike while lane filtering.
---
---
The mirrors fold in, which is a great benefit to have when lane filtering, and they provide great vibe free vision. The shock is on the softer side and combined with the comfortable ergonomics, I really had no problem sitting in the saddle for hours on end over long rides. It's a bit thirstier than some of the other commuter options on the market though, averaging 4.8L/100km, but I'd say this isn't primarily a commuter machine and that's still not a lot of juice!
---
---
What I will say this bike does best is shred up on backroads and tight technical twists. Just like the Z650L, the Ninja has a tendency to ride more on the rear – not as much so, but still does – particularly off the corners and in change of direction, with a feel of a rear weight bias. This isn't too much of a problem for me and just requires a change in riding technique.
That being said, the Dunlops offer plenty of good grip in the dry and allow you to really crank the bike right over coming into the corner, with the bike maintaining relatively good stability throughout the entirety of the turn, and that strong mid-low range allows you to get on the gas early and exit the corner quickly. The bike responds well to inputs from both the handlebars and the 'pegs, and makes line changing easy as pi, making light-work of esses and other technical roads.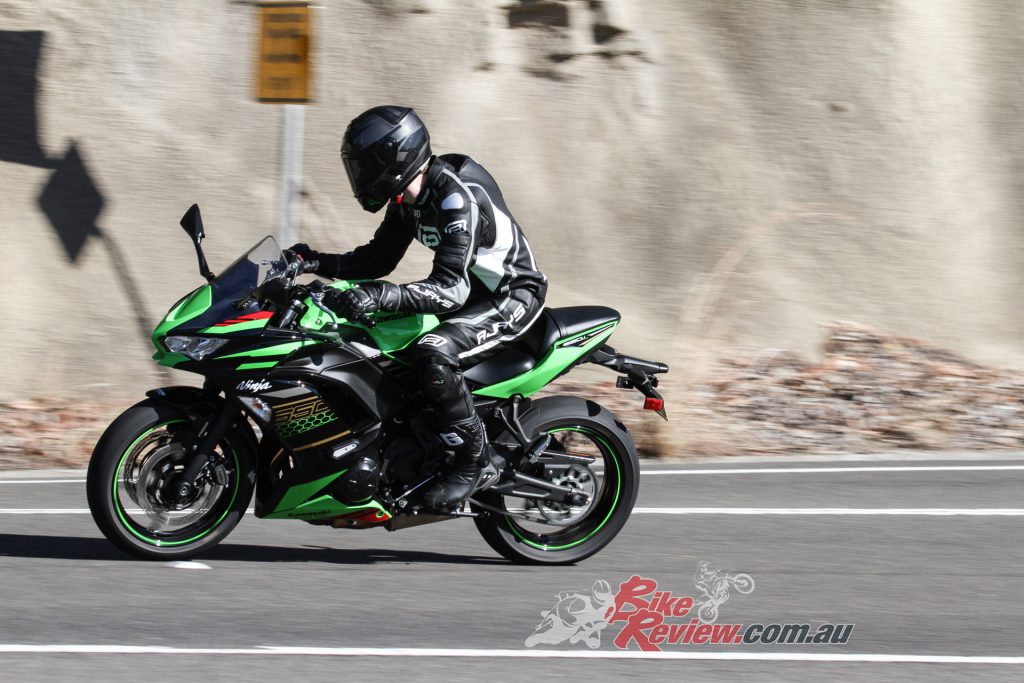 This Ninja comes equipped with dual discs up the front and a single at the rear and they are nice and powerful, with good bite. Not too powerful to send you flying over the 'bars but they are aggressive enough to allow for some spirited riding and brake fade is very minimal.
This, combined with ABS, does great favours for all riders, whether a weekend warrior, a commuter or a learner, you'll have peace of mind knowing that these are some great performing brakes with the tyres still gripping up under hard braking and the front-end is super stable trailing into corners.
---
---
Taking a passenger onboard is easy on the Ninja 650L. The passenger seat is set quite a bit higher than the rider's, and I found this bike to be one of the most comfortable bikes I've had a passenger on.
---
---
I felt as though I was locked into the seat, which is a plus in my books, and the passenger seat was plenty comfortable for a semi-sportsbike. It's really quite stable with a passenger onboard too, and is all around good fun, not that many of us LAMS riders take pillions too often…
My only real complaint of this motorcycle is that there was a small vibration noise that sounds as though it comes from the fairing, heard most when putting around at low speeds or in the low-mid range.
The bike sits nice and securely on the stand, which is easy to kick down. The usual security feature of a steering lock exists, and is the only form of security on the Ninja 650L.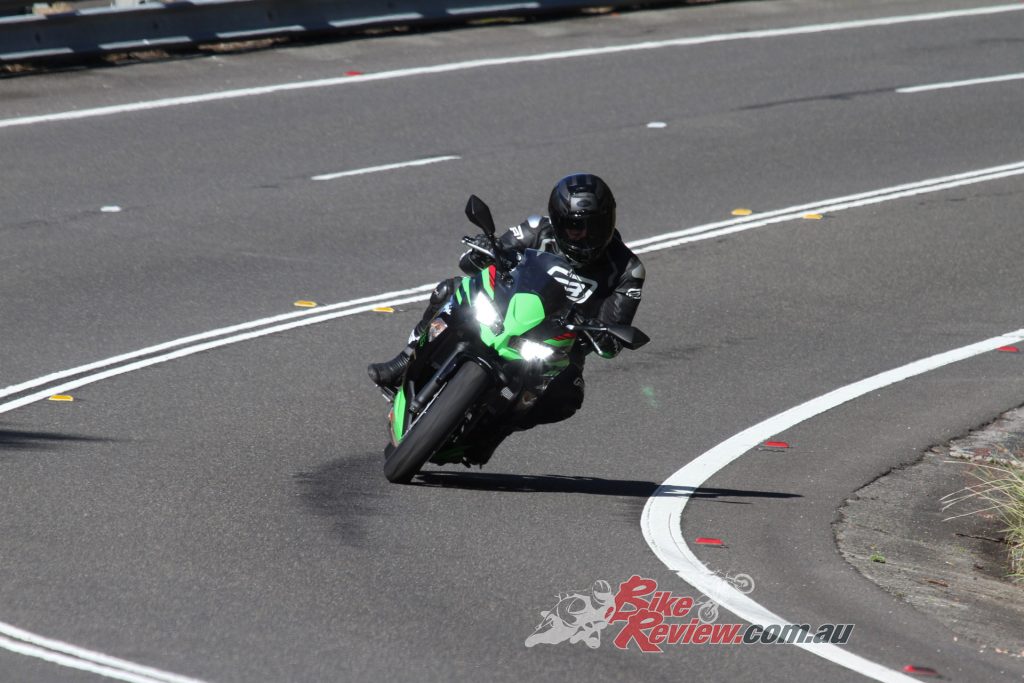 CONCLUSION
So, is this bike worth $12,249R/A? What are the other options available? Well, I'd say it is. The Ninja handled all the tasks assigned it to really well. Commuting, daily use? Yes captain. Twisties, backroads, the fun stuff? Well of course! Does it have the looks to back up performance? I'd say so, but that's up to you. I certainly has big bike presence and ZX-10R looks…
I really enjoyed the Z650L when I rode that and I've enjoyed the Ninja 650L even more. This is a great option if you're a learner and you're shopping for a sportsbike with a bigger, more capable motor than most of the learner options around today. It's definitely worth getting into a dealer and trying one for yourself! See how you go, and let me know if you find it as enjoyable as I did!
---
---
2020 Kawasaki Ninja 650L Tech Talk
The 2020 Kawasaki Ninja 650L features a liquid-cooled, DOHC, eight-valve 649cc parallel-twin that delivers smooth, responsive performance especially in the low and medium rpm ranges.
A number of changes to the intake and exhaust system components were made to ensure that Euro4 emissions regulations are cleared, and offer an increase in mid-range torque while maintaining the power of the previous model.
The increased catalyser volume and revised silencer layout enabled a shorter silencer. Likewise, the exhaust pipe length (shorter) and shape were also optimised to suit the changes. Revised duct joining the airbox and throttle-bodies contributes to increased performance.
Fine-atomising injectors delivering 75μm droplets, ensuring the ideal fuel-air mixture needed for the low-mid range focused engine. Intake and exhaust cams with short operating angles and overlap also move the torque curve toward the lower end of the rpm range.
The open-deck aluminium die-cast cylinder contributes to light weight and plated, liner-less cylinder bores enable a narrow cylinder pitch to enable a slim engine width. The triangular layout of the crankshaft and transmission shafts also makes the engine very short front-to-back. The 180° crankshaft drives a balancer shaft for silky smooth engine operation.
---
---
An auto-fast idle system simplifies starting and ensures the catalyser reaches optimum temperature quickly. A simplified cooling system routes coolant through the engine cases to the cylinder and head to reduce external plumbing, while hot air off the radiator is directed down under the bike.
An assist and slipper clutch has also been added and uses two types of cams (an assist cam and a slipper cam), offering two new functions not available on a standard clutch. When the engine is operating at normal rpm the assist cam functions as a self-servo mechanism, pulling the clutch hub and operating plate together to compress the clutch plates. This allows the total clutch spring load to be reduced, resulting in a lighter clutch lever pull when operating the clutch.
When excessive engine braking occurs – as a result of quick downshifts (or an accidental downshift) – the slipper cam comes into play, forcing the clutch hub and operating plate apart. This relieves pressure on the clutch plates to reduce back-torque and help prevent the rear tyre from hopping.
41mm telescopic non-adjustable forks handle suspension duties up front and a horizontal Back-link rear suspension offers a progressive character with preload adjustability. The rear suspension positions the shock unit and linkage above the swingarm for mass centralisation and to ensure operation is not affected by heat.
Dual 300mm front petal disc brakes and a 220mm rear deliver braking power. A Bosch 9.1M ABS is also standard fitment on Australian models.
---
---
Both clutch and brake levers are five-way adjustable, able to accommodate a variety of hand sizes for increased comfort. Star-pattern five-spoke wheels contribute to light weight, while their high rigidity benefits handling.
Rear seat with thicker urethane (approximately 5 mm thicker at the centre, 10 mm thicker at the sides) and sides that extend more widely offers increased passenger comfort.
Upper cowl is wider with a more pronounced slant, contributing to stronger supersport looks. The redesigned windshield is now lower and flush-fit with the upper cowl. It is set at a more upright angle to offer the rider decent wind protection.
---
---
Twin LED headlights, each featuring low and high beam as well as a position lamp, offer increased brightness. Hooks are used instead of fairing bolts, with the intent to create a clean, smooth surface.
The full colour display features TFT (thin-film transistor) technology, delivering a high level of visibility. The screen's background colour is selectable (black or white), and screen brightness adjusts automatically to suit available light.
Display functions include: digital speedometer, digital bar-style tachometer, gear position indicator, shift lamp, fuel gauge, odometer, dual trip meters, current and average fuel consumption, remaining range, average speed, total time, coolant temperature, clock, battery voltage, Kawasaki service reminder, oil change reminder, and Economical Riding Indicator.
---
---
A Bluetooth chip built into the instrument panel enables riders to connect to their motorcycle wirelessly. Using the smartphone application "RIDEOLOGY THE APP," a number of instrument functions can be accessed.
Vehicle information downloaded to the app can be viewed via the smartphone. Available information includes: odometer, total time, trip A, trip B, fuel gauge, remaining range, average fuel mileage, average speed, battery voltage, Kawasaki service reminder (set by the dealer), oil change reminder (set by the rider), plus an additional rider-selectable reminder.
Detailed riding logs including GPS information and vehicle running information can be recorded. While riding, the app tracks vehicle speed, rpm, gear position, current mileage, and coolant temperature from moment to moment. Once the riding log has been saved, riders can review these items in a graphic-style display at any point along the route.
The app can also display a ride summary, with information that may include: route travelled, total distance, total time, gas mileage (best/average), speed (best/average), etc. For the graphic-style display mode, riders can select which items are displayed, and for either display mode, riders can arrange them in their preferred order.
---
---
2020 Kawasaki Ninja 650L Specifications
Price: $12,396R/A (Sydney 2000) visit this link and put your postcode in for a Ride Away price.
Claimed Power: 37.8kW[50.7hp]@8000rpm
Claimed Torque: 59.0Nm[43.5lbs-ft]@6,500rpm
Wet Weight: 192kg
Fuel capacity: 15L
---
Engine: Four-stroke, two-cylinder, DOHC, four-valve, 83.0 x 60.0mm bore x stroke, 649cc, 10.8:1 compression, Euro4, EFI with dual 36mm Keihin throttle-bodies
Gearbox: Six-speed
Clutch: Wet, multi-plate slipper with cable actuation
---
Chassis: Trellis frame, high-tensile steel
Rake: 24.0°
Trail: 100mm
Suspension: 41mm telescopic forks, 125mm travel, horizontal back-link with adjustable preload, 130mm travel
Brakes: ABS, 300mm semi-floating rotors, dual piston calipers (f), 220mm rotor (r), single-piston caliper
Wheels & Tyres: 17 inch wheels, Dunlop Sportmax Roadsport 2 tyres, 120/70ZR17 (f), 160/60ZR17 (r)
---
Dimensions
Wheelbase: 1410mm
Seat height: 790mm
Ground clearance: 130mm
Overall width: 740mm
Overall length: 2055mm
Overall height: 1135mm
Instruments: TFT colour instrumentation with smartphone connectivity
---
---
2020 Kawasaki Ninja 650L Gallery
---
---
The Verdict | Review: 2020 Kawasaki Ninja 650L
Kawasaki's Ninja 650L is a premium LAMS machine with good looks, big bike performance and proven Kawasaki reliability. Here's our Ninja 650 review…