Review: 2016 Kawasaki Z1000
You have to admire Kawasaki to have the balls to produce a bike like this... Here is our 2016 Kawasaki Z1000 Review. Test by Tony 'Pommie' Wilding Photography by Tony & Finn Wilding
A lot of manufacturers go down the safe route and make generic looking bikes but not Kawasaki. 
The Z1000 really makes a statement, love it or hate it; you have to admit it's different. The aggressive styling is only enhanced by the praying mantis front LED headlight and cowl, giving the bike a deceptive short stumpy streetfighter look that gets you excited about riding the big Zed even before you turn the key.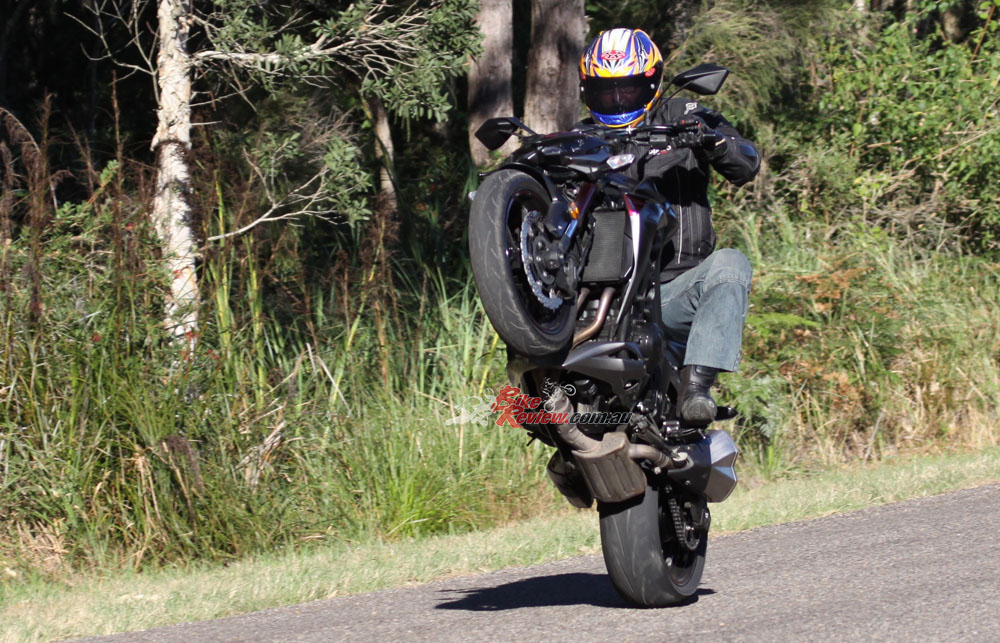 Pulling the bike off the back off my ute after picking it up from BR HQ is always a good indication of how light a bike feels and the Zed feels a tad on the heavy side with a kerb weight of 221kg but that figure really means nothing, it's how the bike feels on the move that counts and I waste no time in grabbing my helmet to find out.
Sitting on the Z1000 I instantly feel at home as I settle into the well molded seat and grab the wide alloy tapered 'bars. I love this style of riding position and always take every opportunity to convince my sportsbike riding mates to at least take a nakedbike for a test ride and see how good they really are…
When I turn the key and push the start button I'm hoping to be greeted to a roaring beast but instead I get a gentle purr and realise the fun police have done a real number on the twin mufflers and decide that'd be the first thing to go should I ever buy a Zed for myself.
Looking at the dash, I love the minimalistic look, but I'm a bit bewildered why Kawasaki have chosen to start the rev counter on the digital section for the first 3000rpm then move to the top bar where it changes into a series of flashing lights – there is however get a handy fuel gauge but no gear indicator. All in all it's neat, functional and easy to read.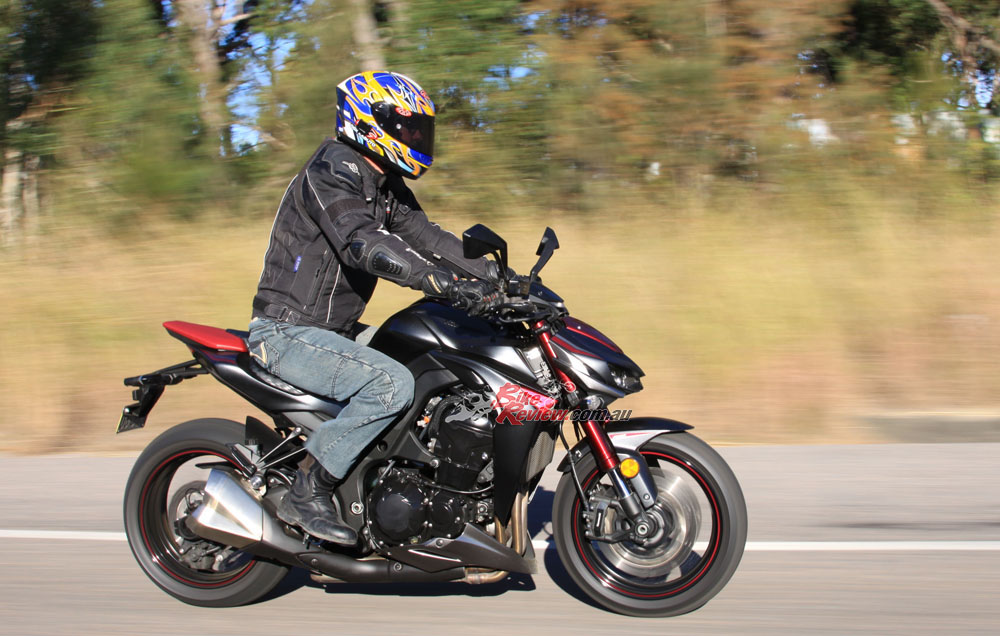 2016 Kawasaki Z1000 – The Ride
Engaging the clutch and selecting first gear I get a reassuring slight mechanical clunk as I tap down the gear lever, the cable operated clutch is not the lightest but has a positive feel as I feed it out to engage the engine. As I head off up the road I can tell instantly that my initial concern about the weight was completely wrong.
On the move the Z1000 feels a lot lighter than it looks on paper and has a precise and neutral feel, plus the engine is silky smooth. Kawasaki have got the fuelling spot on and as I give the Zed the berries I'm thankful for it, as the front wheel slowly starts to lift in a smooth predictable way. Man, this bike is seriously quick. The job they've done tuning the engine for more bottom and mid-range has really paid off, with almost seemingly endless power and torque available from what seems like tick over.
The sound on full song coming out of the heavily muffled pipes in not much, however, compensating for that is a deep induction raw that really adds to the excitement, thanks to the revised air intake system.
As I weave in and out of traffic I'm really impressed by the Zeds commuting capabilities. Apart from having an amazingly slick gearbox, which makes clutch-less up-changes a breeze, the gearing has been slightly lowered by way of one tooth more on the rear sprocket, improving take-off acceleration and fun at the same time… But it's the fuelling and the way the torque and power are delivered that makes this such a good bike in traffic.
Riding along at 60km/h in top gear, a lot of bikes would bog down and insist on a down-change but not the Zed. Crack the throttle in top gear at this speed and the thing still pulls like a steam train – it's that good.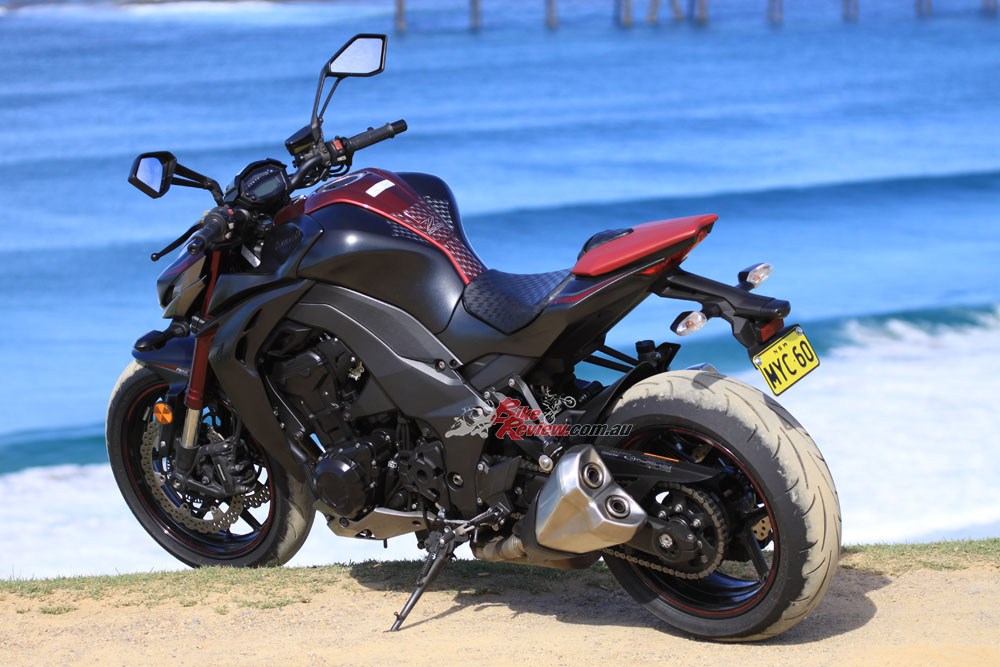 There are a couple of things that let the bike down very slightly, being the design of the rear tail unit, which is so narrow that strapping a bag to the back seat is hard, as I found out, and there's not much seat for a pillion as I also found out. Saying that, the design of the rear is sleek and beautiful so even if I could change it to be more practical, I probably wouldn't.
Another good commuting point are the bikes stylish mirrors, they not only look good, they also offer excellent vision and on my test bike were blur free at seemingly any speed.
Anyway nobody buys a bike like this to just sit in traffic, so I head out of town and into some fun twisty bits.
When I get to the middle of nowhere, I pull over to do an acceleration test. Setting off I can't give it full power in first as the front wheel heads skywards, so I snatch second gear and try again. In second, the front wheel still lifts, but I push my bodyweight forward and the wheel slowly comes to earth, hitting third and the bike is seriously moving. Far out, this bike is super quick and feels even more so being a naked, as I'm getting the full effects of nature on my upper body.
On paper it says the Z1000 has 142hp but it feels a lot more and it's exiting to ride, which surprises me a bit as the engine is so smooth, normally this lends itself to a lack of character and makes some bikes a bit boring to ride, which is certainly not the case here.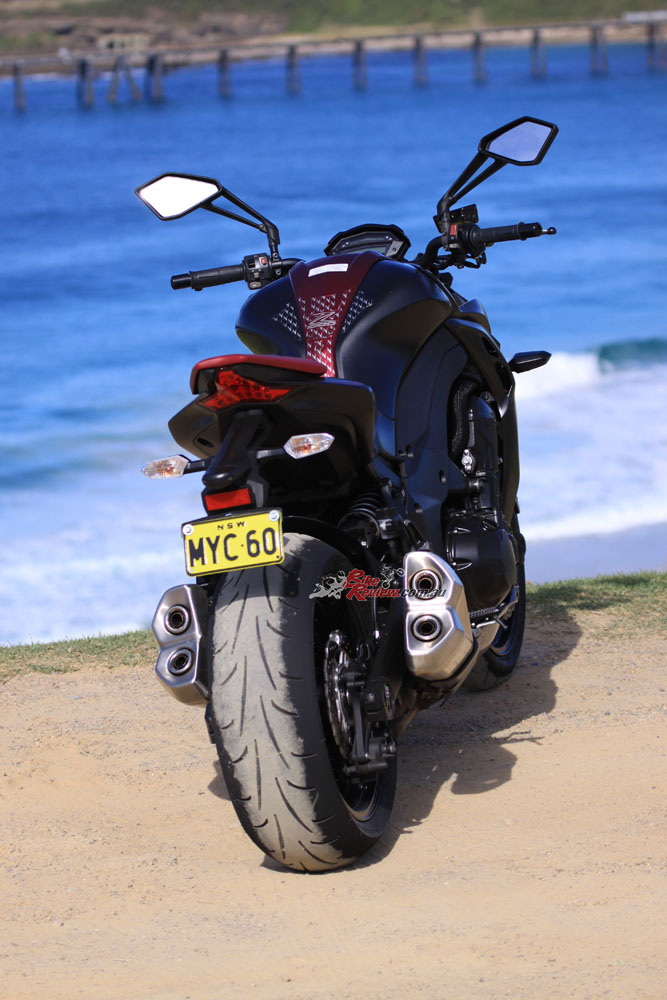 The bike pulls hard from tickover and doesn't stop until redline, which is around 11,000rpm, but at 7000rpm power comes on even stronger and you get a bit more vibration throughout the bike – nothing uncomfortable, just enough to let you know that things are getting serious.
Heading into the twisties on a fast nakedbike is always fun and I've recently started to use the same 10km stretch of road to do so for a good comparison. The road has a good mixture of smooth hotmix corners and some pretty ordinary ones to put the bikes through their paces. On the Zed, I thought that it may struggle a bit through the tighter sections, especially when changing direction, but with the wide 'bars, flicking the big Kwaka from side to side is a breeze.
On its side the bike is firmly planted and only ever gets a bit out of shape when encountering the bit of pushed up tar, as do most bikes, but the suspension is more sportsbike orientated than tourer so you'd have to expect that. I prefer a softer setup myself, especially with our Aussie road conditions, so I pull over for a play with the suspension.
On the front the Kawasaki is fitted with Big Piston Forks that have preload adjustment on the left fork and rebound and compression in the right one, making it very easy to make changes. Though it's the rear spring that feels too firm and with no C-spanner in the tool kit I have to be content with softening the rebound only, which doesn't help. On the move again and with the bike softened slightly it has made it a bit more pleasant to ride and hasn't affected cornering abilities too much.
Back in the corners the ground clearance is reasonable but not as good as others in this class and would be a limiting factor on track.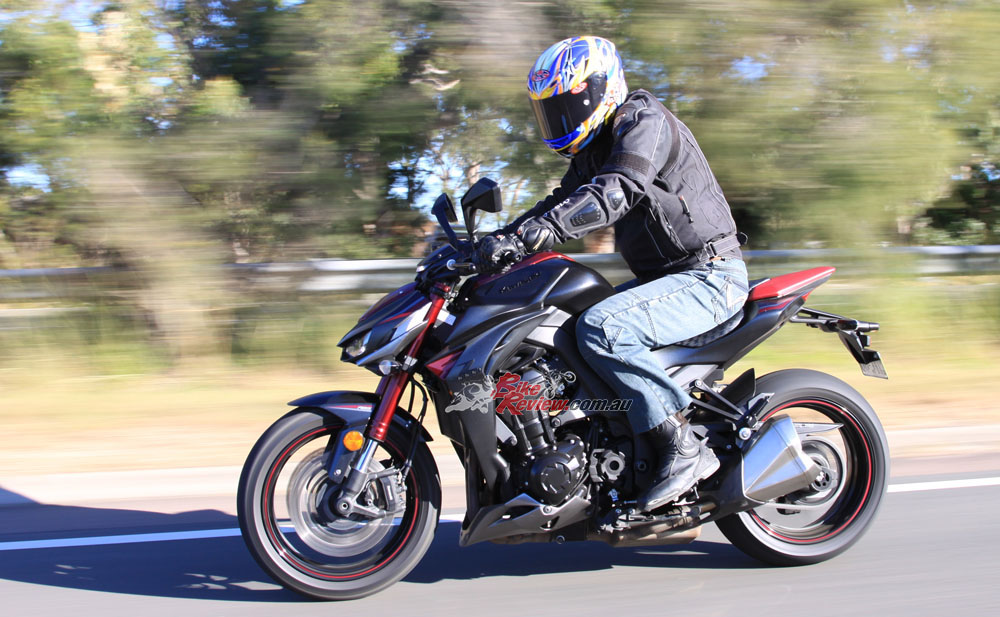 It's the way the bike drives out of the corners that's the most fun. On full lean the Zed demands respect when feeding in the juice while exiting a bend, you don't have any toys to keep you safe, like traction control, lean angle sensors or map modes, but at $15,499 + ORC you wouldn't expect to.
What you do have is a super smooth engine that drives incredibly hard out of the corners and in just about any gear you choose, the lower the gear the more fun can be had. Another new addition to the Z1000 are the brakes and boy do they work well, you now get radial-mounted monobloc calipers on the front, which have great feel on the initial bite and what feels like unlimited power, but I never got to test them on the track, which would be a the true torture test.
The bike is also fitted ABS but this is about the only rider aid you get apart from a slipper clutch. Unfortunately the ABS is not able to be turned off meaning I couldn't do any stoppies and on a hooligan bike like this, it's just crying out for that sort of abuse!
After a week on the big Zed I had a blast but to be honest I was almost glad to hand the keys back. Not because I didn't like the bike, far from it. The problem was, I was incapable of riding the Z1000 like a normal human being and was constantly worried about losing my license – I longed for every traffic light to turn red, just so I could set off again grinning like a mad man, I mean look at the bike, its almost rude not to…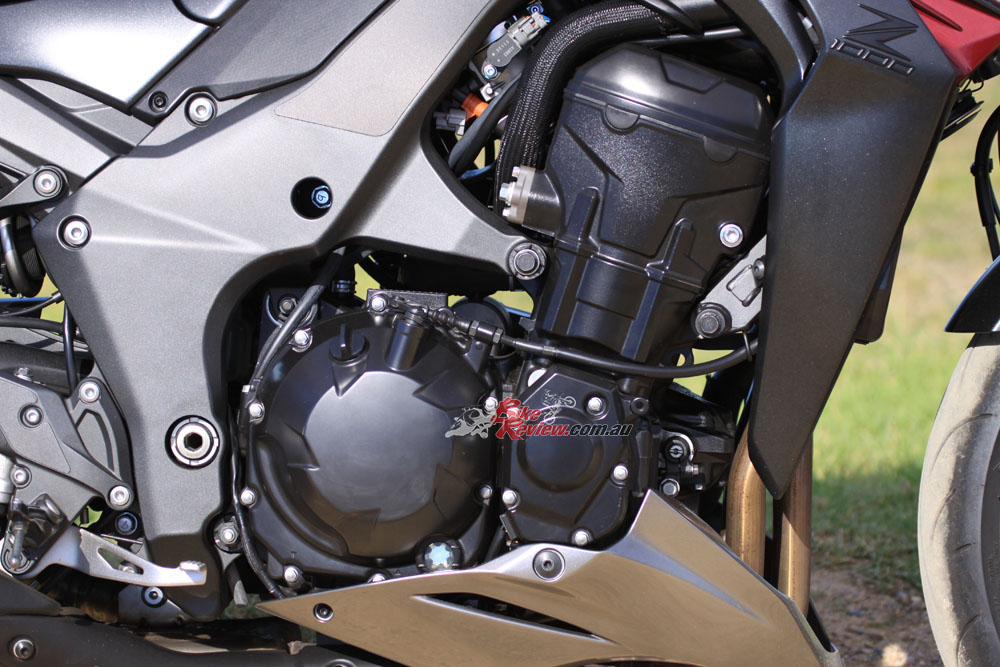 2016 Kawasaki Z1000 Engine
The Kawasaki's Z1000's impressive power and torque come from the liquid-cooled, DOHC, 16-valve 1043cc In-line four, with 104.5 kW (142hp) and strong torque throughout the rev-range.
Kawasaki has used a bore and stroke of 77.0 x 56.0mm to achieve this, along with new downdraft throttle bodies that allow intake air to travel to the engine in the shortest possible distance to improve performance. While a change to the intake funnels of a uniform length of two long, two short then into four long contributes significantly to a more direct throttle response.
Dual throttle valves also contribute to both engine performance and engine manageability care of a second set of ECU-controlled throttle valves that precisely regulate intake airflow to ensure a natural, linear response. A throttle bore of 38mm along with oval sub-throttles to help keep the engine slim, especially around the rider's knee area.
A new intake cam has been fitted increasing lift from 8.5mm to 8.8mm while the duration has been revised from 270 to 276 degrees. To improve acceleration the rear sprocket has increased 1 tooth, while the ECU settings focus on delivering a more direct throttle response.
To help reduce engine vibration Kawasaki have used a secondary balancer, driven off a gear on the sixth web of the crankshaft, this eliminates excess vibration, although Kawasaki claim they have kept some vibration on purpose to enhance the rider experience.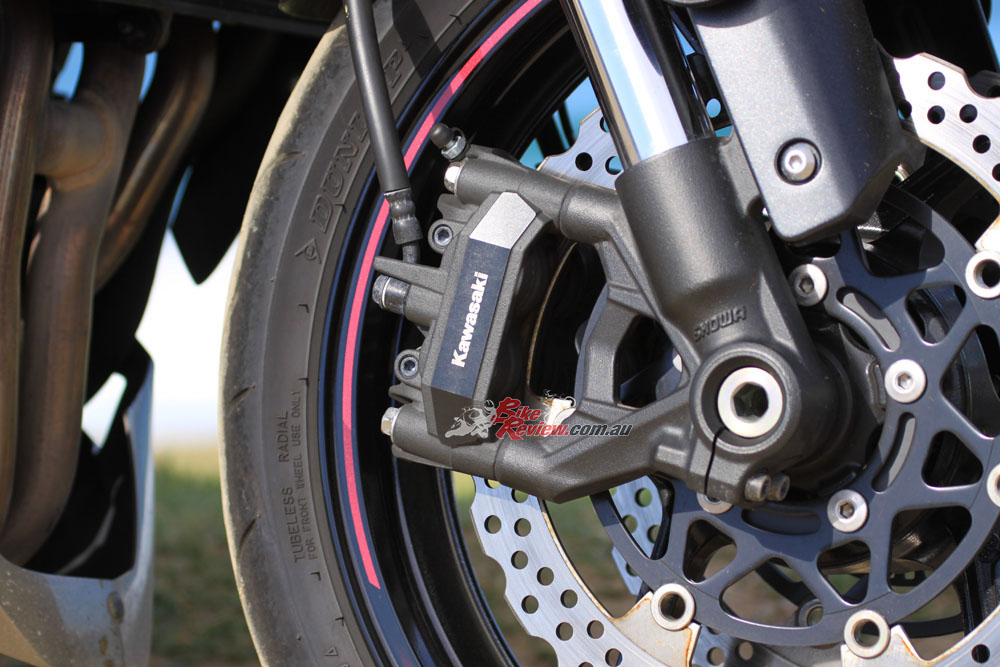 2016 Kawasaki Z1000 Chassis
For the chassis Kawasaki has used an aluminium twin-tube frame, which features a high degree of mass centralisation. The frame is made from a five-piece cast aluminium construction, consisting of steering stem, left and right main frames and two cross pieces.
The two main frame components have open C-shaped cross sections and have been die-cast to ensure a smooth surface finish. The frame uses four engine mounts. All engine mounts are rigid except the upper rear crankcase mount, which is rubber. This, and using the engine as a stressed member, is what gives the frame its excellent handling characteristics. The frame is designed to run over the engine instead of around it, to keep the bike slim around the rider's knees. The new slim rear sub-frame is a three-piece aluminium die-cast construction and has been specially designed to suit the seat and tail unit.
The Z1000 uses Showa Separate Function Forks – Big Piston (SFF-BP), the new fork features springs on both sides, with preload adjustability in the left tube and compression and rebound damping in the right tube. As with the big piston forks, the smooth action from the initial part of the stroke contributes to excellent composure under braking. The large-diameter damping piston is much larger than that used in a cartridge-type fork of the same size, because oil inside the fork acts on a much larger surface area, this allows the damping pressure to be reduced while ensuring the same damping force.
Reducing the damping pressure allows the slide pipe to move more smoothly, which is especially noticeable at the initial part of the stroke. The result is greater control as the fork begins to compress and very calm attitude change as vehicle weight shifts forward when reducing speed, offering greater chassis stability on corner entry. SFF-BP offers much easier adjustability. All the adjusters are located at the top of the fork tubes, with preload on the left; compression and rebound damping on the right, so no need for grovelling around on the ground with a screw driver.
The shock is a Showa unit adjustable for preload and rebound while braking is taken care of via dual radial-mount four-piston calipers and 310mm petal rotors at the front and a single 250mm rotor with a single piston caliper at the rear. Wheels are six-spoke light alloy.
SPECIFICATIONS: 2016 Kawasaki Z1000
Price: $15,499 + ORC
Warranty: Two years/unlimited kilometre
Colours: Metallic Matte Carbon Gray with Candy Crimson Red highlights
Claimed power: 105kW [142hp]@10,000rpm
Claimed torque: 111Nm [81.8ft-lbs]@7,300rpm Wet weight: 221kg
Fuel capacity: 17L
Engine: Four-stroke, liquid-cooled, DOHC, four valves per cylinder, inline-four
Displacement: 1,043cc, Fuel injection, 38mm x 4 (Keihin) with oval sub-throttles
Gearbox: Six speed
Clutch: Wet multi-plate slipper
Final drive: Sealed chain
Chassis: Twin-tube, aluminium Rake: 24.5°, Trail: 101mm
Suspension: 41mm inverted fork with step-less compression and rebound damping and spring preload adjustability, shock horizontal back-link, gas-charged, with step-less rebound damping and preload adjustability
Brakes: Dual semi-floating 31 mm petal discs, Dual radial-mount, monobloc, opposed four-piston, rear single 250mm petal disc single-piston
Wheels & Tyres: 6-spoke light alloy 3.5 x 17 (f) and 5.50 x 17 (r), Dunlop Sportmax II 120/70-17 – 190/50-17.
DIMENSIONS:
Wheelbase: 1435mm
Seat height: 815mm
Instruments: LED cluster
2016 Kawasaki Z1000 Gallery