MV Agusta Turismo Veloce Lusso Review. Test: Kris Hodgson, Jeff Ware Photography: Kris Hodgson
The MV Agusta Turismo Veloce is a pretty incredible machine for a tourer if you ask me and having last ridden the standard model while testing the whole fleet of 800 triples, it made it hard to compare the Veloce properly to non 800cc triple-engined machines. You can check out our original Turiso Veloce test here.
Jumping back on board the Turismo Veloce, although the Lusso model this time, I had a chance to really appreciate just what MV Agusta have achieved with this machine.
As an everyday rider I normally gravitate towards bikes with a good balance between sport and touring abilities, and the Turismo Veloce fits this niche.
It's a little taller than I'd like, with an upright seating position that gives good leverage through the 'bars and is a little more of a stretch than I'm used to – but not extreme by any means. Seating is comfortable when moving, although I found myself shifting to one side to get a foot down flat at a stop.
Your legs are also more forward, rather than under you, but the 'pegs position still allow easy weight transfer, and easy gripping of the tank with your knees, which is one of those areas I find either works for me, or doesn't at all. It's an interesting seating position because it feels like you're on the bike, while still giving the sensation that you're part of the machine.
While tall and unwieldy moving the bike around on foot in the garage, once on board it's all easy, even at low speeds, with the initial throttle opening gently in low power/response mode, with some noticeable slack in throttle movement before the revs start rising. U-turns are also exceptionally easy once you're used to the throttle and clutch though.
The Lusso also has quite an audible mechanical engine purr, or growl, and with this machine and you'd be forgiving for thinking the bike has a dry clutch. The clutch action is however light and gearshifting is smooth and offers positive shifts when you aren't relying on the quickshifter.
Styling is also unusual on the Turismo Veloce, with the full nose-fairing, adjustable screen, trellis frame and crafted light-alloy sub-frame combining to make for something greater than the sum of its parts. The exhaust despite iconically MV Agusta, didn't really do anything for me though, with the aluminium belly-pan an item I'd like to see in carbon-fibre or colour matched to the rest of the bike. It does sound wicked on song however but that's something you notice as an on-looker, not as the rider. 
It'd really be interesting to see what a full aftermarket exhaust would do for the exhaust note and cleaning up the large collector under the rear shock. That and running the MV Agusta genuine panniers, which are a nice piece of kit and would add good storage while coming colour matched to the Lusso.
Looking again at the touring aspect the Turismo Veloce Lusso has a 22L tank and comes with hand guards sporting integrated indicators, with heated grips also standard and controllable via the snazzy full colour display, all via the left switchblock. Also standard on the Lusso is the centre-stand and integrated GPS sensor, plus the big selling ticket, the Sachs semi-active suspension.
I couldn't work out how to change modes, with the display asking for the 'Mode' button to be pressed, but there is no Mode button, so the bike remained in sport for the duration. Heading into the custom settings via the dash did allow full control of basically everything however, which gave a glimpse into just how much technology this bike is packing!
For the open road I preferred full power with the higher throttle/engine response and low engine braking. For two up and around town I preferred lower throttle/engine response and normal engine braking. For two up riding it was also as simple as programming in two helmets, with the standard setting as we received the bike being 'Hard'.
The computer system is something that would look at home on a starship, with a huge number of options at your fingertips and a busy but easily read and controlled display. You can toggle across for features like the heated grips while on the move, or the suspension preset for rider, rider and luggage or rider and pillion, etc.
On our initial test one real issue I had with the Turismo Veloce Lusso however was the rear shock, which just wasn't performing how I'd expect for an electronic system, with a pronounced mid-corner wallow or pump. However once we got the bike back from MV Agusta for my riding this problem was solved initially. The Ed had problems again with the shock, which you can read about in his second opinion. 
Run on the setting provided of Hard the second time around the rear shock proved much better, offering good support and a firm sportsbike like ride. The front end feels particularly light on the move, which is great for low speed and transforms into easy steering at normal road speeds, with the bike happily turning in fast and very stable through corners. 
Bump absorption and feedback on the front is also exceptional, with really good front-end feel making it easy to have fun with confidence. 
The soft front brakes still induce a fair bit of fork dive coming to a stop, or used too heavily into a corner, with my preferred riding style to be using the up/down quickshifter to drop into a lower gear to wash off speed in conjunction with a bit of rear brake, which in my opinion works really well for triples. 
To be honest the best way I found to approach the Lusso was as a sportsbike with an almost motard-like theme, with the tall front end and upright seating position giving lots of leverage and allowing for a really hoonish ride. Granted it takes a bit of getting used to coming from a normal sportsbike bike, as the Lusso handles differently, with a remarkably quick turn in and agility.
But once you become used to that handling the bike is a real weapon, with the semi-active suspension not something you really even think about – although I was mainly staying within the bounds of legal speed limits. 
Going for a couple of two-up rides the Lusso also got top marks, except for my pillion's arms getting sore from holding the rear grab rails over the longer rides, and my at times more enthusiastic use of the throttle. Being able to simply downshift with the quickshifter meant it's easy to ride smooth, which is a real boon when you're keeping your pillion happy. Switching between low and normal engine braking also provides a bit of extra control if, like me you prefer to use engine braking for deceleration.
Bumping the bike into two helmet suspension mode and setting off couldn't be easier though, and the bike remains a great handler two up. The dive on the front brakes is more noticeable however with the weight transfer of course as you come to a stop, but I found myself just limiting the amount of front brake use until I was already almost stopped. It's smoother and more enjoyable for a pillion that way anyway.
The engine is the real gem of the Turismo Veloce however, with the MVICS 2.0 equipped 800cc triple with counter-rotating crankshaft producing astounding torque. It's really hard to describe but the Turismo Veloce produces some staggering drive that ensures great fun, with exceptional control via the Ride-by-Wire system.
Acceleration is linear but breathtaking and despite only producing 110hp this is an engine that pulls well above its weight, and without the need to be going insanely fast – although truth be told it's exceptionally easy if that is your desire. Getting about 7000rpm is relatively rare unless you're really caning, and I was sitting in fourth on the freeway for a few test rides, simply because there was great drive and responsiveness on hand at all times. The bike still pulls from fifth and even sixth strongly, but fourth seemed to be a sweet spot at 120/130km/h, with the tall gearing coming into play. Not great for fuel economy not that I was really paying much attention to that, but awesome for fun.
The tall gearing also makes it exceptionally easy to punch off from the lights, with the Lusso reaching 70-80km/h almost instantly with a single upshift into second, leaving everyone in your dust, so some caution would be required owning this bike as it's very very easy to be constantly breaking the speed limit without even realising. If you aren't keeping a close eye on the speedo that is. 
The quickshifter as mentioned is also a great item, allowing both up and down quickshifting, with the down changes particularly smooth and enjoyable, with most of my stop start riding in traffic or commuting conditions seeing me use the quickshifter to aggressively downshift and a little rear brake to come to a complete stop.
The Brembo brakes are powerful enough to handle the bike's great drive, with the front definitely having been tuned for less bite with a very soft initial feel, helping keep the bike settled but also giving a somewhat disjointed feel at the lever. Stopping power was still tremendous on the anchors, but especially at low speed, dive in the front forks was noticeable. 
Having previously tested the Turismo Veloce it's easy to see that the Lusso is the next step up and truth be told I think on a tourer or sports-tourer the semi-active suspension makes a lot of sense. It should provide the advantage of seamlessly handling vastly different conditions, especially when it comes to adding a pillion or luggage, all with a few clicks of a button [so long as the reliability issues are solved that we experienced with the system – Ed].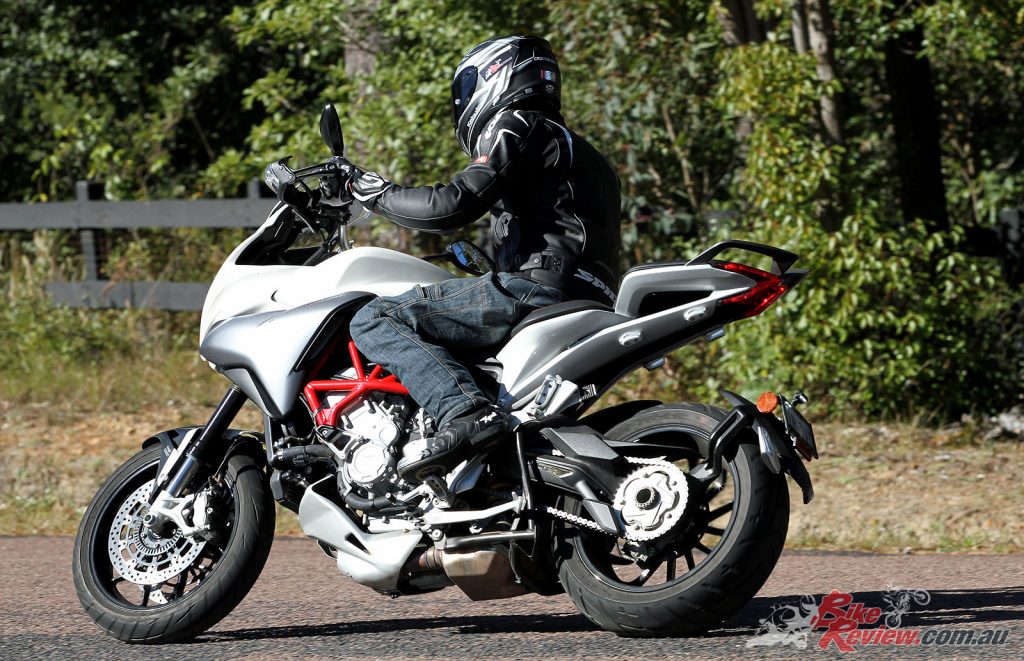 The Lusso is a great overall machine however and a true sports tourer, with MV Agusta not making any compromises, however it would be a hard choice indeed choosing between the Lusso and the standard model. And I would need any app used for setting the bike's electronic features to be available on Android.
The standard Turismo Veloce is so good in standard form however it remains a very difficult comparison.
KRIS'S GEAR: 
Kabuto RT-33 Helmet | Spidi Track Leather Jacket | Five RFX1 Gloves | DriRider Rapid Jeans | XPD XP3-S Boots 
JEFF'S RIDE
I have not ridden the standard MV Agusta Turismo Veloce, so can't compare the Lusso version to it. The Lusso, as Kris has explained, is the up-specc'd version with semi-active Sachs suspension, heated grips and a center stand.
The Turismo is MV's first go at the adventure sports, sports touring market and they truly have come out punching. Honestly, after spending some time with this machine, if more Aussie's considered MV and took one for a spin, you'd be seeing them on every other street corner. It's as if the Turismo Veloce was made for Australia.
The 800 triple engine is a true gem and always has been. It lacks the insanity of 1000cc – plus adventure sports bike but that doesn't make it less appealing or any less exciting to ride. Acceleration is blinding and the sports genetics that make up the bones of this bike are clear from the moment you open that throttle.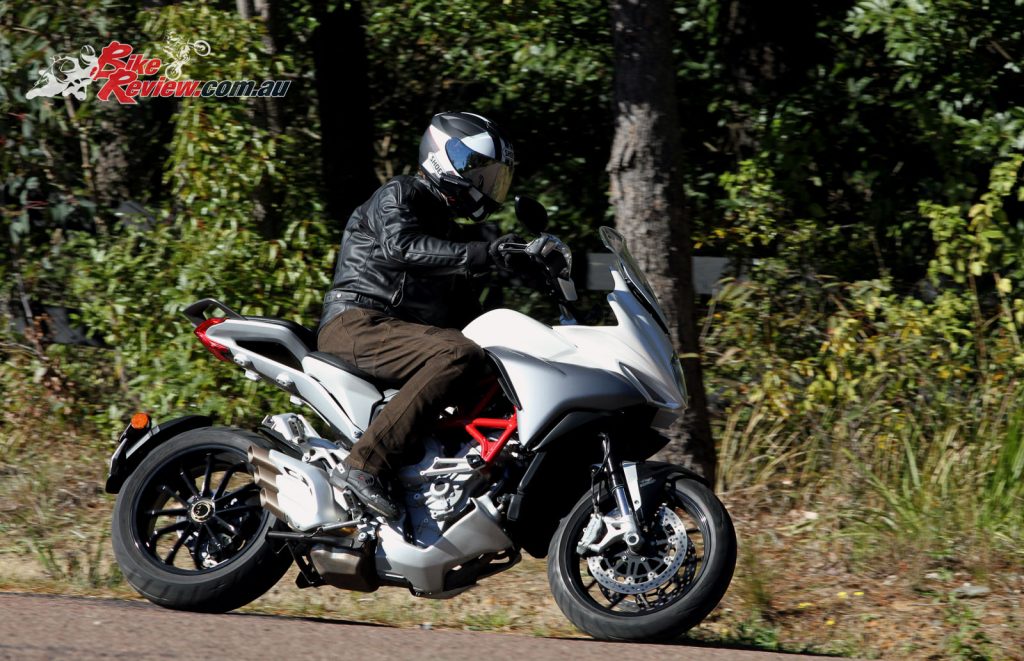 My first impressions of the Turismo Veloce Lusso left me grinning. I rode the MV on the freeway, in town, in the twisties and a short run on dirt roads. On the freeway the bike is really comfortable, with a nice close reach to the 'bars, well placed 'pegs and a comfy seat.
There is a bit of wind blasting from the top of the screen for me (185cm) but overall brilliant and the cruise control is a bonus. The bike is just a nice, mid-sized tourer in this situation.
Around town the Turismo is a very capable commuter. It's still narrow enough to lane split in most situations and the up and down quickshifter adds a bit of fun to the commute, as well as makes it easier. My only gripe is the clutch rides so the bike creeps in gear and can be hard to find neutral on.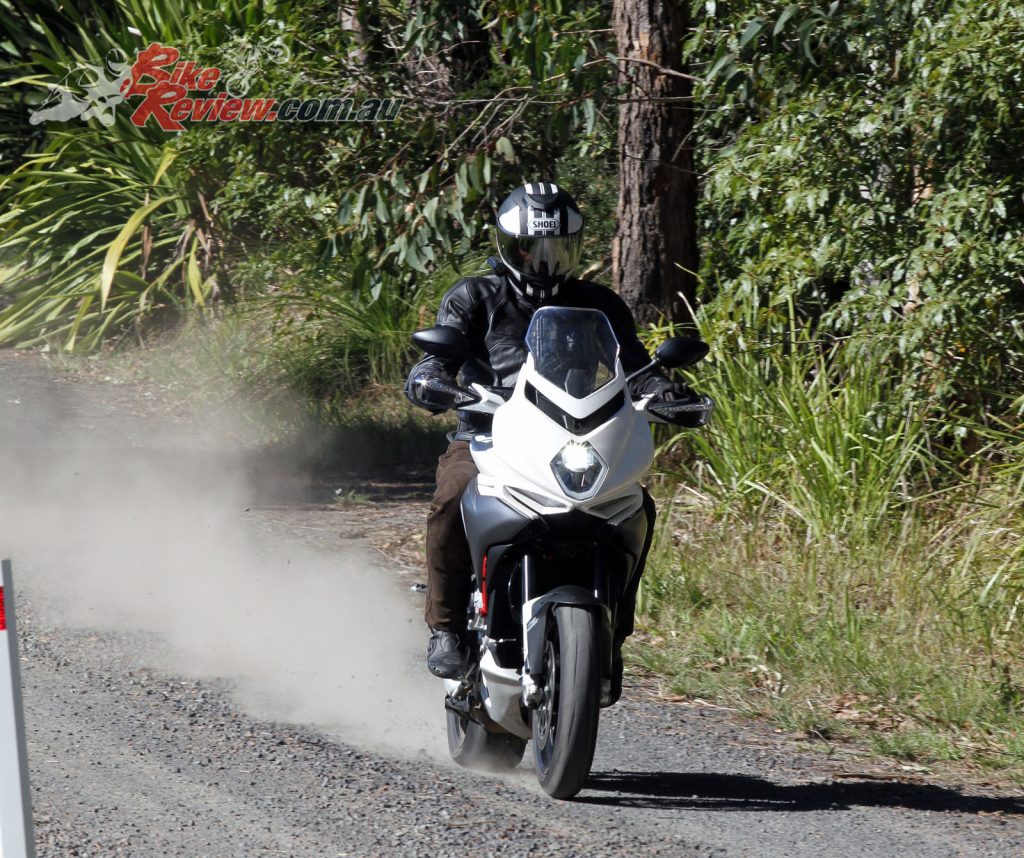 On the dirt roads, with the Pirelli Scorpion Trail tyres fitted, the Turismo Veloce is composed and easy to ride, with the TC helping stop that triple from spinning up too much and the ABS working well. You could do hundreds of kilometres on dirt roads on this thing but no hardcore adventure stuff.
In the twisties and having some fun on the tar, the sportsbike side, it becomes clear very quickly that this bike has serious potential when it comes to leaving traditional sportsbikes chasing it. The only problem was my testing was hindered by the rear shock performance.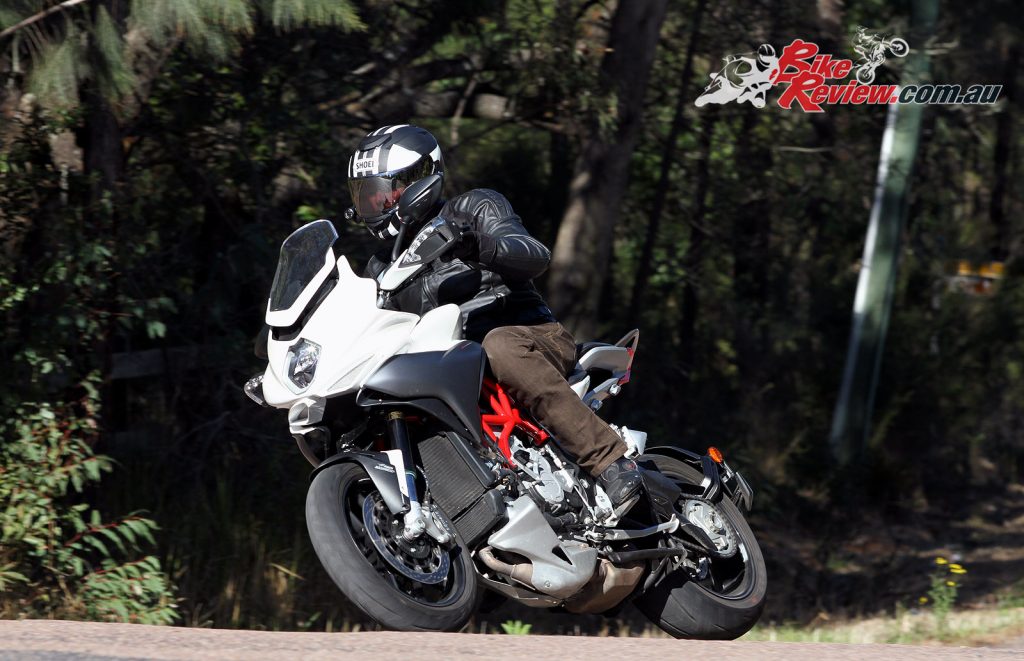 I spent all of my test in SPORT mode as I could not figure out how to switch to any other ride modes. The dash on the Lusso is incredibly jam packed and at first was intimidating.
In fact, I just decided to leave it initially. However, after spending 15-minutes fiddling with the dash and learning it, it all started to make sense and in fact is a brilliant design as everything can be done with the left toggle switch, except, switching ride modes – I reckon the map switch was ditched for the cruise control switch or similar.
Anyway, aside from that, setting the suspension, traction, cruise, speed limiter, etc is really easy and although there is a lot of info on the screen it all makes sense once you are used to it.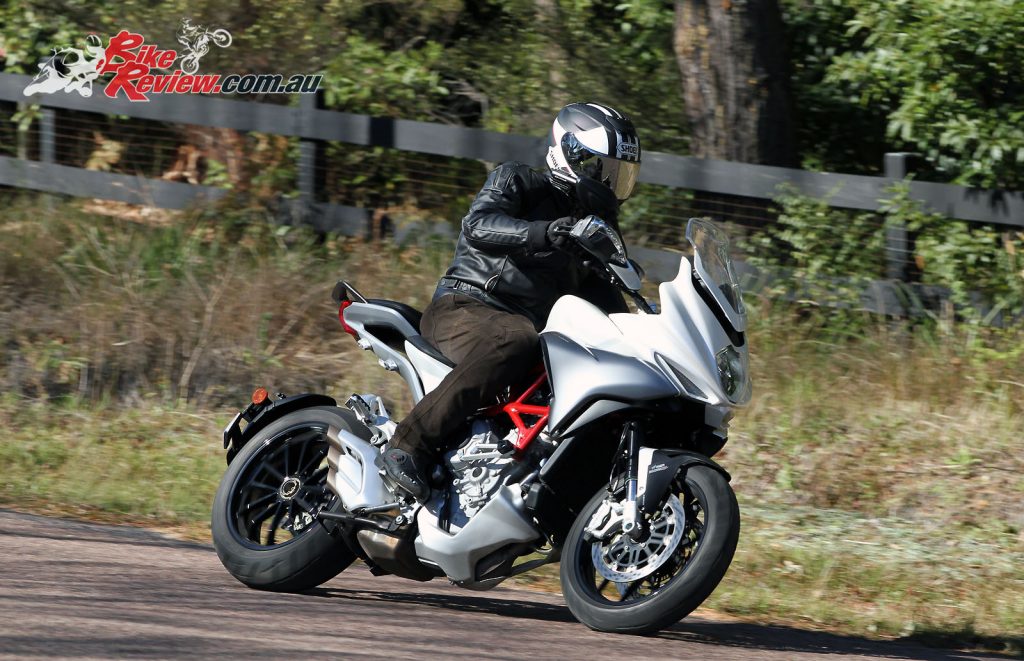 The rear shock was inconsistent in performance and when pushed it lacked rebound control and the compression damping control. I tried every setting – single rider, single rider with luggage, pillion, pillion with luggage… The more preload the worse the damping control was of course. I had the bike sent back to MV and it was returned after being checked over but the problem was still there, rendering the bike hopeless in the twisties. Clutch grab and slip made life hard around town for spirited take-offs also.

Up the front, the forks were fantastic – with good support on the brakes into turns, bump absorption and lots of feel. It's just a shame the back was so badly set-up and I could not for the life of me find a way to adjust it. I later discovered after some googling that I needed an iPhone App to adjust the shock apparently. So to me, that's plain crazy.
I'm keen to try the standard version or a well set up Lusso again as this is one very special machine with loads of potential but I have not had good experiences with electronic suspension lately so I would definitely opt for the standard version over the Lusso. 
– JEFF WARE.
MV Agusta Turismo Veloce Lusso Tech Talk:
The MV Agusta Turismo Veloce Lusso uses a steel trellis frame with aluminium alloy side-plates designed specifically for the Veloce, with semi-active Sachs electronic suspension, the MVCSC 2.0 system (MV Agusta Chassis Stability Control) and an IMU constantly collecting data and employing a Skyhook algorithm to provide suspension performance to match the conditions. The rear shock also has an external preload adjuster situated under the rider seat for easy adjustment.
Brakes are Brembo radial four-piston calipers on the front and a single Brembo two-piston caliper on the rear, with Bosch 9+ ABS including Rear Lift Mitigation.
The 798cc triple-cylinder engine in the Turismo Veloce is also specially refined, with a lower rpm redline, trading off 2100rpm for a much beefier torque curve, boasting 20 per cent more torque than the sport orientated triple-models, while running a lower compression ratio of 12.2:1.
This is thanks to redesigned cam profiles, pistons, exhaust system and dedicated maps, while also benefitting from the MotoGP derived counter-rotating crankshaft for decreased inertia while changing directions.
The MVICS (Motor & Vehicle Integrated Control System) 2.0 is also featured on the Lusso with a full Mikuni Ride-by-Wire system, offering preset maps, including a low and high power mode, adjustable traction control,  adjustable throttle response and sensitivity, rev limiter cut-in point and engine breaking. The Bosch ABS can be toggled on or off.
The cruise control can also be controlled via the right hand switchblock via dedicated buttons, or through the dash.
The clutch is hydraulically controlled as on the Stradale, meaning a heavier clutch action, while a (EAS) quickshifter is standard and offers seamless up and down shifting and is well matched to the wet multi-disc mechanical slipper clutch.
Service intervals have also been increased from 6000km to 15,000km, with valve adjustment every 30,000km. The seat height is also stated as 850mm, but felt relatively tall for that figure.
SPECIFICATIONS: MV Agusta Turismo Veloce Lusso 800
Price: $23,499 + ORC
Warranty: Two-year, unlimited kilometer, two-year roadside assistance
Colours: Pearl White/Avio Grey, Red/Silver

Claimed power: 81kW[110hp]@10000rpm
Claimed torque: 83Nm[61.2ft-lbs]8000rpm
Dry weight: 191kg
Fuel capacity: 22L
Engine: Liquid-cooled, three-cylinder, four-stroke, 12-valve, DOHC, 798cc, 12.2:1 compression, 79 x 54.3mm bore x stroke, MVICS 2.0, three injectors, Mikuni RbW, ride maps, TC, EAS
Gearbox: Six speed, cassette style
Clutch: Wet, multi-disc mechanical slipper clutch
Chassis: ALS Steel tubular trellis frame, aluminium alloy single-sided swingarm, Rake: N/A, Trail: 108mm
Suspension: Sachs 43mm USD semi-active forks, MVCSC (MV Agusta Chassis Stability Control), 160mm travel, Progressive Sachs semi-active single shock absorber with external preload adjustment, MVCSC (MV Agusta Chassis Stability Control), 165mm travel
Brakes: Bosch 9 Plus ABS with RLM, dual 320mm floating front rotors, Brembo radial four-piston calipers, 220mm rear rotor, Brembo two-piston caliper
Wheels & Tyres: 12-spoke rear, five-split-spoke front, aluminium alloy, 3.50 x 17in, 5.50 x 17in, 120/70 – 17, 180/55 – 17, Pirelli Diablo Rosso II
Dimensions:
Wheelbase: 1460mm
Seat height: 850mm
Overall length: 2137mm
Overall width: 900mm
Instruments: Full colour digital multifunction display
The Verdict - With rear shock problems. | Review: 2016 MV Agusta Turismo Lusso
Great technology in the Lusso but we prefer the standard Turismo Veloce…