Create something different and it'll stand out. Enter the T-Rex Racing FJ1200. Jeff went to Phillip Island to sample the one and only beast. Review: Jeff Ware Photography: Russell Colvin
The FJ1100 was a ground-breaker, the first Hypersport. It hit the road in '84 and was an instant hit despite strong competition. When all manufacturers offered nakedbikes, sportsbikes or touring bikes, Yamaha managed built a bike that had it all, in one package.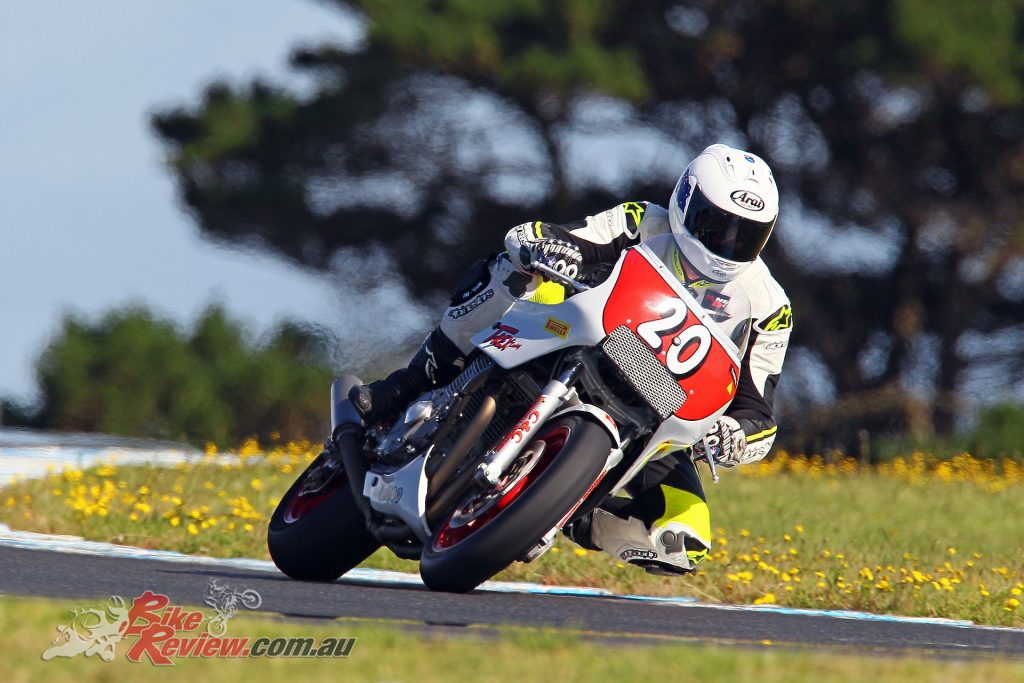 The FJ was seriously fast at 125hp, capable of over 230km/h, with a 10-second ¼-mile time, grunty and reliable with a simple air-cooled 16-valve inline four. With a wide seat, tall screen, high 'bars and rubber-capped footpegs the FJ was also extremely comfortable.
It had massive potential for luggage thanks to a generous pillion area and space for rack fitment. Suspension was more on the soft than sporty side, which suited most potential owners who were going to go fast touring…
The FJ1100 had a really narrow motor for the day, much like the FZ750 in 1985, as Yamaha had relocated the alternator to behind the cylinders rather than having it off the left side of the crankshaft… Trick and a year before the GSX-R750F came out with the same set-up.
---
---
In 1986 the 1100 copped a bore increase and became the FJ1200, making a credible 130hp, still running on the smooth delivery of the 36mm Mikuni CV carburettors. Compression was raised slightly and a few years later the engine got a digital ignition as well.
The 3XW ran until 1996 in the UK and there was an ABS version as well. As the bike entered the 1990s it also got upgraded brakes, suspension and styling but the fundamentals remained and the FJ1200, although dated by 1996, was still a fabulous bike and left a gap that hasn't been filled.
The engine is bulletproof and now has a reputation as THE donk to use for serious classic racing. Here in OZ when we have the Phillip Island Classic or the International Festival of Speed  (formerly Barry Sheene Festival of Speed) it is a FJ v GSX engine battle up front with the odd Honda CB1100 motor tagging along…
So, most FJ1200 motors are punted around at insane speeds in trick chassis generally by Harris, ridden by the likes of Jeremy McWilliams, Connor Cummins, Colin Edwards, Cam Donald, Troy Corser, Colin Edwards and the list goes on… they get 160-plus-hp out of the beasts and fit them out with top spec suspension and brakes, resulting in mind blowing lap times in the hands of these nutters…
ABOUT THE T-REX RACING FJ1200
T-Rex Racing is legendary over here, having been racing and building racing motorcycles for over three decades. T-Rex bikes have won countless championships and specialise in classic racing.
T-Rex is steered by the genius engineering and fabrication skill of Rex Wolfenden, himself a walking legend of our sport particularly famous for his P4 Honda Fours and for being Captain of the Australian Team each year in the International Challenge, which we won from the USA recently with riders Steve Martin, Shawn Giles and Glen Richards headlining (updated 2019 – Ed)n Troy Corser also finished third on the bike in 2018 and raved about it (updated – Ed). There is a really good short film about Rex on YouTube, check it out below. It's great…
---
---
Rex loves a challenge and when he purchased this 1988 FJ1200 for a donor motor, he suddenly had a thought about perhaps keeping it an FJ rather than fitting the donk to a Harris or Bimota chassis. This would stir up the gossip in the pits and bring some good publicity, as well as turn heads. As far as he knows, this is the only FJ1100 or FJ1200 road race bike racing at National and International level!
---
---
The bike cost less than two grand, was rough as guts, but had potential. It was quickly dragged into T-Rex Racing's amazing workshop in Melbourne to be stripped and measured. Rex had a plan to make the bike look as recognisable as an FJ as possible and if you ask me, he has done a stunning job, as it looks absolutely horn!
The engine had to be built regardless so that happened first. Rex has a successful and proven set-up for these powerplants and went about building a mild one for testing purposes, which would be uprated later on to full noise…
The standard 63.8mm stroke remains, however, the bore is 1mm over at 78mm. Compression ratio is bumped up from 9:1 to 11:1 and JE forged pistons are used. The crankcases are modified and polished, the crankshaft is lightened and balanced and Carrillo conrods are fitted.
The camshafts, spinning in a ported and flowed cylinder-head, are T-Rex Racing items and oversized valves are used. Gearbox-wise, it is pretty stock also with the standard five-speed ratios undercut, a slipper clutch fitted and no quickshifter used (or allowed).
---
---
Fuelling is taken care of via Mikuni 38mm carburettors, while a Dyna 2000 ignition sets fire to the pump gas. It's all then blown out through a stunning Akrapovic stainless race system with a T-Rex muffler…
Pumping out over 160hp at the engine, the powerplant was set aside and left to look pretty on the bench while Rex concentrated on that heavy and flimsy FJ roller…
The frame was stripped, bead blasted and then once measured up, it was braced and gusseted where required. The geometry was massaged for better numbers, then the frame was painted black.
Up front the original triple-trees are retained, holding re-valved and re-sprung forks. The back end has a heavily braced original FJ1200 swingarm, with a custom Ohlins shock and linkages. Both ends wear 17in wheels, 3.50 x 17 and 5.50 x 17 to accommodate modern rubber.
Final drive is 520-pitch chain and the brakes are all upgraded. Both ends wear Brembo calipers, braided brake lines, Nissin master-cylinders and the front rotors are NG floating stainless-steel. SBS race pads are used. Handlebars are locally made by Tingate, with the rest of the running gear made by C&C Engineering and T-Rex Racing…
---
---
The bodywork is cool. Obviously there were no FJ race fairings available so this was all fabricated from fibreglass with carbon-fibre sidecovers where the airbox would normally be. I think it looks tough, particularly the snout where the oil cooler is mounted. The fibreglass tank cover is perfect and would fool anyone at first glance.
---
---
THE RIDE – T-REX RACING FJ1200
I was so lucky to ride this bike at the best racetrack in the World, Phillip Island. The test took place on the Monday after the Phillip Island Classic. The weather was perfect and the track was not at all crowded. I managed to sample a few good bikes that day but it was a challenge, one was right-side shift one-up four-down, one was street shift and the FJ left-side race pattern, all back to back!
The FJ was the highlight of the day and one of the nicest motorcycles I have ridden around Phillip Island. In fact, one of the most enjoyable production based racebikes I've ridden full stop…
I've ridden stock FJ1100 and 1200s a lot on the road, mainly back when I was a motorcycle mechanic, so I was expecting, as you would, a fair bit of wallowing, wobbling, running wide and wrestling from left to right.
Rex and crew fired the mighty FJ up with the roller and I was met with a raspy, menacing howl from the mint Over system as the FJ warmed up at a high idle, the way an angry racebike does… I hopped on and familiarised myself with the bike. Not much to learn really, handlebars, clutch, brakes, throttle. Simple, old school, no add-ons or electrickery…
I click up for first and start to make my way down pit lane and notice how many heads are turning. Obviously the FJ attracted some interest over the racing weekend, even though it was only here for a shakedown so to speak…
As I head out onto the circuit proper at Doohan corner, I'm already impressed by the smooth power delivery, almost CV carb-like, and just how 'nice' the FJ feels to sit on, or rather, in. It feels really comfortable in a racer way and like any racing bike with good ergonomics, the FJ feels familiar to me despite having never ridden it. I'd be able to tell it was a T-Rex bike even if someone tried to fool me otherwise. It has that sweet T-Rex Racing feel about it.
After a lap to get the body loose and the bike warmed up, I start to get more serious. The FJ is urging me on with confidence. Entering Gardner Straight in fourth gear, I have the throttle pinned, revving the engine to a tad over 9000rpm before shifting to top gear, being fifth.
The top-end is strong but not arm-stretching like other T-Rex bikes I've ridden, however, drive off the turns and useable power is exceptional, it just doesn't have the top-end hit expected. I'm later told by Rex the engine is soon to be made full spec like the others I rode.
Gearshift is silky smooth, amazing, up or down the gearbox. The bike runs into turns really nicely and throttle opening is spot on, Rex really has put the hard work in on his Dyno tuning this bad boy…
---
---
5500 to 8000rpm is where this monster really impresses me, so driveable off turns and easy to ride, I'm amazed as normally on these brutish machines I'm tired and hanging on for the ride rather than riding the bike, but the FJ is simply a pleasure to ride. There is no other way to really put it, it's just so nice and would be neat in the rain.
Seating position is purposeful and locks me in nicely at 185cm tall, and the layout of the 'bars and rearsets mean there really is no FJ familiarity in the riding position, it's purely looks as far as FJ goes…
---
---
Another lap into my 20-minute session, I know how good this bike really is, as I have ridden most of the top running Katana's at The Island, plus Rex's Harris Honda at Broadford Raceway and Bimota YB5 (powered by FJ1200) so I know this is potentially a top-class winning bike, at least chassis-wise. With one of the T-Rex full power engines in, it'd be up the front in the right hands…
---
Check out our T-Rex Racing Bimota YB5 test here…
---
The brakes are impressive, without being incredible. They lack the outright power and feel of AP calipers with cast iron rotors but they are still very good for a Brembo/NG pairing and SBS race pads, particularly given the conventional Nissin master-cylinder.
I certainly have no issue pulling the bike up into Honda corner and MG hairpin, it just takes a big squeeze and some faith, initial bite is savage but a strong squeeze is required afterwards. The rear brake has good feel and the FJ set-up responds well to rear brake input…
Suspension is fantastic at both ends, as to be expected from a T-Rex bike, at the level I was riding I could not fault the set-up at any section of the bumpy Phillip Island tarmac. The wheels stayed inline at all times also.
Change of direction is what surprised me. I imagined the FJ would be a real handful to muscle through The Hayshed and it really isn't. Out of Siberia and up the hill through the ultra-fast turns the FJ is responsive and lively. In fact, it is really good fun through there…
Overall, the T-Rex Racing FJ1200 is a mean machine with a nice side, much like the original road bike was to street riders… It stands out from the crowd and proves that you can make a racer out of a sports touring motorcycle… What ride!
T-REX RACING FJ1200 SPECIFICATIONS
---
ENGINE: 1988 Yamaha FJ1200 engine, standard 63.8mm stroke, 1mm over 78mm bore, 11:1 compression up from 9:1, polished and modified standard crankcases, T-Rex billet engine covers and block off plates, alternator removed, lightened and balanced crankshaft, Carrillo conrods, JE forged pistons, T-Rex Racing camshafts, T-Rex Racing cylinder-head porting and reshaping, oversized EX and IN valves, standard oil cooler and galleries, standard five-speed gearbox with gears undercut, slipper clutch, Dyna 2000 ignition system, Mikuni flatslide carburettors, Over Racing Ti exhaust system, T-Rex Racing muffler.
---
CHASSIS & BODYWORK: FJ1200 double cradle box section steel frame and swingarm with T-Rex swingarm bracing, 41mm Yamaha forks with T-Rex valving, 1kg springs, 7wt oil, Ohlins custom made shock, 11kg spring, Brembo four-piston calipers, NG semi-floating rotors, SBS brake pads, Venhill line, Nissan master-cylinder (f), Brembo caliper, NG rotor, Venhill line (r), cast alloy wheels 3.5 x 17in, 6.00 x 17in, Pirelli slicks, C&C Engineering levers, rearsets, fairing brackets, alloy fuel tank, T-Rex bodywork, handlebars.
---
PERFORMANCE: 160hp-plus at the wheel
---
T-REX RACING FJ1200 Racer Gallery
---
---