G'day,
I have to apologise for not penning monthly editorials last year but to be honest, 2017 was a bloody hectic year plagued with injury for me.
However, I'm back, firing on all four and 2018 is going to be a cracker. It has certainly started well, with me registering my 1995 Tiger Stripe Fireblade, the bike that my wife Heather bought for me as a 40th B'day gift in 2015. She's a keeper, so is the bike. I'm loving every moment I spend on my Fireblade. I wanted one so badly in 1995 when I was 20. The Tiger Stripe was my dream bike. So to get one 20-years later was so nice. It was the coolest thing anyone has ever done for me.
Like you, I'm sure, I had solid plans over Christmas that involved lots of shed time, fixing up project bikes, house jobs, lots of beer and food but still a health kick (I've never worked that one out), and family time. The reality for me was I spent the four weeks full-time being Dad to my four very young kids as well as working hard each day on my knee injury rehab. It was hectic but great fun. We cleaned, cooked, played games and rode BMX. We also rode the PW50, the motorised esky, played Xbox and just hung around.
Some nights I managed to sneak to the shed and, eventually, I finished the Fireblade, got a blue slip and registered it just after New Year's. I was going to go all-out with a custom CBR plate but decided to save the dollars for new hoops.
I've since used two full cans of Mr Sheene keeping my 'Blade clean and smelling like new (I know you know the smell!) and I'm riding it daily. I can't get enough. It has replenished my motorcycling enthusiasm after a rough end to 2017…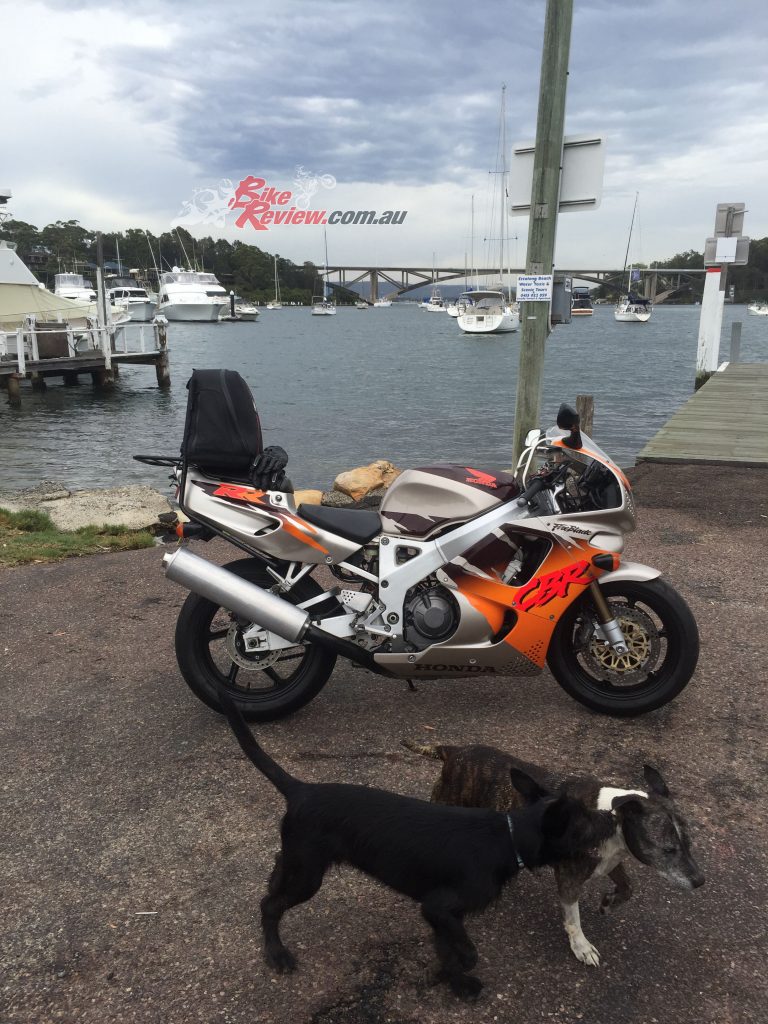 Just before Christmas I finished building an RS250/RGV250 engine to brand new, which I have sold to fund some of my next project, the RG500 restoration. Sadly, to pay for this exotic beast, I have also sold my beloved RS250 Harada and my stunning 1985 GSX-R750F – plus my RSX550 BEARS bike is also gone. They were sad days when they were collected by the new owners, however, these things need to happen if progress is to be made in the shed and with four kids, I can't keep all of my dream bikes. I'm happy with the RG500 and Fireblade so definitely can't complain. I still have my '85 RZ also, the little 125 single.
I'll be writing a series of articles for Classic Motorcycle Mechanics on the RG500 journey, so keep an eye out for them. Once it is on the road, I'll publish a full test here also.
Anyway back on track… the reason I am talking about the RG500 is that to my surprise, at 4:30am last Sunday, my nine-year-old daughter woke me up to ask if we could go down the shed and work on the RG! Clearly she wanted part of the action her brothers have had hanging in the garage with me, tinkering, and was keen to show interest. I had caught her the day before, screwdriver in hand, disassembling a GSX-R1000 toy model at her desk. I guess she was practicing…
Of course, as the Dad that never says no, I dragged my hungover body out of bed and off we went. She had no idea Dad had already been working on the RG500 until after midnight, drinking alcoholic ginger beer and listening to 1980s metal…
We fitted new rubbers to the gearlever, brake lever, kickstarter and stripped the carburettors. It was top fun and a great last day for my holidays. We've all done some work on the RG now, well, aside from my two-year-old, so it truly is a family project.
It's these special times that really drive home how cool motorcycles are, whether you are a single person, in a kid free relationship, have a million kids like me or whatever, bikes can be enjoyed and appreciated by anyone. They really are just the best things ever invented…

Thanks for reading BikeReview. I'm so happy with the popularity of the site. We have our ups and downs but we stick to our guns… we can't be misleading our readers even if it makes life hard for us at times. Thankfully most manufacturers respect our experience and feedback. 
We are now at the very pointy end and by the looks of it, the leading review based (non news or classifieds based) bike site in Australia. I'm pretty chuffed with that. I think the hard work and dedication over the past few years has paid off and I have to thank the ex Rapid Bikes team that came with me for their support and patience in getting BikeReview off the ground.
Of course, the site would not even exist without our sponsors who have been fantastic the past few years, so please, support them where possible.
Catch you next month,
Jeff.