Zane jetted off to the U.K. for an ultra-special quick test of the new 2023 Norton Commando 961 SP! Check out what he thought of the hand-made, premium machine below...
There are very few bikes I've been genuinely excited to ride in recent years. One of those bikes is the Norton Commando under the new TVS ownership, the defunct brand that has been pulled out of the rubble. I just so happened to be near the factory in Solihull, U.K.
Norton's history over the past two decades has been a rocky one. Always the premium brand that offered a hand-built experience and some of the most drop-dead gorgeous bikes money could buy, matched with a heritage that spans 125 years, alluring customers from all age groups.
---
Check out AC's interview with the new Norton CCO…
---
Relaunched in 2008, the ownership under Stuart Garner seem promising at first. Next thing we know, Garner buys himself a multi-million dollar mansion and investors seemingly lost millions. At the time of the publishing of this article, Garner has pled guilty and been handed an eight month suspended sentence for pension fraud. Whether or not he will actually serve any time, who knows. 
---
---
Enter TVS ownership, the third-largest motorcycle company in India in terms of revenue yet manufacturer we have never received on the shores of Australia. TVS threw down 16 million pounds in a cash deal to buy the company outright and have absolutely nothing to do with Stuart Garner. 
This brings us to today. Millions have been spent rebuilding the company, including a new factory in Solihull, U.K., and no plans to take the company to India like BSA and Royal Enfield have done. There's a sense of healing while entering the new building, and there's a lot of good to be said about TVS and how they have handled the situation.
---
---
Under zero legal obligation, TVS are committed to building the motorcycles that customers were promised and paid for while under Garner's ownership. And despite this biting hugely into the profits they will surely be chasing for the next few decades, it shows that TVS mean business and genuinely cares about the brand, indicating that it's not just a cash grab for them.
As I said, I just so happened to be in Birmingham and there was absolutely no chance of me sacrificing a chance to ride a motorcycle I've dreamed of since I was a child, the Norton Commando. I also had the chance to have an exclusive tour of the factory and have a good chat with some of the Norton media personnel, including John Hogan who was the driving force behind an investigation behind the wrong-doings at Norton under previous ownership. Check out the story here…
---
Check out the new Norton factory tour here…
---
Rocking up to Norton after a laborious train ride, bus transfer, then lugging all my riding gear for a few kilometres from the bus stop to the new factory, and I'm met with an outrageously cool display of all the new Commandos 961 CRs and SP's out the front.
---
---
It's worth noting at this point that we will probably never get this exact bike in Australia. Norton is running these bikes through a special "limited edition" scheme they have in the U.K., which means every bike is individually certified once it leaves the factory floor and allows them to sort of skirt around the Euro regulations (hence why the engines in the Commandos are still only Euro4). ADR approval would be a whole other process for these bikes.
---
---
Styling-wise, the Commando 961 is absolutely to die for. Everything from the paint to the triple clamps and all the engine components makes you feel like you're in the presence of a celebrity. The black-on-gold paint scheme that the SP has recalls the days of a JPS liveried racing machine.
Norton has done a fantastic job of encapsulating the classic feeling of a motorcycle, still air-oil-cooled, still pushrod rod and still has those gorgeous twin shocks with remote reservoirs. But there are glimpses of the future, like being dressed with carbon-fibre parts, electronic fuel injection, a full Brembo braking system and that beefed-up Ohlins suspension. The bike is simply a work of art; don't even get me started on that tail section.
---
---
I only have the bike for a very short test to ride around the local country roads, so I'm incredibly eager to throw a leg over the bike for the first time. I'm given the opportunity to choose between the SP and CR. While I can't look past a café racer, there's something about the black and gold scheme of the SP that ties me in; it probably has something to do with the JPS Norton F1 being my dream motorcycle.
---
"Sitting on it feels like I'm meeting the queen. The way everything feels just drips handmade. You can sense that every bolt on the bike has been pieced together with love."
---
Sitting on it feels like I'm meeting the queen. The way everything feels just drips handmade. You can sense that every bolt on the bike has been torqued to spec by hand and pieced together with love.
---
---
Turning that 961cc parallel twin over for the first time, you're instantly thrown back a half-century ago. There are few bikes that can do this, and one of the only bikes built in recent years that can even come close to this feeling is the Bonneville range from Triumph.
---
Check out Zane's review of the Bonneville T120 here…
---
Unfortunately, this began my "don't meet your heroes" moment. The vibrations that come through the Norton are off the charts; there's nothing that comes close to this that's been manufactured in the past 20 years. Even the modern day Harley-Davidsons, that have offset crank balancers to add vibration and rumble, are far from this.
Down low, you don't tend to feel it, but as soon as the revs climb, the vibrations intensify. This has always been an issue with the modern-day Norton's, and it makes sense due to these bikes being built to a similar frame blueprint as the Garner-era Commandos. However, Norton did make some efforts to reduce vibrations and Cathcart, who spent much longer with the bikes than me, did say there is an improvement over the 2018 models in terms of vibration.
---
---
The engine is redesigned over the previous model with new cylinders, pistons, crank, crankcase, head and gearbox. Making a claimed 2.5kW and 9Nm less than the 2018 model, with the 2023 model making 52.2Kw@7250rpm and 81Nm@6300rpm, the changes have been made with overall rideability and reliability in mind.
The engine is a funny one; it sounds brilliant for a pushrod twin and has that initial gusto that these British engines are renowned for but it tapers off quite quickly. The peak torque being set at 6300RPM leaves you wanting more when you look down at the tacho and realise that you're bouncing off the rev-limiter at the 8000RPM mark.
---
"The noticeably hand-built nature of the bike makes you feel like you're going a lot faster than you really are."
---
The noticeably hand-built nature of the bike makes you feel like you're going a lot faster than you really are. It's an endearing feeling that recalls me back to the little v-twin café racers I rode on my Learners, and I would be at max wrist on constantly.
Again, I begin to have some issues with the Commando; the bike continuously stalls while pulling the clutch in at stop signs. It actually had a similar feeling to a poorly idle jetted carb or unbalanced butterflies. It made for a challenging ride as I either had to give the bike some revs to stop it from dying or just account for the fact that it'll definitely stall while coming to a stop.
Running through the country roads of Solihull and the Commando has a seriously comfortable feel to it. The upright seating position with rear set footpegs suits my body type well; it makes the bike feel much more spacious than it really is, and I'm inclined to just cruise along. I'm also given the opportunity to lean more into the bike through the corners if I need to.
I feel the need to remind myself that this is a bare-bones motorcycle constantly. No traction control or aids that will get you out of trouble mid-corner; just you can the machine. The Commando 961 is one of the very few motorcycles that suits no quick-shifter; you really have to work to ride this thing.
---
---
Those Brembo brakes are simply fantastic. I love classic bikes with all my heart, but after selling my last old bike last year, the one thing I don't miss are the brakes. No matter what we would do, the brakes would just feel atrocious. Our Suzuki Katana 750 especially felt like someone replaced the pads with bars of soap.
The Commando, on the other hand, has an excellent feel, initial bite and grab on those twin 320mm discs. It's characteristic of Brembo monoblocs to feel spectacular, and it's what this bike desperately needs. The braking system also features the only assist this bike has, ABS…
---
---
The chassis is a funny one. I can't help but feel like I'm all over the road while riding in a straight line. I need the bike for longer to work out what exactly is going on, but it's almost like it's been set up for someone a lot heavier than me. The bike feels floaty riding in a straight line, and I can't seem to sense the road underneath me. It's unlike any other bike I've ridden.
Through the turns is a different story; the Commando tracks confidently, confirming my hypothesis that these Öhlins have been set up to perform better under load. The way the mass tips into the corners just has this sporty nature that doesn't match the retro nature of the bike at all. You would easily embarrass a few riders through the twisties on this bike.
---
---
Again, the bike feels extremely handmade, which, from a conventional point of view, doesn't make it feel like the best motorcycle on the market. But, from my point of view and my adornment of '50s-60s era motorcycles, I've just fallen in love with the Commando…
As I pull back up to Norton after an hour of thrashing the life out of a motorcycle I never thought I'd get to ride, I reflect heavily upon what it is about this bike that I love. My conclusion is that other manufacturers do not make a motorcycle like this anymore. No BS and raw as all hell with equipment that would give someone from the 1950s a heart attack.
---
---
I see the Commando as a platonic soul-mate rather than someone you will marry. With platonic soul mates, you realise they're not a perfect partner because you see flaws that you relate to and make you think, "I don't want to live with you for the rest of my life, but the time I spend with you is special" and that's what I see in the Commando. It's not a conventionally fantastic motorcycle, but it has so much soul and endearing flaws that keep you on your toes, which really humanises this hand-built machine.
---
"It's not a conventionally fantastic motorcycle, but it has so much soul and endearing flaws that keep you on your toes, which really humanises this hand-built machine."
---
There's nothing on the market that comes close to this, and while we will probably get a very different machine to this when TVS bring Norton back to Australia due to Euro regulations, I hope it still feels the same as this.
At £16,499 for the Commando 961 SP and £16,999 for the CR in the U.K., they're very much a premium priced motorcycle for the limited equipment you get with them. If you want a motorcycle that does everything right, buy something from one of the major Japanese brands. If you want a motorcycle that is so remarkably special and unique to ride, the Norton Commando is for you.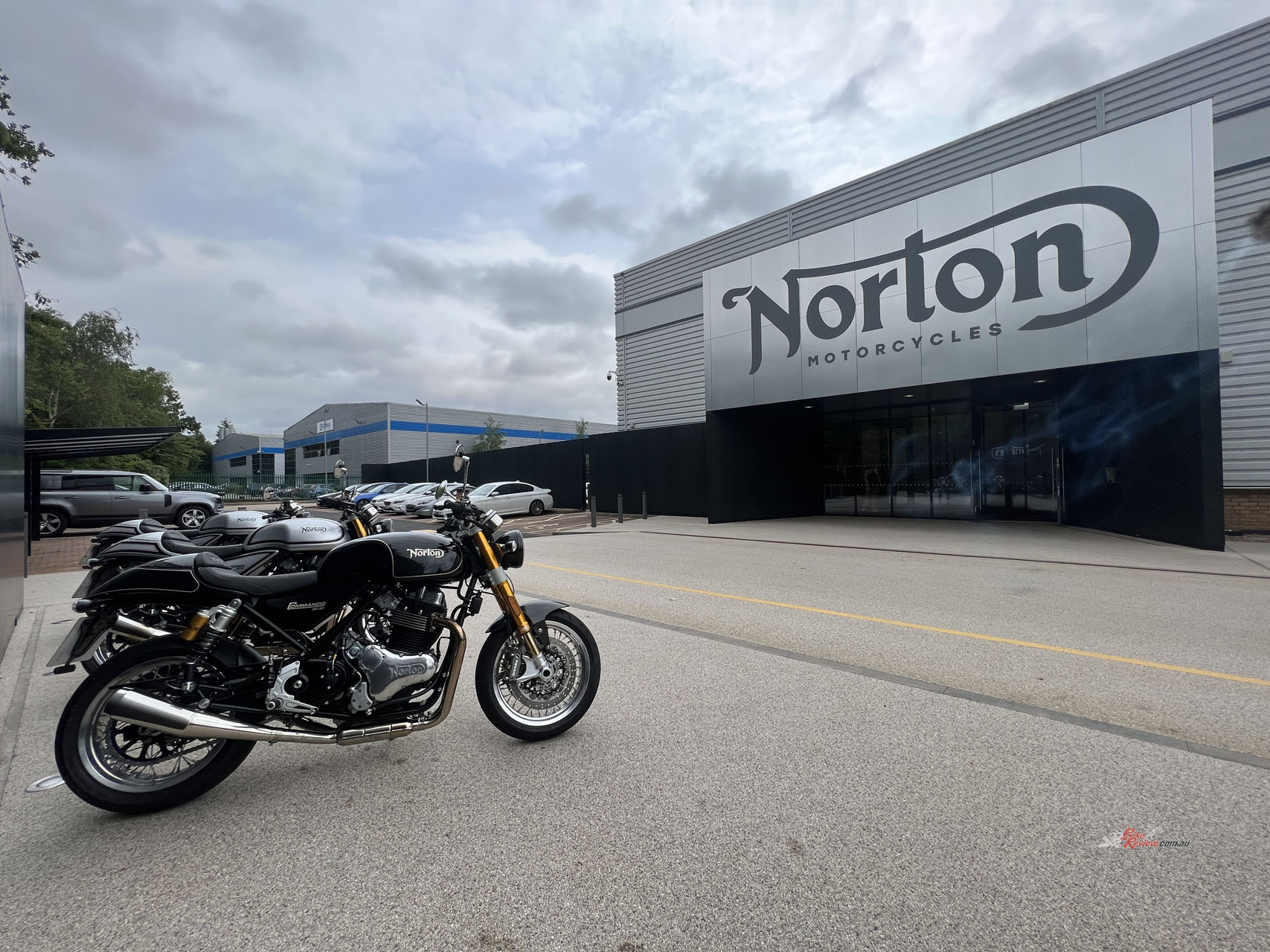 2023 Norton Commando 961 CR [SP] Specifications
Price: Australian pricing and availability not yet announced
Warranty: N/A
Colours: Matrix Black, Manx Platinum
Claimed Power: 78hp @7250rpm
Claimed Torque: 81Nm@6300rpm
Wet Weight: N/A
Fuel capacity: 15L
Fuel Consumption Claimed: N/A
Fuel Consumption (measured): N/A
---
Engine: Norton air-oil-cooled pushrod parallel twin with dry sump lubrication, 88mm x 79mm bore x stroke, 961cc, 10.1:1 compression, Crank fired ignition, Electronic fuel injection system. Full stainless steel exhaust system with multiple 3-way catalytic converter. Gearbox: Five speed Clutch: Wet, multiple disc
---
Chassis: Frame: Hand TIG and MIG welded at Norton HQ
Rake: 24.5 degrees Trail: 99mm
Suspension: 43mm Öhlins upside-down forks – adjustable for preload, compression and rebound damping(f) Öhlins twin shocks with remote reservoir – fully adjustable (r), travel N/Amm.
Brakes: Full Brembo system – twin Brembo 320mm fully-floating high carbon steel discs and Brembo 4-piston Mono Bloc radially mounted calipers with ABS, and Brembo front brake master cylinder (f), Full Brembo system – Brembo 240mm disc and 2-piston caliper with ABS, and Brembo rear brake master cylinder (r)
Tyres: Dunlop Sportmax GPR 300, 120/70 x 17in, 180/55 x 17in
---
Dimensions:
Seat height: 810mm
Ground clearance: N/A
Overall width: N/A
Overall Length: N/A
Overall height: N/A
Wheelbase: 1400mm
---
Instruments: Analogue dash.
---
Editor's Note: If you are reading this article on any website other than BikeReview.com.au, please report it to BikeReview via our contact page, as it has been stolen or re-published without authority.
---