Stu's turned this 1989 Yamaha FZR1000 into an absolute track monster over the past few years, and it has achieved some fantastic results. Check it out... Pics: Courtesy of AMM
My mate Chris and I have been building our P6 bike for years now, a 1989 Yamaha FZR1000. It has gone through all sorts of changes since, but I thought I'd give you the reactions from the people that have raced it to give you an idea of what it's like to ride…
---
Check out our other classic bike tests here…
---
Life for the 1989 FZR1000 started out as an eBay find for $1500 and had been left unused for many years in a farm shed. When Chris and I started to pull it all apart the spiderwebs were thicker and harder than a concrete slab!
---
---
While Alex had been racing at the Isle of Man TT, Chris found a guy that sold a JPS Norton rotary fairing set for a YZF750R, so we decided to fit this to the 1000. Mainly to play with people's minds as we have a Norton decal on the tank too. This has worked and given many laughs over the years.
The engine was stripped, vapour blasted and the internals either replaced with new or stronger parts, or modified to suit the high output. The crank was lightened as well, despite not being up to the spec of what Shaun (at D Moto Motorcycle Engineering) wanted. The head was modified to Shaun's secrets and standard FZR1000 EXUP cams were used.
---
Alex Pickett and Cam Donald had raced the bike at this stage and they both said it was a beast.
---
A set of 39mm Keihin flat slide carbs were bolted on followed by a programmable Ignitech ignition. The exhaust was a set of headers from the UK with a Delkevic muffler and for the brakes we'd fitted up Brembo calipers front and rear with NG discs, SBS carbon pads and Venhill brake lines. The suspension was pretty basic in the bike's first couple of outings with almost standard forks and an $80 ZX-10R shock.
As time went on and we realised just how fast this bike is, suspension components had to be upgraded. The forks were stripped a couple of times to adjust the Gold Valve shims, fit Ohlins springs and to achieve the fork oil height we wanted. The $80 ZX-10R shock we used had been sent off to Glenn Allerton for a rebuild, but after a couple of races we ditched it for a full custom Wilbers unit.
---
---
Both Alex Pickett and Cam Donald had raced the bike at this stage and they both said it was a beast. The handling was a bit "so-so", with Alex mentioning he'd just twist the throttle harder to let it wheelspin and hang on! Cam struggled a bit, but ultimately got the hang of it. Both blokes said the bike pulls so hard out of corners it's either wheel spinning or wheel standing and that's in a straight line or sideways! To give you an indication of just how much power this bike has, a similar FZR1000 race bike I know of has more torque than a current R1 superbike – just to give you the picture!
The engine had caused us a bit of a headache as the bearing journals weren't the best. Shaun did replace the crank bearings and we had tried a set of YZF750R cams, but lost ten horsepower – we went back to the standard cams. I also got a custom built full exhaust from Jaygui. It is a work of art and the various bends and twists that snake around under the engine show the level of research gone into making sure this exhaust produces the best power and torque possible. This bike does sound totally different to any other FZR1000 out there, too.
Alex had always wanted me to race the FZR and see what I thought of the setup. Especially from a big geometry change I made for the Morgan Park Superbike Masters round where he had one of the biggest tank slappers you've seen and didn't crash! The bars slapped that hard it broke the steering stops off!
---
---
After fitting a steering damper and making some other changes, I did race at the Superbike Masters round at SMSP for ASBK in 2019. I got two practice sessions in and got the handling heading in the right direction, but ultimately the dodgy crank gave out. The Crow Cams conrods did their best for so long, but when it blew I had been backing it into turn four, with loud rattling noises as I got on the throttle out of the corner, obviously the stress of backing it in this time round it had decided to give up. The damage was a destroyed crank, one conrod, one piston and a couple of bent valves. Luckily the engine cases were okay and this was down to me being quick on pulling the clutch and shutting off the engine.
---
---
Onto version two. We found a near new crank and ordered conrod, piston and valves. I also found some brand new cases and other parts for spares in the future (hopefully not needed!). In particular, the Crow Cams conrod had to be specially built to match the dimensions and weight of the other three rods (think expensive!). Shaun and I came up with another design for the crank and milled it down. The crank, rods and pistons all got balanced at Duncan Foster Engine Balancing and we got the head skimmed at KC's Dynamic Engine Balancing & Head Servicing.  
As it was the first time I had raced this bike at ASBK, I noticed a couple of other issues. One in particular neither Alex or Cam mentioned, and that was the seat unit. It flexed more than a limbo dancer and felt like riding a boat on wavy water.
---
Jack said the FZR wants to rip your arms from the socket and tears at your hands causing blisters…
---
I remember coming in from the first session and mentioning to Chris, how the hell Alex ever rode this bike so fast! At the time he'd done 1.37min at SMSP. The result was ditching the Norton rotary seat unit for an FZR (OW01) race seat unit – no more flex and more feel of what the rear is doing!
The other issue for both Alex and myself was the rear needed a heavier spring to control the squatting under acceleration out of corners. I also fitted one lighter on the front springs for a bit more feel and better turn in.
---
---
Life commitments restricted Alex from racing the bike as we'd like and then COVID hit with basically there being no racing. When some racing did come around Alex was working so I spoke with Jack Passfield whom Shaun at D Moto helps out. Jack had never ridden a big powerful superbike styled bike, let alone an old banger! We went for a test day at SMSP and he was quick, even Cru Halliday on his current ASBK superbike couldn't get past Jack down the front straight.
---
---
We obviously needed to put lighter springs front and rear as Jack is much smaller and fitter than Alex or I. I also bit the bullet and put a custom-made radiator in for better cooling at low speeds and idle. It would cook pretty quick if left to idle for more than a couple of minutes in the past with the already oversized R1 radiator, which isn't good for engine life! 
Race day came around and Jack is the kind of bloke that works up to the speed and doesn't just smash the throttle or throw it into a corner and risk throwing it down the road. This is a great attitude to have, especially for classic racing bikes, as parts are expensive and getting more and more rare. Jack said the FZR wants to rip your arms from the socket and tears at your hands causing blisters – good practice for him if he decides to race superbikes in the future.
---
---
He did struggle to get used to the amazing braking power, and this is something all four of us have mentioned, Cam Donald said of all the bikes he's raced around the world, never has he ridden a bike with so much braking performance – that's a pretty good compliment for how we've set it up with the caliper, brake pad and disc arrangement.
---
As I have told everyone who rides this bike – the harder you use the brakes, the better they work and Jack started using them for the last race he had, winning the race against a super special and much younger ex-wsbk ZX-7RR, turning in some very respectable lap times.
Jack did mention there's more time in it with an expected 1.34-1.35min lap time, not bad for a bike that was more of a sports tourer for its time. Put that into perspective – modern superbikes are doing 1.29 at the top, with most of the field more into the low 1.31–1.32min bracket with more power, better technology and superior tyre technology, despite the FZR running amazing current Pirelli slicks.
---
---
What's next in the pipeline for the beastly FZR1000… as I write this it's at Handcraft Fibreglass getting a proper fibreglass bellypan fitted and possibly a higher screen for better aerodynamics. Other than that, the bike is where Chris, Alex, Jack and I want it – it has only taken three or so years from when it first turned its wheels on the track and many tens of thousands of dollars, yep, classic bike racing isn't cheap to run at the front.

Since the time of writing, Alex has been out for a test day and raced at the Old Bike Australasia Classic Challenge. At the test day, Alex wanted to see if he still had his mojo, which he of course did. Roll on to the race weekend and Alex sat out qualifying and the first P6 1300 race due to wet weather. Alex couldn't risk getting hurt and as we all know it can be much easier to crash in the rain.
---
Alex was first in class and as a result of the two 1st place finishes in class he ended up 2nd overall for P6 1300…
---
The sun shone for Sunday and three races awaited Alex. He had to start off the back of the grid for the P6 1300 (combined with Pre Modern Superbike) race and having started around 40th he was into 3rd on the first lap and finished there as the two in front had a gap. The main thing for us was that Alex was 1st in class. For the second P6 1300 race, Alex started third, got into second and started to hunt down the leader when the rear tyre went off and finished up third by half a wheel to one of the Pre Modern Superbikes. Again, Alex was first in class and as a result of the two 1st place finishes in class he ended up 2nd overall for P6 1300.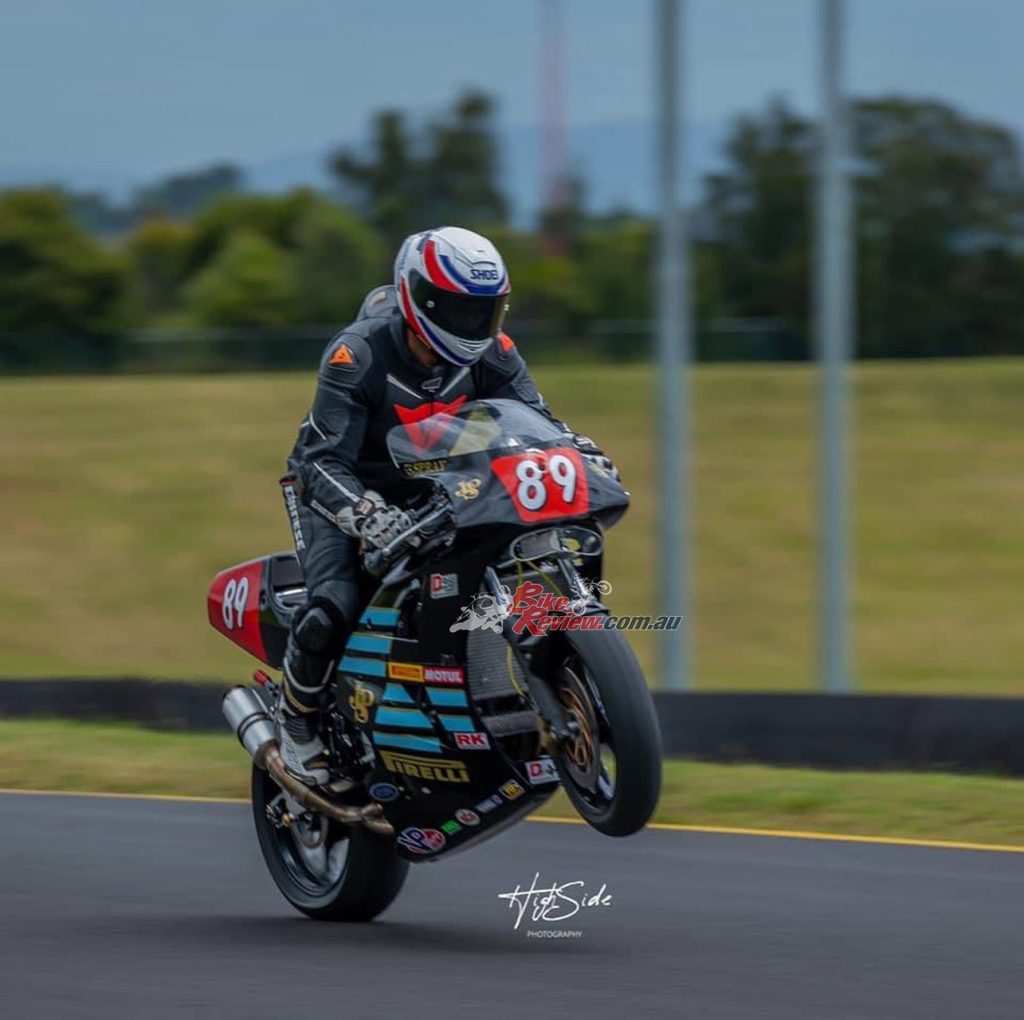 The last race for Alex was the Unlimited Challenge. This was a combined 750-1300cc fastest 45 bikes on the grid. Based on qualifying Alex had to start from the back of the grid. He was into 2nd on the second lap and started catching the leader. Unfortunately, the race had been shortened to only four laps, so there wasn't enough time for Alex to possibly contest for the win. He did set the fastest lap as well. Amazing results, especially when you consider he hadn't raced in over two and a half years.
---
It's still either wanting to wheelstand or wheelspin on the exit of every corner!
---
Alex did mention the new engine, seat setup and suspension setup has made the FZR1000 easier to go fast, but is still a wild animal to ride. He said it's still either wanting to wheelstand or wheelspin on the exit of every corner! As with all race bikes the evolution continues as there's a couple of areas we think we can make some more time. We could just leave the bike as is, as it's already one of the fastest Period 6 1300 bikes in the country, but where's the fun in that.

1989 Yamaha FZF1000 Results So Far
4th 2017 Island Classic Period 6 1300 – Alex (first outing, missed 3rd by one point after having to start at the back each race and the engine spinning a bearing)

3rd 2017 Australian Historic Titles Period 6 1300 – Alex (a lot of teething problems with engine mapping)

4th 2018 Festival of Speed Period 6 1300 – Cam (raced with 750 cams – less hp)

2nd 2019 Festival of Speed Top 60 Superbike Shootout – Alex

3rd 2019 Festival of Speed Period 6 1300 – Alex (missed one race and would have been first as a result)

2nd 2019 ASBK Superbike Masters Morgan Park – Alex (biggest tank slapper without crashing!)

DNF – 2019 ASBK Superbike Masters SMSP – Stuart (Bang!)

2nd 2021 St George Retro Superbikes – Jack

2nd 2022 Classic Challenge Period 6 1300 – Alex
2nd 2022 Classic Challenge Unlimited Challenge – Alex
THE CLASSES

Period 1 – Veteran: up to 1919
Period 2 – Vintage: 1920-1945
Period 3 – Classic: 1946-1962
Period 4 – Post Classic: 1963-1972
Period 5 – Forgotten Era: 1973-1982
Period 6 – New Era: 1983-1990
Pre Modern – Soon to be Period 7: 1991-1997
From Period 4 onwards there are different capacity classes within each Period. For example, the FZR1000 is 'Period 6 1300', which means bikes 788cc – 1300cc are allowed, with many other rules within these limits, as you can expect.
---