Last year CFMOTO released their first full fairing sportsbike, the 300SR ABS. We recently spent a few weeks putting it to the test... Review: Simon Harris Photography: Heather Ware
The CFMOTO 300SR fights within a competitive arena that features the R3, Ninja 400 and 390 Duke among others. Where it wins hands down is on price, first and foremost. For the entry level category, this is a huge advantage to have. We recently put it to the test…
CFMOTO is a rapidly growing brand in Australia and has gained over 25000 local sales since 2005. With its latest range of bikes, this manufacturer is undoubtedly going to continue making a noticeable impact on the Aussie market.
This is the second CFMOTO that I have ridden; the first was the first model NK 650 in our 2014 650 LAMS nakedbike shootout a few years back. That bike was, to be honest, perhaps a little crude in some areas but also a much better performer than it appeared to be. The bike in question here today is the 2020/2021 300SR, which I reckon is a little beauty.
---
---
CFMOTO is a Chinese manufacturer that has been part of the motorcycle industry for over 30 years. For example, making frames and components for various manufacturers and, of course, full fledged scooter, ATV, quad and motorcycle production – we are talking millions of units. CFMOTO and KTM have been buddies since 2013, with CFMOTO owning a majority share majority share of a new Joint Venture Company in China set up between the two.
---
Make no mistake, the 300SR is really quite a neat package in terms of sophistication and design
---
As a result, the companies are able to share research and development, technology and manufacturing facilities. This collaboration has enabled CFMOTO to produce KTM machines (for example, the excellent 790 Duke) and use KTM engines in soon to be released larger capacity machines.
In this category, outright performance is perhaps not as important as, say, ease of riding in terms of overall comfort and being able to comfortably get the best performance available. On spec sheet form, the average punter may likely bet on the R3 due to its significant advantage in terms of maximum engine output, however, the 300SR makes its best numbers on average 2000rpm earlier. This makes the available torque and power simply more accessible and linear in delivery, which is great for first-time riders and commuters.
---
---
Make no mistake, the 300SR is really quite a neat package in terms of sophistication and design. I reckon that pictures just can't do this little faired sportsbike justice. I could literally feel teenager acne returning to my face as I absorbed its svelte boy / girl racer lines, multi-layered fairing, air ducts and myriad race inspired decals.
It is suitably small, lightweight, narrow and manageable, too, with even my 155cm daughter able to hold it up and actually reach the ground, smiling like a Cheshire cat. The KISKA designed appearance (1290 Duke and many other things) is certainly bold, contemporary and appealing and rather cute.
The heart of the bike is the 292cc single-cylinder, liquid-cooled four-stroke motor that boasts some impressive technology. The piston has dual coatings – on the skirts to reduce friction, and on the crown to resist heat for better combustion efficiency. The cams actuate the valves directly, which reduces the number of moving parts, inertia and friction.
---
The heart of the bike is the 292cc single-cylinder, liquid-cooled four-stroke motor that boasts some impressive technology
---
The engine features a balance shaft to keep vibration down and reduce mechanical (and rider) fatigue. A Bosch EFI system works in unison with the intake manifold and combustion chamber designs to provide optimal fuel burning for efficiency and low emissions. The exhaust is a neat underslung MotoGP style unit that provides a decent note. A six-speed 'box and cable operated wet clutch finish the drivetrain off.
---
---
Holding the plot together is, from what can be seen, a nice looking steel tube trellis frame that is reminiscent of KTM machines. The suspension includes 37mm USD forks up front and a monoshock unit at the back. These are non-adjustable bar rear preload. The brakes are Spanish J.Juan units and feature a four-piston caliper at the front. Lightweight wheels and CST radial tyres hold everything up for a very handy 165kg wet weight.
---
---
THE RIDE
Bob Walters from CFMOTO dropped the bike off with barely 100k's on the clock – you can't get much fresher than that. This did not provide the best initiation as the whole bike felt tight and a bit tentative. Not only the engine and gearbox, but the steering felt a bit lazy and the brakes quite dull and lacklustre. The first thing we did was Jeff riding it for photos.
---
---
After that, the bike was mine to tool around on. Over the next week I was able to put about 500km on the machine in a variety of conditions. During that time, the mechanicals began to run more freely, with the engine revving faster and sounding sharper and the rest of the bike's dynamics coming together in a very pleasant way. So much fun was had!
My first and final ports of call are a 4km string of generous corners that I traverse multiple times when safe and quiet to do so. My first outing had me cautious and not so much digging the feel of the bike, to be honest. That changed hugely over the course of the test, however, and my last jaunts on that stretch had the little single pulling well from as low as 3000rpm and revving quite rapidly to redline (even though the factory forbids this for the first 1000km – sorry!) with me able to easily lay it over with much confidence in the handling.
---
---
The CST rubber proved to warm up well and was nice and sticky, encouraging corner speed exploration and a general carefree approach to utilising the quick handling. The ABS equipped brakes, which do not feature any lever adjustment, did improve in initial bite, providing good stopping power and never feeling like fading, but still lacked in feedback. The Continental ABS is a bonus.
At 170cm tall I found the ergonomics and general comfort really quite outstanding. Being of puny stature is a definite advantage with this featherweight fighter. Riding a 300km circuit on a wet Sunday morning and over the usual debauched road surfaces had me without buttock paralysis, cramp or vibration numbness at all. Nor fear. This was a really pleasant surprise, with the chassis package working extremely well in keeping the tyres planted over all surfaces and conditions in straight lines and also when leaning.
---
Being of puny stature is a definite advantage with this featherweight fighter
---
At highway speeds, the bike felt stable and was able to overtake without much need for preparation and could likely go all day in this environment without hiccup. Turbulence when passing large vehicles did not upset the 300SR either and the fairing does a good job of directing air around the bike and rider.
In town riding, the generous steering, willing powerplant and nimbleness combine to make a very practical commuter that remains engaging to ride at all speeds. I guess that when you start scraping your boots around tight roundabouts that you are quite enjoying yourself.
---
"My time riding the bike had me feeling really happy whenever I slung a leg over the seat"
---
The mirrors are okay and can be quickly moved in-board to slice the lanes. Take-up off the line is adequate to leave the traffic behind you, with the clutch easy to operate and the gearbox action became progressively willing and light.
---
---
The instrument is a full colour TFT display that has two screens for "Sport" and "Economy" display. All info is easily identified and the tachometer is shown in a clever analogue style – praise be for that. I could not really discern a difference between engine modes when I tried it, or maybe, as I suspect, it is just a display change and not mapping…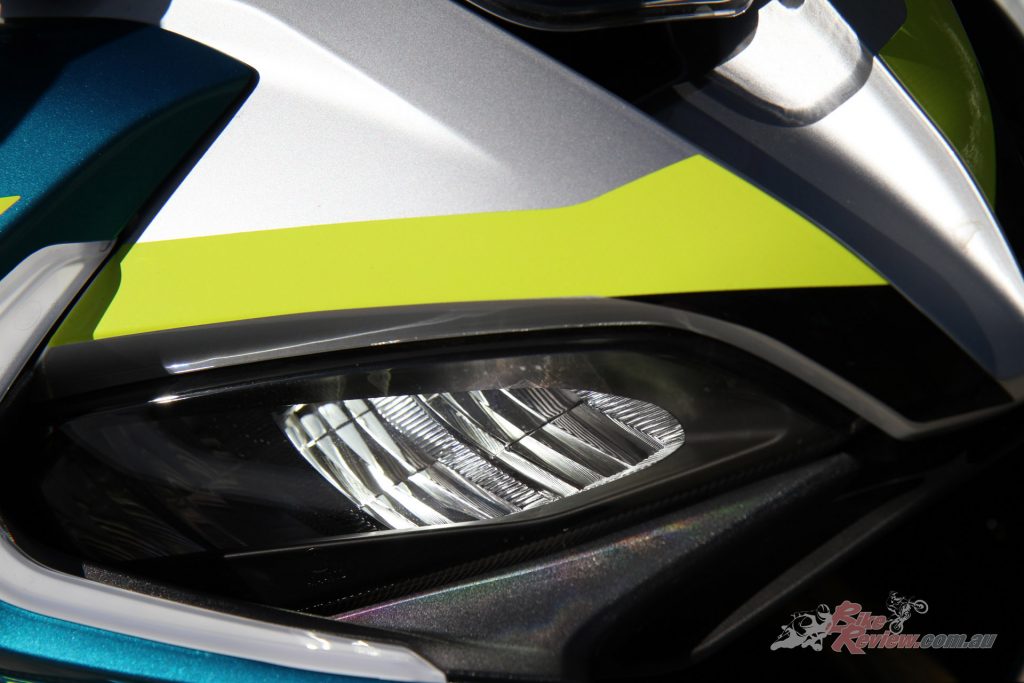 When you start the bike, the screen comes to life with an animation of the slick looking LED running lights – very cool. In fact, the bike features full LED lighting. If you like to connect your 'phone to your bike, you can do that also. The handlebar controls are conventional and present no problem for use or learning and fall easily to hand but adjustable levers would be nice…
---
---
CONCLUSION
The 300SR ABS is really a very interesting option for an entry-level machine. It has an attractive ride away price that represents excellent value. Besides that, my time riding the bike had me feeling really happy whenever I slung a leg over the seat – that kind of effect is worth much more than the money.
---
---
The overall package is well thought out and features a good array of technology and panache and a good standard of build. In terms of engine and chassis dynamics that culminate in an eye-catching and super easy to ride motorcycle that will likely assist new riders to become engaged with motorcycling and also help develop rider confidence.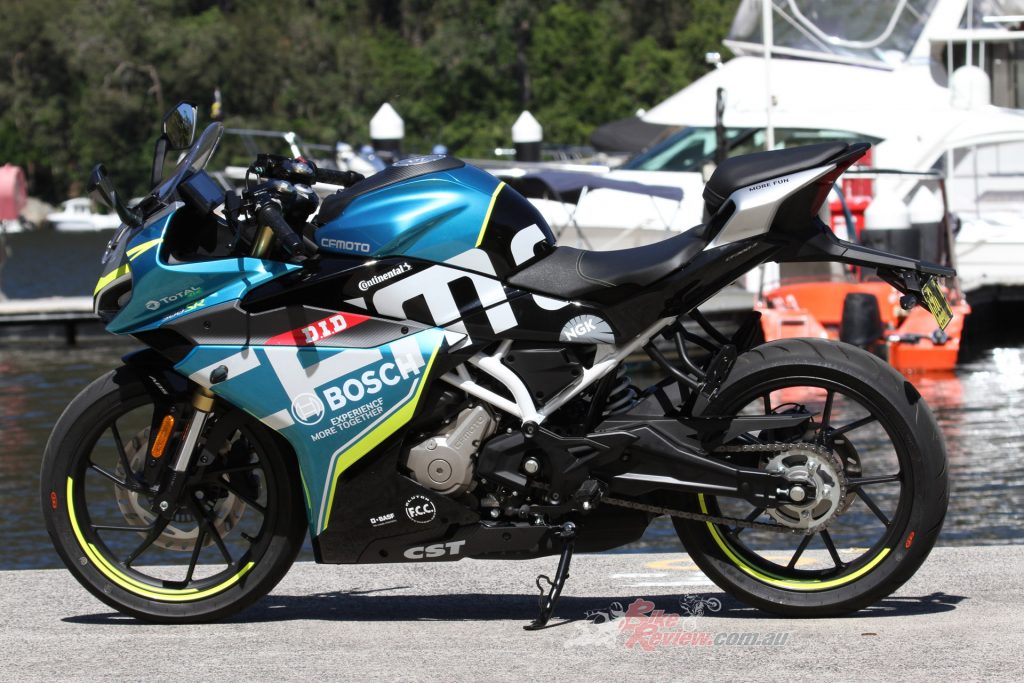 The 300SR is capable of delivering the goods across a broad range of conditions and is certainly capable of rewarding its rider, be it among the traffic or ripping through your favourite bends. If you like, there is a factory upgrade kit available that provides some nice aesthetic touches and adjustable rearsets and levers. I'd be buying all of them.
An IXIL exhaust system is also available that will shed 2kg as well as improve overall performance. You could add these and still come home with some cash in your hip pocket. CFMOTO Australia is offering a Two-Year Unlimited KM Warranty, which is a welcome show of confidence, so you are pretty well covered. Why not find your local stockist and have a look at the 300SR?
2021 CFMOTO 300SR Specifications
Price: $5,790 RRP Ride Away, Two-Year Unlimited KM Warranty.
Colours: Turquoise Blue or Nebula Black
Claimed Power: 21.4kW[28.7hp]@8750rpm
Claimed Torque: 25.3Nm[18.7lbs-ft]@7250rpm
Wet Weight: 165kg
Fuel capacity: 12L
---
Engine: 292cc (78 x 61.2 bore/stroke) DOHC four-stroke single-cylinder with balancer shaft, liquid-cooled, four-valve, 11.1:1 compression ratio, Bosch EFI
Gearbox: Six-speed constant mesh, chain final drive
Clutch: Wet clutch, cable actuation
---
Chassis: Tubular steel trellis frame, cast alloy swingarm
Rake: N/A
Trail: N/A
Suspension: 37mm USD forks, non adjustable, monoshock rear suspension with preload adjustment
Brakes: Single 292mm rotor (f), J.Juan four-piston caliper with conventional master-cylinder, 220mm rotor (r), twin-piston caliper and Continental ABS
Wheels & Tyres: Cast alloy, 3.5 x 17in (f), 4.0 x 17in (r), CST radial tyres 110/70 – 17 (f), 140/60 – 17 (r).
---
Dimensions:
Wheelbase: 1360mm
Seat height: 780mm
Ground clearance: 135mm
Overall width: 750mm
Overall Length: 2010mm
Overall height: 1080mm
---
Instruments: TFT multifunction display.
---
---
The Verdict | Review: 2021 CFMOTO 300SR ABS LAMS Sports