The 2020 BMW S 1000 XR is a multi-sports bike that definitely lives up to that title. It's a wild yet tame bike depending on Mode and Mood. Review: Tony 'Pommie' Wilding Photos: Graham Bain...
With 121kW, tall suspension and a quick-shifter as standard, the BMW S 1000 XR Carbon Sport has just about everything to please any type of rider. The S 1000 XR almost became a part of my everyday life, racking up 989km on it in just a few weeks.
---
Read Pommie's Review on the 2018 S 1000 XR here..
---
There have only been a few negatives that I've found on this bike, so I'll get them out of the way first. The positives far out way them and I'd hate someone to be put off buying this amazing bike because the seat didn't suit me. This press bike was delivered to me with the low seat option, it has an unusual design that's scalloped in the middle, meaning that the sides are raised putting pressure on my gluteal muscles after only a short time in the saddle. It was really uncomfortable and Jeff had the same issue.
---
---
That being said, I'm sure an aftermarket one would improve things and the slim shape of the seat at the front has the benefit of me being able to place more of my feet on the tarmac at a standstill, which for shorter riders would be great as the standard seat height is 840mm.
I had tested the previous model S 1000 XR back in July 2018 and had loved my time aboard that bike, so I was expecting big things from this new one and I wasn't disappointed. The 2020 XR is pretty much an all new bike, with a new frame, swingarm, suspension, bodywork and an engine that has been borrowed from the BMW S 1000 RR. Although the 999cc in-line four has been redesigned to suit the more road orientations of the XR; by increasing low-down and mid-range torque and not incorporating the Shift-cam technology that you get with the RR model.
---
The S 1000 XR has been completely redesigned for 2020…
---
You do get 165hp@11,000rpm and 114Nm@9,250rpm, which is more than enough to scare the crap out of you as you chase through the gears. The engine really is a gem and BMW has managed to get the power just where it's most needed, you can quite easily cruise around in sixth gear at town speeds and get no complaint out of the motor but still have plenty of grunt to accelerate away, that's with the gearing being made taller for 2020.
---
---
The XR also has four Ride Modes to extend your riding pleasure and I found myself using them a lot, it's so easy to change modes by just pressing the button on the right handlebar. You get Rain, Road, Dynamic and Dynamic Pro modes. Rain mode really smooths out the throttle response and to be honest, I often used this mode if I was doing a fair bit of city commuting, just to make my life easier. While there is nothing wrong with Road mode, Rain mode is better for on-off throttle with lane filtering.
With the Ride Modes, the bike also automatically changes the electronic suspension settings or ESA as BMW calls it, and going from Road to Dynamic really does make a massive difference. In Road mode the bike soaks up the bumps, which I loved because of my bad back, it's not designed for corner carving though, as I found it too soft when I pushed hard in the corners and it became a bit unsettled.
---
---
Put the XR into Dynamic Mode and the bike totally changes into an absolute beast. In the right hands, a decent rider would clean-up many a sportsbike on a tight twisty road or even a track day with this bike, you really can push it hard. Ground clearance would be the only limiting factor. The throttle response also sharpens in this mode and the bike is just so eager, it almost feels like the engine is egging you on to rev it harder, the end result is that you find the next corner a lot faster than you were expecting!
For 2020 the XR has BMW stamped on the brakes and they are brilliant. The previous Model XR was fitted with Brembo brakes, these may be Hayes calipers, which have copped some slack on the S 1000 RR, as they are not monoblock and fade on the track. These brakes though, in this application, have a nice predictable initial bite, then are super powerful when you apply a bit more pressure.
The ABS also works really well and I tested it both on and off road on a dirt track, you do have the ability to adjust the ABS in Dynamic Pro mode and even turn off the rear completely to allow for drifting into corners. The XR also has cornering ABS, which is a great safety feature should you need to grab The new XR is also fitted with engine drag torque control MSR, which is how much the engine braking works you when you are off the throttle.
This can be adjusted in Dynamic Pro mode if you really want to customise your riding technique. I think the biggest surprise is that, if you don't know about the XR, you wouldn't expect a bike that looks like an adventure bike to be this powerful and fast. With the wide 'bars and great chassis the XR really handles well, flicking from left to right with ease and it's really sure footed, in Dynamic Mode the bike is firm and planted and filled me with confidence the more I ride it. I can't say enough about how good this bike handles Aussie roads.
---
---
There can't be too many bikes that can launch out of a corner as fast as the XR, while making you grin and at the same time knowing that it's not going to bite you over the bumps while doing so. The higher you rev the bike the more it wants to give, really getting into its stride at around 7000rpm.
The XR is fitted as standard with a up and down quick shifter, which adds to that sporty feel when punching through the gears, changing up is as smooth as butter, but I found on this press bike that only had 2000km on the clock, that downshifts required more pressure and were slightly notchy. The cable clutch is nice and light to use and is now adjustable for reach as is the brake lever, so traffic work is made easy when you hit the towns and cities.
On the side-stand the bike does feel like it leans over a fair bit so you require a bit of muscle to lift it to the upright position and you just have to be a bit careful not to park it on any off camber road sections, but once on the move the weight of this bike vanishes.
Something I found was that getting the bike off the trailer and around the back of my house up a small paved ramp, was that the bikes exhaust did catch, which is the first bike I've tested that has done it, although it never caught on any large speed bumps during my test time.
---
---
The first of the XR models were slammed for vibration problems back in 2016. The bike that I previously tested in 2018 had rubber mounting on the headstock/bars and I didn't find vibrations a problem on that bike. The 2020 bike is better still, you are never going to totally eliminate all vibrations on a high performance in-line-four, but BMW have done a pretty good job.
---
BMW did a great job of eliminating the vibrations the 2016 model was slammed for…
---
On the freeway the bike sits happily at the speed limit and has gobs of power available for overtaking without the need for gear changes. One thing I do like is the cruise control really works well and holds the speed you set accurately – it also gives you the ability to take your right hand off the 'bars if you need to. The bike is also fitted with an easily adjustable screen and although it deflected the wind off my chest, I was too tall for it to be much use at deflecting the wind over my head.
---
---
The 2020 model now has self cancelling indicators, which work really well as I'm sure most of us spend half our time pressing the cancel button numerous times just to make sure they are off. Other features include hill start assist and heated handlebar grips, neither I really used, but are there if needed and this new model is also fitted with keyless start so you can leave the key in your pocket and forget about it, the fuel tank is also keyless, which comes in handy too.
---
---
The XR was reasonable economical with the sort of riding I was doing, considering it is a superbike engine. My riding was a mixture of freeway/city commuting and a couple of floggings through the twisties every other day. I was getting around 330km out of the 20L tank (16.5km/L) so I didn't think that was too bad for a bike with this sort of power and performance. Some may consider that thirsty.
By far one of the best features on the new XR is the TFT dash, it's crystal clear to view, it may look complicated, but easy to navigate once you get used to it. The dash is where you basically set everything up and is customisable, there are two main clock screens, the standard and the sports dash.
---
---
In the sports dash, you can see the braking forces used and how much the traction control has intervened, you also have what degree of lean angle you have achieved, which could get you in real trouble if you play the game of trying to beat your high score, but comes in handy for bragging rights at your next stop.
---
---
You also have the option of bluetooth connectivity to your phone to the bike and if you download the BMW app you will be able to use the navigation, which is simple and works well, it just brings up basic turning instruction on the dash, you can even review your journey in real time or speed-up, which shows you speed, acceleration and deceleration G-force, lean angles.
There are so many things I love about the XR, it's more refined than the previous model, looks a bit sharper with the new symmetrical LED running lights and has a fair bit more tech, you'd have to ride one yourself if you were thinking of upgrading from the previous model and do the sums to see if it's worthwhile, but if you are coming from a sports bike and wanted something you can ride all day and is blisteringly fast then I'd recommend throwing a leg over the new BMW S 1000 XR.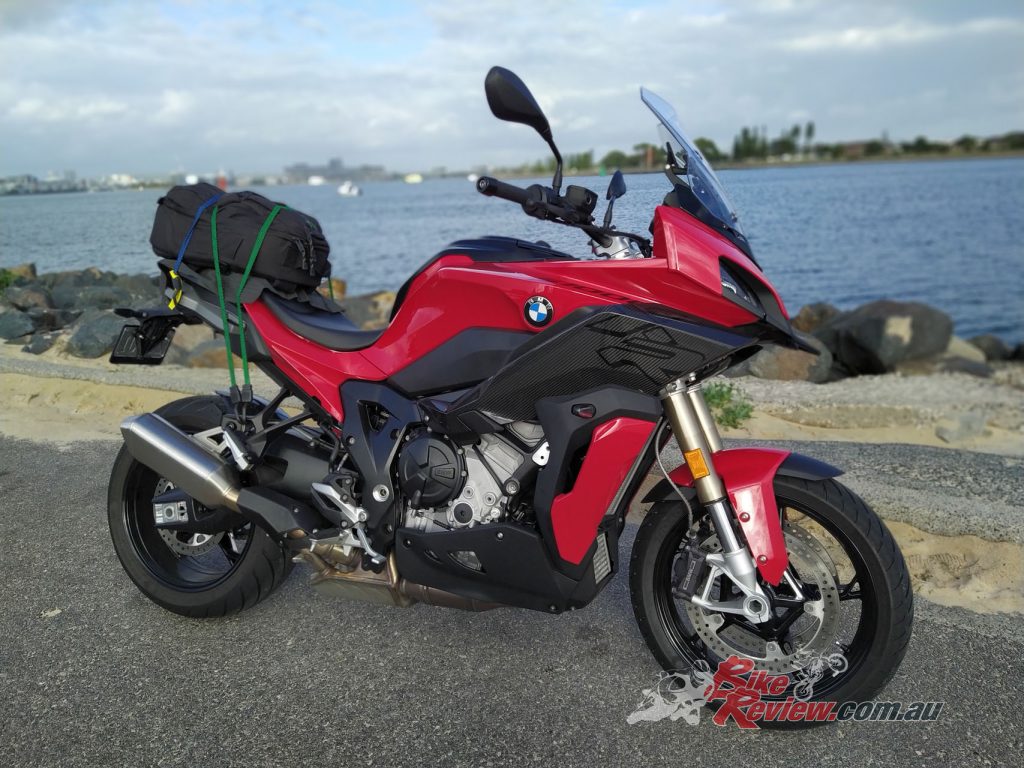 The BMW S 1000 XR TOUR IS $28,890+ORC, Carbon Pack $2675 and the M battery add on is $315. This optioning includes navigation preparation, hand guards, centre-stand, luggage grid and tyre pressure control as the XR Sport has replaced the XR Carbon Sport we tested.
---
---
2020 BMW S 1000 XR Carbon Sport Specifications
Price: $31,800 + ORC (see above package options to create bike)
Warranty: Three-years
Colours: Light White / Racing Blue Metallic / Racing Red
Claimed power: [121kW]165hp@11,000rpm
Claimed torque: 114Nm[84ft-lbs]@9,250rpm
Wet weight: 226kg
Fuel capacity: 20 litres
---
Engine: Water-cooled in-line four-cylinder four-stroke, four valves per cylinder, DOHC, 999cc, 80 x 49.7mm bore x stroke, 12.5:1 compression
Gearbox: Constant-mesh 6-speed gearbox, quickshifter
Clutch: Self-reinforcing multi-plate anti-hopping wet clutch
Final drive: Chain
---
Chassis: Aluminium composite bridge frame, self-supporting engine
Brakes: Twin disc brake, floating, 320mm, radial four-piston fixed calipers, rear Single-disc brake, Ø 265mm, two-piston floating caliper
Wheels & Tyres: Die cast aluminium wheels, 120/70-17, 190/55-17, 3.50 x 17in, 6.00 x 17in
Front Suspension: Upside-down telescopic fork, slide tube diameter 45mm, Dynamic ESA, damping electronically adjustable.
Rear Suspension: Dynamic ESA, damping electronically adjustable
---
Dimensions
Steering head angle: 65.1 degrees
Wheel Castor: 116mm
Wheelbase: 1552mm
Seat Height: 840mm STD
Length: 2333mm
---
Electronics & Dash: 6.5in TFT colour display, BMW Motorrad ABS Pro, DTC, Dynamic Brake Control, LED lights, Hill Start Control, Riding Modes Pro, Keyless Ride, Dynamic ESA Pro, Gear Shift Assist Pro, Heated Grips, Cruise Control, Adaptive Headlight, Daytime Riding Light, Headlight Pro, HP Battery.
M Carbon Extras: M Carbon-fibre rear guard, chain guard, side panels, front guard.
---
---
The Verdict | Review: 2020 BMW S 1000 XR Carbon Sport