After completely losing it over how good the BMW R 18 First Edition was when he reviewed it last year, Jeff has come away with mixed results from the R 18 B bagger test... Photography: Heather Ware
Over the past year we've tested the mighty BMW R 18 First Edition, one of the most fun cruisers we have ever ridden, plus the R 18 Transcontinental, with AJ putting some big miles under the fairings. This time, we test out the 2022 R 18 bagger version, the R 18 B.
---
Check out our BMW R 18 reviews here…
---
I rode the big R 18 B over a week and a half, mostly in the rain, but I did get a few good day long rides in the dry. So how did the $41,955 R/A bagger stack up compared to the First Edition or Trans? Well, it's a bit of a funny one. As an out and out touring cruiser, it's not as comfy and as a fun, big twin cruiser, it's not as raw, engaging and fun as the First Edition, all while not having the luxury spec of the Transcontinental. It doesn't have much room for a pillion, so it's essentially a solo bike.
The R 18 B is a touring bike but has a more cramped riding position than the First Edition. It's OK for me, at 187cm, but only for an hour and a half before I get cramped legs and a sore backside from the hard seat. Throw in a non-adjustable windscreen that, at my height anyway, caused wind buffeting so severe it gave me double vision at any speed between 90km/h and 130km/h, plus vibrations through the handlebars and footrests causing pins and needles, and I was unfortunately unable to do any long-distance open highway stints on the R 18 B. A shame, as it is begging for the big miles.
---
"Like the Trans, the Active Cruise Control radar is above the headlight in the fairing, and this system works very well"…
---
Before you think I am hating on the bike straight up, I'll say that I did still have fun on the machine. Despite some flaws in design, and there are more to be mentioned, it is a fun bike, a fun experience in its own way, in the right conditions. Still, I personally knew quickly that I prefer the First Edition…
---
---
The R 18 B has the same large front fairing as the Transcontinental that Andrew Jenkin tested for us, however, it doesn't have the extra wide winglets either side below the headlight area. I found that this created a strong wind stream around my knees, which was great for keeping cool but on the wet days meant there was a strong water spray coming off the fairing, so you get soaking wet. Like the Trans, the Active Cruise Control radar is above the headlight in the fairing, and this system works very well.
---
---
Also up the front is the big 19in cast alloy wheel, which looks great, with large dual front rotors. There is a single rear rotor, and the brakes are linked. The brakes are not a strong point though, they lack feel, both ends, and the front brakes are spongy and suddenly jam on. I can't figure it out, as the R 18 First Edition brakes were pretty goof and they are essentially the same parts.
---
---
Unfortunately, and incredibly, I could not find a way to use the rear brake effectively. Any boots I tried, just would not fit between the rear pedal and the bottom of the cylinder. If I pushed my foot in the gap to brake, it would get jammed and the brakes would jam on. How it left the factory with this design, I just can't understand. The pedal is also slippery and hard to find with a quick movement.
---
---
The actual riding position is OK, as mentioned, but a little cramped as you can't move your legs that much, but you can stretch out over the cylinders if you need to. I still felt a little trapped on the bike having my feet under the cylinders, it felt uneasy to me, but then again a Honda Goldwing isn't that different, and has no more leg room, being a flat engine too. The handlebars are wide and comfy, with the switches and dash the best of the best, as BMW do so well.
The panniers are extremely good quality and well made. They lock and unlock via a button on the right hand switchblock. They are not large enough for a lid, but are waterproof and well insulated. There is room for a few groceries, some clothes or laptop, etc. A few days away would not be an issue in terms of luggage storage, and the speakers don't take that much room up in the lids. Finish, fit, chrome and paint on the R 18 B is absolutely high end. The paint is simply perfection… Lots of comments.
---
---
The Marshall sound system is completely insane. With the surround sound from the back two speakers and the large two in the front fairing, it is crystal clear and seriously loud. Even on the highway with the previously mentioned wind buffeting, the sound was fine.
---
---
Like all of the top range Beemers, the R 18 B TFT display and what is offers is the best there is. Easy to use, everything imaginable and in this case, huge! The only issue I had was connecting it to my iPhone SE. I don't know what I was doing wrong but I tried many times, my phone would not find the bike. I still had JJJ radio but no Nav or calls.
---
---
As well as the big TFT, there are dials above, with speed, rpm and a weird Power Reserve dial that I just ignored and I think it was just a vacuum gauge! I would prefer it was a clock. Other nice touches include the famous easy to use scroll wheel, and the cruise control is easy to operate on the left handlebar. The Active Cruise Control works really well, slowing the bike when needed…
Speaking of cruising, I got an average of 5.9L/100km from the bike, so it's a bit thirsty for a bike but not for an 1800cc vehicle! Next to the fuel filler is a phone holder, but it is tiny and even my small iPhone SE only just fit, with the phone case removed, and the small bracket that holds the phone inside snapped off on my first ride. I ended up just keeping the key fob in there. There is also a charge point in there but I could not figure out how to access it.
The big motor, although the same as in the First Edition, feels different in the R 18 B. To me, it felt slower, flatter and with less character. I could not stop grinning every time I rode the R 18 First Edition and I just did not want to hand that bike back to BMW, I loved everything about it and most of all the engine. Something has changed with the B…
---
"Keep it at 2000 to 2500rpm and you will experience sublime smoothness, just amazing. Top gear, 2500rpm, is around 105 to 110km/h".
---
Even in Rock mode, it has lost its charm and exciting edge. Keep it at 2000 to 2500rpm and you will experience sublime smoothness, just amazing. Top gear, 2500rpm, is around 105 to 110km/h. However, from 3000rpm, you get vibes through the handlebars, seat and footboards, something that was not there with the First Edition. Strange…
---
---
On the left side of the bike, the gearlever set-up is not much better than the foot brake. I had to heel-toe shift only, as no matter which way I adjusted the lever, just like the rear brake, there was no spot it could work. I could not get my foot under the lever to shift up, yet had to completely lift my leg, move back, and find the back lever to shift up, usually settling for the actual shift shaft rather than the end of the lever, then squeeze my boot under the left cylinder, try to find the too small gearlever, to shift down.
---
---
It's a set-up that is just not right, and very clumsy to use compared to most heel-toe shifters. I even found it easier to reach down and shift with my hand at times! Also on the left side, the sidestand, which is an awkward reach and not the easiest to locate and set down. Clutch action is light enough, the friction point a bit inconsistent but I experienced no issues with clutch slip.
With livelier rake and trail than the First Edition and the skinny 19in wheel the R 18 B certainly steers well, particularly at lower speeds. In fact, at speeds as slow as 10km/h, it's as easy to ride as a small scooter. Feet up U-turns are a piece of cake, and for a 400-plug kilo bike, it hides the weight very well at lower speeds. Parking is easy, thanks to reverse, but 400kg is 400kg so experience, balance and planning are needed to avoid losing control of that weight. Increase the speed to 60km/h and above, then hit the corners, and you will notice the weight more. It's a heavy bike, no doubt about it…
---
---
The suspension is non-adjustable, although the rear has active preload. In general, it is overly hard. The compression damping is harsh and you feel every bump on our country roads, while on the smooth hotmix it is a dream, where the firm suspension helps it handle better. All big cruisers are basically the same, bone shattering over bumps but OK on smooth roads. It's all the weight, sprung and unsprung. It can't be hidden! However, the R 18 B is a little firmer than most of the competition.
---
"At the end of the test I concluded that for me, the R 18 b has too many little issues that are not sorted or refined enough yet. I like it, but I like the First Edition a lot more."
---
At the end of the test I concluded that for me, the R 18 b has too many little issues that are not sorted or refined enough yet. I like it, but I like the First Edition a lot more. The B has huge potential but in my mind, needs more development. It left me scratching my head, as BMW build some of the most refined, amazing bikes in the world, and I've ridden pretty much every model since 2001, so 20-years, and this is only the second one I have not been super impressed with… The other was the R 1200 C… A few weeks after this test I was reviewing the S 1000 R M Sport, probably the most refined nakedbike I've ever ridden. Go figure…
---
For our full Tech Talk Details on the BMW R 18 including Engine, Chassis, Electronics, Design and Options please click here…
---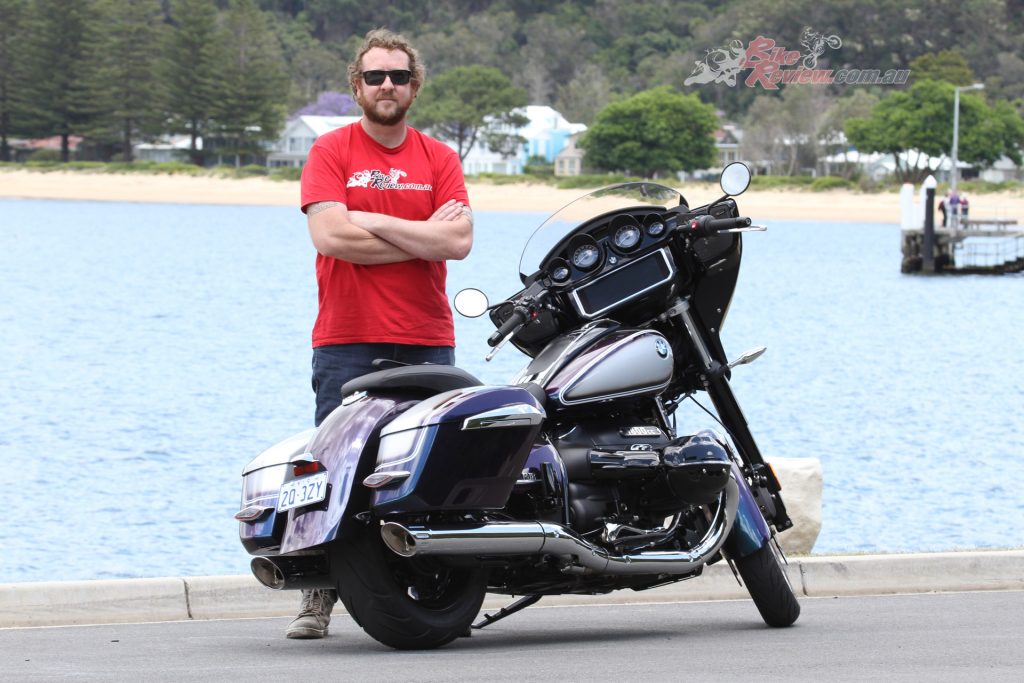 2022 BMW R 18 B Specifications 
Price: From $41,995 R/A
Claimed Power: 67kW[91hp]@4750rpm
Claimed Torque: 158Nm[118lbs-ft]@3000rpm
Wet Weight: 397kg
Fuel capacity: 28.6L
---
Engine: Air-cooled/oil-cooled twin-cylinder, four-stroke eight-valve twin-cam pushrod OHV, EFI, 48mm throttle-bodies, twin exhaust system, 1802cc, 107.1 x 100 bore x stroke, 9.6:1 compression, EU5 compliant. Gearbox: Six-speed seperate housing. Clutch: Dry single plate, hydraulic actuation.
---
Chassis: Double-loop steel tube frame and steel tune swingarm
Rake: 27.3°
Trail: 182mm
Suspension: 49mm forks, non-adjustable, 120mm travel, single cantilever shock, preload adjustability, 90mm travel.
Brakes: 300mm rotors (f), dual four-piston calipers and conventional master-cylinder, 300mm rotor (r), four-piston caliper, linked brakes (front activates rear), ABS.
Wheels & Tyres: Cast aluminium, 3.50 x 19in (f), 5.0 x 16in (r), 120/70 – 19, 180/65 – 16.
---
Dimensions
Wheelbase: 1695mm
Seat height: 720mm
Overall width: N/A
Overall Length: N/A
---
Instruments & Electronics: LCD multi-function centrally mounted dash, ASC, DTC, ABS, MSR, Ride Modes, LED lighting, self-cancelling indicators, keyless start, electric reverse.
---
The Verdict | Review: BMW R 18 B, The Bavarian Bagger