With options & electronics to bring it closer in spec to the 1260 range, the Ducati Multistrada 950 S is a genuine mid-range contender as an option for those after an Adventure Sport...
We reviewed the Ducati Multistrada 950 back in 2017. We rated it highly, although we had issues with front brake performance and felt the bike was fairly basic. With the S version available since 2019, those issues have been put to rest…
With the 950 available in a standard version and an S version since 2019, there is now a closer small capacity option to the big 1260 versions. The 950 S tested here is the 2020 Enduro Pack (extra $2,438.79), with crash bars, spoked wheels, radiator guard, LED spotlights and an alloy bash plate.
---
---
The fundamentals of the 950 remained with the 2019 update, which is a good thing considering what a fantastic motorcycle it already was. The extras, including a 6-axis Bosch IMU for cornering ABS and DTC, make it what it should be. The 950 is a mix of the Multistrada 1260 and the Multistrada 1260 Enduro, with the spoked wheels, swingarm, tail unit, grabrail and seats taken from the latter. The bike also scored a host of electronics to bring it up to the level of the 1260 models. It's a fully loaded midlleweight adventure sport now. For all of the details on the various models, or to create your own 950, visit Ducati Australia's Multistrada 950 section here…
---
Read all of the technical details and updates on the  Ducati Multistrada 950 here...
---
One thing that was appealing about the first 950 Multistrada was the fact it was a European bike that was fun, versatile, flexible and most impressive – under twenty grand. However, without the option of up-speccing it for those not too fussed about the budget, it left many customers with no choice but to go for the big 1260… The stock 950 now comes in at $21,500 R/A, the 950 S at $24,000, 950 S Spoked Wheels $24,900 and eight grand less than the base 1260 Enduro, so a fair lump of coal.
---
---
I always found the big 1260 Enduro to be a bit of a handful off-road and I knew I would prefer the 950 S with similar level electronics. It is still a big machine, however, at 255kg and with a 30L tank, it is tough to move that 1260 around on the tighter trails. The 950 is 30kg less with a narrower tank. In fact, I once had a 1260 Enduro break down on me and I could not get it out of the trail I was on.
---
---
I had to walk out and the bike had to stay there in the bush for a weekend until Ducati and I could arrange a truck to pick it up and it took a few of us to get it out of there. The 950 S isn't all that much lighter or even smaller but it is enough to make it easier to manhandle in a similar situation…
The much-loved 937cc 11º Testastretta engine remains untouched. It is a lovely motor and perfect for this type of application, with enough grunt down low and through the middle on dirt roads and around town. Top-end is fairly flat but shifting through the smooth gearbox via the DQS keeps the power in the meaty part. Final gearing is tall, so the engine is never working hard. At 113hp and 71ft-lbs, output is ample, despite the heavy bike. It's not going to set any acceleration records but the 950 S gets along fine.
---
---
The fuel mapping is smooth in all modes and that motor just oozes character. It's the heart of the bike and half the reason the Multi 950 has so much grin factor. Long, lazy power yet still revvy enough to have a laugh through the hills, particularly now with the up and down DQS.
---
---
I did the exact same test loop on this version that I had done way back in 2017 on the first model 950. This time it was during COVID-19 restrictions (thus no action photos) and quite deserted. It was a loop that has plenty of everything – traffic, suburban sprawl, motorway, country roads, twisties and about 40km of dirt. I also headed off up some fire trails for a few hours to really test the bike and the modes Sport, Touring, Urban, Enduro combining the semi-active DSS, Cornering ABS and DTC intervention.
Urban mode is low power and a soft throttle but just enough to cruise around town and I find I don't tend to act as silly in Urban, it relaxes the ride and dumbs things down. The DQS is brilliant in town and smooth both up and down, the clutch, now hydraulic, is quite heavy and grabby, as per the 2017 model. The engine will labour and struggle a bit in Urban though and needs to be revved above 3000rpm to really cope with the weight of the bike and tall overall gearing.
---
---
One thing I noticed quickly on this bike was the seat height. It was possibly the low version of 820mm, although I measure it at 830mm, but may have done that incorrectly. Stock is 840mm. Either way, it was too low for me and my legs were cramped. It also locked me into the one seating position, which I didn't like. The top of the fuel tank was at the same level as the centre of my chest! The previous 950 Multi was a better fit for me. This can only be put down to the seat height…
---
---
Touring mode is good around town and in general riding situations and I found myself using it a lot for suburban use. It gave that bit more go when trying to keep ahead of the traffic. I also found it good in wet weather, when the extra level of DTC intervention could be felt and the softer throttle helped, while still having plenty of power on tap. All of this time the DSS was doing its thing and I honestly could not tell any difference as it adapted to each situation in general riding. It's a very refined system.
The 950 S comes alive properly once Sport mode is selected. The throttle response wakes up and that lovely engine gives everything it has. With less DTC intervention, progress becomes more rapid and there is noticeably more oomph from 3000rpm right through to 9000rpm. I've mentioned it twice already but it is here that the DQS really adds to the riding experience and makes that sweet Testastretta sing.
---
---
On the flowing, bumpy country roads there is not so much DTC intervention but it is nice to know it is there, updated and ready to help if there is a sudden loss of traction. The DSS is amazing, offering a plush ride at medium and high speeds, yet with enough support to handle some hard braking and acceleration. It keeps both Pirelli Scorpion trail II tyres firmly on the ground on our rough roads…
---
---
Up the pace on the smoother twisties and the 950 S is impressive. The DSS, with 170mm of travel to play with at each end, works in the background constantly adapting damping to the situation, along with the cornering ABS and DTC, it's like the bike is basically glued to the road and when it does move around, it doesn't move far.
---
---
I pushed the 950 S harder than I could a sports or sports naked through my local area and only the tyres called it enough, as they got hot and started to cry for help from the electronics. When the road got smooth and grippy, I would have liked more spring support, but we are talking 9/10th riding and with my 100kg onboard. It is truly impressive, with good footpeg clearance.
---
---
The same sharp yet stable (thanks to sensible geometry but wide handlebars) remains, so flicking the 950 S into the through corners can be done as quickly as you dare, with minimum effort and maximum mechanical (and now electronic) grip. Clearance is good, and now the brakes are too. Where the first model front brakes were problematic at least on our bike, with over 5cm of lever travel then an 'on or off' application from the cheaper master-cylinder, an upgraded radial-pull item now makes proper use of the high spec Brembo calipers and they work very well.
On the open highway, on cruise control, the 950 S is a pleasure to ride. The screen does a good job and the bike is relatively vibe free, although there are more vibes in the mirrors than the 2017 model I tested, for some reason… The addition of cruise control is a huge plus and the engine is barely working at all with the tall top gear and final ratio.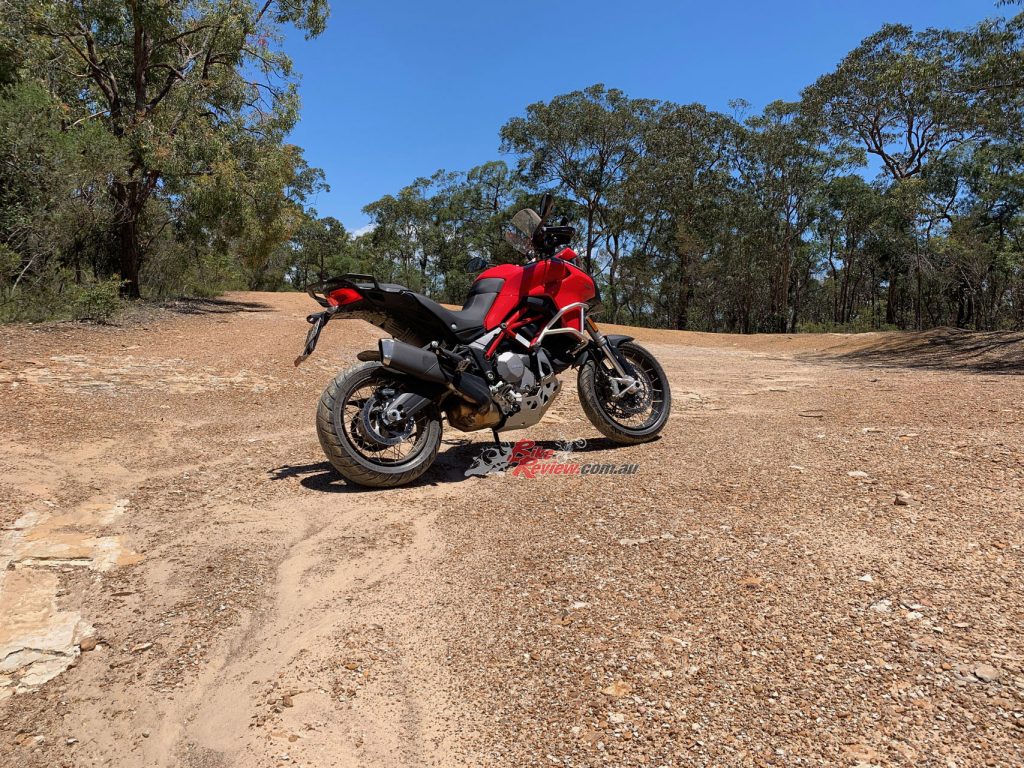 Off-road, in Enduro mode, the 950 S is great fun, with DTC and ABS intervention reduced enough to allow fast, flowing riding on the dirt roads and low speed work on fire trails and DSS nice and soft. It just lacks power, so I mostly rode off-road in Touring mode. I had a lot of fun, with a 40-plus km fast dirt loop and a good few hours mucking around on fairly well maintained fire trails, which is about the limit you would take the 950 S to. You can jump in and change DTC and ABS parameters, too.
---
---
Having the Enduro Pack sump guard and crash bars really gives extra peace of mind too. Overall the bike is good as a soft roader, and the 19in front wheel really helps here. With a comfy reach to the handlebars and enough suspension support to prevent hard bottoming out at sensible speeds, the 950 S can be pushed fairly hard. The clutch does get a workout, with a tall first gear needing slip, so anyone who plans regular dirt action should probably lower the gearing…
---
---
Overall, the current Multistrada 950 S is a fantastic bike, with welcome upgrades over the previous standard 950 we rode and although it is a lot more expensive, there is a lot more in terms of features and electronics. The Evo2 DSS is brilliant, as is the DQS and the cornering ABS system. The quality and finish is typically high as expected from Ducati and the bike proved versatile and tough…
---
---
---
---
SPECIFICATIONS: 2020/2021 Ducati Multistrada 950 S
Ducati.com.au
Price: From $24,900 R/A ($26,438.79 as tested – Enduro Pack).
Warranty: Two-year, unlimited kilometre
Colours: Ducati Red, GP White
Claimed power: 83.1kW[113hp]@9000rpm
Claimed torque: 96.2Nm[71ft-lbs]@7750rpm
Weight: 212kg Dry
Fuel capacity: 20L
Fuel consumption (measured): 4.9L/1000km
---
Engine: Testastretta, L-twin, four-valve DOHC, Desmodromic valve actuation, 937cc, 94 x 67.5mm bore x stroke, 12.6:1 comp, Bosch EFI with cylindrical 53mm throttle-bodies and RbW system, six-speed gearbox, wet slipper clutch, stainless-steel exhaust, chain drive 15/43. Euro4 only.
---
Chassis: Tubular steel trellis frame, two lateral aluminium sub-frames, shell-cast aluminium twin-sided swingarm Rake: 25.2º Trail: 105.7mm
Suspension: KYB 48mm DDS EVO USD forks, 170mm travel, DDS EVO fully adjustable shock, 170mm travel.
Brakes: ABS, Front: Brembo radial mount monoblock calipers, 320mm rotors, conventional master-cylinder, Rear: Two-piston floating caliper, 265mm rotor
Wheels & Tyres: Spoked tubeless 3.00 x 19in (f) and 4.50 x 17in (r), Pirelli Scorpion Trail II 120/70-18, 170/60-17.
---
Dimensions:
Seat height: 840mm (820mm and 860mm available)
Wheelbase: 1594mm
Overall height: N/A
Overall width: N/A
Overall length: N/A
---
Dash & Electronics: 5in TFT, Ducati Safety Pack: Bosch Cornering ABS, Ducati Traction Control (DTC). Riding Modes, Power Modes, Ducati Cornering Lights (DCL), Vehicle Hold Control (VHC), DSS Evo, DQS, backlit switchgear, 5in TFT dash, self cancelling indicators.
---
---
The Verdict | Review: Ducati Multistrada 950 S Enduro Pack