We've had our WR250R Long Termer for two-months now and it is proving why it is such a popular and capable all-rounder with a cult following... Review: KH Photography: HMC Photography
For those looking to jump into off-road motorcycling, or mix road and off-road duties into a single capable machine, then it's hard to look past the Yamaha WR250R, which has somewhat of a legendary status for those in the know. That's why we chose this WR250R as a long termer for the second half of the year – it just does everything easy…
As an outsider the world of off-roading can be quite the mystery, but the WR250R is a great place to start looking, and is powered by a low maintenance DOHC single-cylinder with electric start, EFI engine with a six-speed gearbox. We just love the bike so far, check out our other updates here and here.
Where the WR250F is the competition version, the WR250R is a road registerable option, which means it's suitable as an everyday ride, although it's worth keeping in mind that the tall seat height could be a challenge for shorter riders.  The WR250R retains a high level of overall specification though with fully adjustable suspension at both ends, an aluminium frame, and a surprisingly high performance power plant.
That all combines into a package which weighs in at a light 134kg wet with the smaller stock tank (7.6L) and helps make this particular model a more hard-nosed dual-sport/adventure option for those after a super capable off-roader.
For a totally new rider the WR250R is a bit of a challenging proposition due to the tall seat height, but that's offset by the bike settling into the suspension nicely, while the low weight and easy to manage centre of gravity are ideal for the inexperienced. The narrow seat also makes it easy to shift off the side of the bike for an easier reach to the ground, while low speed stability is great.
The seating position is upright, and at 180cm the reach to the 'bars is easy for normal riding, with plenty of room for movement, while standing up for off-road riding is likewise natural, with easy grip of the bike and grippy but small footpegs. With that in mind, you will need to adjust the brake and shift position if you're using a set of full on off-road boots.
Our long termer is also fitted with the larger capacity Safari tank, a matching fairing, Scraggs rear rack and Barkbusters to make for an even more highly capable off-roader, with custom stickers adding to the overall look.
Yamaha WR250R – On The Road
When it comes to the road, the WR250R is a formidable little option, that 250cc single does run out of puff at around 120km/h, but it'll cruise between 110-120km/h with ease, meaning that longer distance adventure travel is easily achievable, which will get you to the more interesting dirt roads to explore. You'll be left behind if the big adventure bikes take off on you, but realistically speaking the WR250R covers all the bases.
Brakes are powerful enough, despite being more off-road orientated, and the long travel suspension offers a great level of support and control, without any huge dive onto the brakes in road conditions. Jumping on board you will notice the bike settles into the suspension, but there was never a situation where I felt it was floating on that long travel suspension, or that is is overly soft.
With a 21in front and 18in rear clad in semi-knobby Trail Wing tyres, grip and feel are a bit different to your regular road bike, but the grip is there regardless – with a tendency to fall onto the side of the tyre once leant over enough. With a bit of ride time under your belt however, that becomes natural and there's great confidence in all conditions.
My first few weeks on the bike I did all the commuting duties on the WR, before venturing onto the dirt, and I've got to say it left an exceptional impression as a road bike. I could get a foot down with good confidence however, which for new riders will be a big aspect, for the more experienced it should be less of an issue unless you can't get a foot down at all.
Overall the WR250R is an easy and forgiving machine to ride on the road, with a high level of confidence that develops quickly, even with the knobby tyres, with enough speed and acceleration through the fast revving engine to have some fun and stay ahead of traffic.
The clutch is light and the gearbox offers smooth upshifts, with ratios that offer good torque down low but are still suited to higher speeds. Downshifts are also an easy proposition with a throttle blip and quick downshift creating smooth engine braking, even when being quite aggressive on those downshifts. Perhaps most surprising is the top end, which really pulls until 120km/h where it goes flat, meaning overtaking on the freeway isn't a drama.
The seat also isn't designed for comfort over extremely long distances, but it still does the job and a day on the bike isn't an issue for me, although standing up to stretch your legs certainly helps. One point to also mention is that the non-standard fairing offers a large amount of wind protection, where the standard bike has significantly less.
Yamaha WR250R – On the rough stuff
Heading onto unsealed roads, fire trails and even a bit of single trail our WR250R proves a capable performer here too. If you're worried about being overwhelmed I think I can safely say the WR250R is the perfect blend of performance and confidence inspiring handling.
The long travel suspension, which performed well on the road, comes into its element even more once the going gets rough and was exceptionally well controlled. This machine came from Yamaha having previously been set-up for the Tenere Tragics run and I'm not sure whether they had already adjusted the stock suspension. It was lowered a bit at the back but we changed that.
This high spec system is part of the reason the WR250R commands a $8,299 RRP + ORC price, which is a significant step up on what you'll find on many 250cc LAMS machines, and is no doubt what makes this bike stand out to such an extent, both on and off the road, alongside that powerplant.
Lightweight, easy handling and the same confidence you get on the road make the WR250R great getting adventurous, with dirt roads regardless of how bumpy being an easy proposition, and a bit of single trailing being an obvious strength, with the light and narrow bike easy to get through tight spaces.
Jumping off and getting the bike turned around by hand is also an easy job if it gets really rough, and if you were to be really challenging yourself the WR250R would be my choice of motorcycle to do it on, as it's that perfect balance of performance and well-mannered handling.
After taking it on a RideADV Introduction to Adventure Riding course where we went over sand riding and were able to ride at Stockton beach, I was doubly impressed, with Greg Yager and the RideADV team actually running specially set up WR250R bikes as the loan bikes available.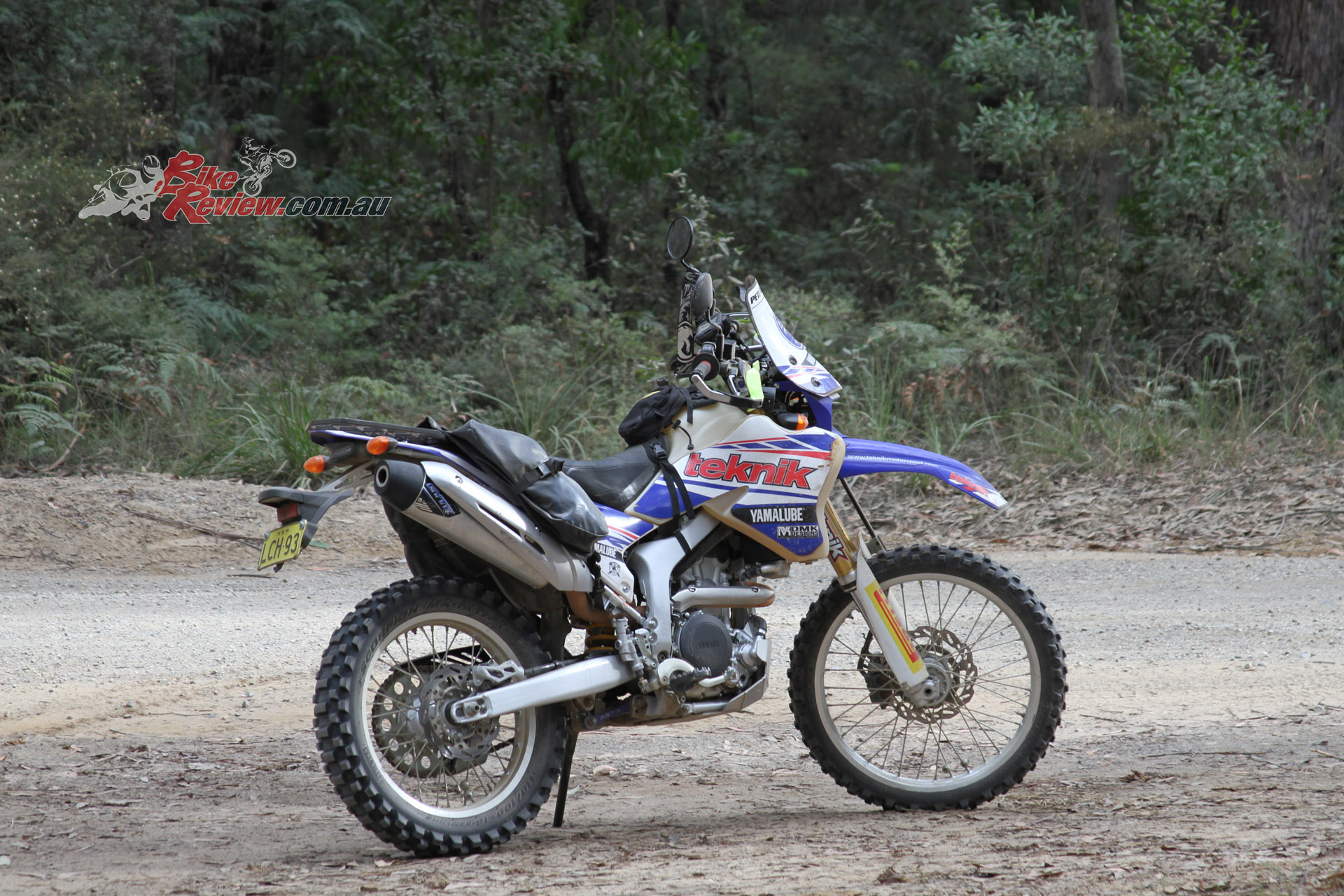 If that's not a vote of confidence then nothing is, and really points to the fact that this is a truly exceptional machine. There's some LAMS machines I point out as being something that wouldn't need to be upgraded if you aren't all about power, however with the WR250R it's a machine which I can see being a long term addition to the garage for those who want an adventure machine, but not a 200kg+ adventure-touring bike.
There's bucket-loads of mods available and a huge community behind the WR250R, while Greg Yager's other business – ADVworx workshop specialises in setting up adventure bikes for real adventure riding – think crossing deserts and Australia – with years of experience working with the WR250R.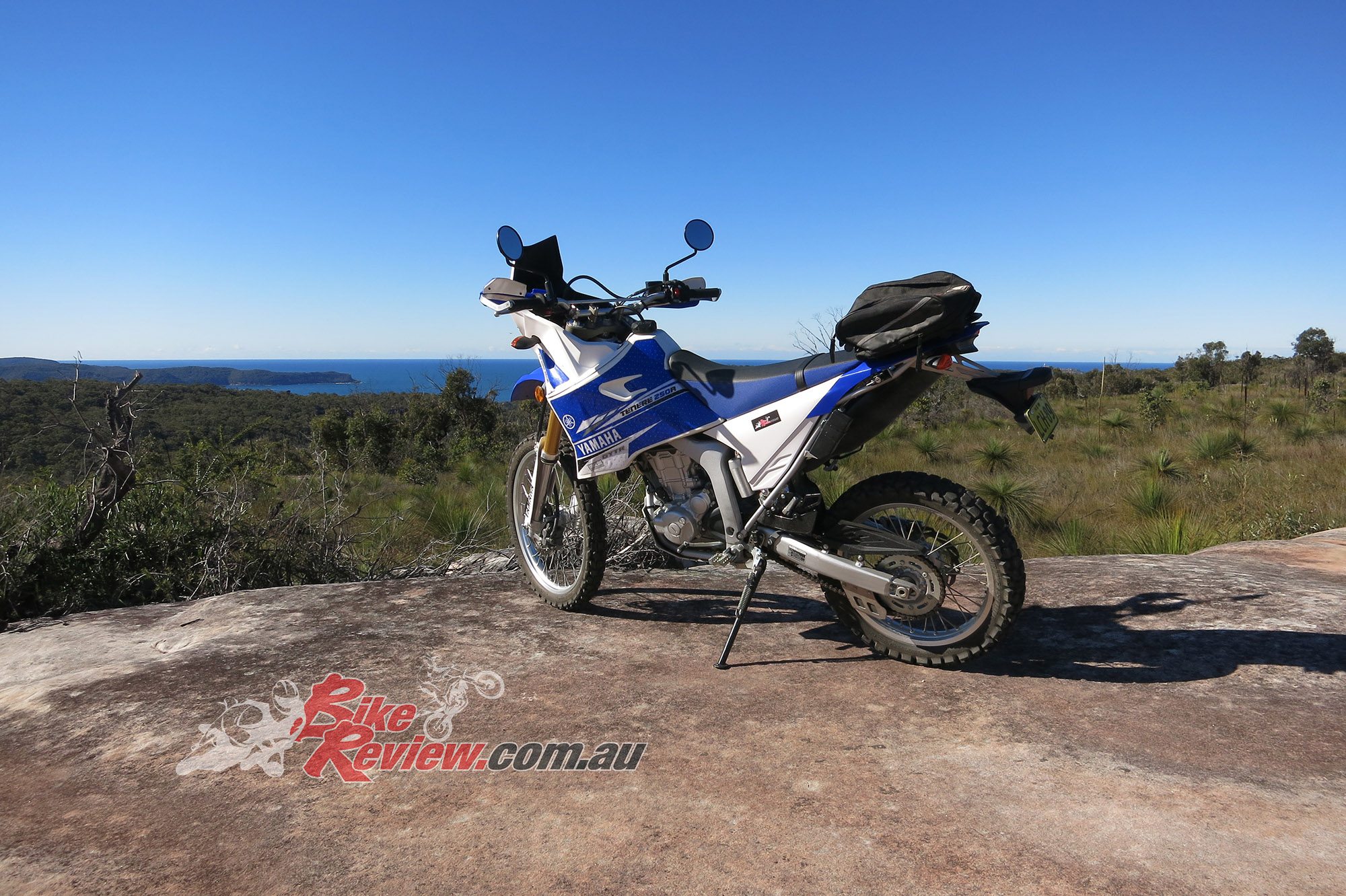 Having spent a weekend on the WR250R pushing my own limits, I couldn't have asked for a better motorcycle, and where I was originally looking at the price a bit warily, I'm now totally on board with how good the value of this little machine is.
Hopefully Yamaha can keep these rolling off the production line, because they are an exceptional little machine and one that covers a special niche, without requiring the rather full on service schedule of something like the WR250F.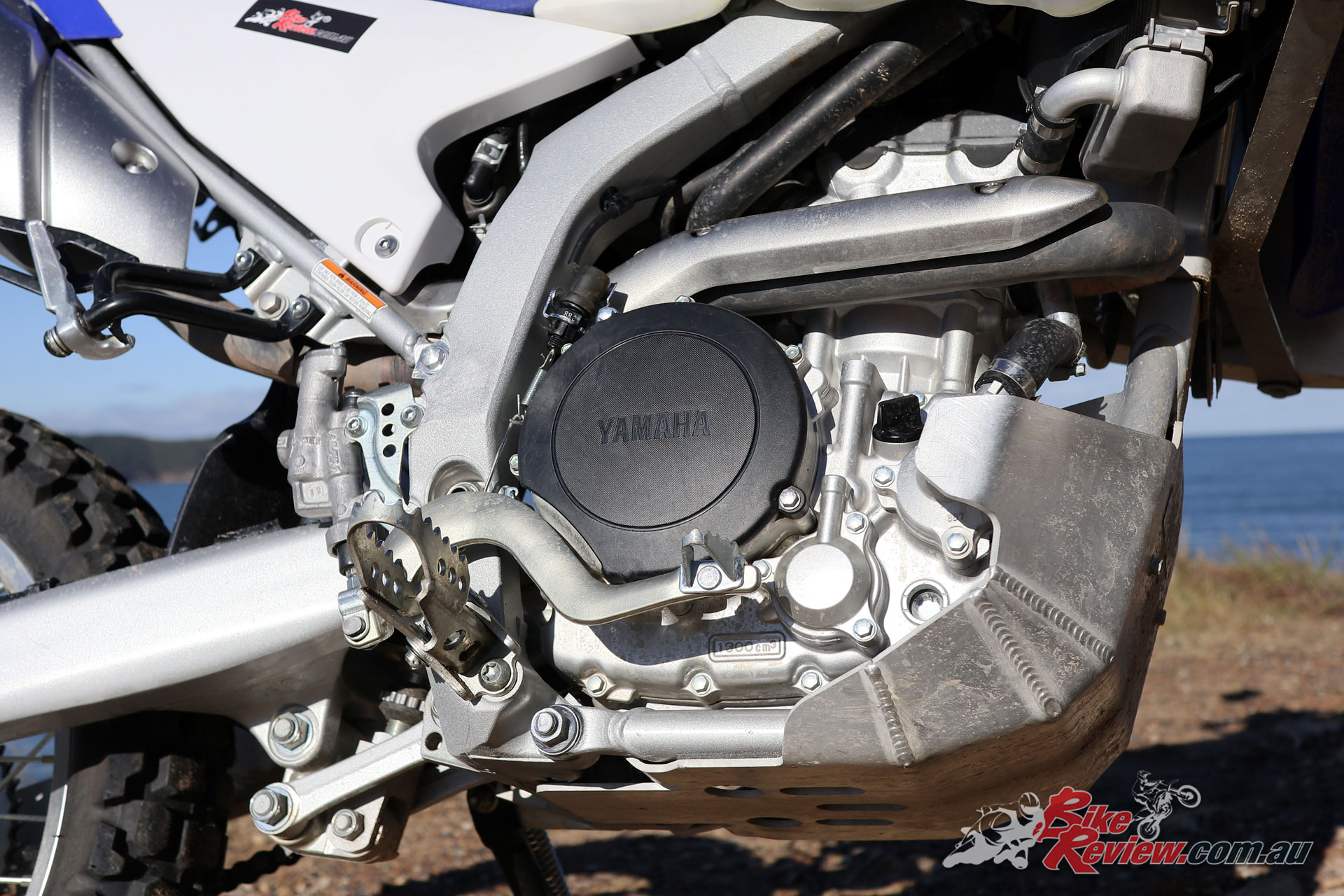 2019 Yamaha WR250R Tech Talk
The 2019 WR250R features a liquid-cooled, four-stroke, DOHC, 4-valve, single-cylinder engine with titanium inlet valves and a broad spread out power that's suitable on and off-road. A six-speed gearbox offers plenty of flexibility, with fuel injection and electric start standard features. The capacity is as the name suggests 250cc, with a bore x stroke of 77 x 53.6mm. Compression is 11.8:1 and the standard fuel capacity 7.6L, which should get you 200km.
A lightweight aluminium semi-double cradle frame is derived from YZ250F motorcross and WR250F development, with steel downtube and steel sub-frame. The swingarm is a cast aluminium asymmetrical item, with extruded arms and a 22mm rear axle. Suspension is fully adjustable 46mm forks and Link-type rear shock with full adjustability, with 269mm travel on both ends.
Brakes are single rotors front and rear with a 250mm front with dual-piston caliper, and 230mm rear with single-piston caliper. Wheels are a 21in front which takes a 80/100-21 and 120/80-18in rear and are of course spoked, taking tubes.
A bright front headlight is joined by LED rear light, with compact bodywork and a simple digital multi-function display. The stock tank is a slim steel item, while the test bike featured a Safari larger capacity version. The seat is a YZ-derived design that leans towards racing but offers good comfort.
2019 Yamaha WR250R Specifications
Price: $8,299 + ORC
Colours: Team Yamaha Blue and White
Dry weight: 127kg
Fuel capacity: 7.6L
Engine: Liquid-cooled, four-stroke, DOHC, four-valve, 250cc, 77 x 53.6mm, 11.8:1 compression, EFI, TCI
Gearbox: Constant mesh six-speed
Clutch: Multi-plate wet clutch
Chassis: Semi double cradle – aluminium main frame, steel engine cradle, steel sub-frame, Rake: 26°, Trail: 111mm
Suspension: Fully adjustable USD forks, 270mm travel, fully adjustable Monocross rear shock, 270mm travel
Brakes: Hydraulic single disc, 250mm (F), Hydraulic single disc, 230mm (R)
Wheels & Tyres: 80/100-21M/C 51P, 120/80-18M/C 62P
Dimensions:
Wheelbase: 1420mm
Seat height: 930mm
Overall height: 1230mm
Overall width: 810mm
Instruments: Digital multifunction display
The Verdict | Review: Long Term 2019 Yamaha WR250R