Jeff's Benelli Leoncino, now nicknaked 'Simba', is ready for a first service after 1000km of fun, including at our Proving Ground... Words: Jeff Pics: Heather Ware HMC Photography
It's only got 47hp but Simba, as I've nicknamed our Leoncino, is proving to be an awesome bike. I ride it every other day, whether it be up to the post office or office, on a longer haul to Sydney or just for a Sunday cruise.
I've even been off fanging it around our proving ground wearing the 'pegs out. With over 1200km on the dial now, it's time for a service…

So how has the bike been to live with day to day? It's fun, which is the top priority for me. Secondly, it is engaging and has personality. It's one of those bikes that an owner becomes attached to. Some bikes have it and others don't.
There's never really a clear reason why, either… The Leoncino might be built in China but the Italian flair is well and truly alive in this bike. There are negatives to put up with, like any budget bike or basically let's face it, Italian bike…
The gearbox is industrial in shift. The bike is heavy (I'll have to get it on the scales), the suspension is over damped in high speed comp and the entire under exhaust scrapes before the 'pegs. However, the positives are plenty and the negatives forgiven and adapted to particularly given the price of the bike.
I had an absolute ball on Simba fanging around our proving ground recently. The suspension, while overdamped on the road, is fantastic on track and the 50mm forks really good and supportive. The brakes are impressive and even with the hard Pirelli Angel sports touring hoops, there is plenty of feel and grip even when braking hard into turns.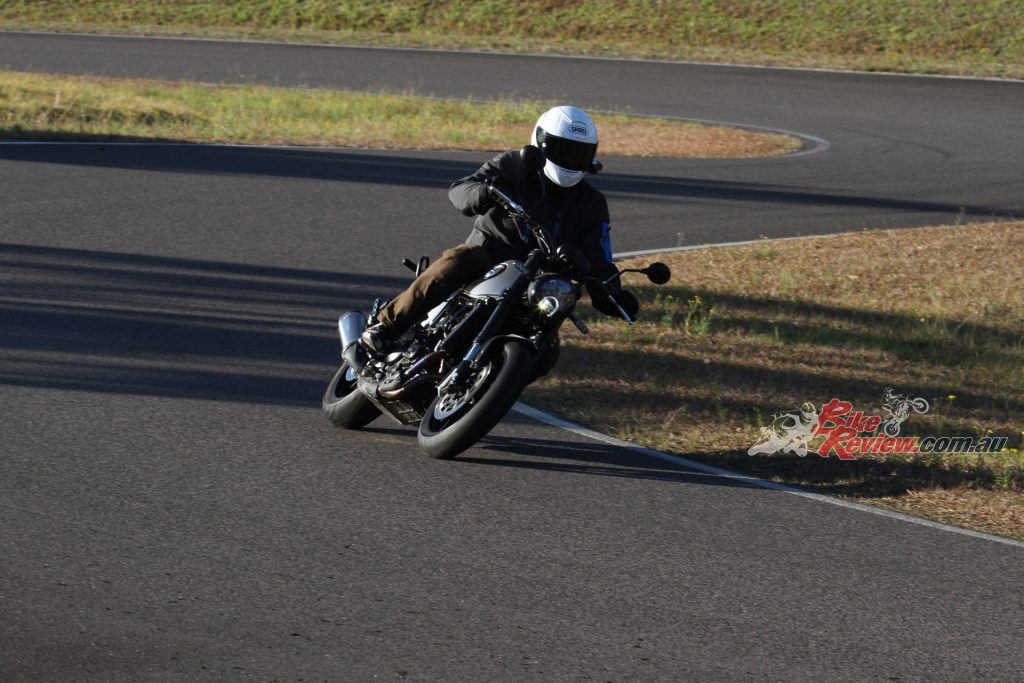 The wide 'bars and 'pegs, combined with the narrow layout of the bike, makes flicking from side-to-side through the esses easy, despite the weight, plus the tractable nature of the twin means the bike pulls from low rpm off the turns, reducing gear changes. The little motor runs out of steam after mid-range coming into top-end, but is still an engaging and fun ride. With a bit more ground clearance and sportier hoops it'd be a weapon, so that's our next job…
On the streets the bike has been great, but it's bloody cold on a nakedbike in winter! One thing I have noticed about Simba is how much attention he gets from onlookers.

There aren't too many around and most people are really fascinated with the little lion on the front guard – nice touch by Benelli. The lion is my mascot, sitting up front watching out ahead for me and I've become pretty attached to my little watch cat!
With over 1200km covered it's time for a service and I'll be doing that next week so stay tuned. I'll also be pulling the clutch apart to see what I can do to make it a bit smoother in operation. When releasing the clutch, the bike shudders and jerks forward, so I suspect a bent plate or two, or some lack of lubrication. I may drill a few holes in the basket for oil or something like that – we will check it out. I'll also fit a set of sports hoops soon and we are currently on the lookout for the other bits… Stay tuned!
2018 Benelli Leoncino 500 (LAMS)
Price: $8,990 On-Road (Ride-Away)
Warranty: Two-year, unlimited kilometre
Colours: Leoncino Red, Vulcan Black, Steel Grey, Terrain Brown
Claimed power: 35kW(47.6hp)@8500rpm
Claimed torque: 46Nm@6000rpm
Dry weight: 170kg
Fuel capacity: 13.5L
Engine: Liquid-cooled, in-line two-cylinder, four-stroke, DOHC, four-valves per cylinder, 499.6cc, 69 x 66.8mm bore x stroke, 37mm throttle body, 11.5:1 compression ratio, Delphi MT05 ignition, NGK CR8E spark plugs
Gearbox: Six-speed
Clutch: Wet
Chassis: Steel tube trellis frame, steel tube trellis swingarm
Suspension: 50mm USD forks, rebound adjustable, lateral rear shock, preload & rebound adjustable, 112mm travel
Brakes: Bosch ABS, dual semi-floating 320mm rotors, radial four-piston calipers, single 260mm rear rotor, single piston floating caliper
Wheels & Tyres: Aluminum alloy, 3.50 x 17in, 4.50 x 17in, 120/70 – R17, 160/60 – R17
Dimensions:
Seat height: 785mm
Wheelbase: 1443mm
Overall Length: 2139mm
Overall Height: 1120mm
Instruments: LCD display