The L-model GSX-R750 is a sleeper to collect, with a raft of improvements over earlier version Gixers and great ride-ability. Check out Shane's immaculate 1990 Suzuki GSX-R750L... Photography: Owen Stuart.
1990 was a special year for the Suzuki GSX-R750, with the GSX-R750L model to see a major overhaul, addressing a variety of issues that had cropped up in the 1988 and 1989 models – as a result of the bike being totally redesigned… It went back to the long stroke, baby!
---
Check out our other Throwback Thursdays here…
---
Following the trend of the last redesign, the L would see a new, wider and stiffer frame, while the swingarm was likewise strengthened, becoming thicker, longer and gaining cast ends for axle adjustment, as well as accommodating a wider rear wheel. The swingarm pivot was also cast onto the frame, unlike the more common method of being welded into place.
---
---
Upside-down forks were another addition, with plenty of room for adjustment, as well as a new rear Monoshock with a remote reservoir, that is visible perched just under the tail for easy access.
The previous model had made use of a short-stroke engine, fed by 36mm Mikuni carbs nicknamed 'Slingshots' by Suzuki, with power delivered high in the rev range, and missing some of the older models low down power, which owners and racers missed.
The new long-stroke engine design (back to the early model bore x stroke) was implemented to alleviate this issue, while still maintaining as much of that peak power as possible, which means an engine boasting more performance and a lower tolerance to bottom end stress. Light-weight pistons with an Alumite coating were added to cope with the performance requirements, along with new conrods including conrod bolts that threaded directly into the conrods to save weight.
---
---
Overheating had also been a concern on the race spec '88-'89 models and with the new L model equipped with a more race inspired engine, the oil cooler from the GSX-R1100 was added providing additional cooling, in conjunction with a deeper oil sump to prevent oil windage.
New 38mm Mikuni carbs were another change, over the previous 36mm offerings, including a Powerjet circuit used to tune the fuel mix at high rpm while the slide breathers were no longer part of the airbox itself. Further changes included the four-into-two-into-one exhaust system, reducing weight from the dual pipe setup, as well as a steering damper to assist with heavy-duty fanging.
The bodywork was also updated, while the clutch was strengthened and a revised oil pump added, no doubt to assist pushing oil through the new cooler. Apart from the 1991 M model, which received relatively minor changes, the L (and M) models were to be the last of the air/oil-cooled models, before the introduction of the porky water-cooled version – although to be fair, even the M model gained 15kg on the L model.
Technical details aside, what really set the GSX-R750L apart was the combination of the engine and chassis which for fanging through the twisties were renowned as being an absolute joy, with a soft, well damped ride that could only be unsettled by the roughest of roads.
---
THIS BIKE

After the owner of this bike, Shane White, came to the conclusion that the bike was in relatively good nick, particularly having had a few good rides on it, it was time to get the cosmetic damage fixed, which wasn't a minor job. Shane admitted that the bike started out with every single panel damaged with the exception of the seat cowl.
Chatting with a mate, Shane was recommended to take all the bodywork to Jeff Hill, who turned out to be the man for the job! "My mate the late Mark Rees put me onto Jeff Hill, who has turned out to be a plastic welding and painting maestro!" Explained Shane, "And when the panels all came back, it only took me a couple more weeks to organise a new screen and rego and the bike was complete and on the road."
---
---
Not a bad result when you consider that Shane had only decided that he would pursue a lifelong dream of owning a GSX-R750 about a year prior to getting his hands on this particular model, with the year being relatively unimportant.
The realisation that the bike was in original condition, despite the damage, motivated Shane to ensure it stayed this way, and he admits he thought, "I doubt there is another like it, as there just aren't too many GSX-Rs that haven't been modified in some way… Just look at trying to get an original exhaust for these things now!"
---
---
Shane's only deviance from the absolutely stock restoration was to fit a set of Michelin Road Pilot 3s as safety and keeping the rubber side down had to be a consideration when riding his pride and joy, particularly since it has plenty on tap to get him into trouble if he isn't careful.
---
"The GSX-R750 is an underrated bike and still looks amazing with that killer twin headlight front end – I would do nothing differently and it's been a easy to get this bike into its present state."
---
Shane is adamant that despite the value of these bike's rising, he won't be parting with his, saying, "I reckon mine is priceless, as it can't be replaced and my attachment to the bike is unbreakable now – I might have to have it buried beside me when I go!"
As to whether it has all been worth the effort… "It has definitely been worth it, even my mechanic says the bike is a dream to ride, it just does everything right and makes me a better riding by its sublime handling." finished Shane.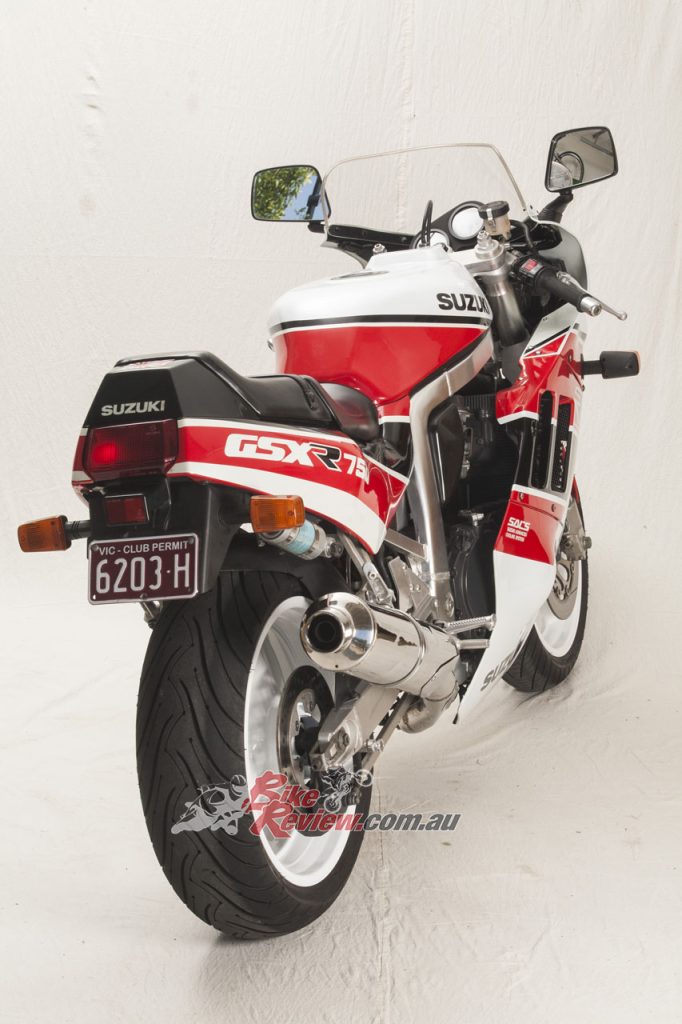 1990 Suzuki GSX-R750 Specifications
ENGINE: Air-cooled, four-stroke in-line four-cylinder, DOHC, four-valves per cylinder, 748cc, 70 x 48.7mm bore x stroke, 10.8:1 compression, four 38mm Mikuni constant-vacuum carbs, computer controlled electronic ignition, four-into-two-into-one stainless-steel exhaust
---
CHASSIS: Aluminium alloy frame incorporating 45mm box-tube main section and cast swingarm pivot, USD telescopic forks, preload, damping and compression adjustable, Full-Floater Monoshock, preload and rebound damping adjustable, Dual 320mm rotors, Nissin four-piston calipers, single 280mm rear rotor, Nissin single piston caliper, Alloy three-spoke wheels, 3.5 x 17in, 5.5 x 17in, Michelin Road Pilot 3s, 120/70, 180/55.
---
PERFORMANCE: 115hp@11000rpm, 78Nm@10000rpm, 193kg dry, top speed 247km/h
---
OWNER: Shane White, Victoria, Australia
---
1990 Suzuki GSX-R750 Gallery
---