After a sports road tyre that will do everything? The Sportec M9RR could be for you. We did 3000km to find out how good they are... Review: Taka Nagata Photography: Steven Hendy, Taka
Before COVID-19 hit, Simon Harris headed to Spain to lap the Ascari Race Resort on a range of current machinery, then scratch through the local hills the following day, for the World Launch of the Metzeler SPORTEC M9 RR. Now, we have a long-term high km review…

I did 3000km on the Metzeler SPORTEC M9 RR tyres on my Yamaha MT-10, which included all sorts of riding from small trips near my home during lockdown restrictions, to longer highway rides, fast riding in the mountains with my road riding friends and also two track days at Broadford Raceway…
It was great to finally get out on my beast after a long lockdown in Victoria last year. I don't commute that much on the bike, mainly riding on weekend, so I really could not wait to get out there and try the M9 RR tyres properly. These are the first Metzeler tyres I've used. I guess being of Japanese origin, I grew up using and racing on Japanese tyres, so it was only natural I continued to use Japanese tyres for a long time. These days I use all brands, and have tested Pirelli, Metzeler, Bridgestone, Dunlop, Michelin and I have some Avons to test in the future. It's good comparing tyres, there is a lot of interesting technology and engineering in them.
---
---
Simon rated the tyres very highly in his World Launch test, so my main interest was endurance. Being a road based sports tyre, I expected good mileage and value, and I think that is what I found. I also found the tyres look good, which I understand is not important to that many people, but to me it is. I like the style of the grooves and the design of the sidewall. It is easy to identify them as Metzeler at a glance, they have the traditional Metzeler styling.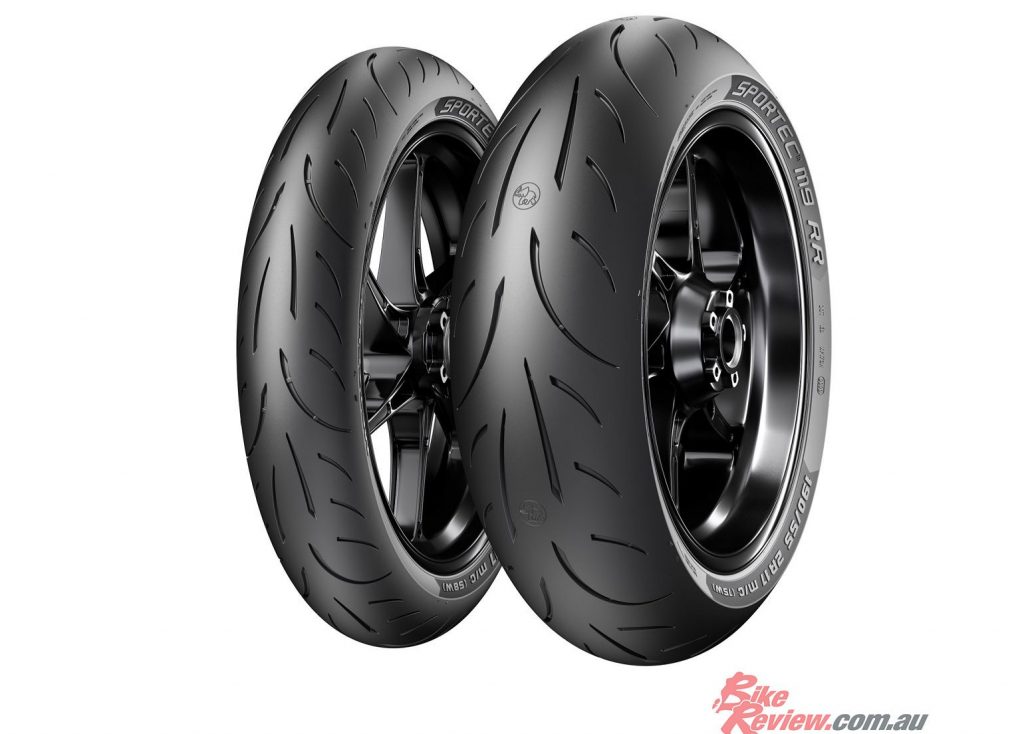 I fitted the M9 RR tyres myself. I have the gear to do it at home and like to fit and balance my own tyres. Once fitted, I headed out for the first ride the noticed there was no change to ride-height or attitude of my bike compared to OEM tyres, which was a good start.
I took it easy at first to scrub them in but quickly realised they had good grip right away, with a very smooth rolling feel and great feedback for a brand-new tyre. Scrub-in was safe and easy, no movement at all and I was soon able to push harder, immediately feeling a grip advantage over the OEM tyres I had been using. The M9 RR felt more glued to the road, with a lot more chemical grip and much more feeling at both ends of the bike.
---
---
After some more experience and distance, I pushed the M9 RRs more and the handling of my MT-10 was definitely improved, with very good steering, natural, confident and stable but still fast turning, while at the back the overall ride felt smoother, more stable over bumps and had lots of traction.
---
After a number of weekend road rides, I went to Broadford Raceway for some Champions Ride Day fun and to test out the M9 RR on track. The weather was fine both days, around 23ºC and clear. I did not expect too much from the M9 RR, however, I was surprised at how good they are for a road sports tyre. I managed to get down to consistent 1:05s lap times on my stock MT-10, which is only three or four seconds slower than I can go on my track CBR600RR with TD Slick tyres fitted! If I wanted to push any harder though, without risking my beautiful MT, I would want to move up to the RACETEC range.
The M9 RR were impressive over the two days, with no real drop-off in performance or feel and they remained predictable at all times, keeping me confident because they were consistent, even though they had been through many heat cycles as well as road riding.
---
---
Amazingly, after the track days and previous riding, I still went away with my mates on an overnight trip. We did a 1300km to Omeo and Mt Hotham, of course with four seasons in two days, bloody Melbourne weather! The tyres were great, really good feel an grip was still there in the twisties, also good on the long fast sweepers, and when the cold and rain came (- 1ºC at one stage and pissing down), I just switched the MT-10 Mode and TC to Rain and the M9 RR responded to my throttle delivery beautifully, giving me very good control and confidence in the poor conditions.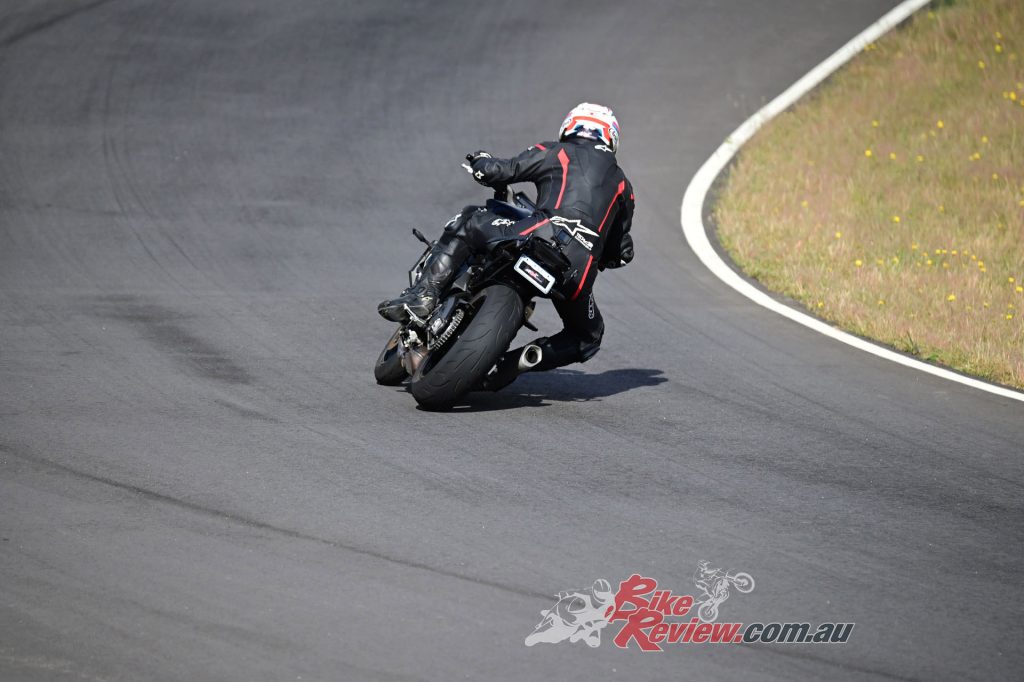 I'm pretty impressed with these tyres, the fact they still perform so well at the end. I would definitely say they are a road tyre, more so than a racetrack tyre, but they are OK for track days at a moderate to fast pace but I actually feel they have more grip on the road than on the track. I recommend these tyres to a fast paced weekend rider who needs some decent mileage and sporty handling…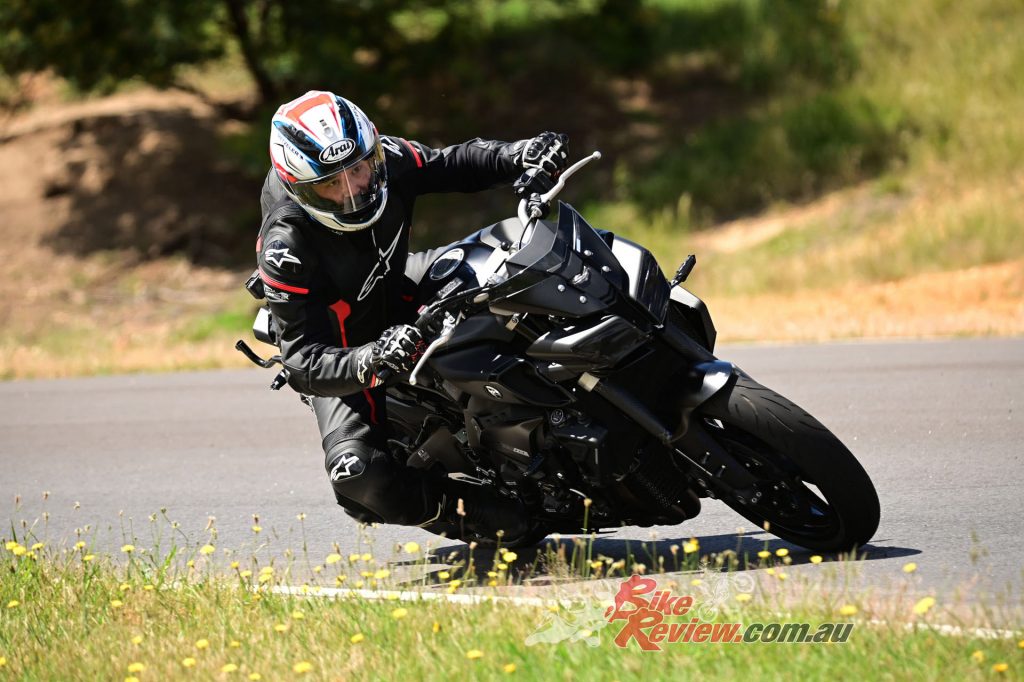 ---
TECH TALK Metzeler SPORTEC M9 RR
This initial foray and the knowledge gathered spawned Metzeler's flagship SPORTEC M7 RR supersport radial tyres for us wannabe road race warriors. The challenge with setting high standards is, if you are a company that takes innovation and improvement seriously, bettering it. That challenge began for the Metzeler R&D team in 2017, with the results now in the SPORTEC M9 RR.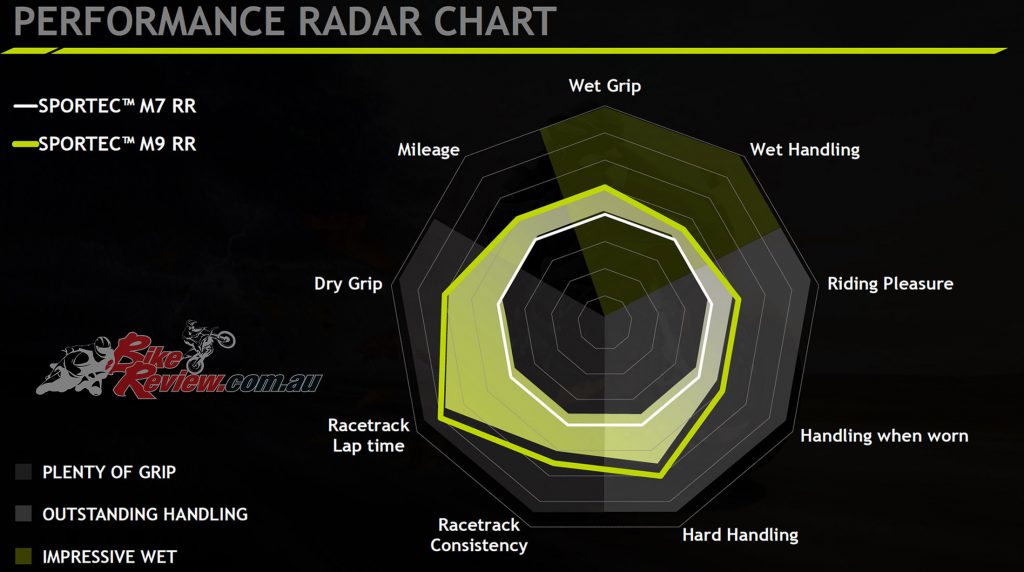 Matteo Torchiana (Hypersport R&D Chief) expressed among many words and hand gestures that compromise is not a term he likes to apply to his art, but real and measurable improvement in key areas to reduce the reality of compromise is his aim. He is a realist that understands that the better things get, the harder it is to enhance.
The pillars of his team's quest for genuine improvement are centred around the real-world needs of today's supersport and hypersport road riders – ultimate grip at lean, rider feedback from the interface between tyre and road, comfort and feel, and reliable wet weather performance.
---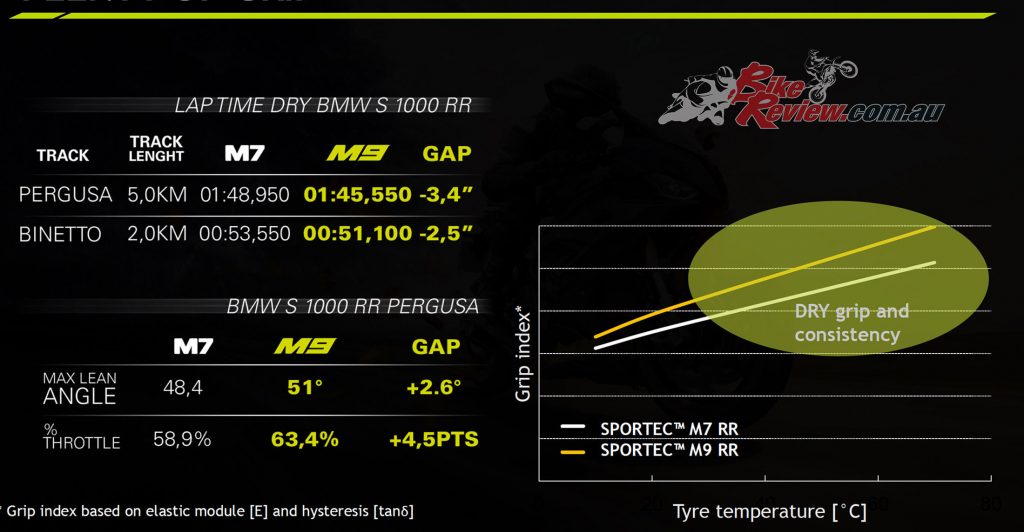 ---
The data logging and analysis charts show measurable improvement in virtually all areas of tyre performance over the SPORTEC M7 RR. Due to the tyre having a prospective life in the hands of spirited road riders that tend to spend some time at the track, lap time analysis was vitally important.
---
Using several test tracks in dry and wet conditions, the M9 RR trumped its predecessor in all areas including lap times, ultimate lean angle, and braking. In the hands of professional test riders that can explore the limits of adhesion with tyres, these are unmistakably signs of greater confidence.
---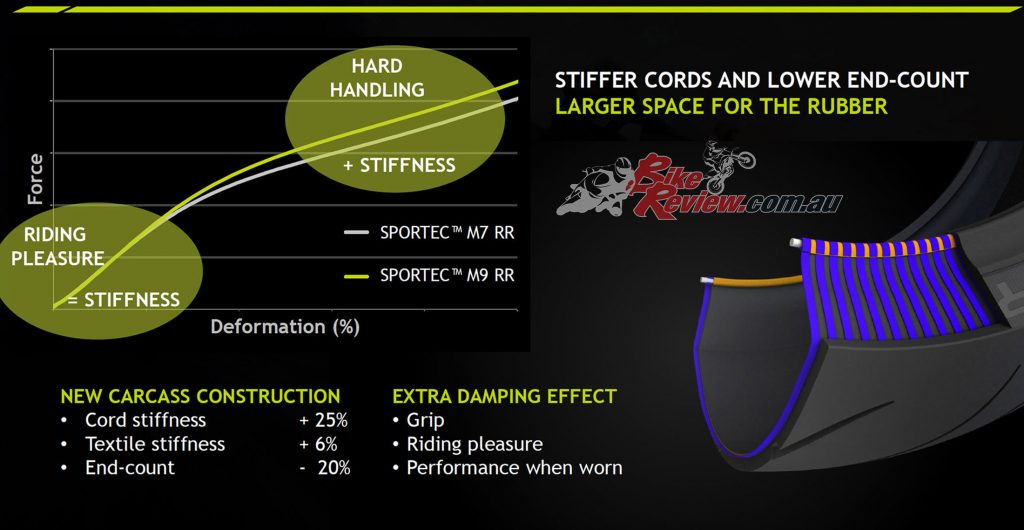 ---
Martin stressed the detailed homework carried out in analysing riding habits and needs for their target customer base. The results yielded around 40 per cent of the overall market is super/hypersport tyres, with most bikes being ridden several times per week and regardless of climatic conditions.
To meet these demands requires a tyre that has the dynamic performance to not only reliably deliver the power and loads generated by these motorcycles to the road surface but also to be adaptive to large variations in surface conditions and temperatures. Metzeler emphasises that they have listened carefully to riders needs and responded accordingly.
---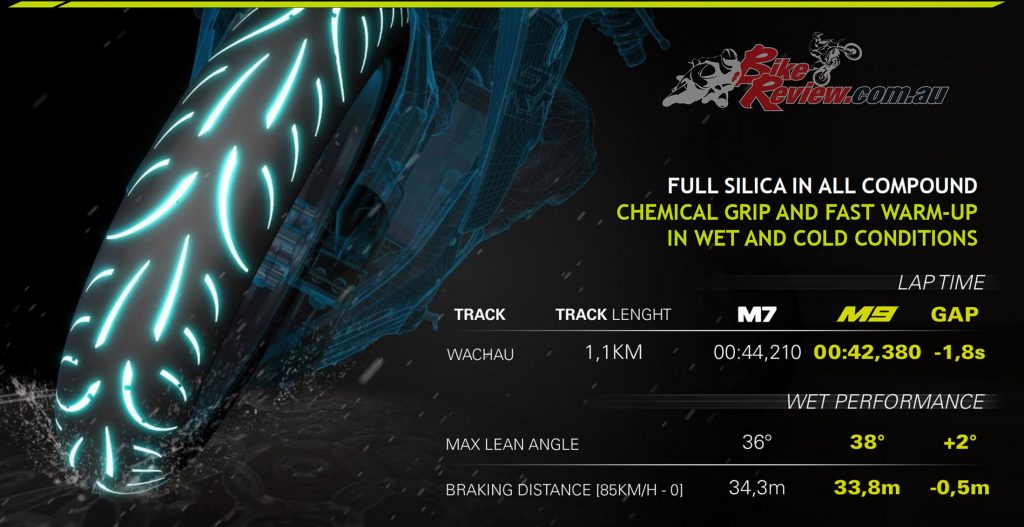 ---
SPORTEC M9 RR CONSTRUCTION
To best meet a complex amalgam of performance requirements, a multi-prong approach was required that started with the basic structure of the tyre, being the filaments of cords that make up the skeleton to which the rubber is bonded. The cord material has been stiffened by 25 per cent, which means that the overall number of cords required to hold everything together is reduced by 20 per cent.
---
The effect of this is a carcass that provides a greater proportion of actual rubber, which provides the innate grip-feel communication from the tyre to the rider's senses. This is a very important factor in the tyre being able to deliver useful feedback, comfort and a sense of reassurance and confidence.
---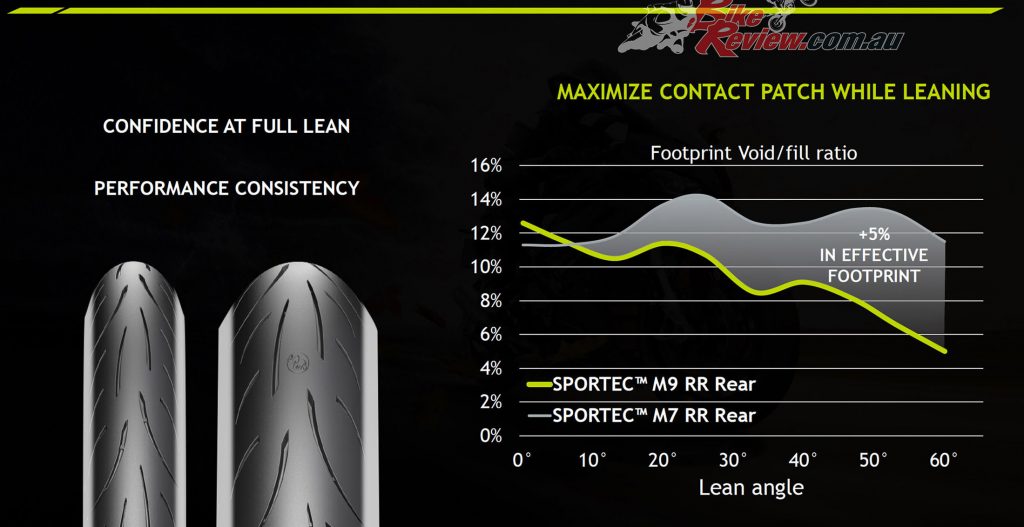 ---
Matteo described how comfort / handling / feel from the tyre to the rider has been an important aspect in design. Ultimately, if the rider is not comfortable, he / she will be tense, and this will not result in the smoothest or fastest or most enjoyable experience. I suppose that when you boil it down, the tyre is the first component of your suspension.
Not only was handling decisive, but the design mandate also included complementing current rider-aid technology that the bike may have, such as traction control, ABS, sophisticated suspension and chassis design. Again, the outcome was to formulate a package that maximises available traction and rider feedback. Heat dissipation is also improved due to the additional volume of rubber in the construction and this helps maintain a more reliable and consistent communication from the tyre as well as improving tyre life.
SPORTEC M9 RR COMPOUNDS
Rubber compounds are vitally important for obvious reasons and in this case both front and rear tyres feature dual, full silica compounds for wet performance and wear resistance. The cross-sections of front and rear tyres vary in proportion, with the front using distinct, full depth, compound zones for the hard centre and soft shoulder compounds. The rear features a hard centre that steps down in thickness and extends toward the shoulders, like a foundation, and is covered on the shoulders with a layer of soft compound to ensure maximum grip.
---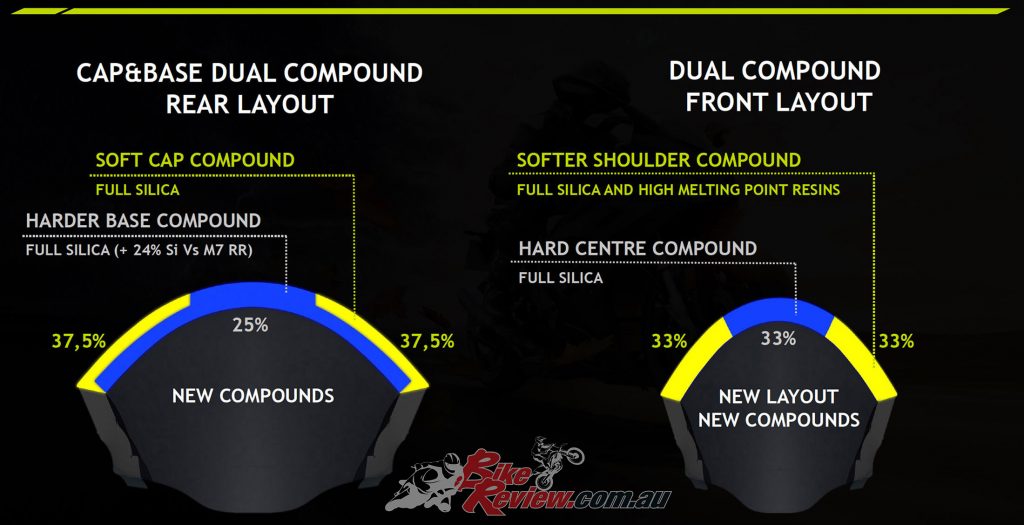 ---
The foundation compound helps in controlling heat and keeping a more consistent feel to the tyre as the lean angle increases. Metzeler use a patented technology called compound continuous mixing (CCM) in the rubber construction that maximises dispersion and regulates distribution of the chemical components of the tyre polymers. This, they say, increases chemical stability over a broad temperature range, resulting in more predictable response as the tyre temperature increases.
Temperature remains the greatest enemy of the tyre, so any improvements in controlling or mitigating its effect are key, especially during prolonged abuse (as witnessed at the circuit). The siping / tread features a central 'Claw Groove' that was developed directly from road racing experience to improve straight line and braking stability and effectively slice through surface water.
---
---
The off-centre tread patterns are inspired by the Greek letter pi (recall school geometry), with a focus on basically effectively shifting water so the rubber has direct contact with the road surface but also to enable a controlled amount of block movement between grooves that reduces warm-up time, even at lower operating temperatures.
---
Note that the tyres are designed to basically abandon the idea of extensive water evacuation at lean angles >30°. 30+ in the wet, which takes commitment that I am not hankering to explore really. The tyre shoulders at high lean angles are basically slick to provide zero block shift for greatest stability / predictability and maximum tyre to road surface area – Simon Harris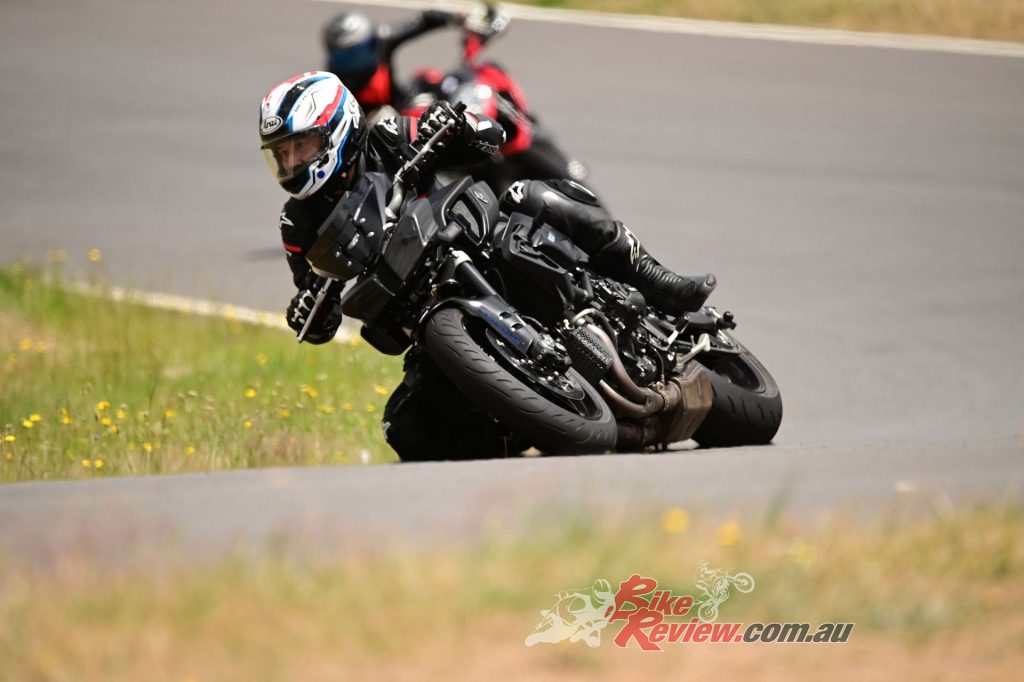 ---

M9RR SIZES AND PRICES (available now)

110/70ZR17 $209.95 (F)
120/70ZR17 $229.95 (F)
150/60ZR17 $279.95 (R)
160/60ZR17 $289.95 (R)
180/55ZR17 $309.95 (R)
180/60ZR17 $319.95 (R)
190/50ZR17 $319.95 (R)
190/55ZR17 $319.95 (R)
200/55ZR17 $339.95 (R)
---
The Verdict | Tyre Test: Metzeler Sportec M9 RR Long Term Road & Track