Richard owned an RZ350 back in his University days. Years later, while on his honeymoon, he spotted a mag article on a restored one. A spark ignited and he soon had his own YPVS to restore... Words: Jimmi Walker Photography: Owen Stuart
Launched in 1983, the RZ350 was developed from Yamaha's RD350LC, which in turn was a direct descendant of the highly successful air-cooled RD350, itself descended from the R5 of the early '70s. The RZ350 can best be described in the vernacular as 'a proper little goer'.
With water-cooling and Yamaha's new YPVS (Yamaha Power Valve System), this diminutive bike could embarrass bikes with more than twice its capacity. Strangely, the first models were supplied without a thermostat in the cooling system and many were retrofitted as they ran too cool, even in Australia.
The YPVS consisted of a microprocessor-controlled servo-motor, which in turn controlled a spool-shaped exhaust port valve that allowed continually variable port timing. But if that all sounds too technical it simply means that Yamaha had found a way of extracting more power from the engine at peak revs without losing any low-down grunt.
---
---
Indeed the '70s hooligan bike had got a new lease on life and almost twice the ponies of its grandad, a power to weight ratio of 2.84kg per hp goes someway to highlighting its legendary giant killing capabilities and the howl from the twin pipes was a common Sunday morning wake-up call.
---

---
This was truly performance for the masses, but power is nothing without control so Yamaha gave the new bike a perimeter frame and updated suspension to tame the 50-odd bucking stallions in its motor. It also wins in the looks department, as a lean, mean wheelie machine.
In many countries, these bikes were known as RDs, but in North America and Australia they were called RZs. There were several models during the lifespan of the RZ350: 1985 RZ350F; 1986-92 RZ350F2, N, and NF; and the 1992-5 RZ350RR that was produced in Brazil. The cognoscenti reckon the build quality of the Brazilian models was inferior to the Japanese-built ones. A version of the engine without YPVS was used in Yamaha's Banshee ATV.
---
---
Richard bought this bike in 2009, spending four months in his shed rebuilding what was an original, if somewhat abused example. He cites many sources of info that helped him with this, his first, resto but most of all the small but highly knowledgeable core of Australian two-stroke nutters. Looking at the bike, he's done an incredible job on it. You'll see his RZ500 another time…
Funnily enough, he told me that while on his honeymoon he grabbed a magazine and saw a K-model RZ featured in it, that obviously laid the seed of an idea that ended up in the machine you see here. Having owned one of these when he was at Uni, Richard (in his own words) became, 'drunk with nostalgia'. That's the good thing about marriage, plenty of excuses to get a bike to restore and escape to the shed. Planning starts during the honeymoon!
---
---
The bike came into Richard's possession via a sBay and looked the part. On closer inspection when it arrived, however, it was obvious that this RZ350 would need a fair bit of work. Off came the one-piece head to reveal one piston was 1mm oversize whilst the other was stock. What a dodgy job!
---
---
Among other things, this spurred Richard on to do the job properly. First was a new crank sourced from the States, which turned out cheaper than rebuilding the original. Wossner forged pistons were fitted along with new billet power-valves and fibre reeds from TSS in Queensland (remember them?). All the engine work was carried out by Deet at RGV Spares, whom Richard reckons is a magician and potty about strokers. It was a mild but nice upgrade to the two-cylinder motor. The bottom-end was also rebuilt where required.
The chassis also came in for attention, gaining a much-needed steering damper (Richard's previous experience with tankslappers prompted this!). A remote-reservoir Penske shock followed, mated to a Metmachex low-brace swingarm. Richard gave his forks to Promecha to wave their magic wand at and raves at the improvement in the bike's handling.
So that was the going and steering bit dealt with, but as trying to stop on old knackered brakes tends to have a laxative effect, Richard decided he'd better sort them out. An R6 front master-cylinder was fitted along with petal rotors and Hel braided lines, the rear brake receiving the same treatment. Though he admits they'll never be as good as modern brakes, they're 100 per cent better than stock. As the bike was to look as original as possible the normal upgrade of twin-piston calipers was out.
Richard did toy with the idea of a Kenny Roberts signature paint job but as most of the bike's paint was pretty good he opted for the stock look. In fact the only things that needed repair were the cockpit fairing and the front guard that were aptly dealt with by Melbourne Motorcycle Fairings.
All the other detail work being handled by the owner himself, which he assures me was therapeutic. See, doing this sort of stuff even helps your state of health!
---
---
So there you have it, one of my personal favourites brought back to life by a true enthusiast. Richard's next project is an '85 GSX-R. Keep up the good work mate; we won't mention the TZR…
---
YAMAHA'S RZ350 – THE GOOD
Extremely good fun
Fast, nimble bike
The screaming exhaust note
YAMAHA'S RZ350 – THE BAD
Needs braided brake lines
Needs decent tyres
Needs a steering damper
---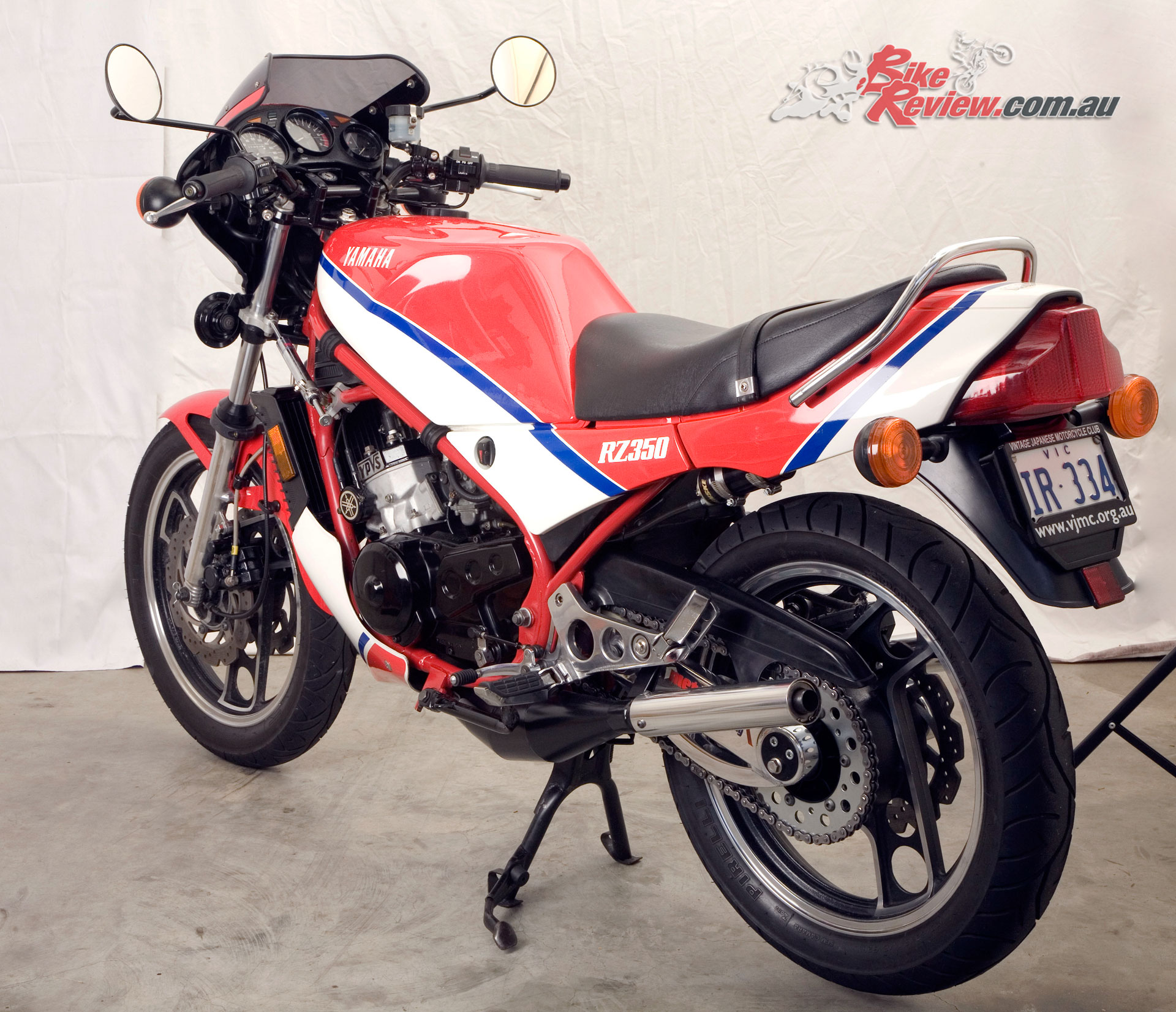 YAMAHA RZ350 SPECIFICATIONS
COLOURS: Red, white or blue. Kenny Roberts yellow with speed blocks only available in the US
CLAIMED POWER: 59bhp
CLAIMED TORQUE: 34.4lbs-ft@7500rpm
DRY WEIGHT: 168kg
FUEL CAPACITY: 20L
CHASSIS: Steel perimeter frame
SUSPENSION: Kayaba adjustable forks, Penske fully adjustable shock
BRAKES: Twin single-piston calipers acting on 267mm front rotors, Single-piston caliper and 267mm rear rotor
---

---
YAMAHA RZ350 YPVS GALLERY
---
---
The Verdict | Retro Resto: Yamaha's iconic RZ350
Everyone should own a YPVS at some point in their lives. Check out this stunning 350 restored by Richard, who had owned one while at Uni…