Video Review: 2020 Kawasaki KLX230, LAMS Road/Trailie
Kawasaki's 2020 KLX230 is a budget road/trail bike for learners. At $5,999RRP + ORC, it's a utilitarian machine that handles both on and off-road duties with relative ease. If you're in the market for an inexpensive first bike, the KLX230 might be on your radar. Here's our video review on this dual-purpose learner machine. Click here for the full review.
---
2020 Kawasaki KLX230 Tech Talk
The 2020 KLX230 features an all-new engine. A bore and stroke of 67.0 x 66.0mm yield a displacement of 233cc. Kawasaki claim the long-stroke engine offers robust low-mid range torque, pulling strongly and facilitating low-speed control.
A simple SOHC two-valve design reduces complexity and contributes to an easy-to-use character that lends itself to trail riding. A fuel injection system, featuring a 32mmm throttle body, delivers precise response, further facilitating control according to Kawasaki. With fuel injection, fuel delivery is stable regardless of outside air temperature or atmospheric pressure. It also ensures excellent starting characteristics, whether the engine is hot or cold, and contributes to clean emissions.
Kawasaki says a gear-driven engine balancer helps to reduce engine vibrations, ensuring smooth power delivery from idle to limiter. This contributes to greater comfort and increased ride quality. The exhaust pipe length was selected to contribute to the engine's low-mid range performance. The exhaust features a tapered silencer with an oval cross-section. Together with fuel injection, electric start offers hassle-free starting at the push of a button.
A six-speed transmission covers a wide range of street-riding situations and allows more comfortable cruising on the highway, Kawasaki states. It is also effective on long straights when trail riding. A 45/14 final gear ratio was selected as the ideal balance for both road and trail riding.
---
---
Designed from the start for dirt-riding use, Kawasaki claim the all-new high-tensile steel perimeter frame offers the handling stability needed for confident trail riding. Designing the engine and frame together allowed greater design freedom, enabling the engineers to achieve a compact chassis.
Great care was taken to minimise engine height, which allowed an optimal frame line to achieve the ideal rigidity balance. Achieving an ideally positioned centre of gravity, and keeping the seat height low were also possible. The short 1,380mm wheelbase was designed for easy, manoeuvrable handling – another welcome feature for new and intermediate riders. High 265mm ground clearance allows riders to more easily clear obstructions they encounter, facilitating trail riding according to Kawasaki.
A combination of form and function, the frame was also designed to be easy to grip with the legs, offering superior chassis control to the rider. Seams between the shrouds, seat and side covers are very flush, which facilitates control as well as moving around on the bike. The flat design of the tank and seat was designed to give the rider greater freedom of movement when changing riding position, and facilitate sitting farther forward. In addition to trail riding, touring comfort was also a consideration when deciding the seat shape (width) and thickness. Thanks to the design of the bike's compact package, seat height could be kept to 885mm.
A 37mm telescopic fork handles suspension duties up front. Kawasaki states it's long 220mm of travel contributes to controllability even on rough terrain. At the rear, New Uni Trak rear suspension with 223mm of wheel travel, Kawasaki claims it provides great road holding ability and bump absorption. Single rear shock absorber with pressurised nitrogen gas is adjustable for preload, allowing riders to set the bike up for their weight or a passenger.
---
---
A 265mm front disc gripped by a twin-piston caliper offers strong, easy-to-control braking, Kawasaki claim. A 220mm disc operated by a single-piston caliper slows the rear. Kawasaki's first dual purpose ABS system, jointly developed with Bosch, was carefully tuned to enable both on-road and off-road use. Designed to assist riders to stop effectively in a short distance in either situation, dual purpose ABS offers additional reassurance to new and intermediate riders when riding on a low-friction surface.
---
---
Large-diameter aluminium wheels, measuring 21in at the front and 18in at the rear, are designed to overcome obstacles encountered on trails, greatly contributing to trail-riding performance.
All-digital instrument panel offers at-a-glance information care of a large-display easy-to-read LCD screen. Features include a speedometer, odometer, fuel gauge, clock and indicator lamps. Brightness was a priority when designing the bike's headlamp, with a large-size 60/55 W bulb.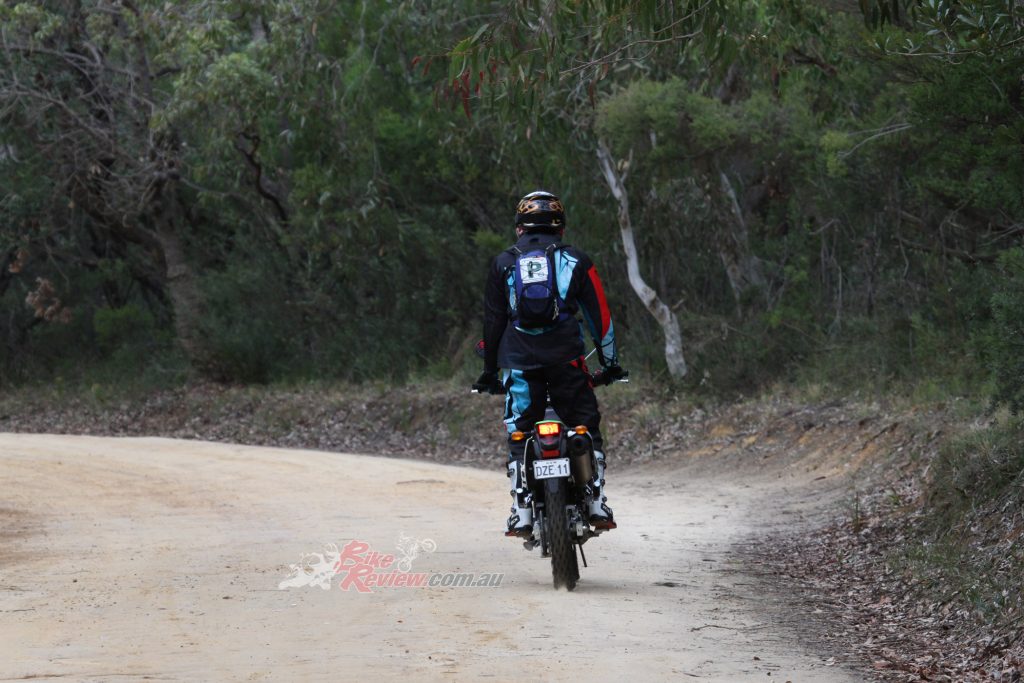 2020 Kawasaki KLX230 Specifications
Price: $5,999RRP + ORC (click here for the R/A price for your postcode)
Claimed Power: 14kW[18.8hp]@7,600rpm
Claimed Torque: 19.8Nm[14.6lbs-ft]@6,100rpm
Wet Weight: 134kg
Fuel capacity: 7.5L
---
Engine: Four-stroke, single-cylinder, SOHC, two-valve, air-cooled, 67.0 x 66.0mm, 233cc, 9.4:1, EFI, electric start
Gearbox: Six-speed
Clutch: Wet, multi-disc
---
Chassis: Tubular, semi-double cradle
Rake: 27.3°
Trail: 116mm
Suspension: 37mm telescopic forks, 220mm travel, single shock, 223mm travel, preload only
Brakes: 241mm petal rotor, two-piston caliper (f), 220mm rotor, single-piston caliper (r)
Wheels & Tyres: Aluminium spoked wheels, 21in (f), 18in (r), IRC Trails GP-21F knobbed tyres, 2.75 – 21 45P (f), 4.10 -18 59P (r)
---
Dimensions
Wheelbase: 1,380mm
Seat height: 885mm
Ground clearance: 265mm
Overall width: 835mm
Overall Length: 2,105mm
Overall height: 1,165mm
Instruments: Digital LCD display
---
---
2020 Kawasaki KLX230 Gallery
---
---
The Verdict | Video Review: 2020 Kawasaki KLX230, LAMS Road/Trailie
The 2020 Kawasaki KLX230 represents great value for money and great versatility. It's a great bike for the local commute, and a great bike to get muddy on. A great first bike!