This CB750 has a modern twist with suspension and brake upgrades, for a classic machine with modern handling. Words: BikeReview Pics: Craig Stevenson
Erin's awesome creations are renowned in custom classic circles and his latest project is yet another inspiring custom bike that combines one of the most iconic classic bikes with a dash of modern technology for rideability.
The Honda CB750 Four was first available in 1969 and is the basis for what became known as the UJM or Universal Japanese Motorcycle. The air-cooled tranverse four-cylinder with overhead camshaft would feature double overhead cams after 1979 but it is the original bikes that are relevant to us today.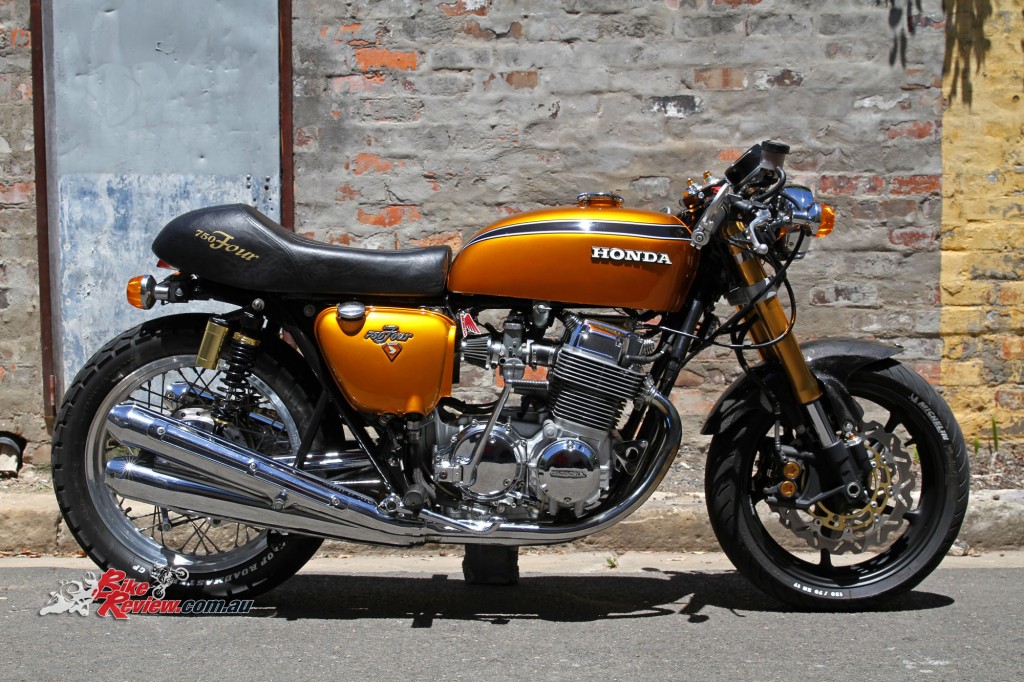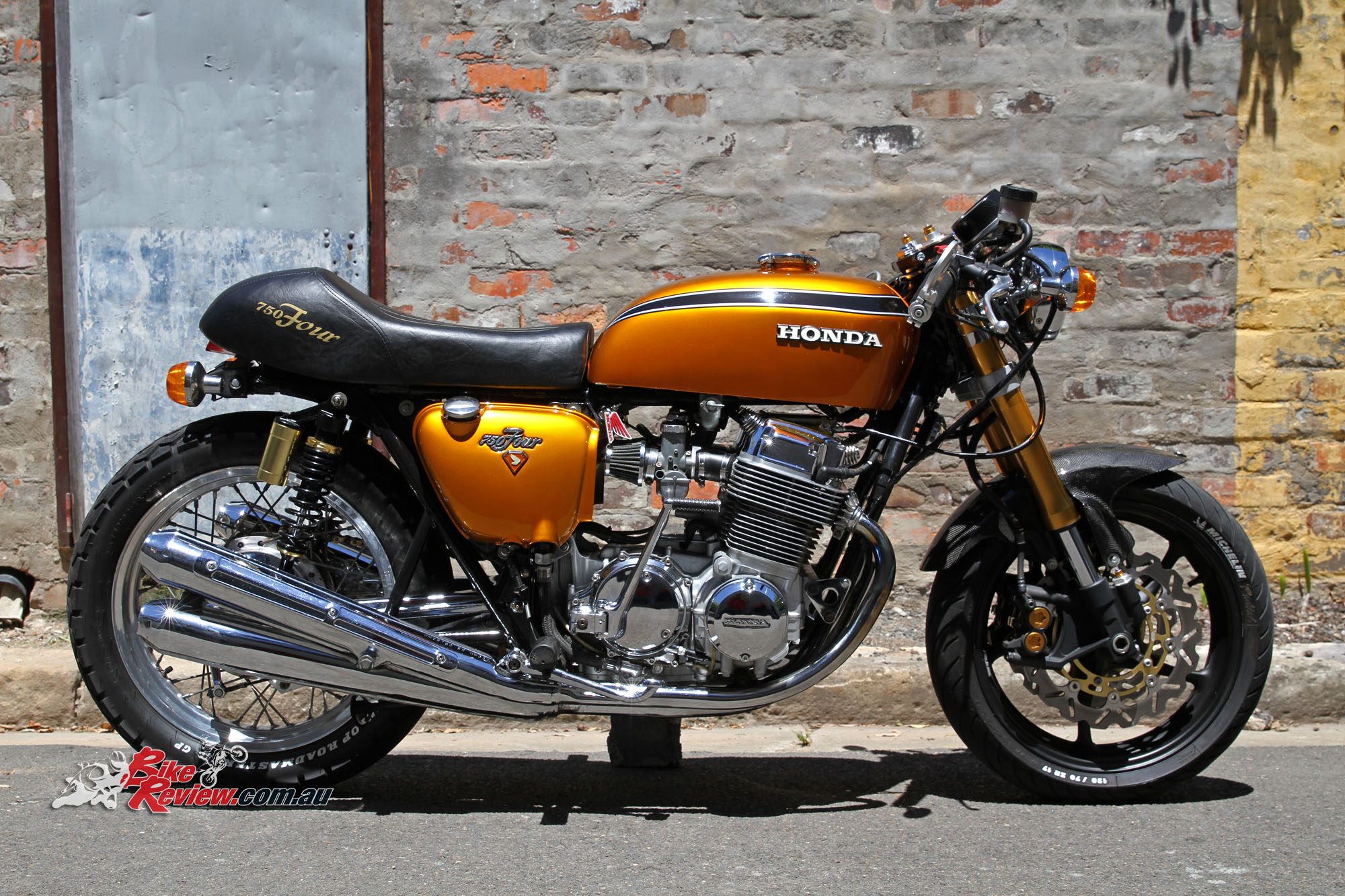 Soichiro Honda was convinced of the need for a larger capacity offering for the American market and the bike would also feature a front disc brake. In fact for its time the bike was considered quiet the technological marvel.
For Erin the choice of machine was two-fold, "I was looking for a classic older bike, that I wasn't tempted to ride so fast on the road," he explained, "I didn't want to worry about losing my license and getting locked up!"
---
---
It's a fair consideration when you consider the level of performance on offer on modern bikes, not to mention the level of policing on our roads.
The second consideration was an even more meaningful one for Erin, "I also wanted a bike the same year I was born… so the K2 fit the bill nicely. My car is also a '72 model, so it would round us off well…"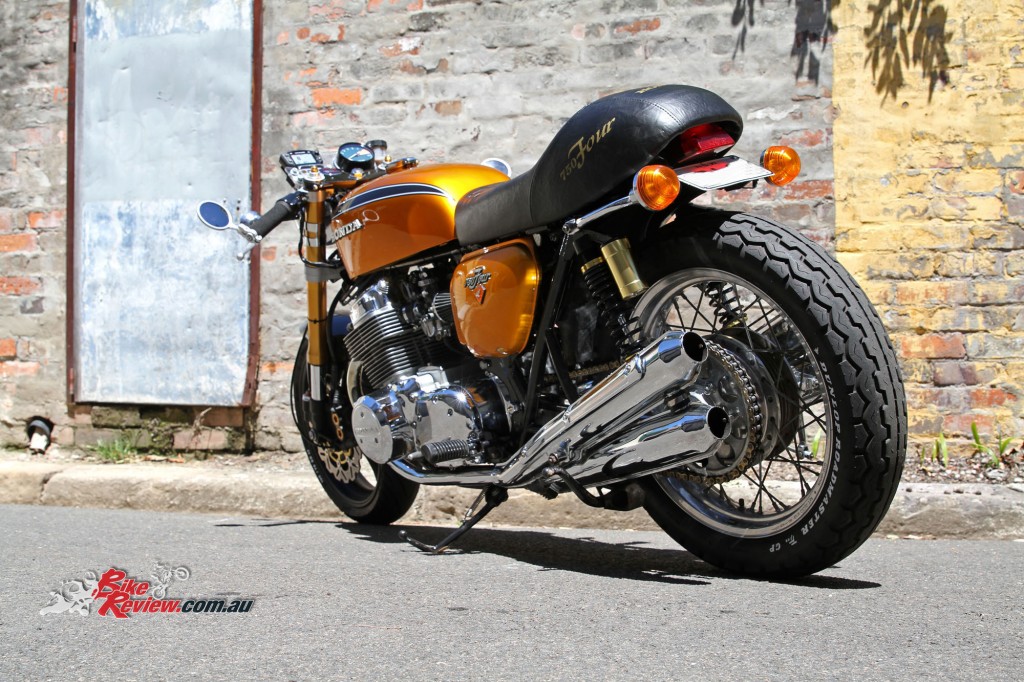 The particular machine itself proved a worthy purchase with Erin traveling to Adelaide to pick it up, after finding the bike on eBay.
"This particular bike was an eBay find, I drove from Sydney to Adelaide and back with the bike in a trailer over two days to get this bike!"
---
---
"It has been totally worth it though, it was in really good condition and a little bit tricked up with some nice chrome," Erin adds, "And the paint was good – a good start for a project."
"The price was also good, it would have been a lot more for the same quality in Sydney, so it was worth the drive. But my wife would only let me have it if I sold my SP1…"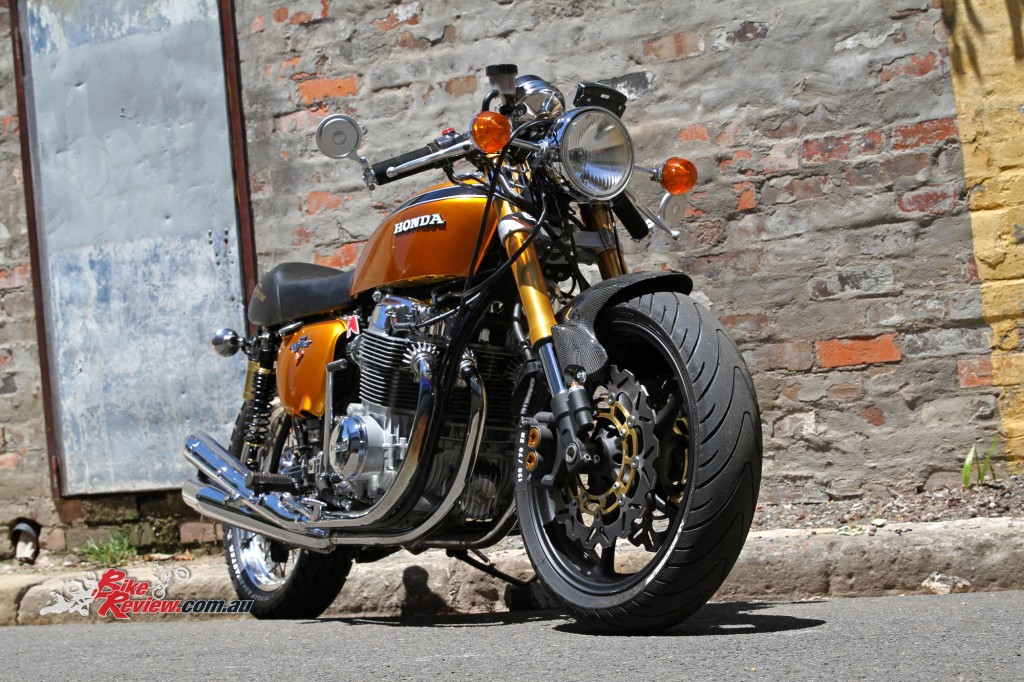 The price paid was $6000, back in 2012 and Erin admits that while the overall condition was good there was a number of items that needed attention, including the seat, guards, 'grips, and the instruments.
Having already had some modifications to boot Erin also wasn't worried about further modifying the bike, something which upsets the classic bike purists no end and can make purchasing a bike harder if the owner is looking for someone similarly minded.
The bike also hadn't been run in a couple of years and Erin booked it into a workshop for a service, tune and general checkup, however after a considerable amount of time and the quoted price not being honoured, he picked up the bike to do the job himself, only for it to break down on the ride home.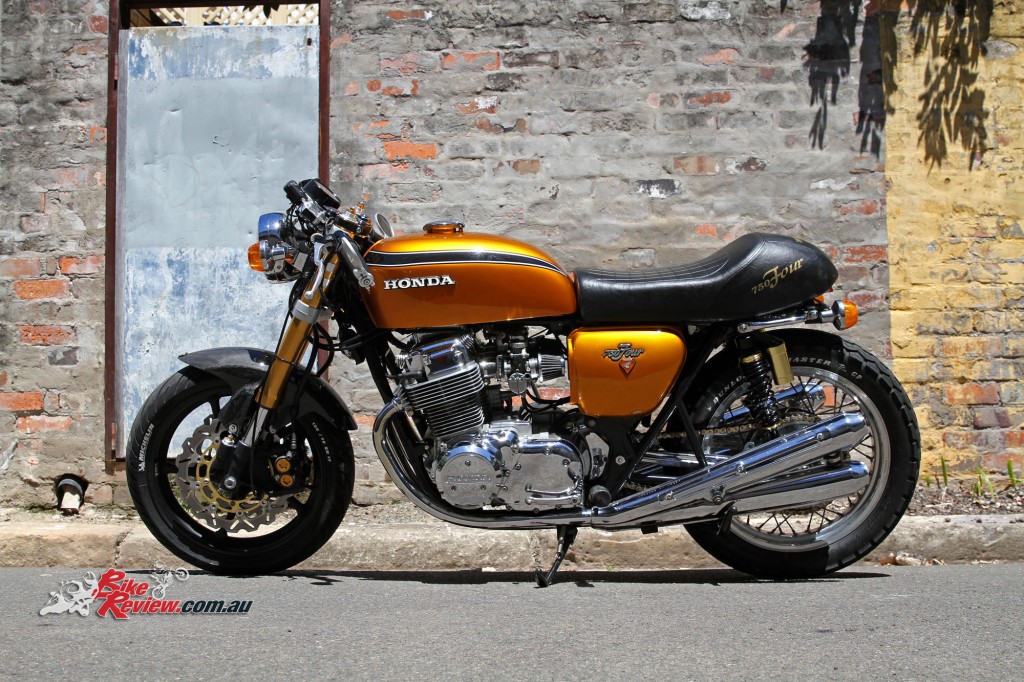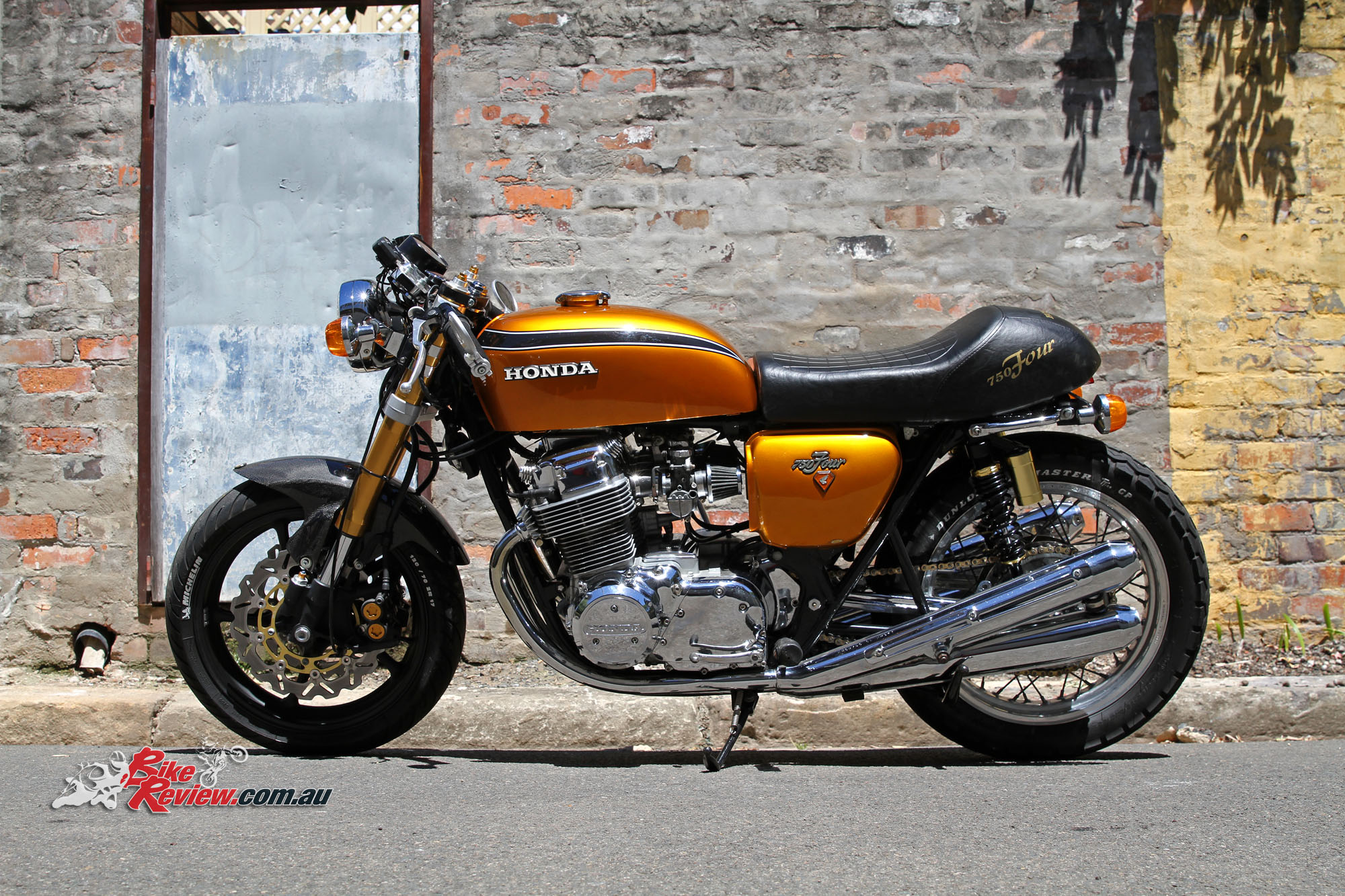 His Dad had given him a lift to the bike shop in his car and ended up driving along behind him as he pushed the bike along, with his hazard lights on for safety.
The main modification to this K2 CB750 Four is the front-end, which has a 2009 Yamaha YZF-R6 front end attached, with the CB750 steering shaft pressed into the R6 lower triple.
The 41mm R6 forks are joined by an R6 wheel and brake assembly, with dual four-piston calipers with EBC pads and a Brembo master-cylinder. The rotors are aftermarket wave items with lightweight carriers.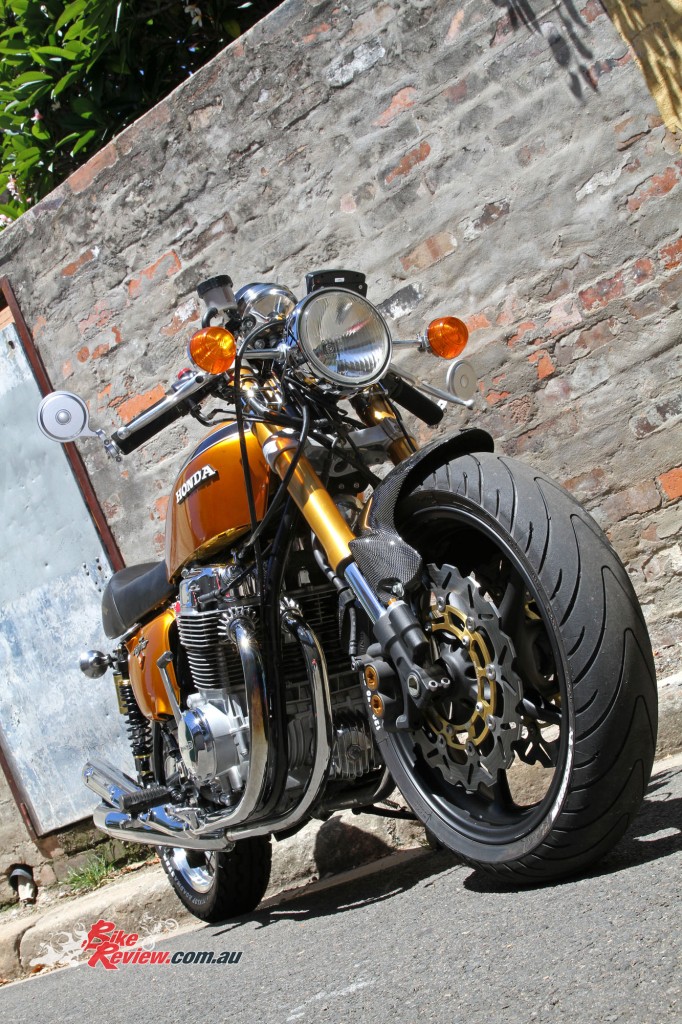 Erin admits the original Honda single front disc brake was a real weakness when it came to riding the bike, saying, "Now I can ride the bike to its potential and actually stop! The whole front end change was driven by how bad the front brake was…"
"There was no way I could do an emergency stop and I had to plan a long way ahead for corners. Now it's a two-finger exercise on the brake lever and it looks awesome!"
"There's no flex in the front end either, unlike the spindly 35mm original front forks."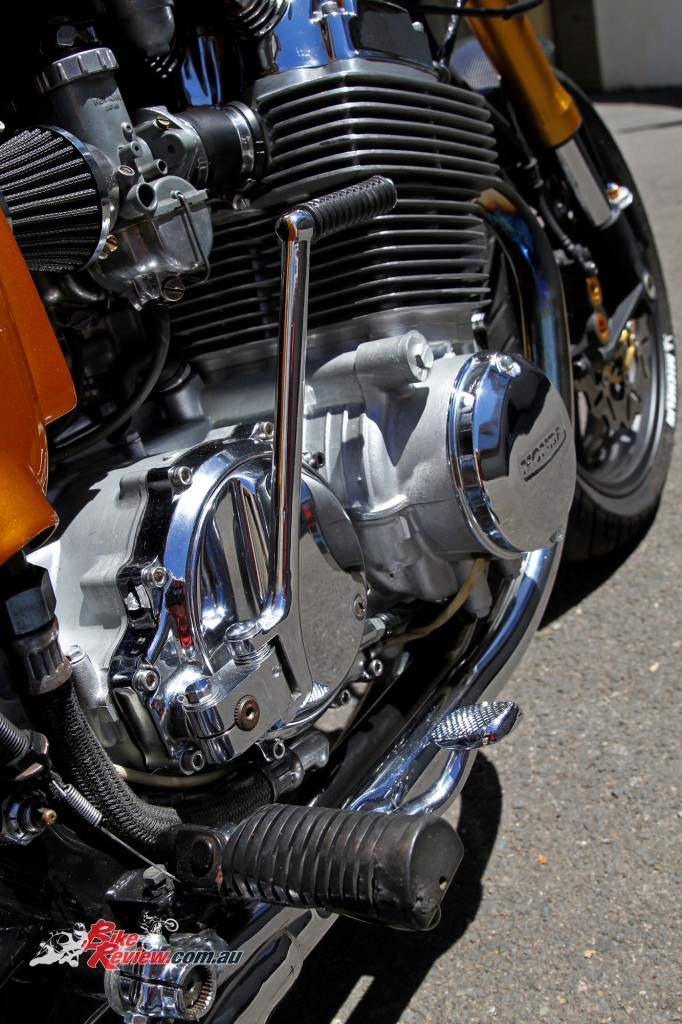 The frame is the stock item, although Erin stripped it back and repainted it in satin rust proof paint himself, with the engine also largely stock, running a original four-into-four exhaust fitted with the baffles removed. Four pod filters have also been fitted, with Erin running the bike on BP98 and doing the tuning himself.
The front wheel matches the forks and is an R6 aluminium alloy 3.50 x 17in item, while rubber is a Michelin Pilot to suit.
---
---
The rear wheel is held by the stock CB750 swingarm and is the original alloy spoke wheel – a 4.00 x 18in item, with a Dunlop Roadmaster TT100 GP tyre. It's also been polished to a mirror shine unlike the front wheel which remains painted to R6 specifications.
The rear drum brake is still found on the rear, with less than stellar performance, which is more than made up for by the improvement in the front. The stock shocks were well past their prime and were both replaced with a set of aftermarket adjustable rear shocks with external reservoirs, in black with gold reservoirs and preload adjustment nuts.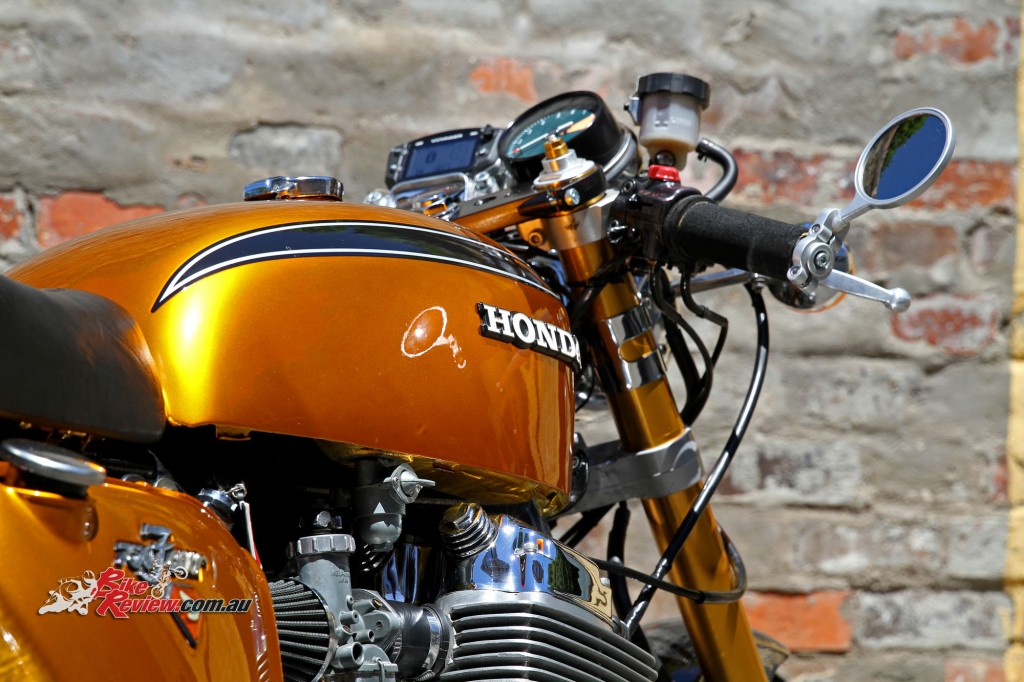 Both the tank and seat were moved back 40mm for a sportier look with good results, with the tank in the original paint that Erin purchased it in – to match the Honda colour scheme of the model, while the seat is an eBay café racer special from Vietnam.
A carbon-fibre front guard was also sourced from Race Con to suit the R6 forks, with Erin keeping the R6 clip-ons for a more aggressive riding position and forward-orientated weight distribution. The grips are custom items to suit the R6 clip-ons throttle, and controls are all original K2 items for authenticity.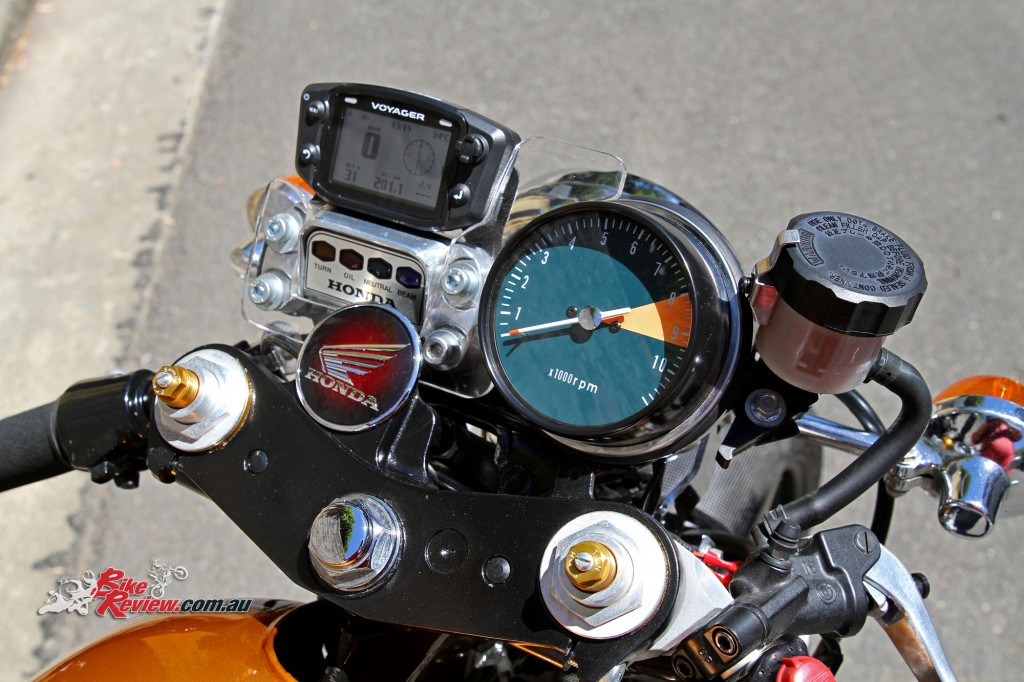 A set of bar end mirrors were also added in silver to match the levers, while the stock Honda tachometer and idiot lights have been joined by a Trail Tech digital display – a Voyager model, which includes GPS and can display speed. Erin also enlisted the help of his Dad for sorting the electrical side of the build, including the digital display.
The end result is an absolutely stunning motorcycle, blending old school looks with a modern twist, not only greatly improving the bike but serving to make it stand out further.
To say it's a labour of love is an understatement, with Erin admitting that the entire project has taken a considerable investment in time, with well over 100 hours spent, not to mention around $10,000, although this does include the $6,000 purchase price, which is pretty impressive all things considered.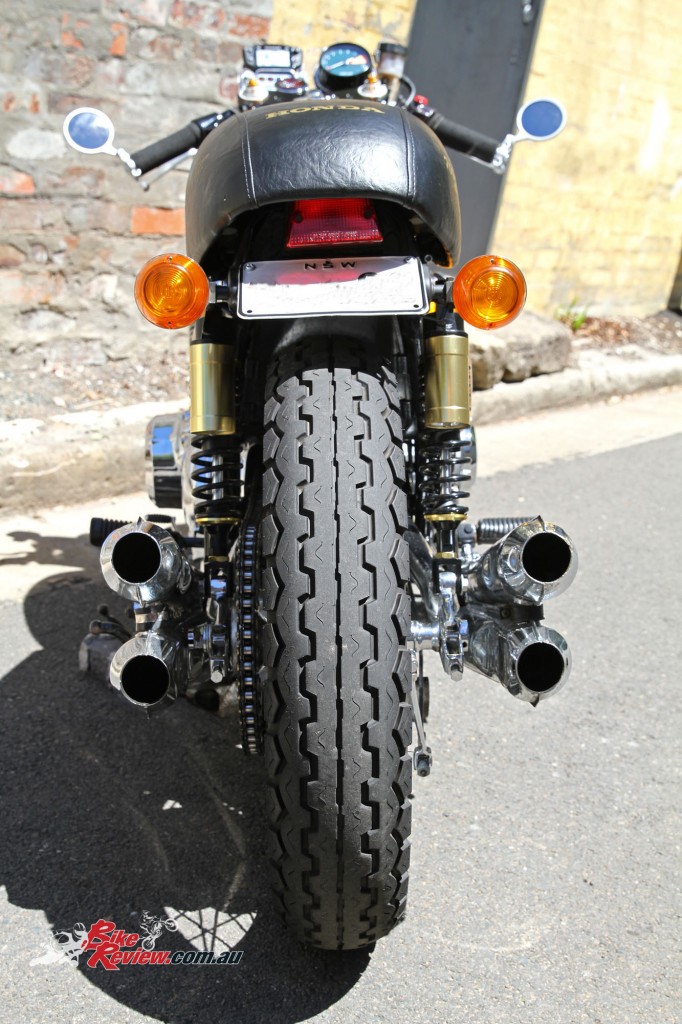 "I love this bike," Erin confides when we ask about his feelings towards the end result, "And it seems other people do to… I always ends up having a chat with someone when I stop anywhere, then they realise that the bike has a new front end and their eyes light up."
"Some people insist I can't have a mag on the front and spokes on the rear, but most get the front end change and understand how crap the front brake really was!"
Future plans aren't too clear, although Erin mentioned thinking about adding a VFR single-sided swingarm, and admits people have told him the bike would be worth $15-18k.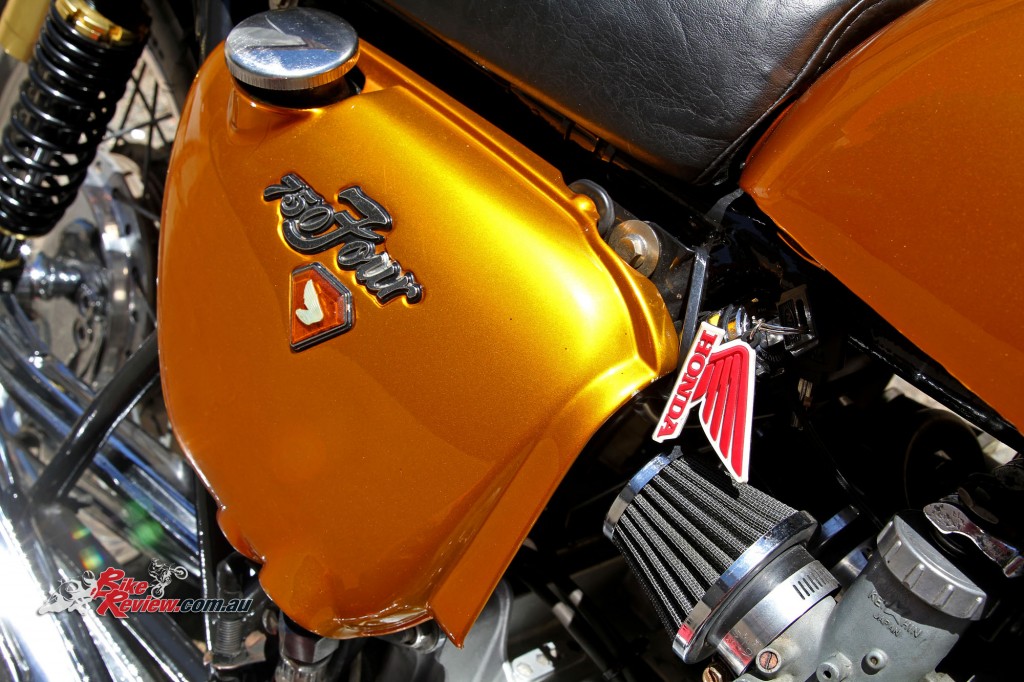 In fact he's so happy with the results that he's actually built another Honda CB750 Four custom, this time a K4!
Lessons learnt from the first project? Well doing everything himself is the top of Erin's list after the issues mentioned previously, or in his words, "To do every single thing myself so I know it is done right!"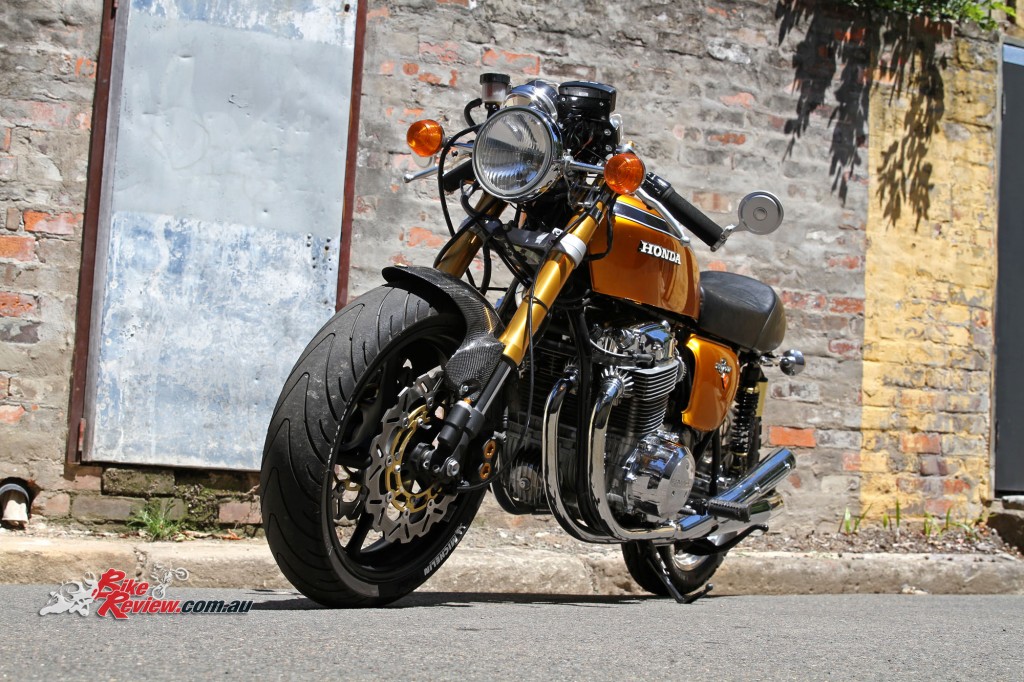 SPECIFICATIONS: Custom Classic CB750 Four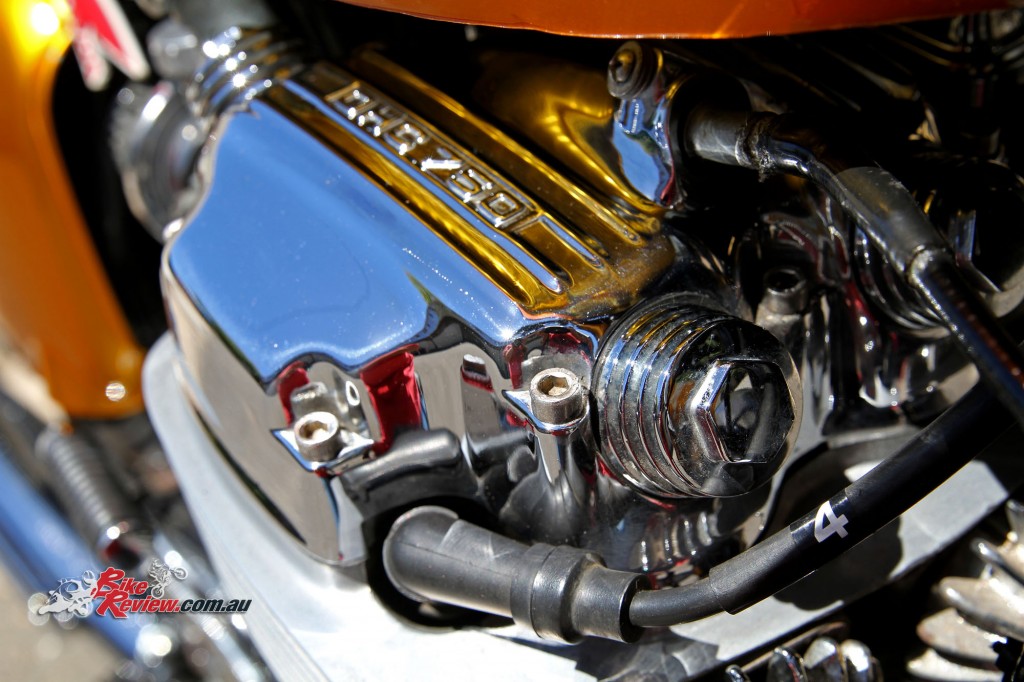 ENGINE
1972 Honda CB750 Four K2, Air-cooled, transverse four-cylinder, SOHC, two-valves per cylinder, 61 x 63mm bore x stroke, 9:1 compression, 736cc, four Mikuni 28mm carbs, pod airfilters, stock four-into-four exhaust with baffles removed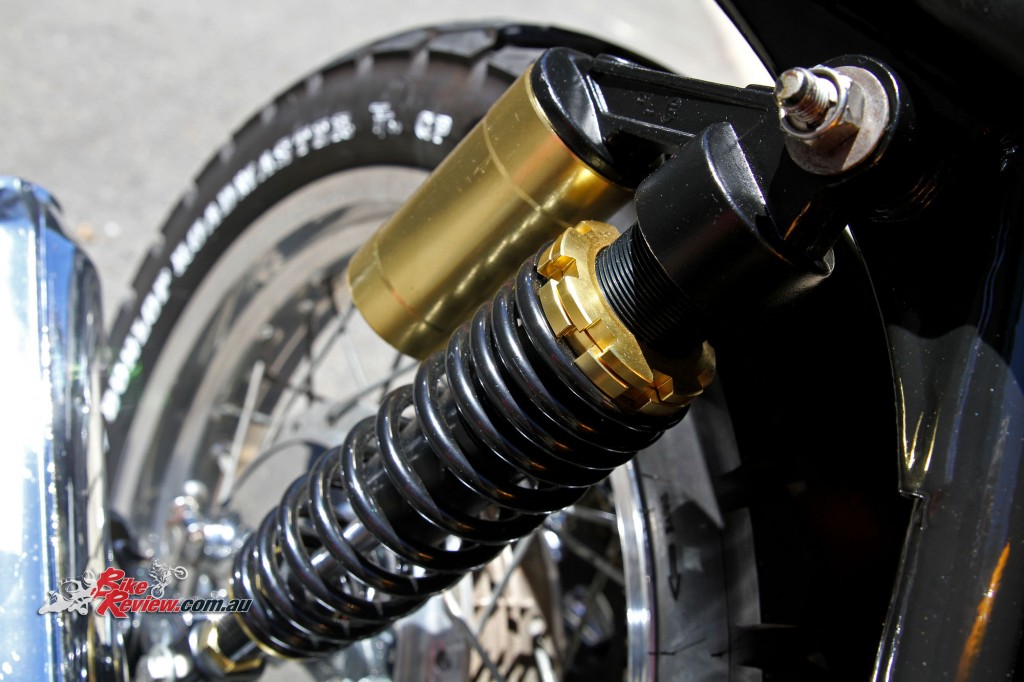 CHASSIS
1972 Honda CB750 Four K2 frame, Satin Rust Proof paint, 2009 Yamaha YZF-R6 – forks, clip-ons, triple-clamps, wheel, calipers, Race Con carbon-fibre front guard, EBC front brake pads, aftermarket front wave rotors, Brembo master-cylinder, stock wire-spoke rear wheel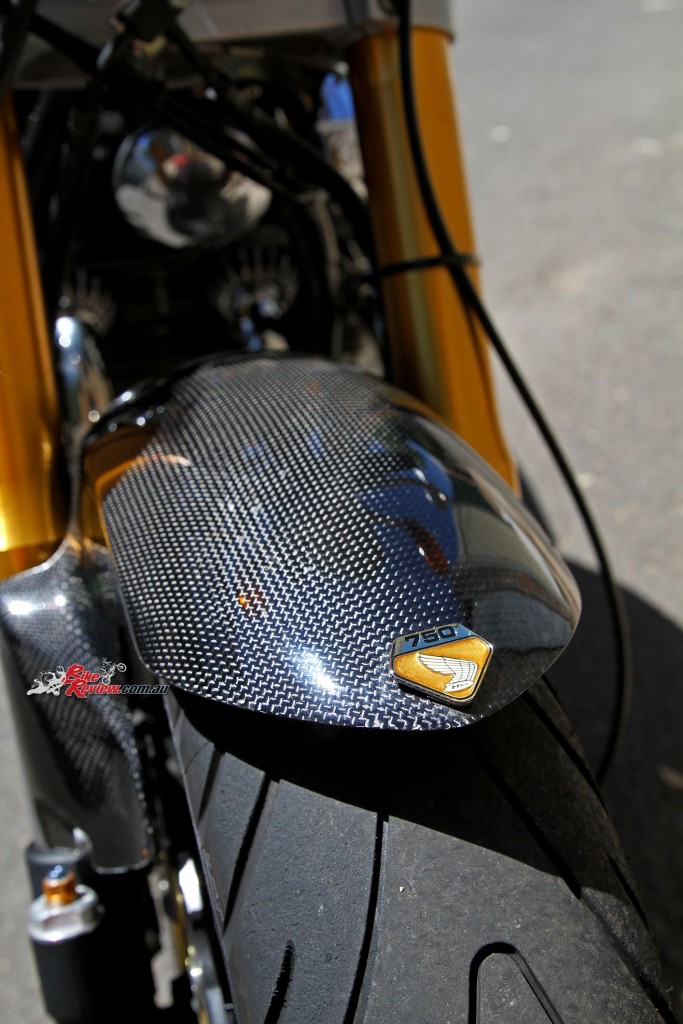 BODYWORK
Stock 1972 Honda CB750 Four K2 tank and side panels, tank modified to mount 40mm towards rear, Café Racer aftermarket seat modified to mount 40mm towards rear, custom tail-tidy and plate light, Trail Tech Voyager dash, stock Honda K2 tacho/idiot lights.
---
CB750 CUSTOM GALLERY
---
---