This beautiful piece of engineering may look old, but the fact is, it's something rather different altogether… Words & Photography: Tony 'Pommie' Wilding
This beautiful 1960s machine could be something much more than just a stunning piece of two-wheeled art and iconic motorcycle history; this Egli Vincent could be the last ever to be made and it's right here, in Sydney! In fact it was built just a few years ago…
A BIT OF VINCENT HISTORY
1928 saw the introduction of the first Vincent-HRD, it used a JAP engine with a Vincent cantilever frame. But, Phil Vincent wanted to go racing and using other manufacturer's engines was not really an option for him. Then in 1931, Australian Phil Irving joined Vincent as Chief Engineer. Irving designed a brand new 500cc OHV single-cylinder motor that powered the 1934 Vincent Meteor.
Then just after WWII and again with the help of Phil Irving, Vincent-HRD produced the fastest and some say the most legendary motorcycle ever built – the Vincent Black Shadow. The 1948 Black Shadow broke every record in the book, including the most important; the fastest production motorcycle. The Black Shadow was capable of going an incredible 196km/h – I could only imagine what that felt like over 60-years-ago.
The engine was a 998cc V-twin with a 50-deg angle and an 84mm bore and 6.8:1 compression.
The twin-valve cylinder-heads use steel coil springs and the valve guide system had forked rockers, thrusting on collars halfway along the valve stems for smooth operation. The engine itself was made of alloy but had steel liners in the bores for the alloy pistons to slide in. The timing was gear driven and used twin camshafts to operate the pushrods for the valves. The close-ratio gearbox was a four-speed unit and was operated by a lever on the right side, unlike a more modern motorcycle.
In 1948, Vincent blitzed the most famous race in the world, the Isle of Man TT, taking first and second place in the senior class and 1949 was much the same story. In fact the Vincent went on to dominate racing and land speed records for years to come.
---
---
Fast forward to 1965 and a Swiss man called Fritz Egli opened his engineering shop, specialising in designing custom frames and engine tuning, mainly for racing. The most famous bike Egli built was the Eglii Vincent, that as the name suggests, uses a tuned Vincent Black Shadow engine and Egli's custom steel tubular frame.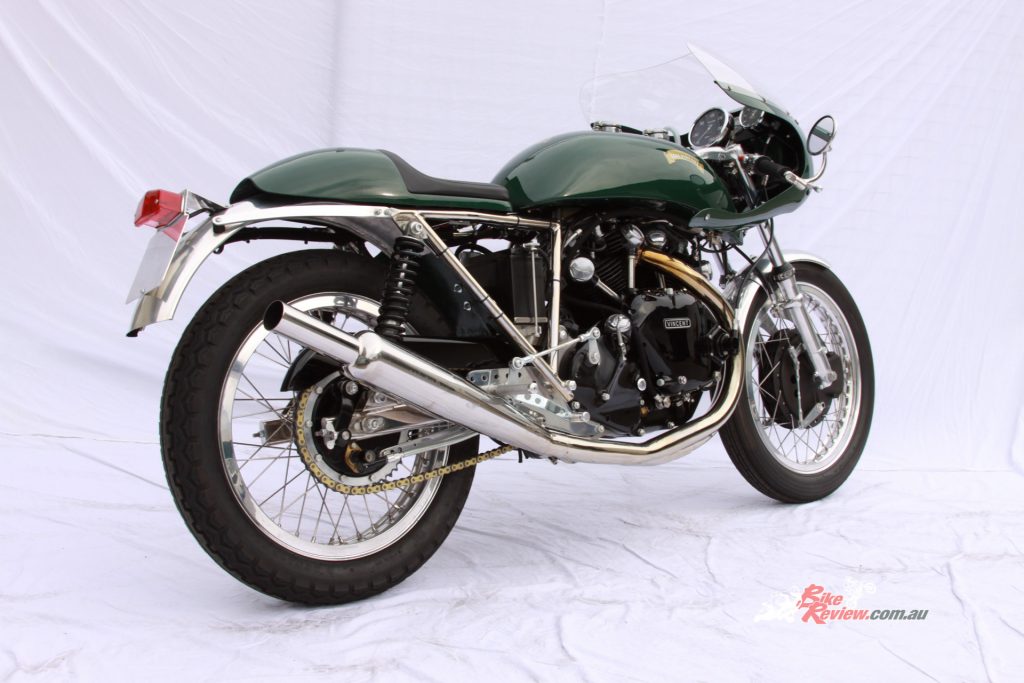 THIS BIKE
This particular Egli Vincent is a more recent custom built bike, in fact, Egli hadn't built a Vincent since the sixties but eventually the owner of this one, Luis, convinced Egli to build this one-off beauty and doesn't it look just stunning in British racing green? Once finished it was shipped out to Australia to join Luis's Egli Vincent and Vincent collection.
---
---
The oversized 1300cc engine is basically built new as per Egli's original spec's, with flowed heads, Egli cams and followers and twin 45mm Mikuni carburettors to control the fuelling. The engine is tuned for mid range torque and puts out approx 100hp at the rear wheel and has the benefit of a close-ratio four-speed gearbox.
Egli's spine frame is made from chrome moly tubular steel and then coated in a nickel chrome finish that really looks great against the green paintwork. The bodywork consists of a custom-made, hand beaten alloy, banana shaped fuel tank – with twin alloy filler caps, one for the fuel and one for the oil. Then a fibre-glass nose fairing and a custom alloy cafe racer style seat unit are used to complete the bodywork, which has a timeless look of true style.
---
---
At the front, conventional 38mm Ceriani GP forks are fitted, while the stopping power is provided by Fontana type magnesium hub, with twin leading shoes. The front and back wheels are a typical cafe racer alloy design but use stainless steel spokes instead of steel and both are contoured with sleek alloy guards that look awesome.
The dash area again uses alloy extensively, with alloy headstock clamps, sixties style clip-on bars, end mirrors and then finished off with beautiful Smiths clocks. In the tradition of the cafe racer and to aid ground clearance, billet alloy rearset footpegs are used, along with a full Patrick Godet twin stainless steel exhaust system, which is a work of art. To finish off the bike, it's fitted with an Alton generator, electronic ignition and electric start, to make life a bit easier.
---
---
The overall effect is simply stunning and unbelievably it only weighs around 170kg wet, that's less than a 600 supersport bike and I know which bike I'd prefer, but with a estimated value of around $150,000 I may have to wait a while…
Egli is still producing custom framed bikes today from his Swiss workshop, specialising in modifying the Yamaha V-max as well as many others so if you're keen for something a bit special, you know where to go… Check it out here. 
---
---
Egli Vincent Specifications
Price: Approx. $150,000 + ORC
Claimed Power: 100hp
Wet Weight: 172kg
---
Engine:1300cc air-cooled, four-stroke, twin-cylinders, two-valve per cylinder
Gearbox: Close-ratio four-speed
---
Chassis: Chrome moly tubular steel
Suspension: 38mm Ceriani GP forks, rear: hand built Maxton twin shocks
Brakes: Fontana type magnesium hubs with twin leading shoes
Wheels: Stainless steel spoked wheels
---
---
Egli Vincent 1300 Gallery
---
---