The Suzuki Walter Wolf RG500 is an absolute classic, here's our test of this iconic machine... Review: Jeff Ware Images: Heather Ware
The RG500 is already one of the most collectable bikes in the world but the Walter Wolf special, in particular this Japanese spec model, takes it up a notch. We take it for a spin…
There were 99 WW specials built for Canada, a handful built for Europe including a silver one for the Singapore market and very few, very special limited edition examples were made for the Japanese market to commemorate the legendary grand prix racer, 1979 750cc and 1982 500cc All Japan Champion Masaru Mizutani, who raced a Walter Wolf sponsored RG500.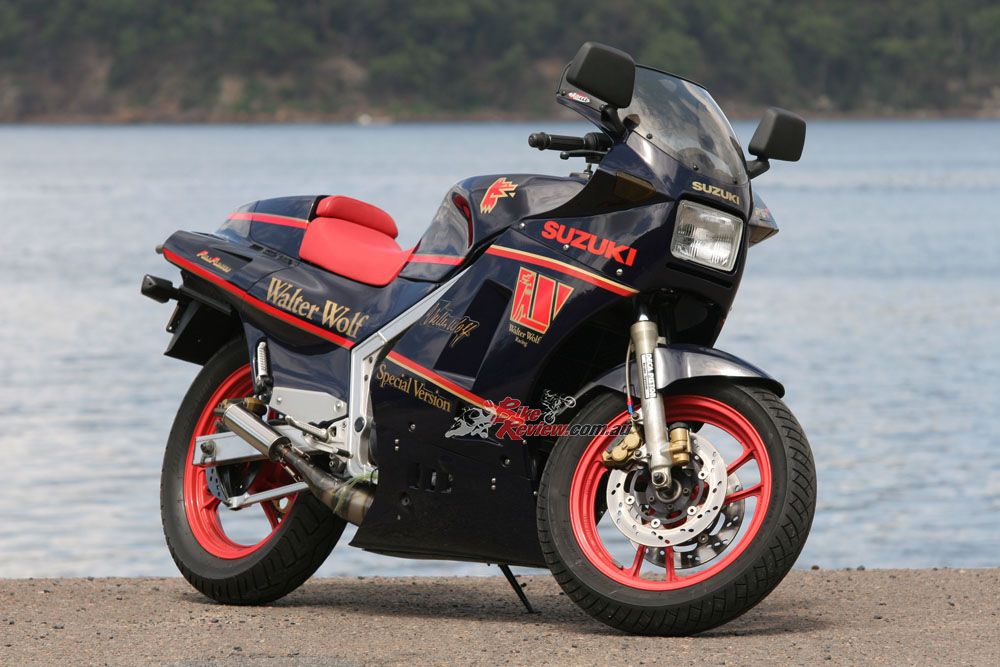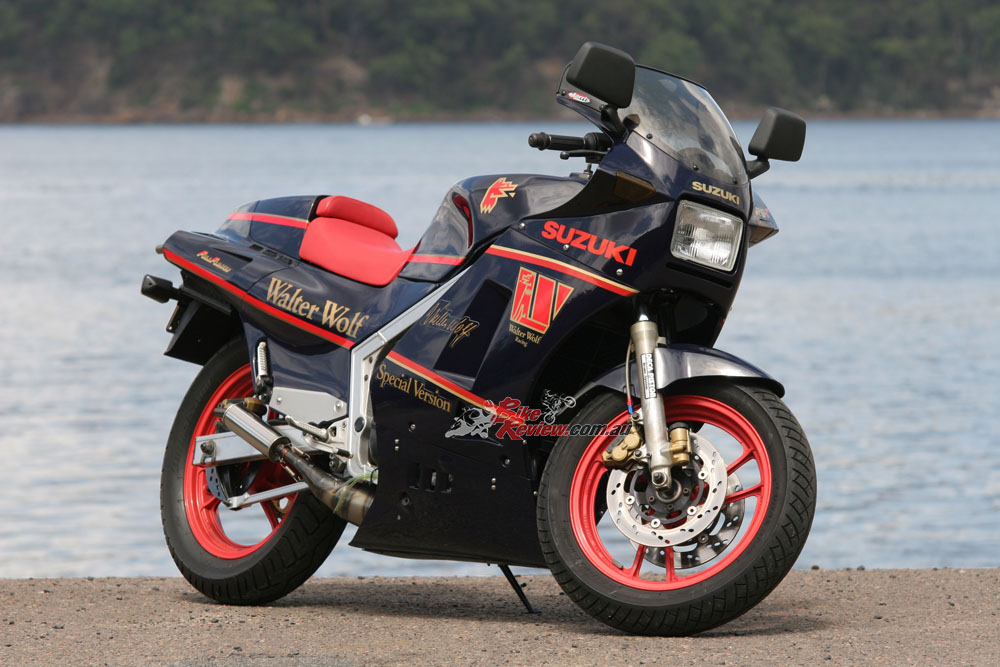 The bike differs from the other WW specials in that is has Walter Wolf instruments, key, red wheels and a different seat material. They also had different Walter Wolf graphics and paintwork. Overall a very rare motorcycle…
Dave's is immaculate with only 12,000km on it and has a set of Jim Lomas pipes. It has recently been re-jetted and tuned by the lads at Central Coast Performance Cycle Centre and is registered and ridden most weekends by Dave, as long as it is not raining!
First introduced in 1985, the RG500 took performance streetbikes to an all time high that is still not exceeded today in comparison to what other models are on the market. When the RG500 hit the streets it was lighter, faster and better handling than anything seen before.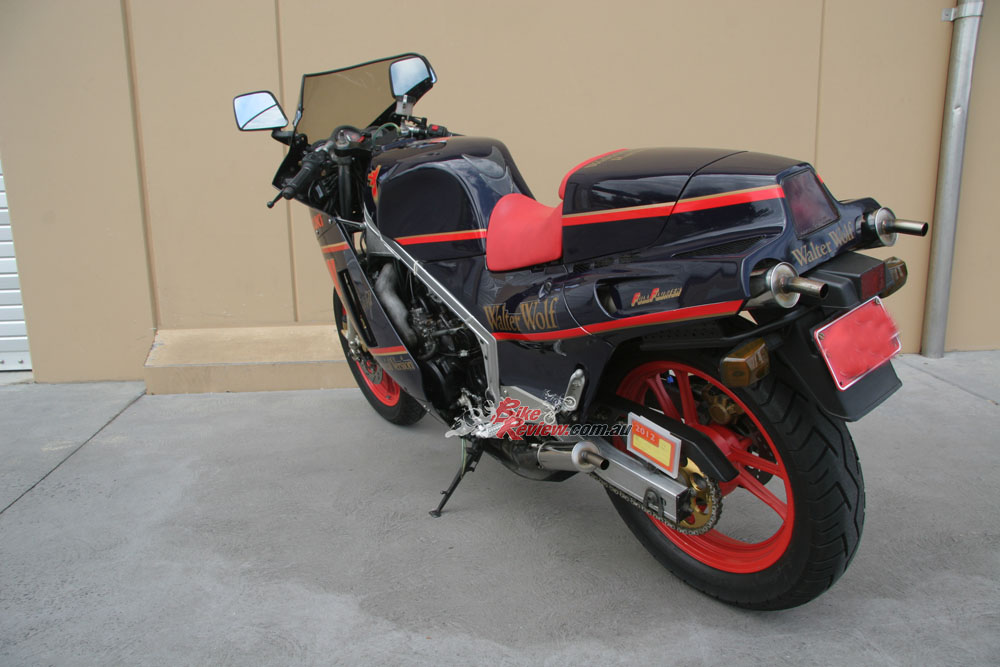 The square-four twin crank rotary valve two-stroke was a true GP replica based on the bike that Barry Sheene won world titles on and that Misaru Mizutani won on in 1982, thus this replica.
With huge brakes, fantastic suspension for its day and a lightweight alloy frame the RG was head and shoulders above the bulky RZ500 Yamaha. 154kg ready to roll and 95hp were unheard of figures. Production ceased in 1987 so the rare 500 was only available for two year and so is a true collectable these days…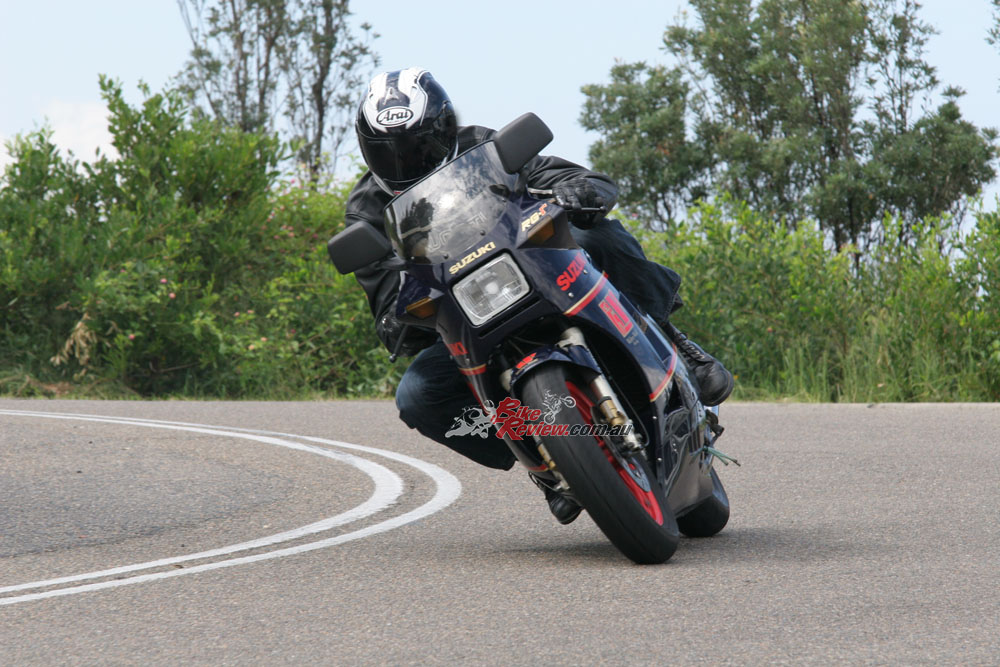 THE RIDE – SUZUKI RG500
I nervously climb aboard the immaculate RG500 at the owner, Dave's place. It's sunny but a storm is building. I know I have about two hours to test ride the bike and shoot it. Heather sets off in the car to the photo location…
I sit into the bike – it feels so narrow and low compared to a modern machine. The screen is tall but the tanks and bars are absolutely tiny. I turn the ignition key on and thumb for the starter button. Oops…
I then turn the fuel tap on and kick the kickstarter with one sharp kick. The bike fires up and cackles into a crisp idle, instantly sending shivers up my spine…
I pull in the light clutch and select first. In a blur of howling pipes and blue smoke I slip the clutch off up the road with 5000rpm dialled up. It's a noise that sounds cool enough to make me feel 17 again…
---

---
I short shift and run through the gears, the bike actually humming along really smoothly at the 4000 to 5000rpm mark with just enough torque on a lean throttle to keep momentum up. At 60km/h in fourth gear the RG is a dream. Above 5000rpm, however, there's nothing going on!
I start working the gearbox as I get up into the hills and begin to explore the top end pull of the bike, the skinny cross-ply tyres and the 1980s brakes and suspension. As I exit a second gear turn, uphill, I open it up and the screaming square four is in it's element – howling from 7500rpm to 11,500rpm where power tails off.
The next 12km of twisties are a blur of green rushing by as I pass bushland like I'm sitting on the back of a supercharged chainsaw, and I'm blown away by the power of the front brakes. They lack feel but they stop well. The bike steers ultra-fast and bites too – I accelerate too hard over a series of bumps and the RG tries to tankslap me into the weeds. Phew…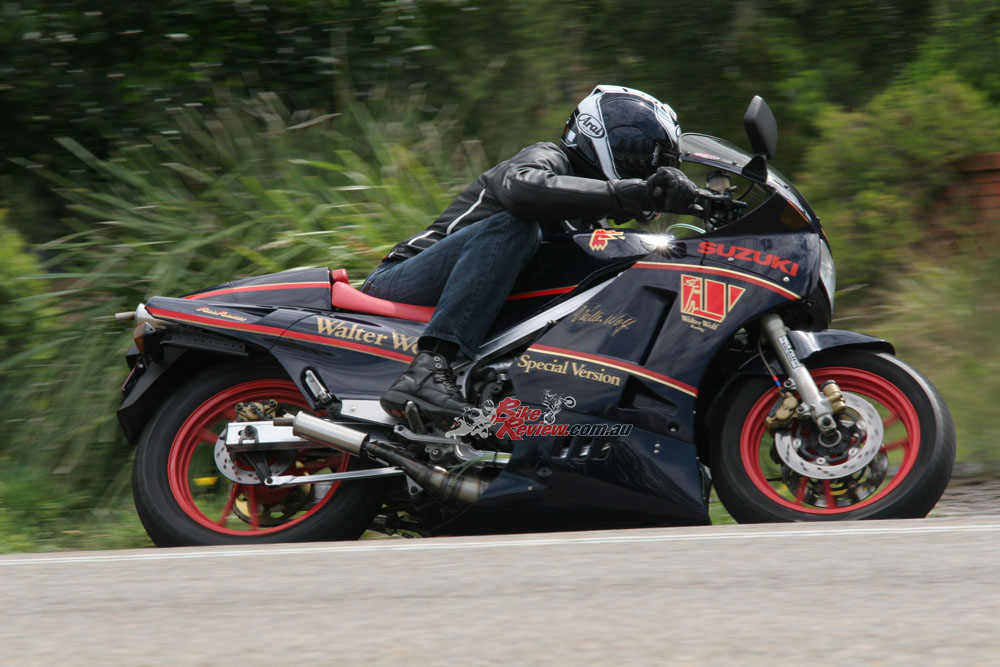 The bike is so, so light so accelerates just as quickly as any modern bike I've ridden through here and with better rubber and modernised suspension, this thing would kick ass!
We complete the photoshoot with me almost flipping the bike when it savagely came on the power in first gear and caught me out. With adrenaline pumping through my body I calm down and short shift back to the owners home – via the main shopping street. That bike cackling along turned more heads than anything I've been on.
What a buzz. Long live the 1980s. What a time that must have been for sportsbike riders.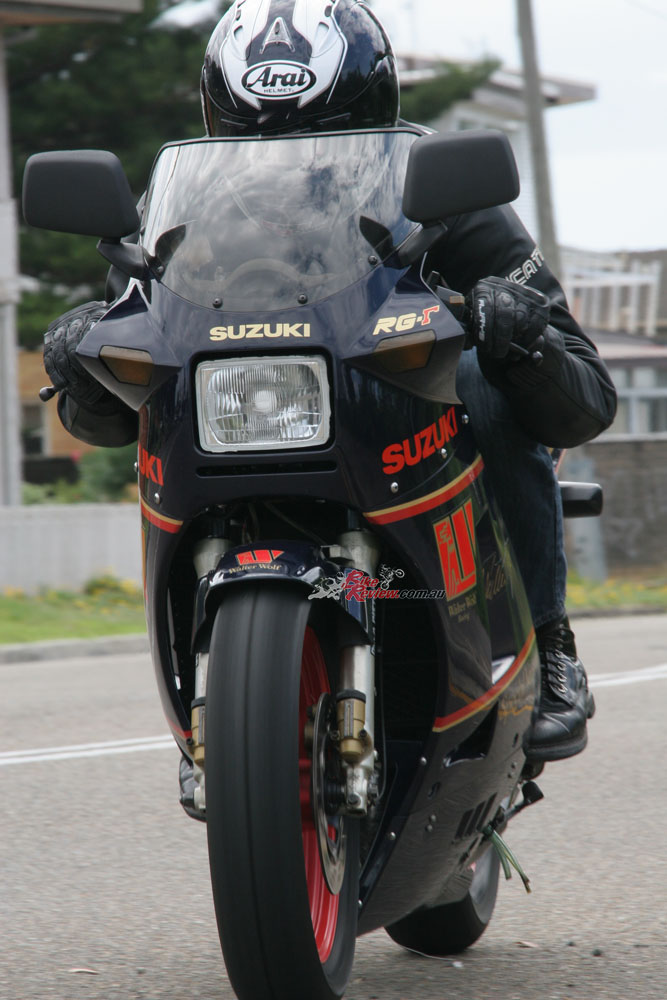 I LOVE MY RG
Dave, who owns quite a few immaculate classics and new bikes, says the Walter Wolf is a special one.
"It's my dream bike. I had an immaculate RG250W when I was a young bloke terrorising the streets with Jeff on his 1987 TZR250. But I always wanted an RG500 and he always wanted an RZ500. I've beat him to it though with the Wolf! I couldn't believe my luck when I saw it at the shop. Had to have it. I love it and enjoy riding it.
It's so fast, a real thrill and feels even quicker than my new GSX-R1000 because it has that raw feel to it. That powerband is addictive…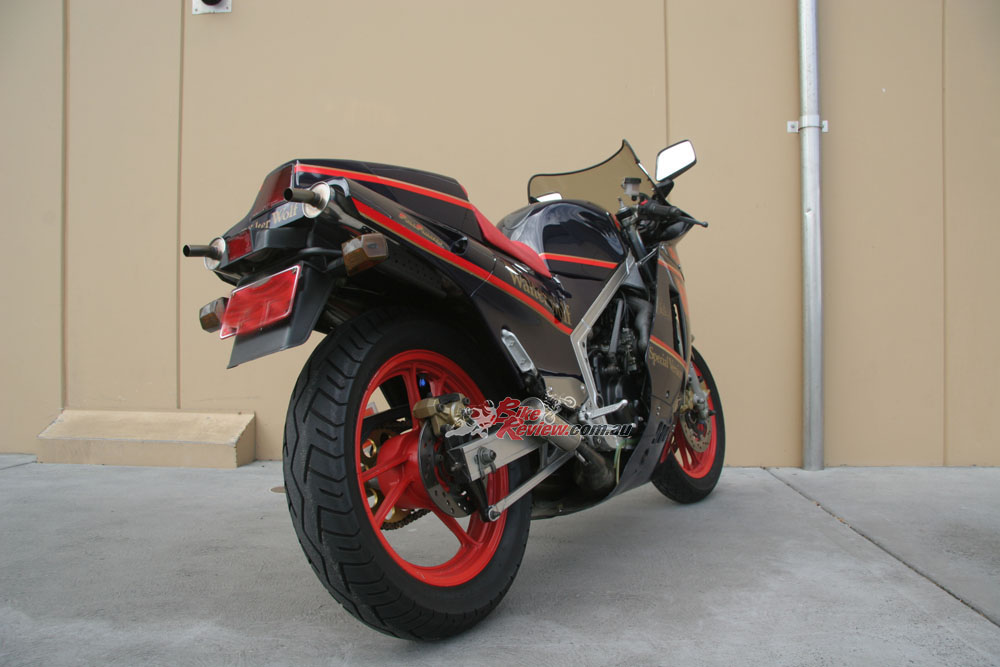 WALTER WOLF
Walter Wolf (born 5 October 1939) is a Canadian oil-drilling equipment supplier who in the early 1970s made a fortune from the North Sea oil business and decided to join the world of Formula One (F1) motor racing.
In Canada, Wolf became a renowned businessman. At first his funds helped prop up Frank Williams' fledgling F1 team before Williams left in 1977 to form Williams Grand Prix Engineering (later the Williams F1) team. Wolf's team continued as Walter Wolf Racing and before being wound up in 1979 managed to win three F1 Grands Prix.
---
---
Walter Wolf was inducted into the Canadian Motorsport Hall of Fame in 1998. His motorsports sponsorship was global including tobacco sponsorship for his brand Walter Wolf cigarettes. He sponsored motorcycle teams in Canada and the factory Suzuki team, which used RG500s, thus the link to the official Factory Suzuki team in Japan…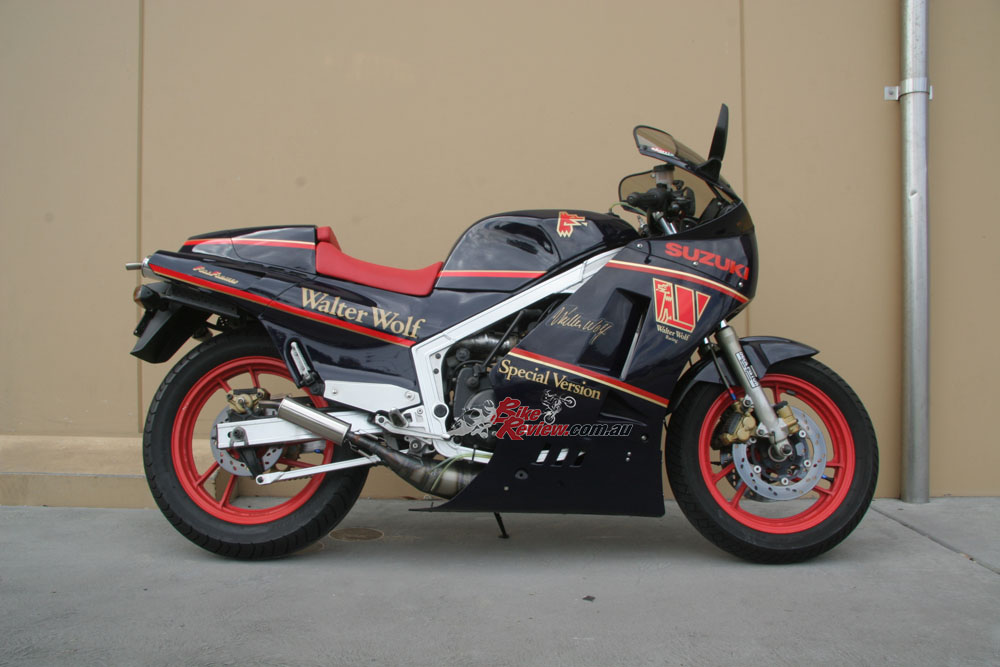 1985 WALTER WOLF RG500 SPECIFICATIONS
---
Engine: Liquid-cooled, twin crank, rotary valve two-stroke 500
Colours: Blue/White, Red/Black
Claimed power: 70.8kw[95hp]@9000rpm
Claimed torque: 72Nm[53.1ft-lbs]@9000rpm
Dry weight: 154kg
Fuel capacity: 17L
Chassis: Double cradle alloy
Suspension: 38mm telescopic, air adjustable with adjustable preload and anti-dive
Front brakes: 270mm dual rotors with four-piston calipers
---
The Verdict | Classic Test: 1985 Suzuki RG500 Walter Wolf, Smokin' Fun…
The RG500 is already one of the most collectable bikes in the world but the Walter Wolf special, in particular this Japanese spec model, takes it up a notch. We ride one to see why…