Simon's used these Route One Wyatt bike jeans since January, in Summer and now Winter, and is really impressed with them... Words: Simon Harris Photography: Freestyle Photography/BikeReview
I have to say that the fit of the Merlin Route One Wyatt jeans, for my shape and dimensions, is far better than I was anticipating, as is the feel, which is immediately comfortable and flexible and not stiff at all, but unlike most jeans, I had to go down a size, so be sure to try these on…
---
Check out all our gear reviews here…
---
The soft feel of the garment belies its toughness, which is 120oz denim on the outside that is treated with 'Huntsman' waterproof compound. This waterproofing is good for minimal 20 washes before it can be recoated. Note that the manufacturer does not recommend machine washing / drying.
---
---
In key areas, under the denim, is a layer of 220gsm Dupont Kevlar fibre twill that is highly abrasion resistant. This material basically covers your buttock, hip and knee areas. For further protection, the jeans come ready to accept armour inserts in the hips. On the inside is a comfort mesh lining that is soft to touch and helps keep your skin on the dry side.
---
---
This extends down to the shin. Just don't get your feet all caught up in the lining if you're in a hurry to get the jeans on or off. The stitching looks good, with no loose threads anywhere and plenty of reinforcement. The pockets are a good size and do not require you to always remove gloves if you need to grab something.
---
---
The waist fitting is good and, for me, leaves a small amount for some Christmas cheer. Wearing a belt helps make sure that the jeans have a good grip around your torso. I would say that from a style perspective that the waist cut is that of a dress jean, however, might be a little low when you are leaning forward on the bike.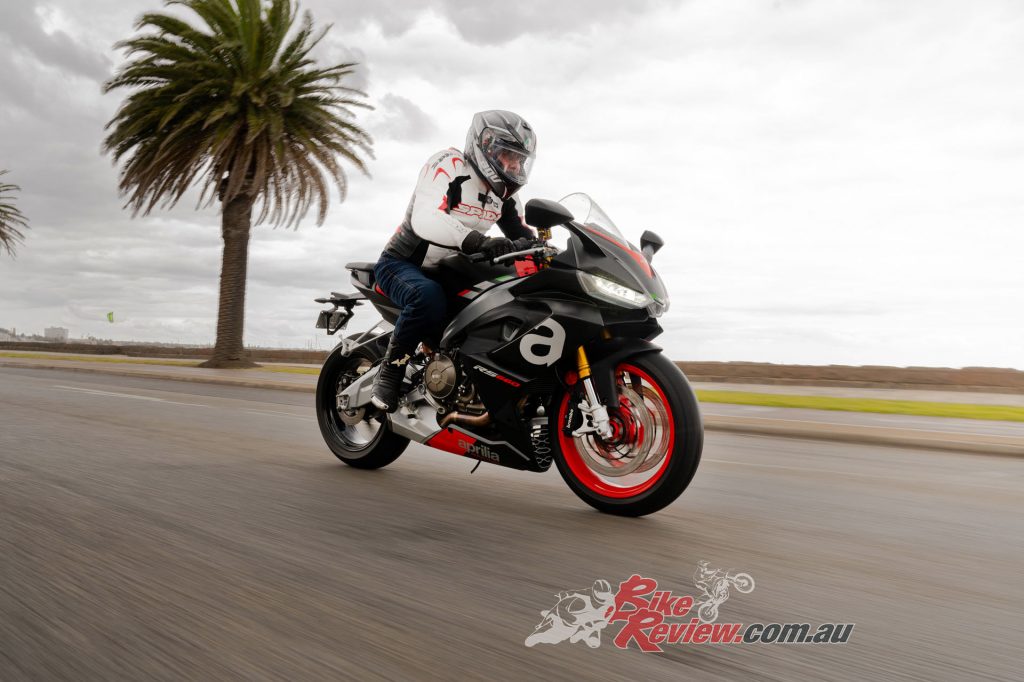 That said, there is a YKK zip for connecting to your jacket. Speaking of zips, that really important one is a brass YKK jobbie. The knee armour is well positioned and did not interfere with my movement at all. You can easily remove the armour, too, by way of discreet zips.
---
---
The jeans are pretty good at keeping the cold of winter breath pretty much at bay and definitely give you a bit more ease of movement than leather pants. Off the bike, the jeans do look like fashion jeans and are not bulky or too flared. The leg length is fine for me to go over boots easily, with some spare (Mum, can you hem them for me?).
---
---
I generally ride with pants in boots and these are easy to fit inside boots as well. You can pretty much wear these all day without a problem, giving you the option to ride wherever it is you need to go in comfort, style and with the peace of mind of having reasonable protection. If bike jeans are on your list of riding gear upgrades, do check these out – To find your nearest stockist, head here.
---
Merlin Route One Wyatt Jeans Features
Produced to meet or exceed CE Standard EN17092

Safety: 220 gsm Dupont Kevlar panels in impact areas and CE Level 2 knee armour. Hip armor pockets ready to take CE armour. Safety Seam construction

AAA grade (120z) denim outer with "Huntsman" water repellent wash treatment. Comfort mesh liner and flat lock stitch lining

YKK short jean to jacket connecting zip and self-locking fly zip

Sizes: S (30" wasit) – 3XL (40" waist)

RRP: $269.95
The Verdict | Gear Review: Merlin Route One Wyatt Motorcycle Jeans