We've just received a bunch of new 2019 kit from Link International to put to the test over the coming months...
Link International recently sent us a bunch of their new gear to review over the Winter and Spring months, including product from TCX boots, AGV helmets and Macna apparel. It's amazing how quickly Link, most famous for Motul and Pirelli, have become a big player in the apparel game, considering they only took on riding gear in 2017. Macna in particular is becoming a household name for Aussie motorcyclists…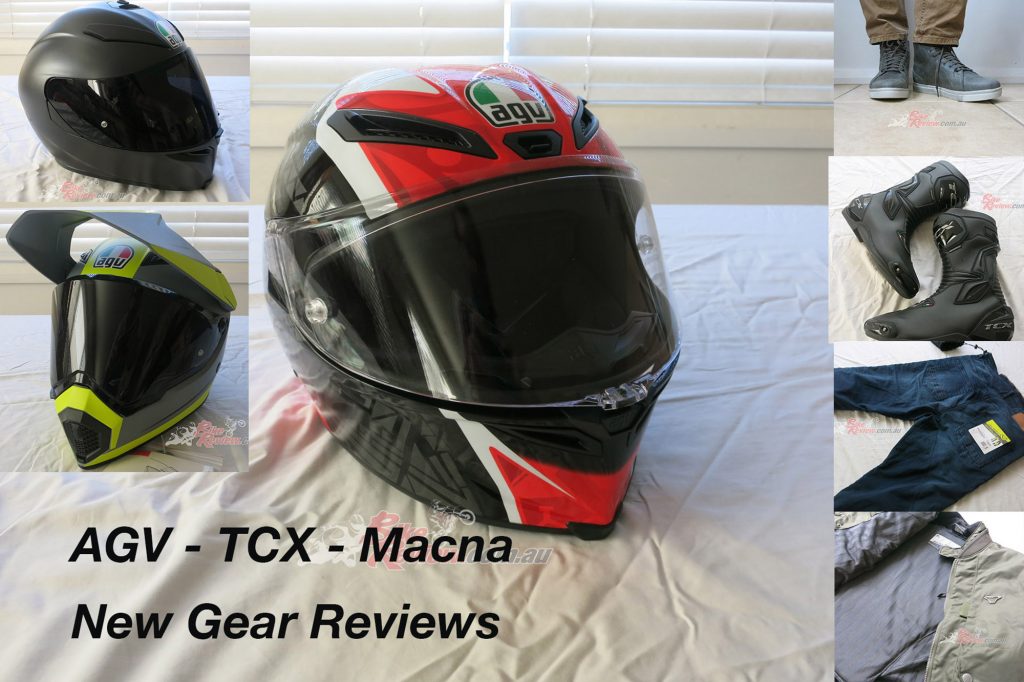 In for review for Jeff is a new top of the line track lid, the AGV Corsa R – Casanova, a pair of TXC Street Ace waterproof riding shoes, TCX SP waterproof road boots, a pair of Macna Stone Jeans and a neat Macna Bastic Green bomber jacket.
John Arens is going to be testing the K5-S and a Macna Event jacket when he heads around Australia in a few months.
Tony 'Pommie' Wilding will be putting a new AGV AX9 lid to the test, not only with his adventure riding but also on his custom bikes as it is a pretty cool looking lid…
Helmets:
AGV AX9 in Matt Grey Yellow Fluro Black RRP $799 – the new Adventure Touring lid from AGV, the AX9 is a versatile helmet designed for long distances, comfort and ventilation during adventure touring. With four different configurations possible, visibility is fantastic. The lid only weighs 1445grams and comes in a wide range of colours and a carbon-fibre option. Stay tuned for a full review and updates.
AGV Corsa R Casanova Black/Red RRP $1199 – is a top level track helmet for the serious sportsbike rider. The Corsa R features a carbon-aramidic-fiberglass shell, and offers a long list of amazing features for the most experienced and demanding riders including 5-density EPS structure in four sizes, aerodynamic shape, IVS system with five vents and two extractors, internal chin channels, class optic 1 visor, patented visorlock system and double D ring chin strap. Stand by for a full review.
AGV K5-S helmet Matt Black $549 RRP is a premium sport helmet that now features a new construction for the inner liner, designed with high-performance fabrics and with no stitching in sensitive areas, making for an extremely comfortable fit. The lightweight shell is made from a carbon-fiberglass mix, while stability and aerodynamic performance are maximized thanks to an incorporated spoiler. The Integrated Ventilation System (IVS) has vents that are hollowed into the shell, and there's also an internal drop-down sun visor, a removable nose guard and a new wind protector that keeps noise to a minimum. John Arens will be touring Australia in this lid so stay tuned!
Boots:
TCX Street Ace WP $229 RRP are a sneaker style all-day waterproof boot for 24/7 use. They feature full grain vintage look upper leather with a waterproof liner, reinforcements in the ankle, toe and heel, a high wear sole and they are super comfy as Jeff has found out wearing them daily for a while now. Stay around for the full review soon, along with updates.
TCX SP Waterproof road boots $349 RRP are a street and track day sports touring style boot with toe sliders for the sportsbike rider. They are a leather boot with zip and velcro fastener, with an oversize calf area velcro fastener for comfort. The toesliders are replaceable as is the mid sole and the boots are waterproof. They also feature a shift pad and armour protection in the ankle, heel and shin area. They are a comfy, easy to put on boot for everyday use as well as sports riding. Jeff has been wearing them and will put up a full review soon.
Jeans:
The Macna Stone jeans cost $299.95 RRP and feature stretch panels around the backside and knees for comfort, CE removable knee armour, CE hip preparation, jacket connector that velcro attaches to pants, aramid reinforcement at hips, knees and backside. Jeff is using these as is John Arens.
Jackets:
Macna Bastic Green bomber jacket $329.95 RRP is an all weather waterproof jacket that features CE armour, a glasses holder, phone pocket, airvents in the sleeves and back, fixed raintex membrane and a hoodie holder. Full review on the way soon…