The 2020 Harley-Davidson Low Rider S, built on the Softail chassis, is a cruiser that will let you exit the highway and cut loose on the twisties, with big cc power to match the handling... Review: Jeff Ware Photography: Heather Ware
The new Softail based Low Rider S replaces the dropped Dyna version. It has a stiffer, lighter frame, upgraded suspension, sportier geometry and more power – while maintaining the unmistakeable SoCal West Coast style of the Dyna Low Rider S… What is not to like?
The new Low Rider S upgrades over the $3495 less expensive Low Rider include the bikini fairing, the M-8 114 engine, USD forks, 2º steeper rake, 15mm shorter wheelbase, 10Nm more torque, a tiny bit more lean angle and different paint on bodywork and parts plus of course the MX-style 'bars and 4in riders. It has 10mm reduced ground clearance and is 8kg heavier.
The styling gives the S a totally different presence than the more conservative Low Rider. Both look good, I prefer the S but would go for Vivid Black over Barracuda Silver, the colour we tested…
At $27,995 Ride Away, the Low Rider S gives good bang for buck, particularly with that cracking 1868cc motor punching out a stonking 155Nm at 3000rpm. The 114 is the only engine option for the new Low Rider S, which makes sense to me. With more chassis performance, a higher-spec engine needs to be part of the package. Gear ratios and final gearing is shared over the range…
---
---
The Softail frame is constructed from mild steel tube, with a rectangular section backbone and stamped, cast and forged junctions. Rake is 28º and trail 145mm, while the wheelbase sits at 1615mm and total length 2425mm. It's not a huge bike, with a low seat height of 690mm.
Wet weight is 308kg but that weight is carried low. With the tall 'bars, moving the bike around standing next to it is easy, while parking or super low speed work is easy thanks to that low seat height allowing both feet to be firmly on the ground. It's not a difficult machine to manhandle around the shed.
THE RIDE
Once on the move, that 308kg falls away more than it would on a bike with a higher C of G. The mass centralisation combined with the steep steering angle and tall, wide 'bars, makes the Low Rider S super easy to handle in traffic and during the urban crawl, as I found out heading home to the coast from Harley-Davidson Australia, in Sydney. The mid-mount 'pegs really help here, too…
Throw in a light, smooth-action cable actuated clutch and a slick gearbox and the LRS is a pleasure to ride through the suburbs. It's a hell of a lot more fun out of town though, as I soon found out!
The ride position of the Low Rider S has polarised motorcycle journalists around the globe. Personally, I find the ergonomics comfy and I like the footpeg position. Many find it too cramped. Perhaps it is my sportsbike background. Even though I am tall at 187cm, I really like the position of the 'pegs.
I would not want them any further forward, I like to be able to use my legs to help steer a bike, support my weight over bumps, shift my weight for cornering and braking and so forth, and the mid-peg spot the LRS has is spot-on for that. The 'pegs are vibe-free, rubber covered and they fold up when they deck out, which is a big plus for a cruiser.
---
---
The reach to the 'bars, for me, is natural, with a slight bend at the elbow and the width helps muscle the bike and take advantage of the steering geometry. The seating position is bolt upright for me. The controls fall easily to hand, while the switchgear is standard H-D stuff. I can't stand the indicator switches on Harley's…
They need a click or something more tactile when pressed to help communicate whether they are on or off, I find I have to look at the idiot lights, which are small. I also find that more often than not I'm trying to blip the throttle for a downshift or get on the gas for an exit at the same time I need to be indicating with the right-hand button, so give me conventional left bar switches any day…
---
---
The clocks are mounted centrally on the fuel tank, which incidentally has one fake fuel cap, and are in a spot that is basically a pain in the neck – literally! Considering there is huge black area of emptiness behind the bikini fairing, I really scratch my head as to why the Low Rider S doesn't have its own fairing mounted dash.
For the extra money over the Low Rider, it should have been done. It looks unfinished and is a real talking point. I lost track of how many people asked me about the empty space! The LED headlight housed in that fairing, however, is pretty good and does the trick at night.
The fairing offers good wind deflection on the freeway, anywhere between 100km/h and full tilt is fine, at least for my height, the wind just hitting the top of my lid. The bike is really comfy on the open highway considering the style and is good for around two hours before a good stretch is needed.
The M-8 114 ticks along at around 2500rpm@120km/h. Top gear, at 2.79:1, and final gearing at 32/66, means that big engine is not working at all at highway speeds. It's super quiet though… Needs pipes.
That tall gearing and ability to short-shift and be lazy on the Low Rider S brings with it good fuel economy, with H-D claiming 5.6L/100km. This bike averaged 6.0L/100km during my test period of two weeks, and that is with a mixture of cruising, town work and flat out riding. With the 18.9L fuel tank capacity, a theoretical range of 290-300km is possible.
---
---
With narrow tyres being a 110/90-19 up the front and a 180/70-16 out back, the Low Rider S is a great cornering machine. The 28º steering angle and tall, wide handlebars mean initial turn-in is quick and accurate, on or off the brakes, yet the whopping 145mm of trail results in a big footprint from the front tyre, meaning lots of feel and confidence – not to mention front grip. The harder I pushed, the deeper I braked, the better the Low Rider S felt. If you are a front-end rider that thrives on a communicable front-end, you will really enjoy pushing the Low Rider S to its limits.
Ground clearance, at 30.1º, is not too bad. Touch down is predictable and as mentioned, the 'pegs fold up anyway. The 43mm inverted forks are fantastic. They give good support when loading up the front, don't collapse through their stroke even on sudden hard braking, yet they keep the tyre on the tarmac, soaking up the bumps. They are on the sporty side in both spring rate and damping and although the high-speed compression can get jarring on the sharper bumps, the handling trade-off of the set-up is more than welcome in my opinion…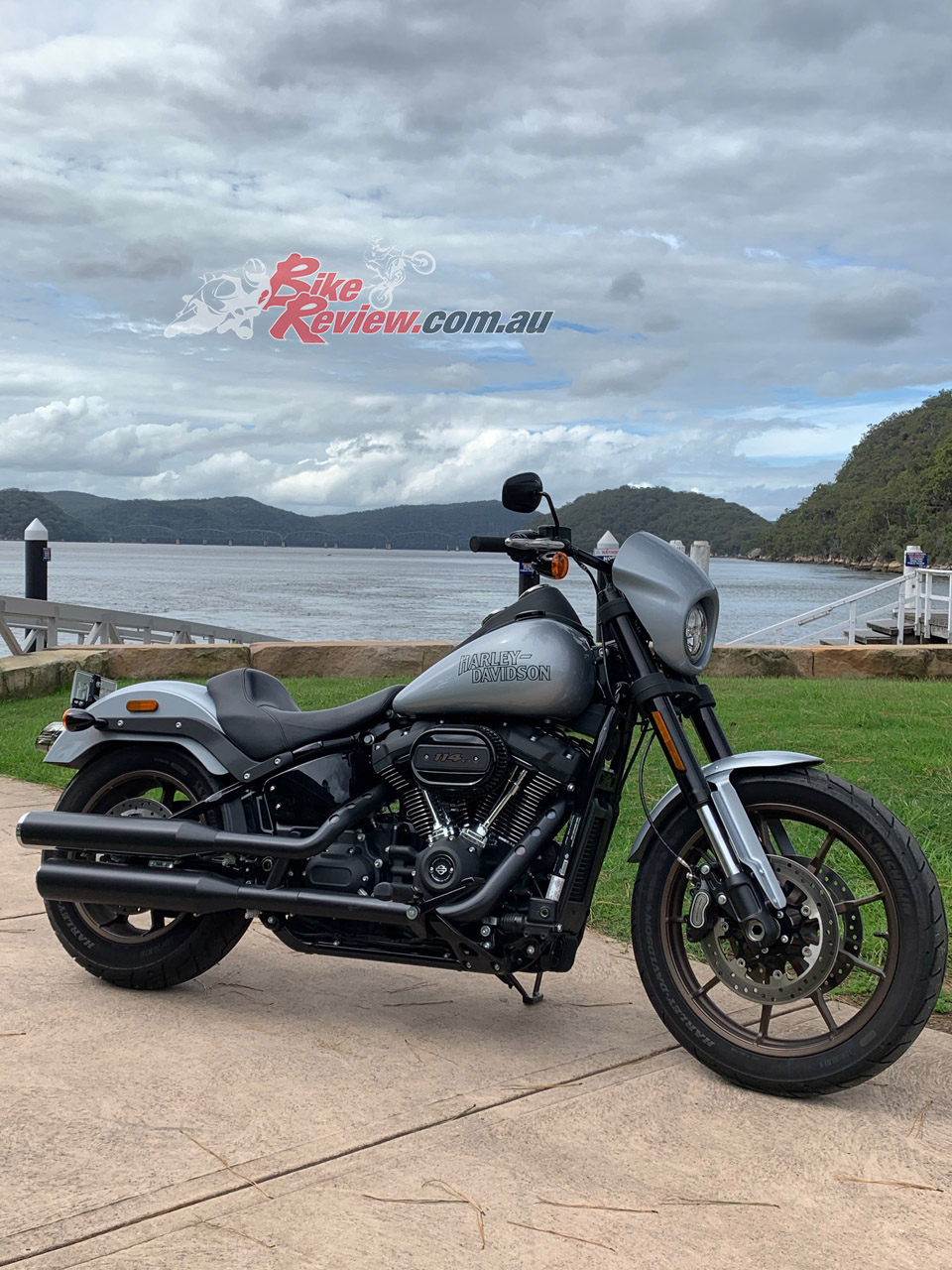 Once in the corner, the Low Rider S is well behaved. It'll sit on its side all day long through the longer turns and there is no stand up or squat on the gas off the turns. Even if the bike is ridden in more of a point-and-shoot style, which also works well on it, the rear remains composed and the bike stays on line. With only 86mm of rear travel, there are hard hits, but overall the set-up is great. Impressive even, especially for a long, low bike… You would not pick the handling by going off the looks…
Pulling up a big cruiser is never an easy task but the overall braking package is adequate. A good hard squeeze on the front is needed for serious stopping during spirited riding but the feel is there and there is good modulation at the lever, however, I always find the chunky Harley levers take some feel and intimacy away from the fingertips… I'd prefer slimmer more conventional levers at the expense of style.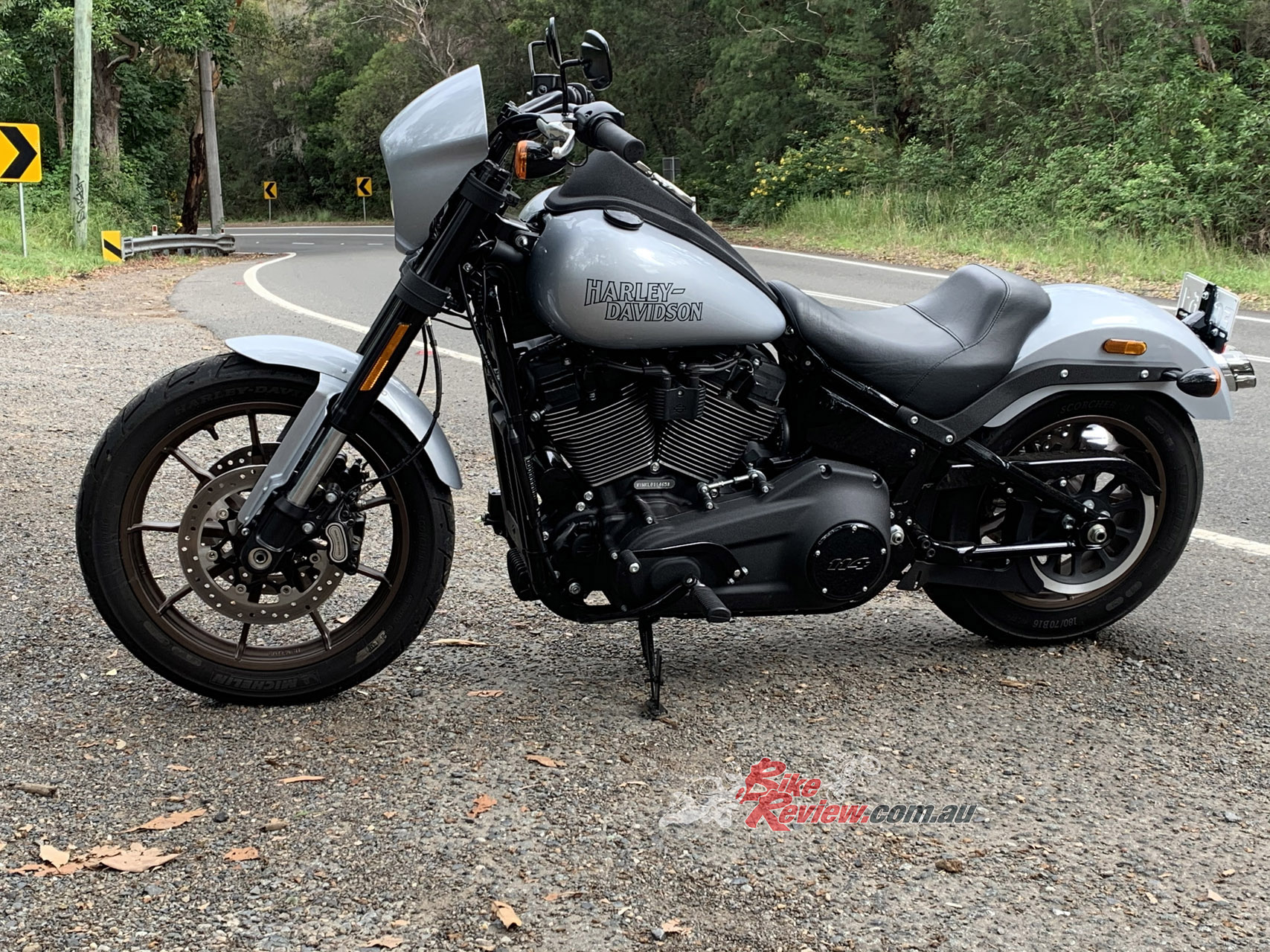 There was some brake fade after repeated hard braking in my local hills, with front lever travel increasing as the brakes became hotter. Possibly a fluid change would solve this, as these press bikes do cop a hard time… The rear brake lacks feel and power unless it is really stamped on, however, for me I prefer this type of feel from a rear brake as I'm a heavy-footed rear brake user.
---
---
The Michelin Scorcher tyres are good in the dry and do the job in the wet also. I'd be keen to try a sportier tyre such as the Metzeler Cruisetec come time for replacement, something with a bit more feel and a sharper handling profile would compliment the chassis even more.
Engine-wise, as mentioned, the M-8 114 is a cracker. It pulls from zero and absolutely cranks between 2000 and 4000rpm. A real monster. Fuelling is good, of course there are some lean areas due to emissions regulations no doubt… However, in general it is smooth and responsive. There is plenty of engine braking from the two massive cylinders and that takes a little getting used to if you are not a regular V-twin rider but can be very useful in getting the bike pulled up. The gearbox is smooth in shift, without a huge throw at the lever, which many bikes with more forward controls tend to have.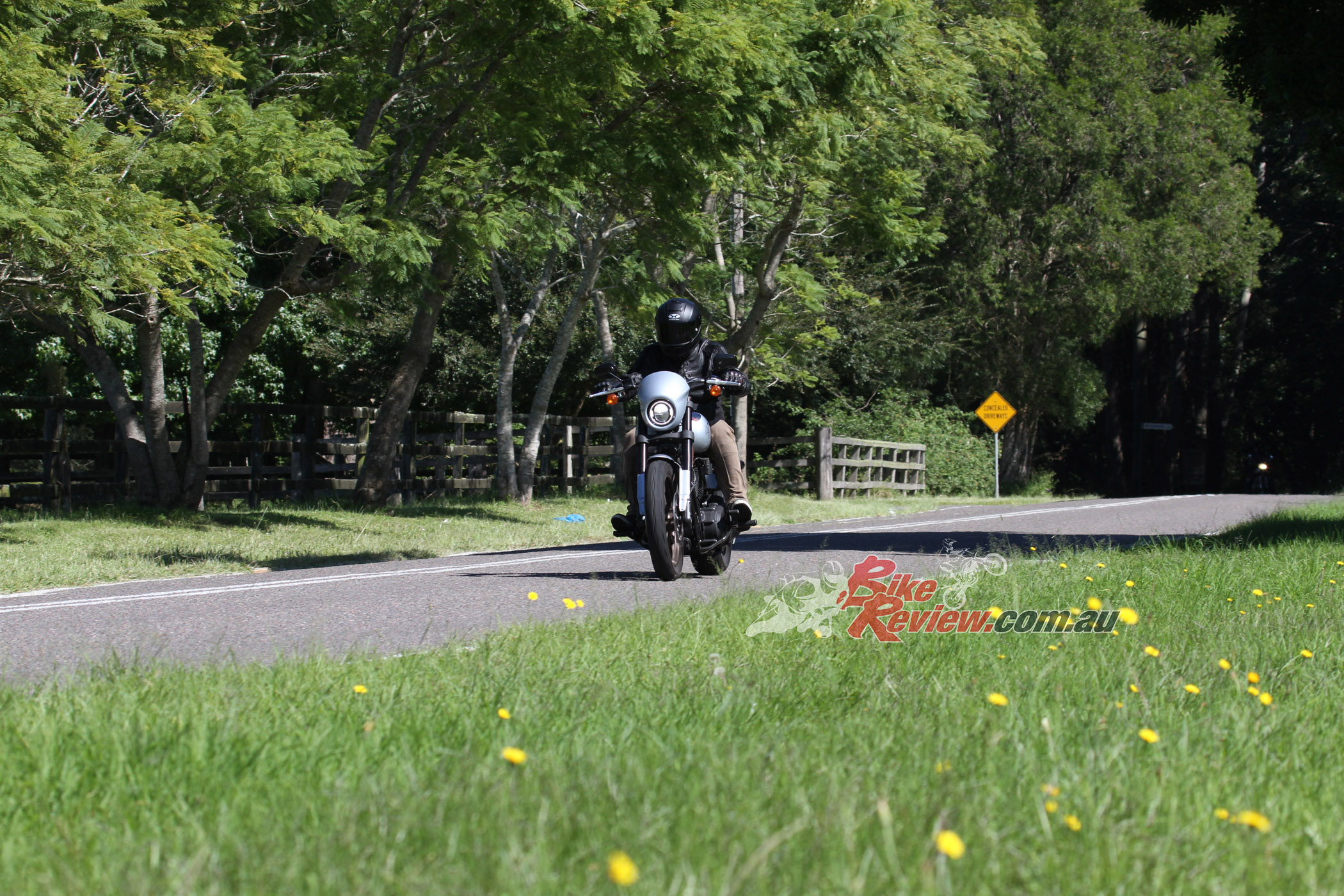 Day-to-day living with the Low Rider S is easy. The stand is not too much of a PITS to get to and flick out, the bike starts easily every time, the standard Harley mirrors are vibe-free and offer a good view, the fob system makes life easy and the security system is good.
Service intervals are 1600km then every 8000km, which is quite frequent these days, but in saying that, this is a premium product and owning any premium bike comes at a price… Finish and quality is exceptional on this bike, so I'd imagine it will retain its value for a long period.
Living with the Low Rider S as a daily rider for a few weeks was top fun. I didn't want to hand it back but I left Harley on a Road Glide Special, so I can't complain too much! I suggest that if you are in the market for a performance cruiser, the Low Rider S is worth a decent test ride – not just around the block, you need to get out of town and find some corners. A great bike…
---
Check out our 2020 Harley-Davidson Low Rider S Video Review Here…
---
---
2020 Harley Davidson FXLRS Low Rider S Specifications
Price: From $27,995 Ride Away
Colours: Barracuda Silver, Vivid Black
Warranty: Two-years unlimited km
Service: 1600km then every 8000km
Claimed Fuel Consumption: 5.6L/100km
Claimed Power: N/A
Claimed Torque: 155Nm[114lbs-ft]@3000rpm
Wet Weight: 308kg
Fuel capacity: 18.9L
---
Engine: Air-cooled Milwaukee-Eight 114 V-Twin, 1868cc (114 cu. in.), 102 x 114mm bore x stroke, 10.5:1 compression ratio, ESPFI, two-into-two exhaust
Gearbox: Primary drive: 34/46. Six-speed ratios – 1st: 9.311, 6.454, 4.793, 3.882, 3.307, 6th: 2.79 Final Belt 32/66
Clutch: Wet multi-plate, cable actuation
---
Chassis: Mild steel tubular frame, rectangular section backbone, stamped – cast and forged junctions, MiG welded, alloy fender supports
Rake: 28°
Trail: 145mm
Suspension: 43mm inverted forks, 130mm travel, Monoshock rear end with remote preload adjustment, 86mm travel.
Brakes: 300mm rotors, Four-piston fixed calipers (f), 292mm rotor, two-piston floating caliper (r), ABS
Wheels & Tyres: Dark bronze radiate cast aluminium wheels, 110/90B19,62H,BW (f), 180/70B16,77H,BW (r), Michelin Scorcher
---
DIMENSIONS
Wheelbase: 1615mm
Seat height: 690mm
Ground clearance: 120mm
Overall Length: 2425mm
Instruments: Multi-function analogue and digital LCD displays, tank mounted.
---

---
2020 Harley-Davidson FXLRS Low Rider S Gallery
---

---
The Verdict | Review: 2020 Harley-Davidson FXLRS Low Rider S
The latest Harley-Davidson Low Rider S offers nimble steering, upgraded suspension and engine, ergonomic and cosmetic enhancements and much more over the standard Low Rider. Here's our full review…