You've read the Throwback Thursday article on the YZF-R7 OW-02, here is the promised chat with the pilot, Sultan Of Slide Nori Haga... Words: Alan Cathcart Photography: Gold & Goose
The trackside banner displayed at Brands Hatch in front of 102,000 spectators in August 2000 said it all: "Nori-chan = Foggy #.2"! The massive British crowd had taken the Sultan of Slide to their hearts, as no Japanese rider had ever been by European race fans before.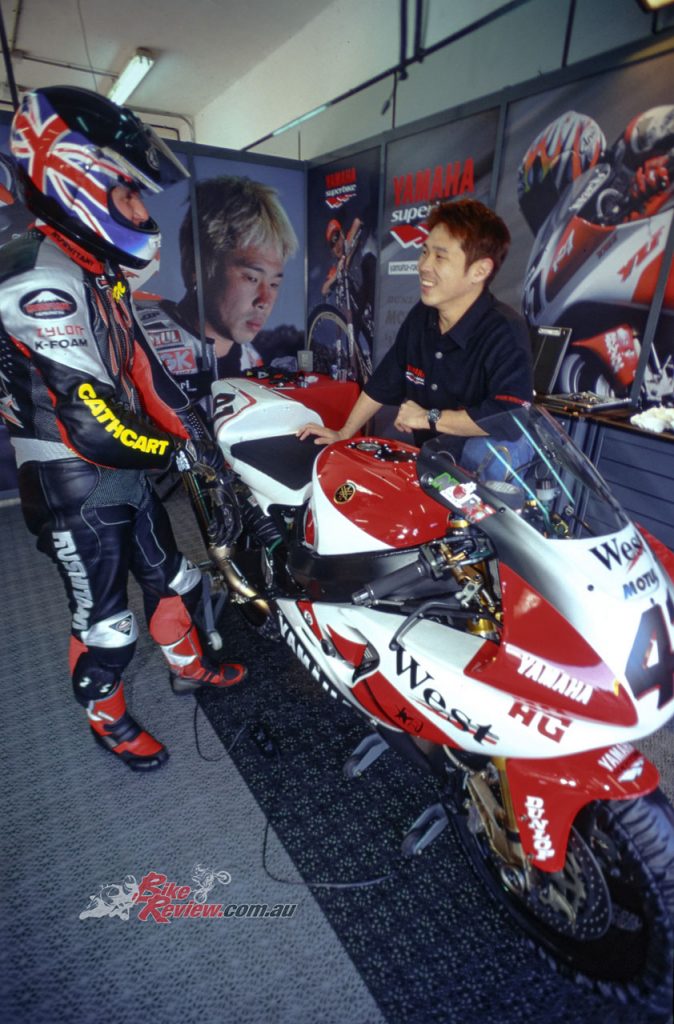 It came thanks to the then 25-year old Yamaha star's all-action, crowd-pleasing riding style, in which nothing less than 100% was ever on display, matched to a warm, fun-loving personality as far out of keeping with the cliché of the inscrutable Oriental as it's possible to be. Imagine their disappointment when he was forbidden by FIM mandate to take to the track before them…
---
Read Alan's test on the Haga YZF-R7 OW-02 Factory Bike here…
---
With paid attendance at the corresponding British 500GP round just a few weeks earlier barely exceeding 15% of the Brands Hatch WSBK crowd, Haga's switch to Grand Prix racing in 2001 as part of the Red Bull Yamaha team was a major coup for then-struggling GP promoters Dorna, together with Yamaha's corporate decision to shut down their WSBK factory race team in favour of focusing completely on developing their OW-M1 four-stroke MotoGP project for the 2002 season, which Nori Haga was being groomed to ride.
---
---
There was some feeling that the protracted appeal process surrounding Nori-chan's controversial race ban for taking a health preparation found to contain Ephedrine, which both Haga himself but most significantly Yamaha had fought all the way down the line, played a part in this decision – but whatever the case, one of the strongest trump cards in rival World Superbike promotor Octagon's hand had been wrested from them, after a thrilling season in which Haga and Yamaha – and Dunlop – were in constant contention for the World SBK title, right up until the final round in which he was eventually prevented from taking part.
As the man around whose spectacular riding skills Yamaha's engineers had moulded development of the YZF-R7 OW-02 from the very start, who better than Nori-chan himself to check out the report card for me of the short-lived fuel-injected 20-valve slant-four which so nearly took him to the Y2K World Superbike title that he'd been chasing for the previous three years.
How much better a bike was it in 2000 than the year before – and drugs ban aside, what was the missing link between taking the World title and finishing second to his former teammate Colin Edwards (the two combined to win the 1996 Suzuka 8-Hours for Yamaha)?
---
"The biggest change this year was the tyres," said an uncharacteristically reflective Haga, as we relaxed with a coffee in the Jerez pits after my first session riding his bike. "I think these made the most difference this season, even though Yamaha engineers of course worked very hard to develop the hike successfully. Dunlop tyres suit my style so much, so I have extra confidence with them this year, which it was hard to have with Michelin in '99. My cornering style gives much pleasure to race fans, I know – but this is my natural way of riding, not made specially to please crowd, so I must have forgiving tyres which I can trust. For this reason, many times I don't use qualifying tyre for Superpole, only race tyre because qualifier grips more and slides less, so I can make faster time more easily."
---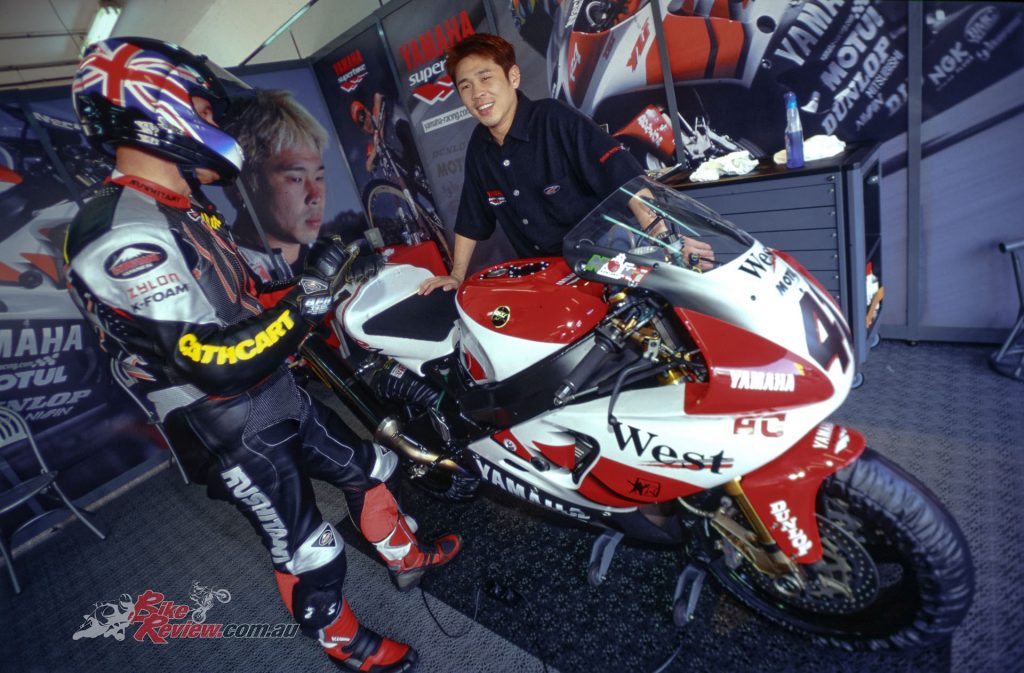 OK, your majesty – let's have a lesson from the Sultan of Slide about how to back your bike into a turn with the wheels a foot or more out of line, while simultaneously dialling up the kind of horsepower most streetbike riders can only dream of. How do we all become neo-Nori's?
---
"At entry of corner, I release front brake quite early, while throttle is closed – now I'm only using near brake and engine braking, so anti-lock slipper clutch is very important for me. This allows me to steer into corner with rear wheel, so then in middle corner I use a little front brake, and release foot brake completely. I try every time to get throttle open very early, which sometimes gives traction problem if tyre choice is not perfect – I try to lift bike up early to get maximum grip. When OK, then I get very early strong drive out of turn – my aim is always to be on throttle soonest, before other riders I am racing with. That's why I use very light steering damper setting – so in case wheel slides, I can correct steering at once, without closing throttle. Then, go to front – and win!"
---
"At entry of corner, I release front brake quite early, while throttle is closed – now I'm only using near brake and engine braking, so anti-lock slipper clutch is very important for me. This allows me to steer into corner with rear wheel, so then in middle corner I use a little front brake, and release foot brake completely".
---
Well, that sounds simple – till you try to put it into practice! Presumably, though, this explains why Yamaha developed the R7 to give a wide spread of power, but also why despite that, the gear ratios on the Haga bike I'd just been riding were so closed up, as if it were more peaky than it really is. But there was no shift light on the Haga R7; so did Nori-chan never use one?
---
"Never! I don't like this – I only change by feel," said Haga. "l don't watch tachometer, but instead I listen to engine note, and this tells me when to change gear – also rev-limiter, too, of course! But my big request to Yamaha engineers is always to make engine response strong, so revs come very fast. I like linear power curve, with big over-rev – but most important ls fast pickup out of turn, when I get throttle open before other riders!"
---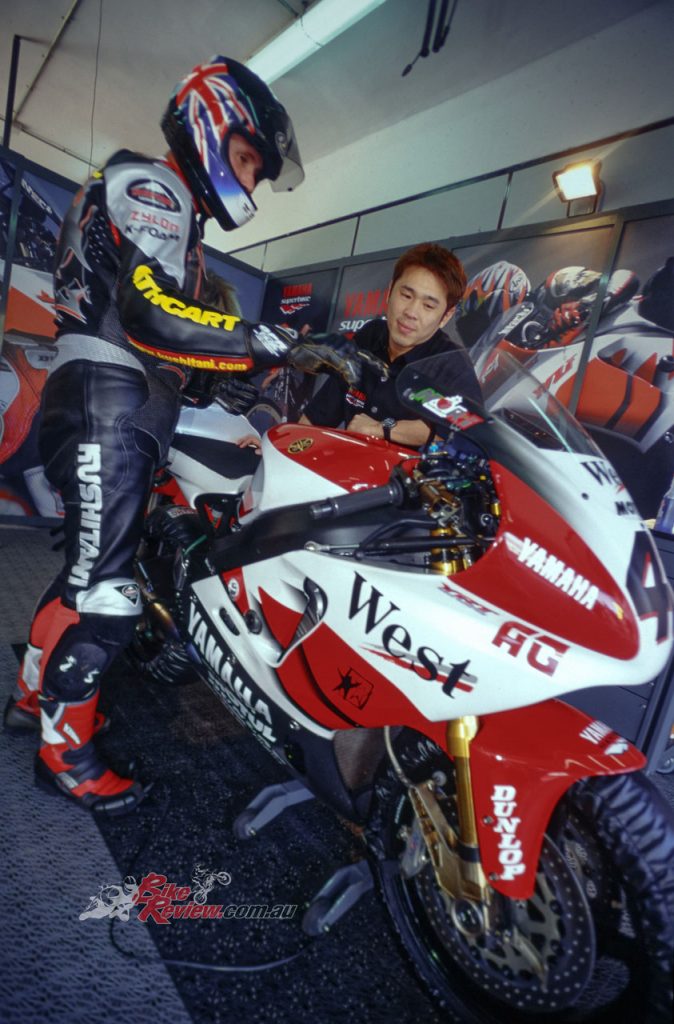 But the Nori Haga R7's chassis geometry was quite unusual, too: what were his objectives in setting the bike up?
---
"Most Japanese riders like balanced bike with low rear end – but I prefer high rear ride height and lower front, because then steering is easier in turns, and faster. Also, because I use strong rear brake, I don't want bike to squat so much at near, so I must keep suspension working, which means higher ride height. Same at front – I like fork settings quite supple, because suspension must work hard when l lean over. Damping setting is very important, so I take many laps to choose correctly in practice at each race."
---
---
How about the R7 engine – did Yamaha make many changes for 2000, with the new Keihin injection hardware and Mitsubishi engine management system?
---
"This season, we had stronger power delivery which sometimes was lacking before – now I can use many revs without losing drive. But I think on every circuit second and third gear performance is most important on this kind of bike, and now this is better than before. But biggest advantage of this year Keihin injection is smoother throttle response – sometimes with old Miikuni system, if injection mapping is not correct, we get very jerky pickup from closed throttle, which I don't like. I must control gas, not bike. Now – better."
---
Good enough to win the World Superbike title with in 2001, if he'd stayed racing four-strokes for another year?
---
"I think I have good chance. That's why I wanted to remain one more season in Superbike racing, but Yamaha convince me to change to 500GP. We discuss for next year, and they say I must learn new circuits and different riders to race against, to prepare for four-stroke GP in 2002. From 16 circuits in GP, I don't know ten of them. So, we decide I must change to GP now – but I admit I am much confused, and maybe very sorry I must leave Superbike racing, at least for now. I wish it's possible to continue using Dunlop tyres, but they say they cannot enter 500GP, so finally I must learn again to use Michelins. It's a pity."
---
So 2001 would see Nori-chan back on the R7 he helped Yamaha craft so closely for him just one more time, in the Suzuka 8-Hours. Was he looking forward to that?
---
"Yes, I like riding Superbike, and I like Suzuka 8-Hours very much, even though it is so hard physically – two weeks after the race, my hands are still vibrating [as in, tingling! – AC]. I like this format, of four World Superbike races one following another, with just one hour rest between each one – although this year it was very hard to come to Brands Hatch first time only one week later, and try to win the World Superbike title there. I was still very tired!"
---
How about life off the track: was the fun-loving Sultan of SIide likely to miss the more relaxed, family atmosphere of the World Superbike paddock, compared to the stiffer, more structured business park that is the GP paddock?
---
"I think so. I like World Superbike racing so much, because on race track competition is so close, and VERY hard – but in evening after race, we are all friends, even in different teams. This is human way – but I don't like Grand Prix paddock style, so I have many missions to accomplish next season. First is to win races, second is to make sure Red Bull hospitality catering serves curry food, which I like so much – and third ls to make GP paddock change to become like Superbike! These are my ambitions – I hope I can achieve them in 2001!"
---
Sadly, it was not to be – well, except for the curry…
---
---