Review: 2017 Husqvarna TE 250 and TE 300
Here is our full Husqvarna TE 250 and TE 300 2017 model review... Test: Jeff Ware Photography: Husqvarna
We recently headed to Lithgow, NSW, to test the 2017 Husqvarna Enduro Range. We rode the TE 250 and TE 300, plus the FE 250, 350 and 450. We will be posting the tests on the two-strokes first, followed by the four-stroke range. Here is our 2017 Husqvarna TE 250 and TE 300 review.
As much as four-strokes are dominating the globe as they get lighter, more powerful, less expensive and incredibly reliable, I still have a soft spot for two-stroke engines. In fact, I own no fewer than five two-stroke bikes and just love the two-cycle principle and the outrageous power that can be drawn from a small capacity stroker. I grew up on 1980s and early 1990s two-strokes and if you told me then that they would still be around now I would have been skeptical. If you told me they would be as smooth and vibe-free as a four-stroke, with linear power delivery and electric start I'd have laughed.
Riding the 2017 TE 250 and 300 blew my mind. Firstly because the two-strokes I am used to are 90kg, 100-plus horsepower snappy, angry, terrifying road racing bikes or my old 1999 RMX250. Secondly, I just could not believe how nice and easy and vibe-free the TE models were to ride when I sampled them at the Australian media launch, held in Lithgow, NSW. I rode the 300 first followed by the 250. I then rode both bikes two more times each.
Walking around the TE and eyeing off the changes outlined at the previous day's technical presentation, I could not help but feel that this bike has to be one of the most cutting-edge two-strokes I've laid eyes on. The stamped and robot welded high polish expansion chamber, compact engine with immaculate casting and machining work, sleek, slim new bodywork, stunning anodised triple-clamps, Brembo brakes, redesigned seat and top-end WP suspension all make me drool.
With a bit of choke and a press of the start button the 300 fires into life and I hop on and familiarise myself with the 2017 Husqvarna enduro range ergonomics, shared across the fleet. Once the 72 x 72mm 293.2cc two-stroke warms up it is time to get off. Disengaging the DDS clutch via the Megura hydraulic actuation proves a light and smooth feel with engagement just 10mm off the grip. It's a freezing cold morning and there is no expectation that the bikes are going to be jetted perfectly but as we cover a short transport section to reach our loop for the day I clear the 300s throat and it feels OK. Strong, linear and amazingly vibe-free. The gearbox is slick in shift.

After a briefing and a drink it is time to start riding. The plan is to do laps of a loop that has been cut-in the previous day by Noel the 'Axe Man' and the Husqvarna rider and staff. It is around a 7km loop of a mix of grass track, sand, mud, single track up and down a few hills and plenty of variety to test both the two-strokes and four-strokes. I jump on the 300 and head off.
I chose the 300 first as I wanted that bottom end torque and punch over the 250 while I get the feel of riding off road again as it has been a while. That way, I figured, I could be a bit lazier with my gears and as I would be carrying bugger-all corner speed, the 300 punch will compensate for my lack of run!
I immediately feel really comfortable on the TE 300. I'm short-shifting as we are taken on a sighting lap and the smoothness of the engine along with the impressive bottom and mid-range for a two-stroke are really giving me a tractable bike to ride. The gearbox is slick and positive in shift and the fuelling is not too bad at all. As we get the signal to go and have some fun, I step things up but only by 10 per cent. I'm no enduro legend, that's for sure, but I really enjoy trail riding and in two-stroke terms the TE 300 is the Rolls Royce. I continue with my smooth throttle hand, short shifting and not getting too aggressive and the bike responds accordingly, giving me a really confidence-inspiring and fun ride. Don't get me wrong though, it is no pussycat and as soon as I get a little angrier with the bike it becomes a serious weapon and considering there is a balance shaft for the crank to drive it is incredible how snappy the power is! I'm sure it has made the delivery more linear as well as of course smoothing out the vibes but this 300 engine is still an angry beast that wants to dig trenches, fight for drive and paw the front D.I.D wheel skyward any time it can. It is like a playful lightweight two-stroke fun engine with an angry side. As I got a bit more tired on my 300 test I found myself caught out by the engine's sheer power in the upper mid range and I did find it too snappy for me at that point but that is just my riding level and experience at the moment. Once I stopped trying to ride the bike fast, and tried to slow things down a bit, it all came together and the bike took me along but it sure as hell has plenty left in the tank for firing out of corners, up hills, over logs or whatever you need. You could never run out of power on the 300. It's an awesome engine. Definitely an engine for the experienced to expert level rider but also one that a less experienced enduro rider with some level of self control could also find extremely rewarding. Me? I have very little self control so kept getting myself off track on the addictive 300 engine.
The really slow speed tight single-track section was so easy on the TE 300, which has wide enough lower ratios to be able to hold a gear and still have that snap to get through and to get over logs. I ventured off it a few times to find some other play areas and standing up, idling around, the 300 engine always had instant power on hand and the clutch operation was smooth and easy as well as light in action. In the more open sections the TE 300 is seriously rapid and although I could find traction from the Metzeler 6 Days rear tyre it only took a small mistake or distraction to find myself and the bike instantly sideways and heading bush! As I learned to roll the throttle on with a bit more finesse and let everything settle down and the bike balance I was rewarded with a machine more willing to remain on line, at least at my pace. The even more open but short grassy sections were top fun on the TE 300, where the two-stroke could stretch its legs and wind out on some of the taller gears. It really is an impressive motor.
In terms of chassis performance, the TE 300 excelled. Although the range share the same fundamental chassis, set-up varied from bike to bike on the day and the effect of crank inertia and engine character and weight all have an enormous impact on the overall handling of each bike in the range.
The 300 I rode was firm yet really compliant and as mentioned, confidence-inspiring, which was particularly good for me as I was building confidence throughout the day, having had a long stint off the trails. The ergonomics of the bike suited not only me at 185cm and 90-plus kilo's, but also felt good over a wide range of riding, whether that is low speed tight single track or more open, undulating grass track areas, sand, mud, and so forth. I found the 'peg to seat to 'bar reach comfortable although possibly would like the 'bars a little higher for me. The slim roomy layout of the tank and grippy seat are fantastic for all situations and generally I had a feeling of control on the bike aside from in the downhill switchback muddy area of the loop, where I just felt I had no confidence in the front tyre/front-end to really try and attack the corners. In the hard, rutted open grassy corners I folded the front and crashed there a few times. Both of these situations were in hard braking areas also and carrying lean angle into the turns and were rider related not bike related mostly. As my pace increases and technique improves things might change so I will reserve my comments until then. I need to stop trying to get my knee down being a road racer! Out the back I had good feel and confidence in the rear and it was all up to me and my whisky hand on the throttle as to how well that rear Metzeler hooked up.
Suspension at both ends is high spec and at 90-plus kilo's on the day all the bikes were on the soft side for me, however, the fabulous geometry of the bike meant it still handled well, there were just some situations where the suspension at both ends lacked control due to my weight and lack of skill in keeping the bike balanced on and off the brakes and throttle! Plenty of adjustment there and watching the guns ride the bike I could see plainly just how much traction there is and how good the suspension is.
Final gearing felt on the tall side but again I would need to up my pace to really comment. But if it was my bike I would lower the gearing a few teeth on the rear initially by adding a few teeth rather than a full tooth on the front (three on the rear). The exhaust note is pretty quiet, which is fine by me, and the throttle is smooth when transitioning from closed to open, with no initial snatch, making the ride even smoother.
The brake package on the TE is impressive, with good feel and modulation at the lever but I would have liked more initial bite at the front and more rear lever travel before activation on the rear but that is a personal preference and not a reflection of the fantastic quality of the brake package.
So how does the TE 250 compare to the 300? Well not what I expected. I assumed that it was going to be too peaky and aggressive for me to ride properly on the loop and I was so wrong. Yes, of course it is typical 250 two-stroke and needs to be ridden accordingly but it is such a controllable bike that it makes light work of the trails, at least for me. So despite the fact I was riding faster on the 250 than I was on the 300 to keep it on song, and I know I was hitting bumps harder and cornering harder, even braking harder on the 250, I was less tired and having more fun. The TE 250 was more playful and less likely to bite me on the arse so therefore my confidence was a lot higher and I really took control of the bike, rather than the bike control me… My choice on the day got reversed and as an average punter, albeit one with a small capacity two-stroke (road and off road) background, the 250 is the bike for me out of this due.
If you are a competition rider, weekend warrior or a club competitor and you are after a high quality, high-end enduro two-stroke with all the good running gear on it ready to go, get to your Husqvarna dealer and have a chat about the new heavily revised TE 250 and 300 or TX 250 and 300. If you can get a short test ride, try both capacities before you make up your mind. Sometimes smaller is more fun and less intimidating, depending on your speed and experience.
Next we will look at the fabulous FE 250, 350 and 401 (I injured myself before I got to ride the 501). So stay tuned.
TECH TALK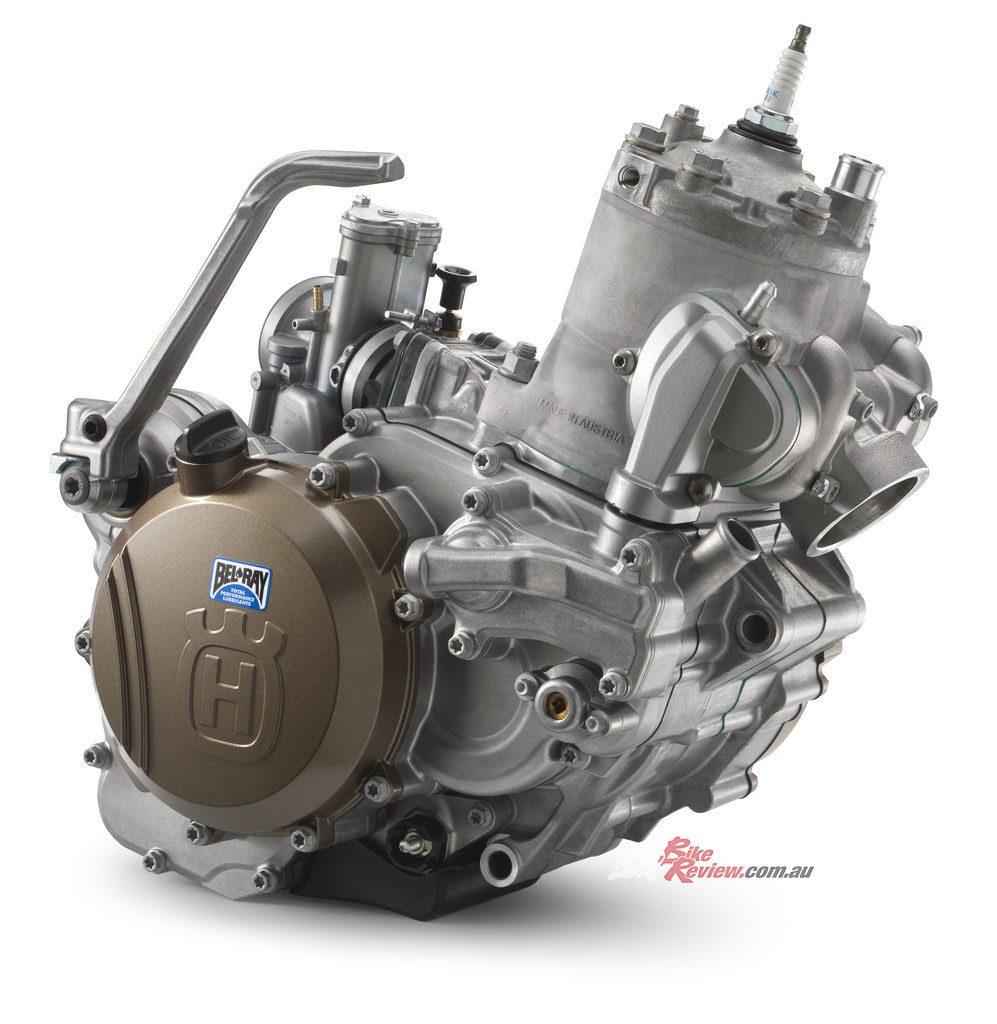 ENGINE
The two-stroke TE 250 and TE 300 models are heavily revised for 2017, with refinements to the already class leading performance. The new engine features an innovative balance shaft that almost completely eliminates vibrations, the most noticeable change to the engine, however, the engine is all-new. The 66.4mm bore cylinder (72mm 300) features a newly developed powervalve system for more linear power delivery through the rev range, and is adjustable via three supplied spring tension levels. the barrel and head incorporate new water jacket design for better cooling and the new cylinder head mounts reduce vibrations. The pistons from 2016 remain. On the intake side a switch from Keihin to Mikuni sees the use of a 38mm TMX carburettor, offering claimed smoother and more controllable power delivery and less sensitivity to jetting changes. The engine cases are redesigned and die-cast. The input shaft is 8mm higher and the crankshaft a whopping 27mm higher to centralise oscillating mass and improve rideability. The outside cases are now more wear resistant to rider's boots and the starter motor has been relocated to below the engine, powered by a light weight Li-Ion battery. The crank is 500grams lighter but retains the 72mm stroke, incorporating a heavier ignition rotor than its motocross sibling.The clutch features a DDS (Damped Diaphragm Steel) system. The clutch uses a single diaphragm spring instead of multiple coil springs. The clutch also features a new, lighter basket and inner hub for better oil supply and cooling and actuation is hydraulic via a Magura master and slave cylinder. The gearbox is a six-speed enduro-specific cluster featuring the same ratios as 2016, however the external shift lever is new and self cleaning. Up the back, the new exhaust system was designed by WP Performance Systems using a three-dimensional stamping process and robot welding.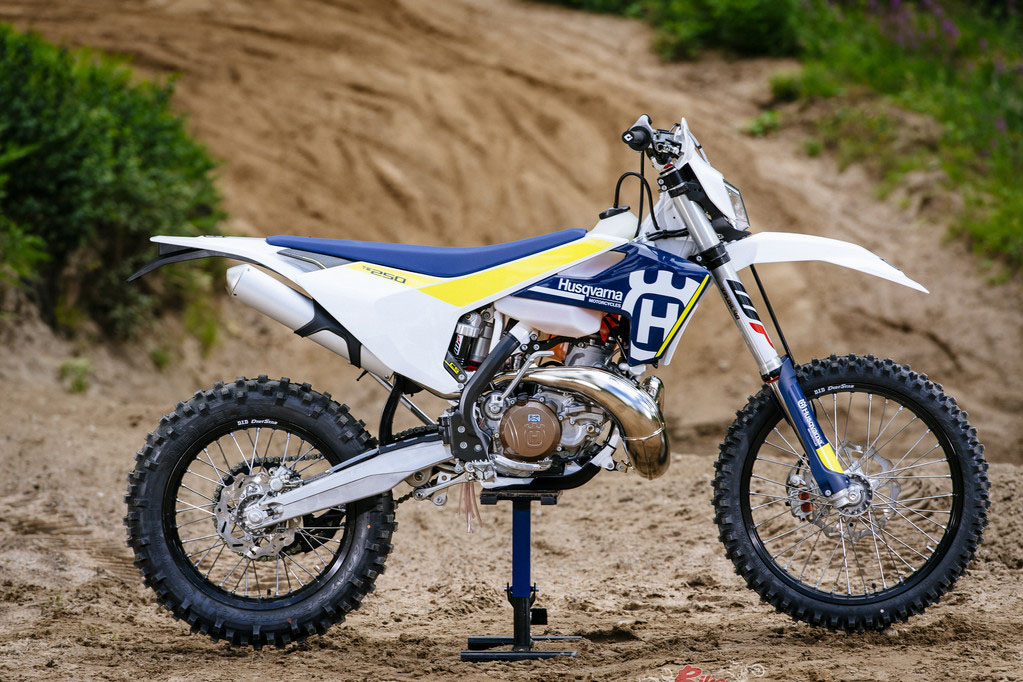 ENDURO RANGE CHASSIS
Following a similar geometry to the 2016 Husqvarna enduro models, the 2017 frames feature a new design and flex characteristics. The 6mm wider and 2mm lower steel tubes offer 20 per cent higher torsional rigidity for improved stability and agility, while longitudinal stiffness is reduced by 30 per cent for better bump absorption and suspension functionality. New laterally mounted head-stays increase handling agility while reducing vibration. As standard the frames are fitted with protectors and a new engine guard. Weight is reduced by 0.6 kg.
The hollow, cast aluminium swingarm is designed to offer optimum stiffness and reliability at the minimum possible weight. Husqvarna engineers have machined the rear axle in order to allow for the chain adjuster markings to be seen from above for easy maintenance.
The black-anodised CNC machined triple-clamps offer an offset of 22mm. They are expertly crafted using superior techniques and materials to provide high levels of quality and reliability. A two-way handlebar adjustment also comes as standard and allows for customised ergonomics.
Developed by WP Performance Systems specifically for enduro riding, the WP Xplor 48 forks are a completely new feature in the MY17 Husqvarna enduros. They feature an open cartridge layout with a spring in each leg and split damping functions. Compression is adjusted from the left side and rebound on the right via easily reachable clickers situated on the top of the tubes. A standard pre-load adjuster allows for easy pre-load adjustment without the use of tools.
The composite sub-frame showcases pioneering technology and innovation. Featuring a three-piece construction, the composite material is made up of 30 per cent carbon-fibre. Featuring carefully calculated rigidity, the sub-frame enhances overall ergonomics. Weighing only 1.4kg, it is 1kg lighter that the previous design.
All models feature a new, lightweight fuel tank made of translucent plastic so the fuel level can be checked quickly and easily. The capacity varies between the 2-strokes (10L) and the four-strokes (8.5L). All fuel tanks feature a quick release fuel cap for quick refueling, while four-stroke models are fitted with an integrated fuel pump and fuel level sensor.
The new WP DCC linkage shock weighs only 3.7kg and is 0.36kg lighter than the previous version. A pressure balancer inside the shock improves damping resulting in greater rider comfort and handling. The corrugated outer contour of the reservoir increases cooling. The component is also fully adjustable and matched to a linkage system with a specific geometry to deliver the best possible traction and bump absorption.
The ODI lock-on grip on the left side does not require gluing, while on the right, the vulcanised grip features an integrated throttle mechanism. The assembly has easy free-play adjustment and, by changing a cam, throttle progression can be altered on all four-strokes.
New bodywork and graphics are featured on the 2017 enduro models. Offering completely new ergonomics, the bodywork enhances control and comfort allowing the rider to perform at their best for longer periods of time. The seat has a low profile design and a new high grip seat cover, which keeps riders planted under hard acceleration or in slippery conditions.
The radiators are by WP Performance Systems using high strength aluminium. CFD (Computational Fluid Dynamics) is utilized to channel air through the radiators more efficiently and provide optimal cooling in all conditions. The cooling system is integrated into the frame increasing heat dissipation by channeling coolant through the frame while eliminating the need for additional hoses. Additionally, the radiator protectors do not only protect against flying debris but also act as a brace divert any energy from an impact around the radiator and into the frame. Cooling fans are fitted on all four-stroke models standard.
The new airbox is designed with precisely positioned inlet ducts aimed at preventing air deformation and ensuring maximum airflow and protection. The airfilter is accessible without tools. Easy maintenance is guaranteed by the Twin Air airfilter and filter cage design that features a simple fail proof mounting system for safe and accurate filter installation.
Featuring an enduro-specific design the new self-cleaning footpeg mounts prevent the build-up of dirt collected in deep ruts or muddy terrain. The footpegs are also positioned 6mm higher than in Husqvarna's motocross models to further increase ground clearance over rocks and deep ruts.
High quality Brembo calipers and controls combined with GSK rotors deliver superior stopping power. The rear brake caliper feature a 24mm piston (26mm on previous models). A 10mm longer rear brake lever provides better modulation and feeling while braking.
The 2017 enduro range features new Metzeler MCE 6 Days Extreme tyres.
SPECIFICATIONS
TE 250 (TE 300)
Price: $12,995 ($14,295) + ORC
Claimed power: N/A
Claimed torque: N/A
Dry weight: 102.2kg (102.4)
Fuel capacity: 10L
Engine: Single-cylinder liquid-cooled two-stroke with balance shaft, 38mm TMX Mikuni carburettor, exhaust powervalve, electric start
Gearbox: Six-speed
Clutch: Wet multi-plate DDS, hydraulic actuation
Frame:Central double-cradle, carbon-fibre reinforced sub-frame
Rake: 63.5°, Offset: 22mm
Suspension: WP Xplor 48mm forks, 300mm travel, WP monoshock, 330mm travel, both fully adjustable
Brakes: 260mm/220mm rotors, Brembo calipers and master-cylinder
Wheels & Tyres: D.I.D 1.60 x 21in, 2.15 x 18in, Metzeler 6 Days 90/90-21, 140/80-18
Dimensions:
Wheelbase: 1495-2005mm
Seat height: 960mm
Ground clearance: 370mm

The Verdict | Review: 2017 Husqvarna TE 250 and TE 300
Awesome machines ready to race or recreation ride…