I've been wearing these jeans on most rides since February, while the Shenstone jacket has been my go-to on the warmer days. Here are my thoughts... Review: Jeff Ware
I've just recently put my Merlin Shenstone Air jacket in my gear wardrobe for Winter. I doubt the weather will get warm enough to use it again until Spring but you never know. I've been using it and these RouteONE jeans since February. Here are my thoughts on the gear…
I would estimate that I have spent at least 8000km in the gear so far, as I have been testing non-stop this year. The only times I haven't worn it is with sportsbike testing, nakedbikes or track work and of course during the heavy record flood period when it pissed with rain for weeks!
---
---
MERLIN SHENSTONE JACKET

The Merlin Shenstone WP Air, and all Merlin products, comes with a 12-month guarantee against any defects other than normal wear and tear, so it is nice to know that when I drag the jacket back out in around September, it will still be covered under warranty right through summer, not that I expect anything to go wrong with it as it seems very sturdy and strong. I certainly haven't noticed any wear and tear yet.
Some of the technology in the jacket is impressive with Cotec CE AA rated fabric technology, which is lightweight yet protective. It has a D30 Viper back protector fitted, a trouser connect zipper and a detachable Reissa Active waterproof liner, however, it's not the kind of jacket you want to push it too hard in. Like all lightweight ventilated riding gear, you would not want to come off too heavily in it.
I used the Merlin Shenstone for my general testing riding, like commuting style trips, country cruises, photoshoots, swapping and returning bikes (generally a 200km trip from my place on the Coast) and when I needed to be comfy all day off the bike as well. However, when I know I'm going to be riding more on the edge, I always wear a leather jacket and if I'm on a nakedbike or sportsbike, a full suit.
---
---
The Shenstone is, according to Heather, anyway, a smart and stylish jacket. I would not know, being a bit of a dag, but I do think it suits the style of some Harley's, Royal Enfield's and some of the Triumph's etc. I enjoyed wearing it, I must admit, it made me feel a bit like one of these trendy hipsters, or at least one of their cool Dad's…
The Shenstone isn't a perfect fitting jacket, but, it isn't uncomfortable at all, it is just not quite right for your average 187cm, 95kg Aussie. The XL jacket, my usual size, is tight on my shoulders (but has loosened up), while the arms are about 2cm too long so need to be folded into the glove cuffs (which is odd, as I have very long arms), and there is an excess of loose material around the belly and chest. The waist is OK though, so strange, and I used the adjustment straps on the arms and waist to get the fit right. The neck is comfy. So overall, there is ample room for that beer gut you grow in winter, or for the ladies that get pregnant!
---
---
On the hotter days, the jacket is great. The front of the jacket is heavily meshed so allows airflow onto you, but it is often hot wind here anyway on the super hot days. The back of the jacket is all mesh, when you hold it up to the light you can see through it, so as you can imagine there is a lot of ventilation and this helps your core body temperature stay reasonably low.
A backpack or a pillion does limit this effect but generally, a really good warm to mild weather option. It would still be hot on our hotter 40º-plus days even with the front mesh but for the three months I used it, it was virtually spot on and when things cooled in the arvo I would just pop the waterproof liner on rather than in, without clipping it in or anything. I'd easily store this in my usual small backpack.
The pockets are handy, four on the front of the jacket and a couple in the inside, one that fits an iPhone. The neck collar is soft and comfy with a secure press stud and in terms of waterproofing, obviously the jacket is not at all but the many times I got caught in the rain, I managed to get the liner on or I already had it on and I stayed dry in all but the heaviest rain, where it creeps in on the open highway eventually. With the mesh jackets, you really can get cold quickly when it rains and you have high speed wind on you – particularly on an upright bike, but generally it did the trick and dries fast enough being so ventilated.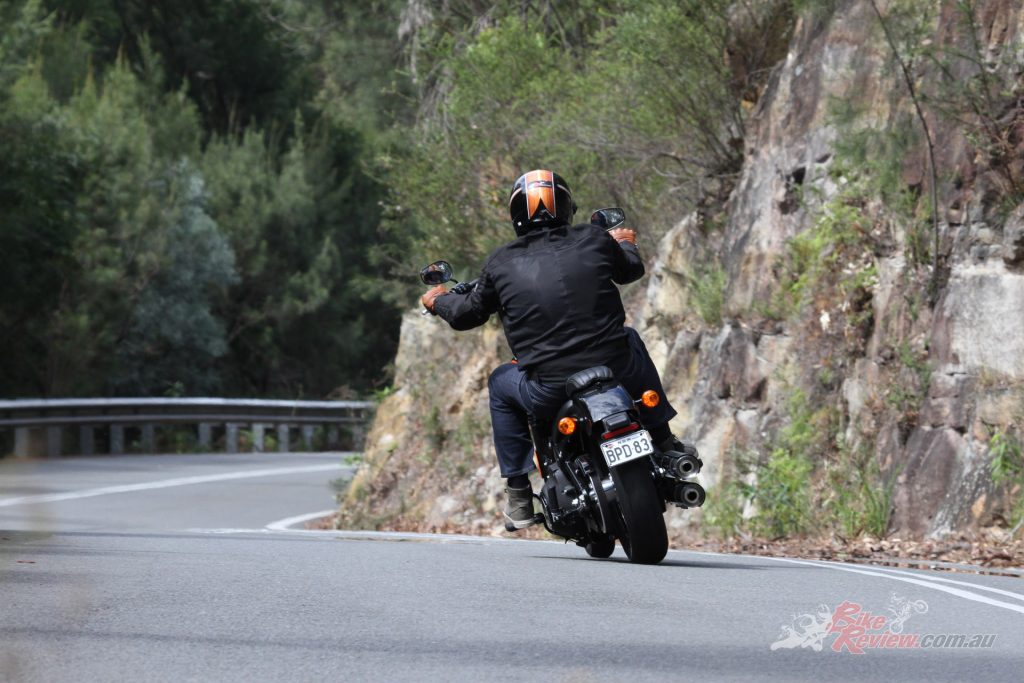 Overall the Merlin Shenstone WP Air jacket is a great autumn and summer option for those that ride cruisers, retro themed nakedbikes and are looking for a durable, daily rider jacket for the not too fast or serious rides, where comfort is preferable and the safety options of the CE armour is enough to keep to happy enough. I will use this again in Spring and Summer and give you an update after that. At $329.95 it is not a cheap jacket but the quality and style is there, along with the protection, and I already feel after one season that I've got that value out of the jacket, with many years left in it. Merlin just need to improve the fit, as this is where the overall score has been bumped back, so make sure you try the jacket on in multiple sizes, sitting on a bike too, so you are happy with your jacket.
Overall Rating, 7.5/10
RouteONE Hardy Cordura Denim Jean, by Merlin

These jeans are stretch skinny fit daily use jean that are a full-on motorcycle jean. I have been wearing them a lot since I got them in February and they have been through countless wash cycles as well, at least three times to four times per week in the past three months, and they are showing zero signs of wear or fade at all. They usually get dried in the clothes dryer, yet still no shrinking or excess wear. In terms of quality, they are definitely well made and strong.
The jeans feature Cordura denim, which is made from nylon 6,6 fibre for enhanced strength, the same as a lot of military clothing is made from. It is supposed to be more comfy than denim (I can vouch for that), while being four times more abrasion resistant (thankfully I didn't test that one out). The inner liner is this stuff called Coolmax, which wicks sweat away and keeps you cool and dry. It seems to work well, while the protective lining is made from 220gsm, 100 per cent Dupont Kevlar fibre twill and there is an extra mesh lining. There is also a YKK jacket to jean zip that Velcro's on, but I haven't used it.
---
---
Aside from that, they are just normal jeans with the usual pockets. You can feel the thicker protection around the knees and the knee armour can be removed when you want it out, which for me is all of the time. I found I could not fit in the jeans as comfortably as I wish with the armour in there, but I have bad knees that swell as soon as there is pressure on them, so it was just too tight, even though I have skinny legs. I'm OK with that, as I am happy enough with the remaining extra protection but if you really want the armour, you will most likely need a size up. The mesh that holds the armour is then loose, so you have to be extra careful not to rip it out by getting your foot caught in it when you put the jeans on, which would wreck your nice jeans!
I'm size 36 to 38 in jeans and I opted for size 38 Regular. The fit isn't ideal, they are a little on the short side, even if they were not bike jeans they would be. Most bike jeans I have are extra long in the leg to cover ankles and boots, but this seems to be overlooked on the RouteONE jeans. I would have gone for 38 Long if I had the chance to try these on. The other fitment issue is that they are low at the back, opposite to most bike jeans. This mean't shirts come untucked and skin is exposed, so it is a matter of constantly tightening the belt to avoid plumber's crack!
---
---
Overall, I found that I was more comfy using these as mainly a day to day jean that I was happy to use for shorter rides, but they seem more of a normal jean than a bike specific design in terms of fitment. The RouteONE Hardy retail for $269.95 RRP, which is a lot of coin for a pair of jeans but only about double the price of a pair of Levi's and you get a lot of technology, they are even water resistant. Just make sure you try them on, as the fit is odd. Nick Ware had to swap his over and so did Simon Harris, both going up a size, so I probably should have gone for size 40 but I have to test them for what they are and I am usually a size 38… A great product with potential but they need to work on fitment, not a deal breaker at all, just make sure you try them on until you find the right fit and you will be happy with the product.
Overall Rating, 7/10