Nick has been decked out in some new Winter kit from Cassons, to see him through the rest of the season and into spring. Here's a preview, full reviews on the way... Words & Pics: Nick Ware
The legends over at Cassons have hooked me up with some awesome new winter gear for the cold morning commutes. In for review is the new RJAYS Radar jacket, RJAYS Twist & Booster gloves, RJAYS Ace II boots, Bull-It's tactical jeans and Arai Profile-V.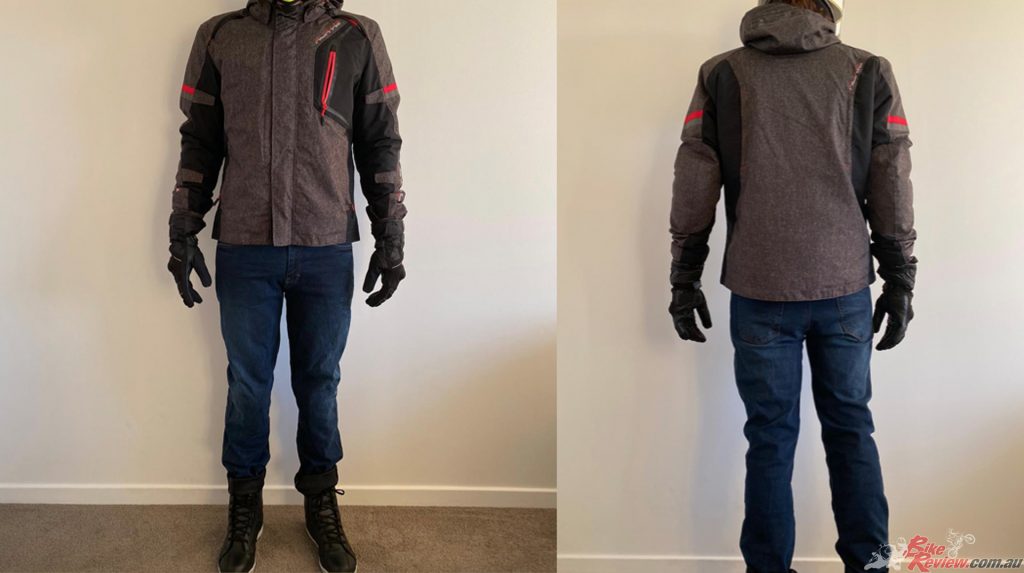 ARAI PROFILE V
This is the nicest piece of kit I've had the pleasure of owning, so to start with… I'm stoked. The Profile-V comes in at $749.95RRP so you'd hope it lives up to the name and dollar value. Out of the box it feels great, well put together, typical Arai, solid and a nice matte finish means it shouldn't slip out of my hands like the rest (hopefully). Its got dual intake vents, brow vents and chin vents.
---
---
Plus, its got rear exhausts for a solid amount of ventilation. It's got the F-1 inspired latch system which seems a bit tricky if you're just looking to pop the visor up at the traffic lights… But we'll see hey? The visor is pin-lock ready (a must have for my cold morning commutes) and it has the capacity for Arai's optional Pro Shade System (PSS).
---
---
RJAYS BOOSTER MENS WINTER GLOVES
The Booster gloves are available from XS-XXXL and retail for $89.95RRP. They're completely waterproof for those cold rainy days, featuring A-grade leather and a polyester 'Thinsulate' lining. The palms are fitted with 100 per cent Kevlar and Superfabric abrasion pads for maximum protection. The backs are decked out with silver reflective strips and secured with a double velcro cuff. These gloves are super comfortable and incredibly warm so far.
---
---
RJAYS TWIST GLOVES
The Twists are available in three colour schemes: Black/red, black/grey and black/HiVis. All are made from SM-2XL retailing at $69.95RRP. The gloves are super lightweight and very comfortable. The Microfibre, Lycra and Spandex means there is no loss in dexterity at all.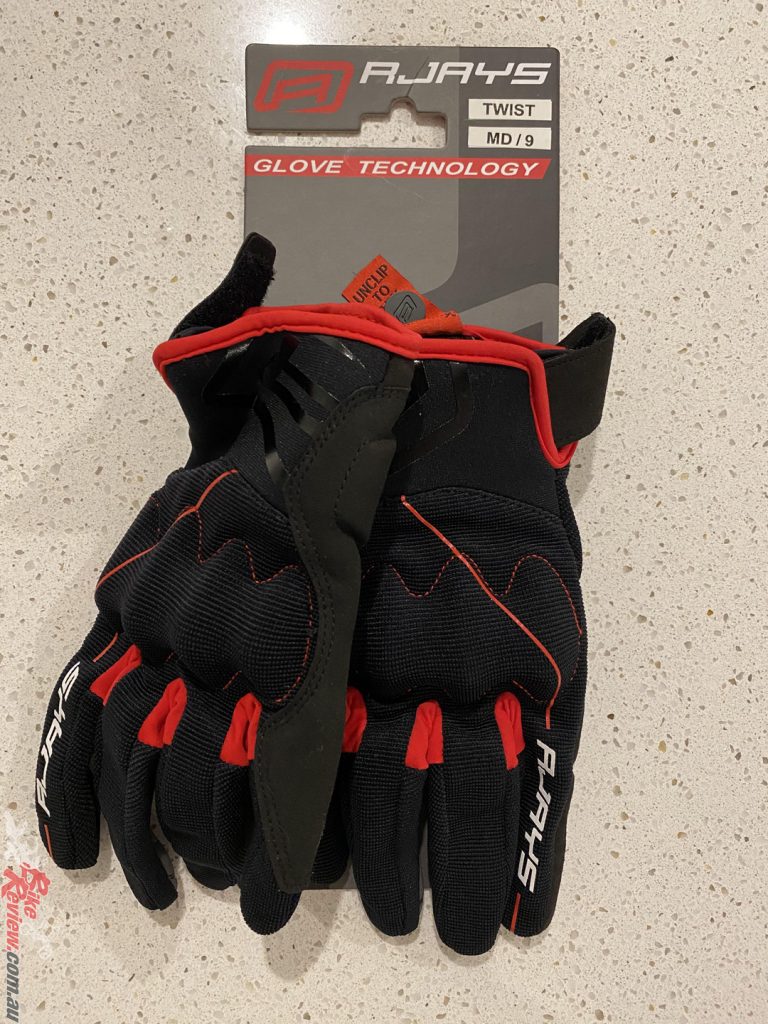 The knuckles are protected with VISCOLAB CE impact protection while the palms are double layered with padding. The wrist cuffs are layered with neoprene for comfort while the finger tips are smart phone compatible, meaning they don't have to come off every time you whip out the phone! These will definitely be the daily choice into Spring.
---
---
BULL-IT TACTICAL JEANS
The latest from COVEC denim and BULL-IT means you've got cut, tear, abrasion and heat resistance all in a single layer, casual and comfortable pair of jeans. They're a traditional, straight cut, 5-pocket with 75km/h road abrasion resistance. Theres a genuine YKK front locking zipper and knee and hip protectors that are removable and replaceable. Again, these look like a daily choice to me…
---
RJAYS RADAR JACKET
The Radar jacket looks sleek! RJAYS offer it from SM-XXXXL and retail it at $299.95RRP. The outer shell consists of a OXLAN 500D and 600D liner, both waterproof and breathable! The shoulders are protected with CE armour as well as a EVA rubber back pad insert.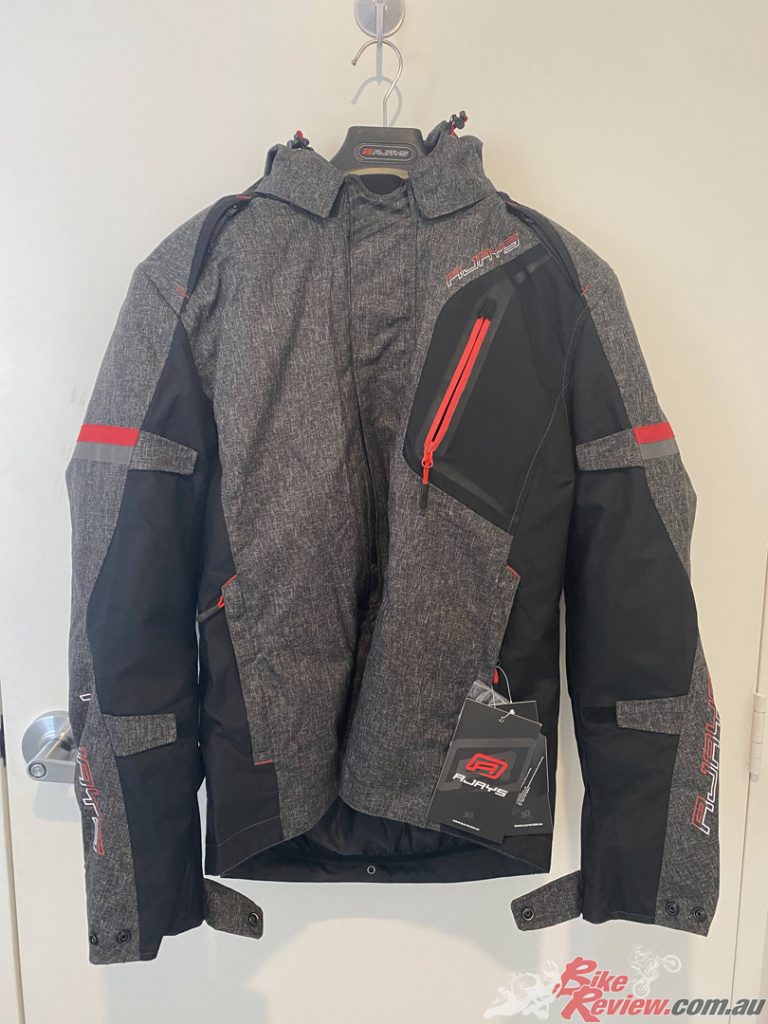 Inside there's a removable 100g thermal layer. I've tried this once already on a freezing cold morning and it's damn warm! The hood is completely removable as is the internal thermal layer (which can be worn on its own, showcasing the tidy leather RJAYS logo). Theres plenty of internal and external pockets for any and all electronics. The waist also features a zipper for connecting matching pants.
---
RJAYS ACE II BOOTS
The ACE II boots feature a genuine leather upper lining with a comfort mesh interior. Price wise, they retail at $169.95RRP and are wicked for the price! Inside is a Korean Hipora waterproof, yet fully breathable lining for all weather. While the toe and heel are protected by Italian Techno GI technology.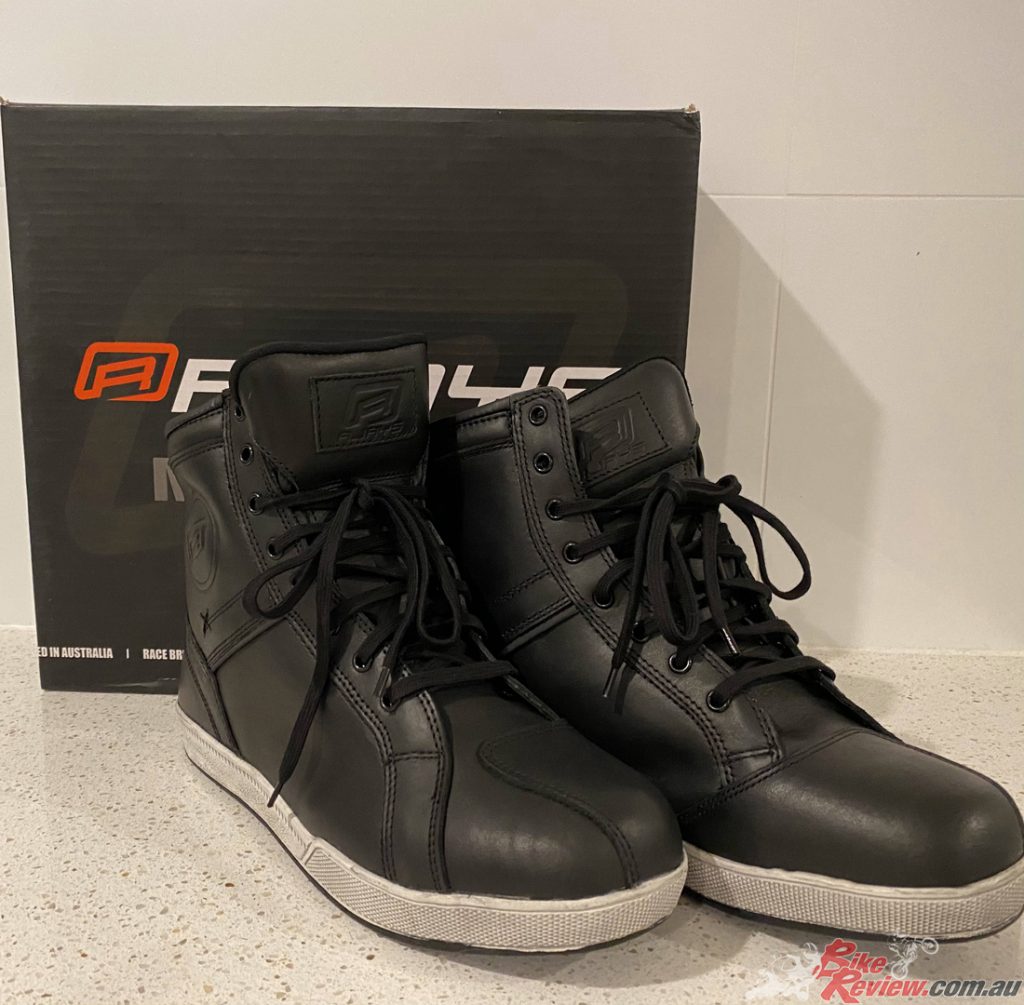 The ankles are surrounded by 4mm of moulded EVA foam with an outer lining of reflective material for low light visibility. The soles feature a gear leaver pad for durability and grip while maintaining that casual, sleek look. These will be a daily set for sure!

---