The Harley-Davidson Softail Slim is the pre-war bobber styled solo ride of the Softail range, powered by the M8 107. Here's our Softail Slim review... Pics: HMC Photography
Over the past year or so I've been working my way through the current Softail range, with the Low Rider S, Breakout 114, Softail Standard and Street Bob 114 all sitting at the high on my cruiser grin factor list. The Slim is the Bobber of the range and a real blast…
Something that has surprised me about the range is just how individual each model is, considering they are built on the same platform, many with the same engine and even with common primary and secondary gearing in some cases. The various exhaust designs and rolling wheel/tyre diameters add a difference to each model sharing engine capacity, while the suspension set-up and steering geometry, combined with rider triangle, really changes the handling characteristics of all models.
---
---
Each model in the Softail range has plenty of strengths and very few weaknesses, and with years of development under the wheels, all of the current models are highly evolved and refined. The Softail Slim is no exception. In fact, after spending a fortnight living with the Slim, I reckon it's the smoothest and easiest ride of the Softail range, the Standard a close second.
You can read the tech breakout below to find out all of the nuts and bolts stuff about this post-war Custom Bobber styled machine, but in short, it's 107 M8 powered, has the cut-back guards and hugger, small forward positioned footboards, dragster-style pipes, narrow rear end, Hollywood handlebars and Beer Can fork covers, with fat 16in blacked out wheels, minimal chrome and a solo seat.
---
---
On paper the Slim is a bike that I personally find appealing. It has fun geometry by cruiser standards, decent performance from the 107 M8, good quality suspension, no maps or ride modes and has a good fuel range for a bike this style, with 18.9L on hand from the large, stylish tank, enabling a potential of over 300km riding between fuel fills, much more than some non-touring Harley's in the range.
---
Harley-Davidson Softail Slim Accessories, click here…
---
Don't let the weight of the bike, 304kg ready to rock and roll, put you off, even if you are new to cruisers or recently got your full licence. The Softail Slim carries it's weight long and low and you won't find the weight at all intimidating when moving the bike around, parking it or riding at low speed.
---
---
That accessible seat height, the wide handlebars and low centre of gravity make life easy. And I was seriously happy about that as I am still recovering from knee injuries and surgeries, and this year I've been averaging 5000km-plus per month testing, so heavy bikes are inflaming old wounds. Not the Slim.
---
I was only able to do about 200km in the first week I had the Slim, but in seat time it was quite a few hours, as I used the bike for running around town during a busy week for BikeReview. It was my daily go-to machine and what I found by the end of the week and dozens of 5 – 10km round trips, is just how practical the Slim can be. You would not think that of a Bobber, but, if you only had this as transport, you would be mightily happy and still have a bike for the long rides on your days off.
The second week I was able to take the friendship to the next level with a week of big rides and decent miles under the 16in Dunlops. Out of the town, going a lot faster, which is what it's all about, the Slim is equally as capable and engaging. The SHOWA Dual Bending 49mm forks are really well damped and sprung for a broad variety of conditions and situations. Even if they were adjustable, I'd probably do little more than add a bit of preload.
---
---
The forks support the bike well under braking, which is never going to be forceful given the brakes (more on that later), and offer a progressive action through the stroke. The compression damping rates are great, no sudden bone jarring hits over the high speed bumps and control over the low speed (rate not km/h) stuff….
---
---
There is good feel from the front Dunlop, and I had plenty of confidence in the front-end but not as much edge grip as on other Softail models, with a few little moments at full lean but they were predictable and I'm talking purposely pushing for testing anyway.
Nothing unusual to complain about at the back, the normal 86mm of travel for a low Softail model is always going to be a compromise over the bumpier roads and the Slim in not immune to some tailbone jarring hits, which can get uncomfortable given the tiny seat and the way the back of it digs into your tailbone if your legs, like mine, prevent you sitting forward enough to actually get in the saddle section.
---
The rear suspension action is well tuned for a variety of conditions and only limited by that travel, so on smooth roads it is particularly good, and combined with the narrow 150-section rear hoop, the back-end of the Slim really helps make the bike fun and flickable through the twisties. I didn't adjust the shock, but I should have gone up a step in preload. It was one of those things I didn't mind putting up with so never got to it. The big tyres offer some extra cushioning against road irregularities also, which helps give the Slim a fairly smooth and comfy ride for the most part.
---
---
The steering is light and stays that way from a crawl in first gear, where some heavy cruisers get super hard to steer, to high-speed riding, all while maintaining rock solid stability, no easy feat with a 16in tyre but a scenario Harley are experts at by now. The Hollywood 'bars are such a comfy bend and they look fantastic. They can easily be rolled forward or back but I didn't feel the need.
---
---
Like the handlebars, the levers are in a natural spot and are the usual chunky Harley items, which I am not a huge fan of. Clutch action is heavy but this is a huge engine and the clutch is cable actuation. Engagement, though, is smooth and easy. It's a two finger for shifting or slipping but four fingers for holding in kinda clutch. The overall gearbox action is smooth and neutral easy to click.
Braking-wise, the single front 300mm rotor and four-piston caliper, backed up by a 292mm rear rotor and two-piston floating rear caliper, the Softail Slim pulls up but it takes a fair bit of work to stop in a hurry. The positive is the soft initial bite and power will be great for newer riders and makes the braking process really easy in the rain, but for harder braking it needs both brakes fully applied. Personally, a dual disc front-end is on my Softail Slim wish list. They do the job but don't stand out as exceptional.
Rev that M8 off the corners and give the rear Dunlop a hard time and you will have a blast. No point revving it too far, ride that peak torque and shift up at around 3500rpm to 4000rpm and enjoy the ride. This particular engine was a tad flatter up top than the previous 107 I had testing, in the Softail Standard, but it was still a great motor.
---
---
Acceleration won't stretch your arms, and the Slim has a slight weight disadvantage over the Standard (despite the name), but you will still have a big grin! It is linear and smooth with mountains of torque on tap from 1250rpm onwards. You can be lazy with the gearbox and for medium speed work fourth gear will do the trick all day long. A great engine.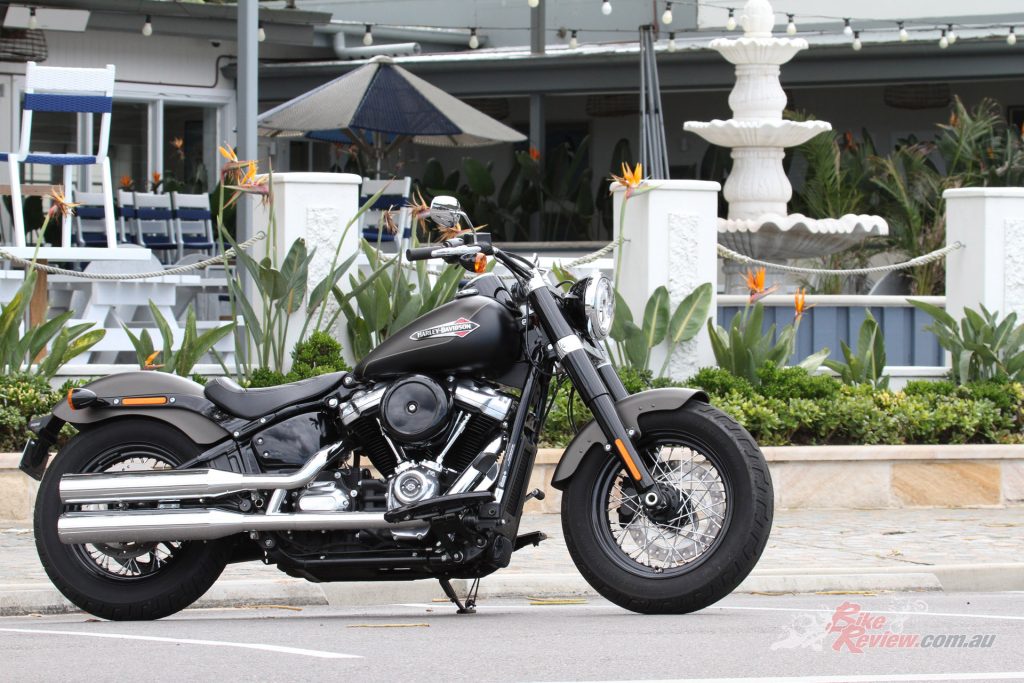 At the end of the fortnight I was undecided on whether I prefer the Softail Slim to the Softail Standard as the two main 107 M8 powered street bikes, styling aside, with the Heritage Classic 107 in a class of its own (full review on the way). With a price tag of $26,495 RA, the Slim is $5000 more than the Standard and $2500 more than the Street Bob 114, which has the big donk. I absolutely love the styling of the Slim over the other Softail range models but for me, I'd have to go with the Standard or the SB 114 within that price range, but that is just me and if it's a Bobber you want, the Slim is ready and waiting for you and you won't regret the choice…
---
To test ride a Softail Slim, find your local dealership via this link here…
---
TECH TALK, Harley-Davidson Softail Slim
The Milwaukee-Eight engine has been part of the H-D lineup for five years now, its the ninth Big Twin design in the company's storied lineage and was a clean-sheet design that combines the classic look and sound.
Retaining the classic 45-degree V-Twin cylinder angle, the Milwaukee-Eight engine produces 10 percent more torque (varies per model) than previous model and features four-valve cylinder heads that offer 50 percent more intake and exhaust flow capacity. The Milwaukee-Eight engine is counter-balanced to cancel 75 percent of primary vibration at idle, retaining the classic feel of a Harley V-Twin while being very smooth at highway speeds. A new heat management strategy for all Milwaukee-Eight engines improves rider and passenger comfort.
Milwaukee-Eight engines are offered in two displacements: the Milwaukee-Eight 107 (107 CID/1745cc) and Twin-Cooled Milwaukee-Eight 107 (107 CID/1745cc) for standard motorcycle models and the Twin-Cooled Milwaukee-Eight 114 (114 CID/1870cc) for Harley-Davidson Custom Vehicle Operations (CVO) motorcycle models.
---
The handling of a Softail entered a new era in 2018 with a lighter, more rigid frame that elevates form and function to a higher plane, while maintaining the classic look of a hardtail and delivering a thoroughly modern ride. Benefits of the new chassis include increased lean angles for many models, sharper turn-in response, quicker acceleration, lighter weight and easier side-stand lift off.
A high stiffness carbon steel tubular frame forms the core of the Softail chassis and combined with the swingarm significantly increases the rigidity of the chassis. The frame itself is 65% stiffer than the previous Softail design, which leads to a 34% increase in overall chassis stiffness. Its design also achieves reduced complexity with a 50% reduction in component parts and 22% reduction in welds.
The dual-bending valve front suspension – first introduced on 2017 Touring models – delivers damping performance that's similar to a cartridge fork but with improved, more responsive damping characteristics. Harley say it has been optimised for both comfortable cruising and spirited riding with 130mm of travel. Revised rake and trail also enhance handling ability.
---
---
The mono-shock that rear suspension preserves the classic hardtail look while revamped geometry improves ride quality, traction and control. Easily adjustable for spring preload it enables a 217kg range of payload capacity for increased passenger comfort and optimum handling.
The Softail comes in multiple different options and trim levels with the Softail Slim matching its name by being the bare essentials of what the model is all about. Stripped to its essential elements, the Slim pays homage to post-war custom bobbers with a narrow rear end, trimmed front fender, solo seat and minimal chrome.
---
---
Harley have four colour options available for the Softail Slim all at their own price points: Vivid Black, Billiard Red (extra $345), River Rock Grey Denim/Black Denim (extra $695) and Midnight Crimson/Stone Washed White Pearl (extra $695).
Harley have kept things relatively simple when it comes to the electronics side of the Softail tail range. They have gone with a 5-inch analog cluster that has been topped off with a digital gear notifier, odometer, fuel level, clock, trip, range and tachometer. 
All Softail models come with ABS but thats about the extent of their assists package. As the Harley-Davidson range is currently going through major changes, it most likely wont be long until the Softail sees things like TFT dashes, navigation and TCS.
---
2021 Harley-Davidson Softail Slim Specifications
Price: From $26,495 Ride-Away (Vivid Black)Warranty: two-years unlimited km
Colours: Vivid Black, Billiard Red (extra $345), River Rock Grey Denim/Black Denim (extra $695) and Midnight Crimson/Stone Washed White Pearl (extra $695).
Claimed Power: N/A
Claimed Torque: 144Nm[107ft-lbs]@3250rpm
Wet Weight: 304kg
Fuel capacity: 18.9L
Service: First 1600km every 8000km thereafter
---
Engine: Milwaukee-Eight 107 V-Twin, 1746cc, 100 x 111mm bore x stroke, 10.0:1 compression ratio, ESPFI, 2-into-2 shotgun; catalyst in muffler
Gearbox: Six-speed, Chain Primary 34/46, Final belt drive 32/66
Fuel Consumption: 5.5L/100km
---
Chassis: Mild steel tubular frame, rectangular section backbone, stamped – cast and forged junctions, MiG welded, alloy fender supports.
Rake: 30° Trail: 147mm
Suspension: Non-adjustable Showa Dual Bending 49mm Valve fork, 130mm travel, Spring-preload adjustable shock 43mm stroke, 86mm travel.
Brakes: Four-piston fixed front 300mm disc and two-piston floating 292mm rear disc
Wheels & Tyres: Black Steel Laced,  Dunlop D401, 130/90 – 16, 150/80 – 16
---
Dimensions:
Wheelbase: 1630mm
Seat height: 660mm
Ground clearance: 120mm
Overall Length: 2310mm
Overall Width: 990mm
Overall Height: 1095mm
Lean angle: 28.5º
---
Instruments: 5-inch analog speedometer with digital gear, odometer, fuel level, clock, trip, range and tachometer indication.
---
Review: 2021 Harley-Davidson FLSL Softail Slim