Kawasaki have just released their 50th Anniversary "Z" liveries, check out the special edition colours of the Z900, Z900RS, Z650 & Z650RS' and their specifications below...
Kawasaki is celebrating the 50th anniversary of the iconic Z brand with the 50th Anniversary Edition of the Z900 and Z650 supernakeds, and the Z900RS and Z650RS retro-sports. Check out the latest Z models in their 50th Anniversary!
Kawasaki have given their "Z" models a special livery to celebrate the 50th anniversary of the legendary Firecracker Red Z1100GP.
---
50th Anniversary Z650 & Z900 Key Features
Heritage Firecracker Red colour & graphics with red wheels

Gloss black frame finish

Special textured seat leather

Z 50th emblem and logo

Gold finished outer fork tubes (Z900 Only)

Z 50th Anniversary book included




---
50th Anniversary Z650RS & Z900RS Key Features
Heritage 2-tone colours of Candy Diamond Brown & Orange with gold wheels

Gloss black frame finish

Z 50th emblem and logos

Chrome headlight and meter trim rings

Textured seat with contrast stitching

Chrome passenger grab rail

Z 50th Anniversary book included
---
---
Kawasaki's Z900 and Z900RS feature a liquid-cooled 948cc in-line four-cylinder four-stroke 16-valve powerplant, with a bore and stroke of 73.4 x 56mm. Downdraft throttle-bodies are used, with a 36mm throttle bore and sub-throttles, for sensitive throttle response and good low speed and small throttle opening response.
---
Check out our Z900RS Review here and our Video here…
---
Intake and exhaust valves are 29mm and 24mm respectively, with cast pistons manufactured with the same technique and materials used in the H2R, while cylinders are die-cast and feature an open-deck design. A lightweight crankshaft ensures a quick revving character, with a secondary balancer eliminating excess vibration.
After the 2014-2017 Z1000, the Z900 models were the second model to benefit from "sound research" in crafting its intake note. Shape of the airbox was designed based on acoustic tests. The distinct intake note of the Z900 is clear and exhilarating. The frequency of the note varies with engine speed, adding to riding impact – especially at high rpm. Airbox inlet faces upwards, making the intake note easier to hear for the rider.
---
---
Revised internal construction for the pre-chamber and silencer contributes to a more voluminous exhaust note – much more audible on startup, when idling, and when snapping the throttle.
A high-tensile steel trellis frame weighs in at just 13.5kg, and uses five rigid-mount points with the engine as a stressed member.  An extruded aluminium swingarm weighs just 3.9kg and the sub-frame is a twin-tube design, which like the frame itself has been designed to follow straight lines, with as small bend angles as possible, for optimised stress dispersal.
---
---
41mm USD forks include stepless rebound damping and preload adjustability via the left fork cap, while the rear shock is a monoshock with linkage above the swingarm to reduce heat transfer from the exhaust, and features rebound and preload adjustability. Brakes are four-piston calipers with resin brake pads on the front, with 300mm petal rotors, while the rear is a 250mm petal rotor with single-piston caliper. ABS is standard thanks to a Nissin unit.
The TFT dash on the Z900 features a 4.3in colour digital screen with Bluetooth technology built into the instrument panel enables riders to connect to their motorcycle wirelessly. Using the smartphone application RIDEOLOGY THE APP a number of instrument functions can be accessed, contributing to an enhanced motorcycling experience, features include, Vehicle log, Riding log, Telephone notices, tuning and General settings. While the Z900RS uses a traditional dual analogue dial setup with an LCD screen in the middle to keep that retro look but does not feature the smartphone functions.
---
---
A choice of Full Power or Low Power modes allows riders to set power delivery to suit preferences and conditions on the Z900. Low Power modes limits output to 55% of Full Power. Along with Integrated Riding modes, riders can choose from 3 settings (Sport, Road, Rain) or a manual setting (Rider) In manual Rider mode, each of the systems can be set independently.
---
Check out our Z900 Review here and our Video here…
---
Kawasaki Advanced traction control system, featured on both the Z900 and Z900RS, provides both enhanced sports riding performance and the peace of mind to negotiate low-traction surfaces with confidence. 3 rider-selectable offer progressively grater levels of intrusion to suit the riding situation and the rider preference.
---
2022 Kawasaki Z650 & Z650RS 50TH Anniversary
We are testing the Z650RS shortly, but until then here is some extra info from Kawasaki Australia. According to kawasaki, distinguishing the Z650RS from its big brother, a slim tank and a short, compact tail are expressions of light handling and an approachable character. The Z650RS' fun and easy character can be attributed to an engine and chassis based on that of the highly acclaimed Z650. Now both the Z650 and Z650RS have been given in the 50th anniversary treatment!
The responsive 649cc Parallel Twin with robust low-end torque, combined with a lightweight chassis deliver rider-friendly power delivery and light, natural handing that promise to add a dose of fun to city outings and daily commutes, say Kwaka.
---
Check out our Z650L Review here
---
---
The liquid-cooled, DOHC, 8-valve 649cc Parallel Twin with fuel injection delivers smooth, responsive performance, especially in the low and medium rpm ranges. The strong low-end focus translates to rider friendly power characteristics that, Kawasaki say, facilitate control and inspire confidence in new riders, while also lending itself to sporty riding. In the low-rpm range, the smooth power delivery and strong low-end torque contribute to controllability and facilitate moving off from a stop. In the mid-range, where most everyday riding occurs, Kawasaki say performance and feel are superb.
A slim airbox uses a single air intake hole and intake funnels designed for strong low-mid range performance and response. 36mm Keihin throttle-bodies contribute to strong low-mid range performance and response. Sub-throttles ensure smooth, sensitive throttle response. Fine-atomising injectors delivering 75μm droplets, ensuring the ideal fuel-air mixture needed for the low-mid range focused engine. Intake and exhaust cams with short operating angles and overlap also move the torque curve toward the lower end of the rpm range.
---
---
The open-deck aluminium die-cast cylinder contributes to light weight and the plated, liner-less cylinder bores enable a narrow cylinder pitch to enable a slim engine width. The triangular layout of the crankshaft and transmission shafts also makes the engine very short front-to-back. The 180° crankshaft drives a balancer shaft for silky smooth engine operation.
An auto-fast idle system simplifies starting and ensures the catalyser reaches optimum temperature quickly. A simplified cooling system routes coolant through the engine cases to the cylinder and head to reduce external plumbing, while hot air off the radiator is directed down under the bike.
An assist and slipper clutch has also been added and uses two types of cams (an assist cam and a slipper cam), offering two new functions not available on a standard clutch. When the engine is operating at normal rpm the assist cam functions as a self-servo mechanism, pulling the clutch hub and operating plate together to compress the clutch plates.
This allows the total clutch spring load to be reduced, resulting in a lighter clutch lever pull when operating the clutch. When excessive engine braking occurs – as a result of quick downshifts (or an accidental downshift) – the slipper cam comes into play, forcing the clutch hub and operating plate apart. This relieves pressure on the clutch plates to reduce back-torque and help prevent the rear tyre from hopping.
---
---
The rigid-mount engine is a stressed member, contributing to the frame's idealised rigidity balance. Even the footpeg stays are used as stressed members, further contributing to the frame's rigidity and light weight. With the swingarm, similar to the frame, the line from the pivot to rear axle was made as straight as possible.
---
41mm telescopic non-adjustable forks handle suspension duties up front and a horizontal Back-link rear suspension offers a progressive character with preload adjustability. The rear suspension positions the shock unit and linkage above the swingarm for mass centralisation and to ensure operation is not affected by heat.
Dual 300mm front petal disc brakes and a 220mm rear deliver plenty of braking power while contributing to the bike's sporty image. Dual-piston front calipers, master-cylinder and brake pads offer controllable braking performance. A Bosch 9.1M ABS is also standard fitment on Australian models.
The analogue-style speedometer and tachometer dials are complemented by a multi-functional LCD screen, balancing retro-style looks with modern functionality on the Z650RS. Bullet-shaped dial cases are a fitting touch for a retro sport model, while the modern typeface used on the dial faces add a contemporary touch. The LCD screen features a negative display (white letters on a black background), adding to the instrument cluster's sporty, modern appearance.
The Z650 on the other hand features a TFT colour dash with smartphone connectivity. Smartphone connectivity means that riders can link their phone to their bike using Kawasaki's Rideology app. Riders will be visibly notified through an element on the TFT dash that appears when the rider's phone receives a notification, and riders will be able to view vehicle information, a riding log and can adjust settings on the dash through their smartphone.
---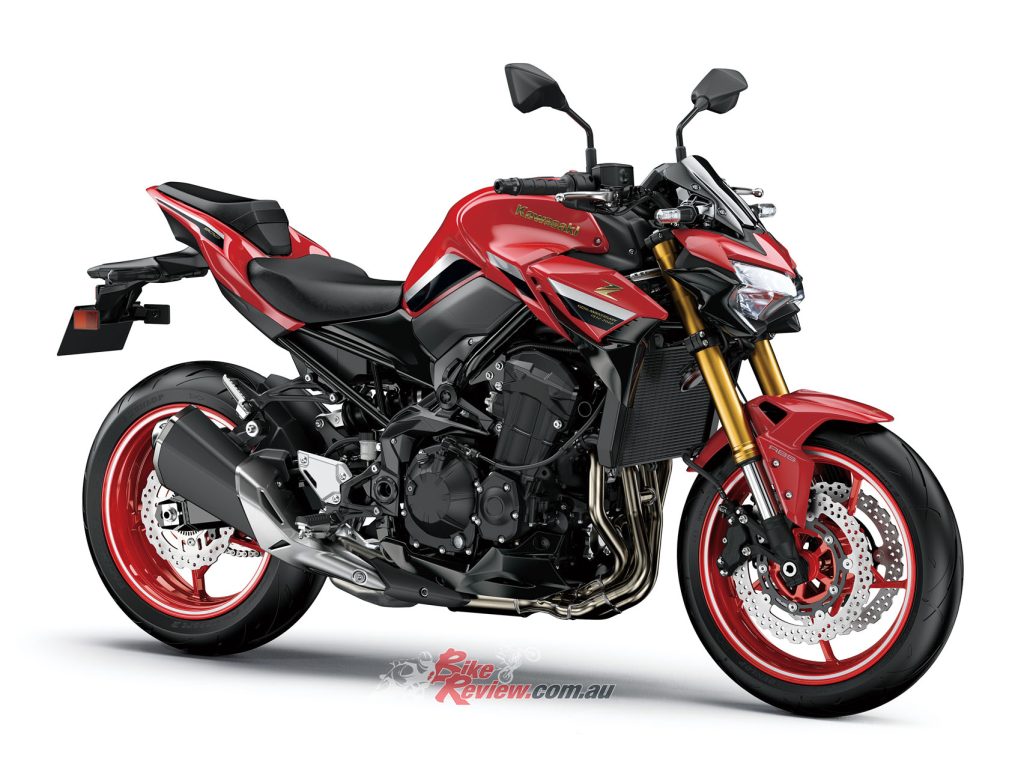 2022 Kawasaki Z900 [Z900RS] 50TH Anniversary Specifications
Price: TBA
Warranty: Two years/unlimited kilometre
Colours: Firecracker Red [Candy Diamond Brown] Claimed power: 92kW@9500rpm
Claimed torque: 99Nm@7700rpm
Wet weight: 212kg
Fuel capacity: 17 litres
---
Engine: Liquid-cooled DOHC inline four-cylinder, 16-valve four stroke, bore and stroke: 73.4 x 56mm, displacement: 948cc, compression ratio: 11.8:1, four 36mm Keihin oval throttle-bodies, with oval sub-throttles
Gearbox: Six speed
Clutch: Wet multi-disc
Final ratio: 15/44
Final drive: Sealed chain
---
Chassis: Trellis, high-tensile steel
Suspension: 41mm inverted fork with rebound damping and spring preload adjustability, 120mm travel, Horizontal Back-link with rebound damping and spring preload adjustability, 140mm travel
Brakes: ABS, Dual semi-floating 300mm petal rotors, dual opposed four-piston calipers, single 250mm rear petal rotor, single piston caliper
Wheels & Tyres: Dunlop Sportmax Roadsmart 2 120/70 ZR17, 180/55 ZR 17
---
DIMENSIONS
Ground clearance: 130mm
Seat height: 820mm [835mm] Overall height: 1065mm [1150mm] Overall length: 2065mm [2100mm] Overall width: 825mm [865mm]
---
Instruments: TFT display [Dual analogue dials with LCD screen]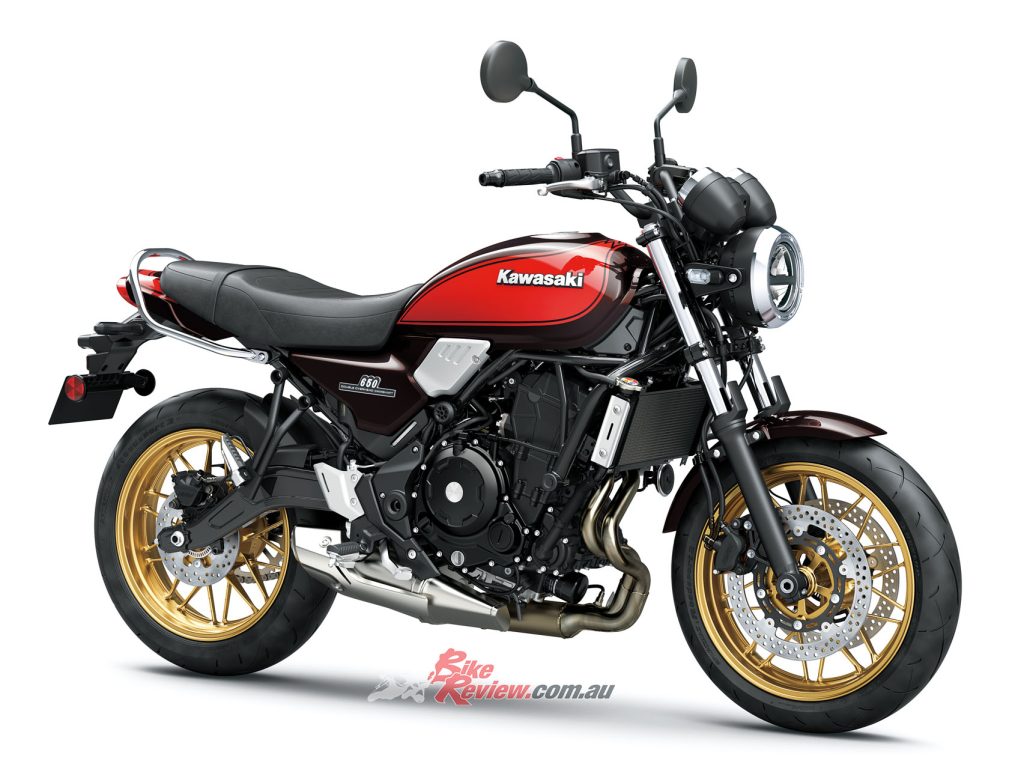 2022 Kawasaki Z650 [Z650RS] 50TH Anniversary Specifications
Price: TBA
Colours: Firecracker Red [Candy Diamond Brown] Claimed Power: 37.8kW[50.7hp]@8000rpm
Claimed Torque: 59.0Nm[43.5lbs-ft]@6,500rpm
Wet Weight: 186kg
Fuel capacity: 15L [12L]
---
Engine: Four-stroke, two-cylinder, DOHC, four-valve, 83.0 x 60.0mm bore x stroke, 649cc, 10.8:1 compression, Euro4, EFI with dual 36mm Keihin throttle-bodies
Gearbox: Six-speed
Clutch: Wet, multi-plate slipper with cable actuation
---
Chassis: Trellis frame, high-tensile steel
Suspension: 41mm telescopic forks, 125mm travel, horizontal back-link with adjustable preload, 130mm travel
Brakes: ABS, 300mm semi-floating rotors, dual piston calipers (f), 220mm rotor (r), single-piston caliper
Wheels & Tyres: 17 inch wheels, 120/70ZR17 (f), 160/60ZR17 (r)
---
Dimensions
Wheelbase: 1410mm [1405mm] Seat height: 790mm [800mm] Ground clearance:130mm [125mm] Overall width: 765mm
Overall length: 2055mm [2065mm] Overall height: 1065mm [1115mm]
---
Instruments: TFT Dash [Analogue speedometer and tachometer. LCD panel.]
---