Jeff had two Japanese naked musclebikes as projects back in 2007/2011. Check out the wild builds that ensued with his XJR1300 and GSX1400... Words: BikeReview Pictures: JPMedia
The early 2000s produced some spectacular nakedbikes. Two of the muscle men at the front line were the GSX1400 and the XJR1300. The huge Japanese, four-stroke, four-cylinder machines were monsters, Jeff built two projects with Yamaha and Suzuki…
I had a Yamaha XJR1300 project bike for some time in 2010/2011 (this is the bike in the shots) and after that, I had a GSX1400 bored to 1620. Both were wild bikes with huge capacity. The XJR was kept fairly tame, but the GSX1400 got out of hand very quickly in terms of modifications…
You can pick up an XJR13 these days for $5000 – $12,000 for an XJR now, depending on year and model, with the average price of a decade old one hovering around the $10k AUD mark, not bad for COVID-19 pricing, they have certainly retained their value. 
The bike is bulletproof, with the engine really going all the way back to 1984 and the FJ1100, it had been in production and development for 30-years! The last model of the XJR had Ohlins shocks, while fuel injection was introduced in 2007.
---
Check out our other Throwback Thursdays here…  
---
POMMIE'S RIDE
The first thing I noticed about this bike was the weight. It's heavy – there's no getting around that but as I put on my gear to take the XJR1300 for a ride, I take a moment to have a good look at what you get for your $14,699 in 2010. 
The bike is well equipped, especially in the suspension department, which is a pleasant surprise for a retro style bike. In fact, it's fully adjustable and even features a set of Ohlins rear shocks. You also get powerful four-pot stoppers and a grunty 1300cc motor.
---
---
As I push the start button, click first gear and head off up the road, I find the engine to be surprisingly smooth with a quiet rumble coming from the single stainless muffler. Once I hit the freeway, I find the ride position perfect and the seat is like sitting on a lounge chair, but you do suffer from a bit of wind buffeting – as you'd expect on a nakedbike. 
One thing that is slightly annoying is the engine vibration through the pegs at 4500 to 5500rpm, that's around the 120km/h mark in top gear. However, the vibration disappears after that.
The bike is not really designed for carving mountain roads but that didn't stop me trying; in-fact, this part of the test is what surprised me most. As I tip into my first corner, I can't believe how great the bike feels. Flicking from side to side is a breeze and I forget that the bike weighs 245 kilos. It goes against all logic, that a bike of this size should be this much fun, but it is… 
Within a few kilometres, I have the 'pegs scraping the tarmac but I really have the bike lent over, so this should not be a problem for most riders. I do find the suspension wallowing a bit, especially on bumpy corners. So, I pull over, get out the tool kit and have a fiddle.
---
The rear Ohlins shocks are easily adjusted, and I can even increase the preload by hand – I also add slightly more compression. With the front, I wind up the preload and compression but leave the rebound as is. The wallowing is all but gone and the pegs are not hitting the tarmac as much.
Another thing that I like are the brakes – they are powerful and more than up to the job of hauling the musclebike to a very fast stop.  So, does the bike tick all the right boxes for a retro musclebike? The answer is yes. In fact, the XJR1300 more than meets and exceeds all expectations, especially in the engine and handling department… Pom.
I updated my XJR, with Hel brake lines, a Hindle four-into-one exhaust, Pirelli tyres, Trooper Lu Garage suspension tune, alloy handlebars, Sydney Dyno engine remap, a fender eliminator and some other goodies that really made it an awesome bike. I loved it and I wish I kept it!
The GSX1400 was designed to be a beefier, torquer and more tourable high-tech version of the legendary Suzuki Bandit. It was initially built to only be sold in Japan and some parts of Europe, however, Suzuki Australia were able to secure the model for us Down Under. Amazingly, despite being seemingly perfect for the market, the 1400 never went to the USA or Canada! 
Weighing 228kg, and being tall, long and wide, the GSX1400 is a monster. Still, it is lighter than the XJR Yamaha and more powerful. It also has a cracking top speed of 240km/h.
The GSX is styled on the GS1000 and has a massive liquid-cooled 1402cc DOHC fuel injected engine. It is an engine that was heavily restricted up top to make way for extra grunt down low but unfortunately it was not able to stay in production due to the onset of Euro3 laws back at the start of 2009. 
The GSX had a dedicated but niche fan base. With a 22L tank, the biggest seat of any motorcycle I've ever seen (like a comfy lounge chair), wide handlebars, huge rubber damped footpegs and wishy-washy soft suspension, the GSX14 was the ultimate two-up tourer for the nakedbike fan. 
---
---
For those with more of a performance thirst, a lot could be done to the GSX as it could happily be turbocharged, have NOS fitted or be liberated via porting work and cams. There was a lot to be gained from the cylinder-head alone… 
---
---
DEANO'S RIDE
Plush is the best description for the big naked Suzi. The seat is ridiculously soft, riding position is very conservative mainly thanks to handlebars that would probably more at home on your sister's dragster pushbike and very soft suspension that gets vague at best when the pace is upped on our more than average roads. 
On the upside, the suspension is equipped with spring preload that is simple as turning a very accessible knob at the rear, compression and rebound adjustment at both ends coupled with Tokicos proven six pot calipers gripping dual 320mm rotors offering plenty of feel and power that require only two fingers to pull things up with confidence.  
The donk is so user friendly it's not funny. There is so much low down and mid-range grunt the 1400 pulls cleanly from as low down 40km/h in top gear without a hint of transmission snatch. The trade-off being, it really struggles to make the 9000rpm redline. On the drag strip it was still only 8/10nths slower than my best time on the latest thousand cc sportsbikes.
The GSX certainly is not the barge I expected it to be. Even though the bike carries its weight quite high compared more modern equipment, the GSX tackles the twisties effortlessly with the footpegs touching down long before the limits of the bikes capabilities and the standard Bridgstone's cry enough.
MY GSX PROJECT
With Suzuki Australia I built a weapon GSX1400 we called Mr Muscle, in 2006. It had 60 per cent more power and torque than standard, a 1620cc big bore kit, Yoshimura camshafts and exhaust system, PTR ported and flowed cylinder-head, pod airfilters, a Power Commander, PTR airbox, upped compression and lots more. It would power wheelie up to third!
The chassis was equally upgraded with PTR tuned suspension at both ends, Metzeler tyres, a steering damper, braking upgrades and it had lots of bling on it! The bike was a beast, even on track days it could be thrown around pretty-well, and it still lives on in Melbourne with Phil Tainton I'm told!
---
---
The GSX1400 is hard to get hold of in the used market, simply because it was popular and only sold for 7 years. Price when new was $14,390 and 20-years later they are still pulling $7,500 to $9,500 for a mint condition bike.
---
GSX1400 Rapid Bikes Mod list 
PTR 1620cc big bore kit

JE custom 87mm forged pistons

Yoshimura cams $1495

Yoshimura four-into-one $1849

PTR ported and flowed head

Raised compression ratio

Power Commander

Custom PTR airbox

Pod filters

LLS engine bolt kit $35

Ermax undertail $345 with indicators

Ermax rear hugger $320

LLS Oil filler cap $60
---
Oberon billet triple-clamp and 'bars $499, $249

Oberon 'pegs $89 per pair

Oberon billet reservoir caps $49

AuSFR headlight assy $199

Mini Arrow front indicators $39 pair

Performance Friction brake pads 

Metzeler Sportec M3 120/70 – 17 $205

Metzeler Sportec M3 190/50 – 17 $299

PTR fork internals

Sprint steering damper $508.36

Oberon mirrors $299

Oberon fuel cap $199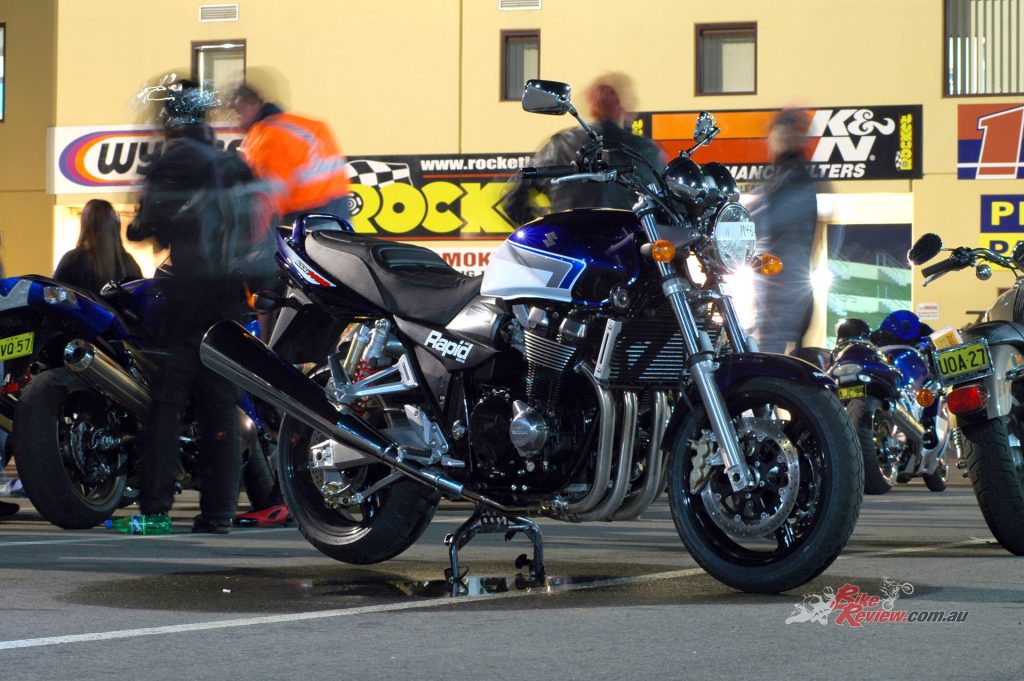 XJR1300 (GSX1400) Specs Comparison
Price New: $14,699+ ORC ($14,390)
Used Price: $5,000-$11,000 ($7,000-$10,000)
Claimed Power: 71.9kW@8000rpm (79kW standard, 104kW Completed project)
Claimed Torque:108.4Nm@6000rpm (126Nm standard, 162Nm completed project)
---
Engine type: Air-cooled (Liquid Cooled), four-stroke, DOHC, in-line four
Bore x stroke: 79.0 x 63.8mm (81 x 68mm)
Displacement: 1251cc (1402cc)
Compression ratio: 9.7:1 (9.5:1)
Ignition: TCI fuel injection (Digital)
Gearbox: Five-speed (Six-speed)
---
CHASSIS
Frame type: Steel double cradle
Wheelbase: 1500mm (1520mm)
Front suspension: Telescopic fork with 130mm travel (46mm Telescopic, fully adjustable)
Rear suspension: Monocross with 120mm travel (Twin fully adjustable shocks, alloy swingarm)
Front brakes: Dual 298mm disc twin-piston calipers (Dual 320mm discs, six-piston calipers)
Rear brakes: Single 267mm disc single-piston caliper (Single 260mm disc twin-piston caliper)
Wheel/Tyres 120/70 – 17, 180/55 – 17 (120/70 – 17, 190/50 – 17 Bridgestone)
---
DIMENSIONS
Overall height: 1115mm
Overall width: 765mm
Overall length: 2175mm
Fuel Capacity: 21L (22L)
---
Dash & Electronics: Analogue taco/speedo, clock, fuel gauge, trip meter, warning lights.
---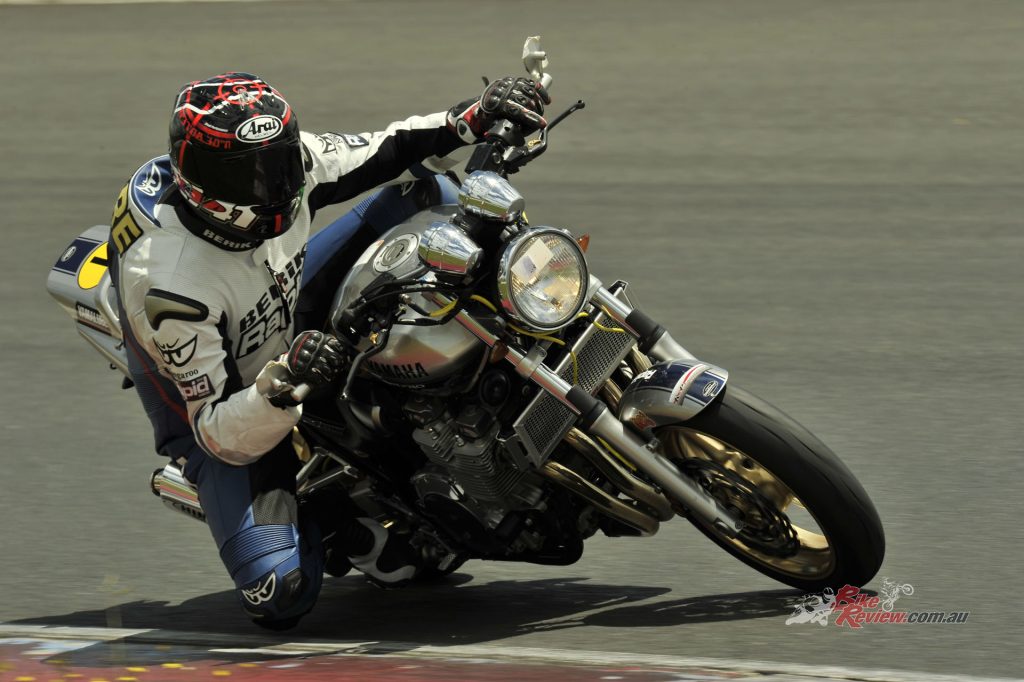 Japanese Muscle Mania Gallery
---